As your child gets older and heavier, you might feel like the same convertible car seat cannot hold their weight anymore, so it is better to get one with a higher weight capacity right from the start, which will save you the trouble later on.
Similarly, if you want to purchase a new one because your child's weight is exceeding the height limit, then you're at the right place.
Today I will talk about best car seat for child over 40 lbs which will keep even older children safe for as long as you're driving. So without any delay, let's get started!
7 Top Rated Car Seats For A Child Over 40 Pounds Comparisons
1. WAYB Pico Travel Car Seat With Carrying Bag
I am going to start the article with the first product which is WAYB Pico Travel Car Seat With Carrying Bag. This is a forwards facing 5 point harness that is even foldable.
This weighs only 8 pounds, making it very easy to handle while installing and very easy to carry around.
This is the most portable product out of all, making it great if you frequently switch between cars.
Additionally, this convertible is made for children aged between 2-5. It can hold up to 50 lbs of weight, so even your 3, 4-year old could be placed without any issue.
The height limits are 30-45 inches. According to NHTSA and FFA, this convertible car seat meets all the required safety standards.
This will keep your child as safe as possible in the event of any crashes and is built to resist most kinds of shocks.
It uses eco-friendly materials, including minimal plastic and no PU foam, so you're also doing the environment a favor by preferring this product.
Besides, the design is also pretty minimalist. This seat is also very comfortable for your four-year-old, and they will not complain about being stuck there.
It can be installed in two ways. Top tethers, as well as LATCH straps, could be used.
Not to mention, if you have any issues trying to install this seat, then WAYB has installation tutorials for that purpose which you can find on their webpage.
Additionally, the seat is very compact, which helps in portability. It is so compact you can put it in a backpack if you want to.
The narrow design makes it possible to fit three across in a car, which is great if you have more than one kid.
However, this seat is only forward-facing. Moreover, no handle is included which could be a problem for someone who is looking a car seat with a handle.
PROS
Lightweight
Meets all required safety standards
Ecofriendly material
Minimalist design
Compact and portable
CONS
Only forward-facing
No handle included
This product is very narrow and compact, making it portable and pretty easy to fit anywhere.
2. Britax Marathon ClickTight Convertible Car Seat
The next product is the Britax Marathon ClickTight Convertible Car Seat.
This product has a really good weight capacity, so you can have your child seated in it for a long time as they grow.
The weight capacity is up to 65 pounds, which is great for four-year-olds or even older children.
Moreover, this product also has had excellent performance in the third party and NHTSA car tests.
Furthermore, the safety tests have ensured that this convertible seat is perfectly safe for use and your child. The ClickTight system also makes it easy to install.
This system also ensures that the seat is securely placed, which is very important. This is because many accidents and failures with these convertible seats happen.
After all, these haven't been installed properly, so it is important to make that sure.
The ClickTight System has a seat belt securing methodology. This will make it very easy to switch if you change cars frequently. This system works like it's a key.
You have to twist it clockwise, which will tighten up the straps, and then secure the seat bottom after this. It is not like the usual system, but not hard to learn either.
This product will support up to 65 pounds in the front-facing position, so there will be no rear-facing for kids above 41 lbs.
Additionally, it has 14 position harnesses and a two-position buckle which helps make this fit comfortably as your child grows.
7 recline positions are also included for the perfect fit. It has a layer of side impact protection and an impact-absorbing base and a steel frame.
This makes the product extra safe for your baby to be in.
However, it can be hard with this car seat to take the baby out of the rear-facing position.
However, as there is no rear-facing position for kids over 41 lbs, I am not concerned with that. This seat cannot be used for plane travel as well.
PROS
Good performance in-car tests
Easy to install
Seat belt securing methodology
14 position harnesses
7 recline positions
CONS
Hard to take the baby out of the rear-facing position
Not for plane travel 
This product is very easy to install, which is great if you often switch between cars as installing and reinstalling it won't feel like a hassle.
3. Safe Traffic System Ride Safer Travel Vest Gen 5
The Safe Traffic System Ride Safer Travel Vest Gen 5 is the next product I have.
As booster seats are needed when a child turns four years old, there are a few problems that occur with these.
These are that they are heavy as well as cumbersome. This will make it very hard to switch these from one vehicle to the other when traveling if you do switch frequently.
Therefore, a Travel Vest will solve the issue. This is a great alternative made for children that are 3 – 5 years in age.
The weight specifications are 30 – 60 pounds, and the height specifications are 35 to 48 inches. This vest attaches to your seat from the back.
The seat belt holders, in addition, will attach to the belt of the vehicle, which will make sure that the belt is placed properly around the body of your child.
This product is crash and safety tested and has amazing performance. Therefore your child will be really safe in case of any impacts or accidents, so you don't have to worry about that.
Besides, this product is legal in the US and also meets all the FMVSS 213 Federal Standards.
Much more comfortable than the typical booster seats, this product is even much safer than those.
To place your child inside, you have to open the buckle as well as the Velcro panel placed in the front. Tell your child to slip their arms in and pull down the vest.
Then after fasting the Velcro, if you need to adjust the strap, then do so. Also, you can even fit three of these across in a car, which is great if you have multiple kids.
This product is also adjustable and able to last many years. This is great as you won't have to purchase another one for a long time.
However, this product cannot be used in the airplane, so you'll have to find another solution for that. Otherwise this product is good to go.
PROS
Crash and safety tested
Meet all safety standards
Comfortable
Easy to place your child in
It can fit three across
CONS
Not for use in the airplane
This vest is a great portable and comfortable option which you can buy for all of your kids to keep them safe.
4. Graco Extend2Fit Convertible Car Seat
After some research I decided to put the Graco Extend2Fit Convertible Car Seat on the fourth number. This product has performed really well in crash tests and has given great results.
This ensures that your child will be completely safe in most conditions, which is a top priority when choosing a car seat.
Moreover, the great part about this product is that it can stay rear-facing at a higher weight capacity, 50 pounds.
This makes it much better than the rest of the products in the market as most don't have a rear-facing capacity that high.
After buying this product once when your child is young, this one will last you really long, actually for years as your child grows, without ever needing to change it.
You can also use it for your other kids. It scored very high for safety on the federally mandated NHTSA.
It uses the LATCH method for installation, which you might find a bit hard to figure out, but eventually, you'll get the hang of it.
It has plush head and body inserts which are removable. Additionally this seat will give you an additional 5 inches of legroom.
Lastly, this will help your child to ride the rear-facing longer much safely.
According to customers, this convertible car seat gives so much legroom, and most users are very pleased with how comfortable this product is.
However, the belt installation with this product is kind of hard so you might have to check the belt installation before buying.
PROS
Good crash test performance
50 pounds' rear-facing weight capacity
No-rethread headrest and harness
Additional 5 inches legroom
Very comfortable
This product has received great feedback in terms of how comfortable it is for most kids, and the weight capacity just makes it so much better for older children.
This is one seat that will stay with you as your child grows.
5. Graco 4Ever DLX 4 in 1 Car Seat
The next product is the Graco 4Ever DLX 4 in 1 Car Seat.
This car seat has an amazing weight capacity which will give you ten years of usage from when your child is 4 pounds to 120 pounds.
Thus, this is another product that will stay with you as your child grows older.
For this reason, you will not need to buy another product for as long as you have this, and who knows?
You might even use it for other kids. This is a very comfortable product as well as very safe.
The Graco ProtectPlus Technology means that the product will keep your child safe and secure in the event of any crashes.
This will help protect against the front, rear side, as well as rollover crashes.
In fact, according to records, this seat has actually saved children in actual accidents, ensuring that there's nothing related to safety you have to be worried about when purchasing this product.
There are six reclining positions which are all very comfortable. Three of these are rear-facing, while the other three are forward-facing.
Moreover, these positions are also very easy to adjust when the child grows up, saving you the hassle every time you feel like changing the setting.
Furthermore, this can be installed very easily in all the models. There is clear labeling on the belt paths as well as color-coding to help you out.
The LATCH system makes the installation much simpler. The cover is machine washable, and according to customers, this product is also very easy to clean and maintain.
However, the LATCH straps might be really hard to tighten up. Besides, the seat cover is only air dry.
PROS
4 – 120 pounds' weight capacity
GracoProtectPlus Technology
Six reclining positions
Easy installation
Easy to clean
CONS
LATCH straps might be hard to tighten up
Only air dry seat cover
The fact that this has saved children in real-life events ensures that you can trust this product with your eyes closed, and safety is obviously the first priority when choosing a car seat.
6. Graco Nautilus 65 LX 3 in 1 Harness Booster Car Seat
Moving on with the sixth place, the next product I have is the Graco Nautilus 65 LX 3 in 1 Harness Booster Car Seat.
This product can be installed very quickly and easily, which makes it perfect for if you switch between different vehicles frequently, as you won't find removing and installing this, again and again, a problem.
The Snuglock design makes it the fastest to secure it to the latch and the car. There is a chest lock that can easily be opened and closed.
Not to mention, a threadless harness is also included, which is adjustable. This is great as growing.
Additionally, you don't have to change everything just to adjust this product for when your child is a steel-reinforced frame makes it much safer from crashes.
Other safety features include the foam lining. A headrest is also included.
Because of this reason, this is another product that performs much better than its competitors in terms of its safety.
In addition, this product is also very easy to clean, saving you the hassle of having to work very hard every time the seat appears dirty.
Instead, you can just easily machine wash it. It has four reclining positions as well as five harness positions. The five-point booster mode has a 22 to 65 pounds' size requirement.
The high back booster mode has a 40 to 100 pounds requirement, whereas the backless booster mode has a requirement from 40 pounds up to 120 pounds.
However, according to some customers, tightening the straps was really difficult so if you need something with easy straps tightening process then this one is not for you.
PROS
Easy and quick installation
Snuglock Design
Very safe
Easy to clean and washable
High weight capacity
This product installs fairly easily and is also very easy to maintain, making it one of the most convenient convertible car seats here.
7. Cosco Highback 2-in-1 Booster Car Seat
Finally, the last product is the Cosco Highback 2-in-1 Booster Car Seat. This product has a very slim profile.
Moreover, it is also popular because of how easy it is to install. Also, this includes a removable cup holder, which is great for your convenience.
Not to mention, a five-point harness, as well as easy-to-adjust straps, is also included. This is great to help place your child in and out, and doing so will not feel like a hassle.
The size requirements are up to 40 pounds with the harness but from 40 to 80 pounds with the seatbelt. The five-point harness is great because it can be adjusted as your child grows.
As your child gets older, you can remove the harness, after which the seat can be used as a belt-positioning booster car seat.
In addition, the Highback Booster is LATCH equipped. Shoulder belt guides are also included. This will help kids that have different heights the perfect fit for themselves.
Moreover, the seat fabric is machine washable. Therefore, whenever the seat gets dirty, you can easily remove the fabric and then throw it in the machine.
The cup holder is removable as well as dishwasher safe, so this is also pretty easy to clean, making the car seat a very convenient product.
However, even though it has a slim profile, this car seat will not fit for three across in the backseat, which is inconvenient for individuals that have multiple kids and want to keep them all seated.
PROS
Easy to install
Adjustable five-point harness
Shoulder belt guides
Machine washable seat fabric
Removable and washable cup holder
CONS
It does not fit for multiple children in the backseat
Very easy to clean and maintain as well as adjust, this is another convertible car seat designed for your convenience, and this one is greatly loved by customers.
What To Look For When Buying A Car Seat 40 lbs And Up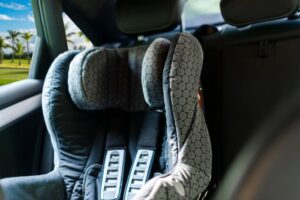 Choosing the perfect car seat for your child as a new parent can be difficult, especially if you have to account for their ever-shifting weight.
This guide will go over the essential qualities of a car seat you should look for when you are in the market for a car seat for children over 40 pounds:
Integrated 5-Point Harness System
All-In-One Or Combination Car Seat
High Back and Backless Variants
Good Quality Lap and Shoulder Positioned Belts
Let's talk about why these specific features are perfect if you want a car seat for children above 40 lbs.
Integrated 5-Point Harness System
A child above 40 pounds is eligible for a forward-facing seat. Look for a car seat that has a well-built 5-point harness system with proper position points.
As long as your child's height and weight is encompassed by the seat's specification, it will ensure safety in case of a crash by spreading the shock.
This system is perfect when applied in a forward-facing car seat, which you will typically purchase for a child above 40 pounds.
These systems also ensure the child doesn't unstrap themselves and keep them safe.
All-In-One Or Combination Car Seat
Toddlers above 40 pounds grow very quickly; I would recommend looking for a car seat that will prove safe and comfortable for the time being and have room for the child to grow for several years.
All-in-one and combination car seats will have a harness and tether for children from 35-65 lbs.
And when they grow out of the harness, it can be removed, and the seat can be used as a booster.
High Back And Backless Variants
If the child's weight and height meet a booster seat's limits, it will prove a safer and more comfortable fit for the vehicle's seat belt.
Children above 40 pounds tend to want more comfort and enjoy more room and a place to lean their heads. The high back booster car seat provides all of this.
And also, you can go for a backless booster seat if you travel a lot and your child doesn't like to be constricted.
Good Quality Lap And Shoulder Positioned Belts
This feature provides a good amount of safety for children over 40 pounds. The shoulder and lap seat belts work well when your child grows out of a harness seat's limits.
These features also help transition from a harness to a high-back booster seat. The major thing to note is that your car seat needs to have the capacity to house a child over 40 pounds.
This should be a given when looking for a car seat of this caliber.
Frequently Asked Questions
Q1. Does A 40 lbs Child Need A Car Seat?
Children that are under 2 years of age are supposed to ride in rear facing car seats, however those that get over 40 lbs or are 40 or more inches tall, they should be moved to forward facing car seats.
It is required for all children under the age of eight to be secured properly in a booster seat or car seat attached to the back seat.
They should use them until they outgrow these seats according to the legal weight and height limits and those set by the manufacturer.
Q2. At What Age Over 40 Pounds Will A Child Face Forward In A Car Seat?
The infant only seats as well as the convertible seats are used in the rear facing position until the infant is at least one year of age or weighs 20 pounds.
The convertible seats that are in the forward facing position are to be used until the child is five years of age after which booster seats should be used to help the child fit with the seat belt of the car.
Usually, you should check with the manufacturer's instructions and weight and height limits to see when your infant should start facing forward.
It is recommended to have your infant in the rear facing position for as long as possible with their weight and height limits as forward facing positions are dangerous for children that are too young.
Q3. How Much Should A Baby Weigh To Face Forward In The Car Seat?
According to safety recommendations, it is best advised that your infant be placed in the rear facing position for as long as possible until he/she reaches the limits set by the manufacturer.
This can be up to 65 pounds, in which case, you should have the baby stay in the rear facing position till that time, as it should be done as long as possible.
Q4. If My Child Outgrows The Forward Facing Seat But Is Under 40 Pounds, Can I Move Them?
Your child should be moved to a booster seat as soon as they outgrow the forward facing car seat, as in the harness does not fit anymore.
These can be convertible car seats, combination car seats or forward facing only car seats.
If you have a combination or a three in one car seat, you don't even have to get a new seat as you can easily adjust the position as per the instructions, so these are better options.
Q5. What Kind Of Car Seat Should A 40lb Child Be In?
You should have a forward-facing seat. Weight and height specifications should be checked.
If your child fits in a convertible seat, continue using it over a combination harness or booster seat because convertibles offer more head protection and their round structure has proven through crash tests to provide more impact protection.
Conclusion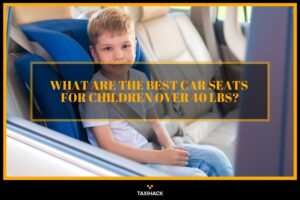 When getting the best car seat for child over 40 lbs, it is important to get one that is entirely safe.
Additionally, other features, for example, the safety specifications, are also to be kept in mind.
Getting ones that are easy to install and maintain will also save you a lot of trouble.
Just be sure that the product is made of good quality material so that it lasts you long, and for example, that the exterior is made of a material which is easy to clean.
It is not only important to keep your child safe and comfortable, but also to buy a product convenient for you too.
The top and the most recommended on my list today is the WAYB Pico Travel Car Seat With Carrying Bag.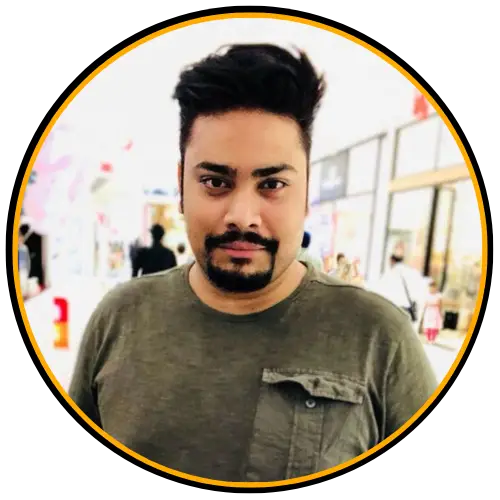 I am Tahir Azam, and I have been writing amazing articles for TaxiHack for as long as I can remember. I know everything that is to know when it comes to automobiles and is always on top of industry news and developments. While I am not an expert by any means, I pride myself on knowing the ins and outs of many different problems and, of course, their solutions. The articles on our website are some of the best and well-researched content that you will find, and I spend countless hours making sure this remains to be true. This is why I ask you to take your time out and read some of my articles, especially if you find a topic that resonates with you or is something you are looking into. This way, you will find the perfect mix of information and tips on your desired topic. Learn more about Tahir.