Evenflo is a well-known name specializing in making all kinds of products for the safety and convenience of children.
One of their specialties is the different car seats, from infant seats to all-in-one convertible and even booster seats, so you do not have to wander around looking for each seat as you can have everything you are looking for in just one from Evenflo.
However, for you to decide on which is the best Evenflo car seat, it is crucial to look into every aspect so you can make the accurate choice for your child.
In this article, I will be guiding you through the best seats, including their features and pros and cons so you can have a better idea.
Nonetheless, read the whole article as there will be a buying guide that might clear some of your curiosity.
7 Top Rated Evenflo Toddler Car Seats Comparisons
1. Evenflo Chase Harnessed Booster

Starting with the first product in my list, I will discuss everything you need to know about the Evenflo Chase Harnessed Booster so you can better understand.
First of all, this is a 2-in-1 combination booster seat, which means that you can use it as a 5-point harness car seat and then convert it to a belt-positioning car seat once your child grows.
Keep in mind that to sit on this car seat, your child needs to be at least 22 up to 110 pounds.
This is because if the child is either too small or too big, the seat might not be able to perform well. Always check the labels and the instruction manuals before purchasing.
Moving on, this booster seat comes with an upfront harness adjustment that allows you to effortlessly adjust the harness from the front of the seat where it is visible.
This also makes it extremely convenient for you to put your child in and out of the car seat.
Another great thing about this product is that it is installed with four harness positions, which means that you can simply adjust the shoulder harness as your child grows so it can fit him/her comfortably.
Besides that, you will be glad to know that the head pillow and pads are removable and can be washed and dried easily.
It is suggested that before you plan on washing the material in your washing machine or plan on cleaning the car seat, read the instruction manual that is provided as certain cleaning instructions should be followed to prevent any damage so it can be long-lasting.
And lastly, the safety standards of this booster seat, you will be happy to hear that this seat meets all the federal safety standards and Evenflo's side impact standards.
This seat has been tested and proved to have structural integrity at an energy level 2x for the federal crash test standard.
Many parents have faced issues with installing and uninstalling the car seat as the latch might not come off easily, or it does not fit well on the vehicle's seat.
PROS
Proven to work during an accident
Comfortable and adjustable
Protects the child from serious injuries
Reasonable price 
CONS
Difficult to install and uninstall
It does not fit in every car type
Cheap quality 
Overall, this product would be a reasonable choice for your child if he/she matches the right height and weight measurements for this booster seat, and if not, you should put that thought to hold and reconsider once your child is old enough for safety purposes.
2. Evenflo EveryStage DLX All-In-One Convertible Car Seat

Another one of the best products by Evenflo, the Evenflo EveryStage DLX All-In-One Convertible Car Seat, is a convertible seat that can be used as an infant seat, rear-facing and forward-facing convertible car seat, as well as a belt position booster seat just in one car seat.
One of the great things about these all-in-one convertible car seats is that they can be used for a long period.
As for the Evenflo seat, you can let your child ride in it for up to 10 years max safely.
Besides that, it is really important to keep your child rear-facing for as long as possible as that is considered the safest position for your child to sit in the vehicle.
Once your child outgrows that stage, you can transition to the front-facing position and then finally to booster seats.
In addition to that, it is stated that your child can sit rear-facing for up to 2 years without having to extend the seat or cram with other passengers.
Coming to the features of this product, one aspect that every parent is thinking about when looking for a car seat is important to comfort, so your child stays seated throughout the whole ride without throwing any tantrums.
You have nothing to worry about because this car seat is designed to provide comfortable fitting for your child.
This car seat allows you to angle the child accordingly to minimize the chances of a head slump.
The seat will also help keep the airway open so you can have a custom cradle fit for your child.
The seat also allows ten position adjustments so you can make changes accordingly as your child grow for accurate fitting and comfort.
Lastly, with the recline system installed in this car seat, you can make use of 3 rear-facing leveling for better fitment in your vehicle and two front-facing reclining options, which will provide additional comfort.
It is worth knowing the safety information regarding this product is that the National Highway Traffic Safety Administration (NHTSA) does not endorse this car seat.
However, Evenflo states that they test all their car seats two times per the federal crash test standard requirement.
PROS
Easy to install
Good quality seat
Reasonable price
Comfortable and spacious 
CONS
Defective product
Poor customer service
Might not have holes for the anti-rebound bar for seats ordering outside the US 
This product is an all-in-one package for the safety and comfort of your child. It will also fit perfectly in your vehicle and has unique features which differentiate it from other brands.
3. Evenflo EveryFit 4-In-1 Convertible Car Seat

This Evenflo EveryFit 4-In-1 Convertible Car Seat is designed to offer as much comfort, safety, and a long lifespan possible. You can use this car seat for four modes for ten years.
The four modes are the infant, rear-facing, and forward-facing convertible and a belt-positioning booster seat.
All these modes are easy and can be installed within 10 minutes in any car type.
The great thing about this product is that you can adjust the position accordingly so your child can drive rear-facing for up to 2 years comfortably without expanding the seat, or even more, which mainly depends on the height and weight of your child.
Parents' main priority should always be to look into the safety standards before purchasing a car seat, as an unsafe car seat will risk your child's life.
Well, you can rest assured that this convertible car seat surpasses all favorable federal safety standards and Evenflo side impact criteria.
You must know that this seat has a developed side-impact safety system that can absorb and reduce collision forces up to 30%.
This means that it will protect and prevent any damage from happening to your child's body.
Moving forward, this innovative Evenflo seat is designed with high-class airflow mesh fabrics, which will keep your feeling cool and will not irritate the skin at all.
Remember that you cannot use abrasive cleaners or solvents for this material.
Besides that, this car seat can also angle your child to minimize chances of getting head slumped with the three rear-facing recline positioning and one forward-facing recline position so your child can sit comfortably and feel safe and secure.
It is worth mentioning that this unique design allows you to adjust the straps with the help of a one-hand, 12 position headrest, and manageable glide no-rethread harness straps so you can make these modifications as your child matures without having to remove the seat at all.
Other great features include washable fabrics and pads that can be simply removed and cleaned even inside a washing machine.
Keep in mind that you must read the cleaning instructions as certain rules should be followed, besides that you cannot use certain products for cleaning or washing.
Lastly, the seat also comes with identical integrated cup holders and an easily removable snacks tray to feed your child snacks or drinks without worrying about them making a huge mess, though even if they do, these can be removed and washed easily.
Due to many objections by the parents, I must let you know this car seat is not easy to install and moves around too much once installed.
PROS
Easy to understand instruction manual
Easy installation
Adjustable straps
Meets federal safety standards 
CONS
Car seat wiggles after installing
Cheap quality
Stiff and unstable 
To sum it up, this is a great choice for parents to keep their child safe, secure, and comfortable in place for a long time as it can be used for ten years.
4. Evenflo Maestro Sport Harness Booster Car Seat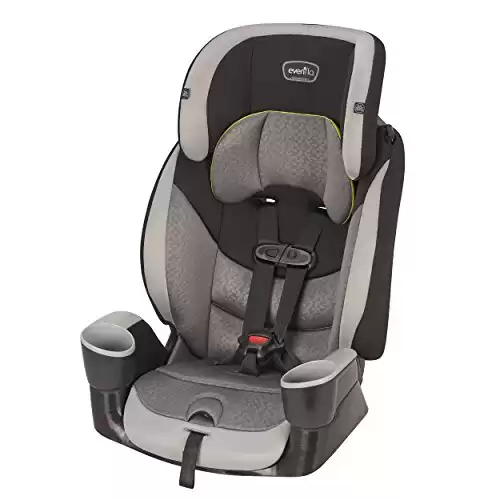 Another great product from the brand Evenflo, this Evenflo Maestro Sport Harness Booster Car Seat is a 2-in-1 booster car seat.
You can use it as a front-facing 5-point harness for children about 22 up to 50 pounds and then convert it into a belt-positioning booster for children from 40 to 110 pounds.
This car seat consists of upfront harness adjustment. With the help of this central front and visible harness adjuster, you can effortlessly snug fit your child in place safely and securely.
This will keep your child secured and enable them to move around too much, and make the harness straps get loose.
These measures should be taken seriously as these will determine the safety and comfort of your child.
When it comes to safety, this product makes sure to provide you with everything to take advantage of all the great and necessary measures to be stress-free and enjoy every ride with your child.
So with the help of the shoulder belt guide, you can easily find the right path where the vehicle belt should go.
Moreover, it will also be able to automatically position the belt to the accurate position for your child.
Besides all that, there are other amazing features that you should know about, such as this seat having dual cup holders.
With these two built-in cup holders, you can provide your child with snacks and drinks without any mess.
However, children tend to make mess frequently, so if they do, you can easily remove the car seat pads and wash them in your washing machine.
As for the car seat, you can use wipes and clean thoroughly.
Make sure to read the instruction manual or check their website on how and what product you should use for cleaning a certain type of car seat as some instructions must be followed.
There might be some issues with the product as it arrives. It could be a defective product, such as issues with cup holders or loose harness straps.
If you are going to buy this product in-store, make sure to examine it thoroughly.
PROS
It fits perfectly on the vehicle seat
Airplane friendly
Easy to install
Lightweight
CONS
Defective
Issues with the cup holder straps
Might wobble around
Poor quality 
Overall, you will be happy to have this car seat installed in your vehicle. As your child grows, you can easily convert it to a belt-positioning car seat.
5. Evenflo Platinum Symphony Elite All-In-One Car Seat

This Evenflo Platinum Symphony Elite All-In-One Car Seat is one of the promising car seats for your child.
This car seat includes three modes in just one seat; you can use the rear-facing, forward-facing, as well as the best positioning booster 5-point harness seat for children that reach the weight limit, which is from 5 up to 110 pounds.
Do keep in mind that once your child outgrows the rear-facing, use the front-facing for as long as possible before moving to a booster seat.
It is stated that the more transitions you make, the more you are compromising on safety.
However, this is something that has to be done ultimately, but it is sufficient to take advantage of when it is considerably expected.
I'll now discuss the main features of this car seat.
First of all, this car seat has a no-rethread harness system, which does not necessarily mean it's a bad thing, but actually, this makes it lenient for you as it comes with easy-to-slide harness straps that will allow you to alter the belt as your child grows without the requirement of uninstalling the car seat every time as it is super convenient.
Moreover, the car seat also includes an adjustable headrest.
With the help of this one-hand adjustable headrest, you can easily make changes as your child grows so he/she can have a comfortable and safe ride.
This adjusted headrest will protect the child from a head slump during an accident.
Highlighting further details regarding this product, the platinum symphony all-in-one car seat has a SureSafe Installation System.
Now you might be wondering what exactly this system does. Well, the main purpose of this is to secure the seat and your child in place.
The SureSafe system contains simple-to-operate connectors and a set of LATCH guides.
The main purpose of these is to install the car seat sufficiently by 2x. This is more promising than the regular latch installations.
Lastly, this seat's head and body pillows deliver additional comfort to your child and can be removed for washing in the machine, worth mentioning that the seat pad does not require a harness rethreading after.
However, you can simply remove them if your child does not like it or if he/she grows for extra room.
The quality of this product might not be as you expected. Some parents were dissatisfied with this product.
PROS
Easy to install
A good built-in latching system
Moderate quality
Comfortable 
CONS
Cheap materials used
Hard to put the child in or out
Less durable 
The bottom line is that this product is a great option for your child as it will provide extra protection and comfort.
6. Evenflo Sonus Convertible Car Seat

The Evenflo Sonus Convertible Car Seat is also one of the most comfortable and safest seats to ride in, according to the brand.
The great thing about this product is that you can keep your child rear-facing for a long time, adding ten extra pounds even after the weight limit is over, which is 5-35 pounds.
The height should be from 19 to 40 inches. You can keep your child front-facing on this from 22-50 pounds, and the height limit should be 28 up to 50 inches.
Even if your child reaches the limit for front-facing, it is still favorable to keep him/her rear faces for as long as the seat allows for extra protection.
Furthermore, you will be happy to hear that this car seat has been tested and meets the federal safety standards as well as the Evenflo side-impact and the industry-leading rollover test standards, which mean you, can rely on this product for safety.
Another feature that is worth mentioning is that, unlike any other brand, this car seat gives an all-season comfort, so your child does not feel itchy or uncomfortable no matter what the weather or temperature is.
You can also take this car seat and travel comfortably in an airplane as it is FAA certified.
And lastly, other features include the upfront harness adjustment straps, five-position shoulder straps adjustment, removable and washable pads as well as 2 cup holders, and finally, a head pillow for extra comfort.
It might be difficult to install, and once installed, it can move around a lot. People also have mentioned that straps are not easily adjusted and can come loose.
PROS
Airplane friendly
Pass all safety standards
Comfortable
Ease of installation
CONS
Loose straps
Seat might wobble
Various problems with the straps and latch system 
To conclude, this car seat has been tested and is proven to protect your child at all costs. It is also trusted by many parents, and children find it comfortable to sit on.
7. Evenflo Sonus 65 Convertible Car Seat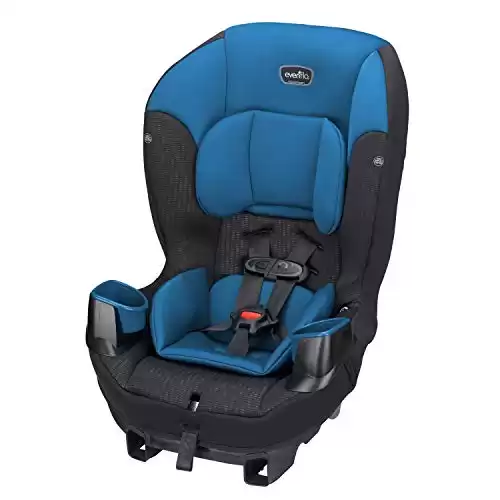 Finally, reaching the last product is my list.
The Evenflo Sonus 65 Convertible Car Seat is perfect for keeping your infant rear-facing for as long as possible and then finally transitioning to front-facing once the child outgrows from the previous position.
The rear-facing rate is up to 40 pounds, whereas the front-facing rate is up to 50 pounds.
This might not be a great difference, but not to worry, as the seat exceeds the weight limit up to 65 pounds, so your child stays in the seat longer.
Your child will be extremely comfortable on this car seat due to the airflow ventilation system.
This detail delivers a built-in ventilation system that will give comfort to your child through all seasons.
Furthermore, another great feature that will make you and your child happy is the extended use as you can accommodate your child with the numerous extents of harness adjustments to match your child's growth.
In addition to that, this seat also includes the upfront harness adjustment and the five shoulder strap positions, which can also be modified to fit your child's growth.
Additional features are the dual cup holders, which you can use to give snacks or drinks to your child, and lastly, high quality that can be removed and are washed in a machine but require you to read the instruction manual so you can have a better understanding.
The foam used for this car seat might be made out of cheap plastic, as various parents have argued about hearing irritating noises coming from the seat whenever the child moves, which can also be uneasy for the child.
PROS
Reasonable price
Simple instructions make it easy to install
Durable
Great features 
CONS
Cheap quality foam
Missing parts
Might not secure in place 
Altogether, this is an outstanding car seat that will be reasonable for your growing child. But when it comes to a car seat, the quality and performance matter a lot.
What To Look For When Buying An Evenflo Car Seat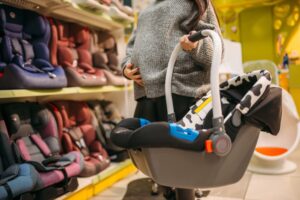 Evenflo is a notable brand when it comes to child care products, but it is probably most well known for its variety of car seats that it has put out over the years.
This guide will go over all of the main factors you should look for when you are going over the car seats manufactured by Evenflo:
Comfortability
Build Quality
Price
Safety
I will talk about all of these points above in this section of the guide:
Comfortability
One of the main things you should be looking for is the car's comfort regarding your child.
You must ensure that the child is comfortably well-placed in the car seat and has enough wiggle room. You should prioritize legroom and headrests.
Build Quality
The build quality should also be a deciding factor for a car seat. You should prioritize getting good quality and reinforced car seats.
This will ensure that the seat will not only last long but also protect in the event of an accident.
Price
Price is always the final deciding factor when it comes to purchasing anything. You should aim to get a good-priced car seat for your child.
You will get better quality and more features the more money you put in, which is something you will know.
Safety
Evenflo has put a lot of effort and emphasis on safety, which is why you should also look for the safest car seat you can get your hands on.
It should be loaded with safety features such as a harness system which many states have as a requirement.
Evenflo has proven itself a very reliable car seat manufacturer and has put out multiple car seats over the years.
Though they have faced recalls and have made mistakes, they have proven time and time again that they are capable manufacturers of all products related to child care.
Frequently Asked Questions
Q1. How Long Can I Use The Evenflo Car Seat?
It is stated that the Evenflo car seat will most likely expire six years after the date of manufacturing.
This is mostly for the seats, such as the booster. However, for infants, it is less than six years.
And for symphony, all-in-one can be up to 8 years as this is the combination of all types from infant to a belt-positioning booster seat.
Q2. Is It Okay If I Use The Evenflo Car Seat Without The Base?
Yes, there is no problem with that!
You can use the Evenflo Nurture Infant Car Seat, which is suitable for children weighing five up to 22 pounds and can be used including or discluding the car seat without any problems.
However, it is suggested that you should use it with the base, but if you are planning on traveling somewhere, then it is best to use it without the base.
Q3. Can Evenflo Car Seats Fit In Different Brands Of Strollers?
Unfortunately, you can not fit in an Evenflo seat with different brands of the stroller.
The reasoning behind this is that various brands design their products differently, which will not allow you to fit in with other brands.
Moreover, it will also not be a safe choice because the seats might not lock well.
Q4. Is Evenflo A Good Brand Car Seat?
Evenflo is a great brand when it comes to car seats!
The brand dabbles in all sorts of quality equipment, such as strollers and baby essentials, and deals with extremely loved car seats.
Boasting a hundred-year history, you can confidently say that Evenflo is a spectacular brand.
Q5. Is Evenflo Car Seat Safe?
Evenflo has been making baby products for quite some time, so you can trust that their car seats are completely safe for use by your infant child.
The company takes special steps to ensure this by implementing various safety features. All of this is done to provide the safe zone that your child deserves.
Q6. Are There Any Recalls On Evenflo Car Seats?
Despite their best efforts, even Evenflo is capable of making mistakes. This can be seen with the various recalls over the years on their car seats.
The brand suffered from 2 recalls in 2016 when they called back the Evolve Booster Seat and the Transition 3 in 1.
Conclusion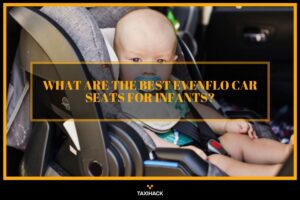 If you have officially made it this far, then I hope now you have a better idea of the best Evenflo car seats and can eventually agree on which one is the decent choice for your child.
However, I would highly recommend the Evenflo Chase Harnessed Booster as it has everything to offer since it is all-in-one, so you can use it for a long time as your child grows.
Regardless of whichever seat you may choose, this brand assures you to provide your child with the best protection, comfort, and convenience so you can have the best experience until it expires.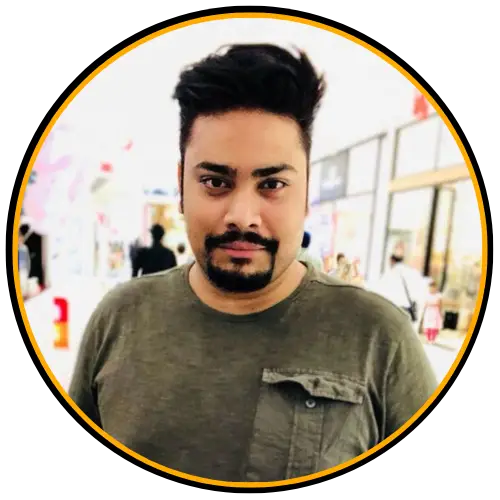 I am Tahir Azam, and I have been writing amazing articles for TaxiHack for as long as I can remember. I know everything that is to know when it comes to automobiles and is always on top of industry news and developments. While I am not an expert by any means, I pride myself on knowing the ins and outs of many different problems and, of course, their solutions. The articles on our website are some of the best and well-researched content that you will find, and I spend countless hours making sure this remains to be true. This is why I ask you to take your time out and read some of my articles, especially if you find a topic that resonates with you or is something you are looking into. This way, you will find the perfect mix of information and tips on your desired topic. Learn more about Tahir.