There is a lot to consider when it comes to your child's safety, especially when they are riding in the vehicle with you.
There are laws regarding this matter that highlight every aspect that a parent should do, such as from installing the seat to the correct way a child should be restrained.
This might be overwhelming and stressful at times, but it is necessary to know these rules and regulations so you can protect your child from any kind of danger at all times.
Coming to the question, when can kids sit in the front seat of my car seat?
Well, it is stated by the National Highway Traffic Safety Administration (NHTSA), the Centre for Disease Control, airbags, and the vehicle's manufacturer that a child should be kept sitting in the back seat of the vehicle until the age of 13.
In this article, you will be able to learn about rules and regulations set by the authorities and what you, as a parent, should and shouldn't do for your child's safety.
What Age Should Your Child Sit In The Front Seat?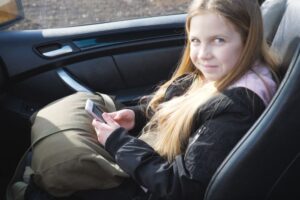 It is stated by various organizations, such as the American Academy of Pediatrics (AAP), the National Highway Traffic Safety Administration (NHTSA), the Federal Aviation Administration (FAA), child passenger safety technicians, and even your airbags and vehicle's manufacturers, that a child should only be allowed to ride in the front seat of the vehicle from the age of 13 and above.
Under Age Of 13
Any child under the age of 13 should be riding in the back seat using a child car seat, or if he/she outgrows car seats, they should be on a booster seat and buckled appropriately with the vehicle's seat belts.
Nonetheless, whether a child should sit rear-facing, front-facing, or on a booster seat mainly depends on the child's height, weight, and age.
Do take these requirements seriously, as this is one of the first aspects you should look into when you plan on riding with your child and when purchasing a car seat.
Moreover, various car seats have height, weight, and age charts that will make it extremely easy to decide which is appropriate for your child.
Always check these measurements, test them by putting your child in the car seat and placing the car seat in your vehicle to see if it fits well.
How Dangerous Riding In The Front Seat For Young Children Can Be?
You might not realize it, but letting your child ride in the front seat at such a young age can be really dangerous.
Even if your child reaches the legal age, it is still best for you to slow that process by following all the rules and regulations.
This is because your child is still not used to sitting in the front seat. You should start by taking small rides with your child in the front seat until he/she finally feels comfortable.
Are Airbags Enough For Your Child Safety?
It is stated that car manufacturers design their airbags that can protect adults who are approximately 5 feet tall and weigh about 150 pounds.
If your child is sitting in the front seat while the seat belt is on, your child is still more likely to get severely injured during a crash because of the passenger airbag alone more than the adult.
This is because an airbag can deploy quickly within 1/20th of a moment.
This means that an airbag can deploy at a rate of 200 miles per hour, transmitting a substantial quantity of force to a younger child.
This is why the National Highway Traffic Safety Administration (NHTSA) suggested that adults be seated almost 10 inches away from the steering wheel.
If Your Child Is Not Strong Enough
It is worth mentioning that a child who is still too young and not physically strong as their bones are still developing and are not as strong as adult bones are, this means that children can end up having serious head injuries due to the effect of the airbag.
An airbag can also lift a child off the seat, and due to such high pressure, a child can end up hitting the top of the car.
Consequently, car manufacturers now introduced the usage of occupant sensing devices, which will be eligible to suppress airbags mainly for infants and children.
If your child has outgrown the booster car seat and is above the age of 13, then your child can sit in the front passenger seat of your car.
You can minimize your child's risk of getting an airbag-related injury by ensuring that the passenger seat is placed as far away from the airbag as possible.
A Child's Age And Safety Knowledge
It is claimed that using car seats for children in the vehicle can reduce the chances of serious injuries during a crash by up to 82%.
This is why it is really important to keep your child seated in a car seat for as long as the seat allows.
It is also crucial to keep your child in the rear-facing position for as long as the seat allows and then make a transition when it is finally time, as that is the best decision you can make for your child.
Parents should always check the height, weight, and age of their children to decide the appropriate way their child should be riding in the vehicle.
It is also crucial to check to determine a suitable car seat for your child. This way, your child is safe, secure, and comfortable.
Here are car seat recommendations that are best suitable for children of various age groups.
From Birth To The Age Of 3
It is suggested that your child should be placed in an infant car seat or a 3-in-1 or all-in-one convertible car seat, which can be used as a rear-facing infant, rear-facing convertible, and forward-facing convertible car seat and includes a booster seat in the all-in-one as your child grows. (Read the article on Best All-In-One Baby Car Seats if your child is under 3 years old).
However, it is best to keep your child in the rear-facing position for as long as possible.
According to the Federal Aviation Administration and the National Highway Traffic Safety Administration, it is one of the safest positions for a child to ride in.
Once your child outgrows that stage, he/she can eventually transition to the forward-facing position.
From Ages 3 To 8 (Or Above)
Children who weigh between 40 and 65 pounds must ride in the front-facing position.
It is sufficient to sit in this type of car seat for as long as possible until they exceed this car seat's height and weight limit.
This forward-facing car seat can protect your child during a crash when there is a forward movement.
Make sure to install this car seat in the middle seat of the vehicle as that is the safest place for your child to sit. It will also provide your child extra space, comfort, and safety.
Ages Of 8 Up To 12
Once your child exceeds the height and weight limit of the forward-facing vehicle seat, it is ultimately time to transition to a belt-positioning booster seat.
It is crucial to ascertain that the vehicle's seat belt accommodates flawlessly around your child's chest and lower abdomen area.
Parents can determine this when the lap belt lies across the child's upper thighs, and the shoulder belt fits accurately against the child's chest and shoulder.
Besides that, the Safety Council has stated that a child should ride on a booster vehicle seat when they are approximately nine years old, whose height is about four ft. 9 inches and weighs approximately 80 pounds for better fitment.
Make sure you check these requirements before placing your child in the seat.
Keep in mind that to sit on this seat, both the shoulder and the lap straps are being used instead of one and should fit and lock in place while the child is riding.
Ages Of 13 Or Older
Although your child has finally reached the appropriate age to sit in the front seat, it is still worth knowing that this transition should be done slowly by following all rules asserted by the authorities.
This can be done by going for small rides every once in a while and by teaching them rules that should be followed in the car until they are finally comfortable and follow the rules.
Children at or above the age of 13 should wear seat belts; this is something the parents should check every time before starting to drive the vehicle.
Why Should You Wait Before Letting Your Child Sit In The Front Seat?
As I have discussed earlier, airbags are not designed for your children as they are lighter and smaller than adults.
Children can easily get severe head and neck injuries due to the deployment of airbags.
This is also because they don't match the height limit, which makes the airbag hit their face causing neck or head injuries or hitting the chest at the speed of about 90 up to 210 miles per hour.
Nonetheless, it is noteworthy that more than 100 children died due to airbags alone, which was caused by the slow-speed collisions in recent years.
Though slow-speed collisions should have been minor incidents, they can be deadly for young children.
Safest Place For Your Child
Moreover, when it comes to the safest place to sit in a vehicle, the back seat is the safest place for your child to sit.
It is safe for everyone regardless of age, height, and weight but significantly if there is a front collision accident.
It is also suggested to install your child's car seat in the middle seat of the vehicle as it will be able to protect your child from serious injuries during a frontal or side-impact accident.
Bone Development Of Your Child
Another reason your child should wait before sitting in the front seat is because of their bone development, as it is entirely different from the adults.
Bones develop strength as the child grows. It has nothing to do with your child's size but the age he/she is at.
The Pediatric Child Health study shows that children 12 or younger have iliac crests. These are less mature in a child's body than in adults.
This iliac crest is a section of the hip bone that can keep the seat belt in place appropriately on the hip area.
This is why it is obligatory to wait until the child reaches the appropriate age and until the body is developed, which is 13 years old, as their bones will be much stronger.
Safety Tips When Riding In The Front Seat
The first thing you should do as a parent is to check if your child is wearing the seat belt or not before starting your journey.
It is obligatory to use all parts of the seat belt. Make sure to teach your children how to secure and buckle a seat belt.
When your child is seated in the front seat, keep checking they are not playing around with the seat belt by twisting or not wearing the shoulder strap or tucking the shoulder belt under the armpits.
Make sure only one child is seated at the front seat, and he/she is above the age of 13.
If your child is seated in the front seat, check the seat belt is not loose and is locked in place.
If your child is 13 but does not reach the weight and height limit for sitting in the front seat, then it is best to stay in the middle of the back seat using a booster seat for safety.
As a parent, this is an essential step to follow. Keep the seat of your vehicle as far away as possible from the airbag when your child is sitting in the front seat.
Parents should teach their children about the importance of behaving well inside your car as well as safety rules that they should follow all the time.
This includes not playing around, moving too much, or leaning forward when sitting in the front seat, as that can be dangerous.
Conclusion
If you have made it this far, then I hope you got the answer to your question of when can kids sit in the front seat of my car.
Although transitioning your children throughout their life stage is necessary, it is still noteworthy that you should delay these changes as much as you can for the safety of your child.
Make sure to follow all the rules and regulations set by the authorities, always buckle your child and teach them safety tips so they can start learning at a young age, and follow them when they start driving too.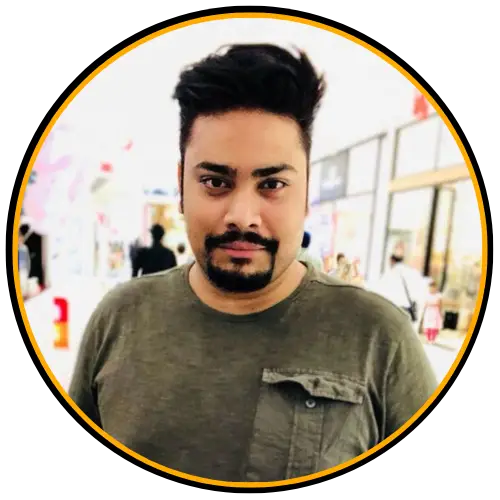 I am Tahir Azam, and I have been writing amazing articles for TaxiHack for as long as I can remember. I know everything that is to know when it comes to automobiles and is always on top of industry news and developments. While I am not an expert by any means, I pride myself on knowing the ins and outs of many different problems and, of course, their solutions. The articles on our website are some of the best and well-researched content that you will find, and I spend countless hours making sure this remains to be true. This is why I ask you to take your time out and read some of my articles, especially if you find a topic that resonates with you or is something you are looking into. This way, you will find the perfect mix of information and tips on your desired topic. Learn more about Tahir.