Sooner or later, your child will have to move from the rear-facing and forward-facing car seats to finally start using booster seats as your child gets older.
It is your responsibility as a parent to make these transitions when necessary and acceptable.
It is important for every parent to take into consideration the age, height, and weight of their child for proper booster seat fit and if they are ready for this change or not.
How should a child fit in a booster seat, you may ask?
Well, it is only fair to make your child fit in the booster seat if your child exceeds the weight and height limit of the forward-facing car seats.
If your child is between the ages of 8 to 12 and weighs approximately 40 to 65 pounds, then there is no problem for your child to fit in the booster seat.
To fit a child in a booster seat, you must know:
When Is Your Child Ready For Booster Seats?
Is This Transition Good For My Child To Fit In A Booster Seat?
Types Of Booster Seats
Choosing A Booster Seat
How To Install A Booster Seat

In this article, I will be providing you with further information in detail that every parent should know about.
The purpose of this article is to assist you with additional information for the betterment of your family.
5 Things You Should Know About Booster Seats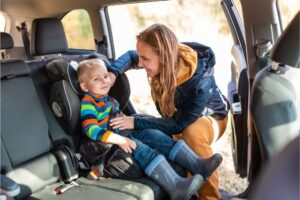 Right before we get into the topic of how to fit your child into a booster seat, there are a couple of things that you should know about booster seats.
It is important to expand your knowledge about this particular seat and its uses.
You cannot just move your child on a seat that you know nothing about.
As you must know, there are certain rules set by the National Highway Traffic Safety Administration for your child's safety.
So let's get into it!
1. When Is Your Child Ready For Booster Seats?
To know how to fit your child in a booster seat, you need to know certain things.
First, your child cannot sit in the booster seat unless he/she is older than eight and weighs about 40 to 65 pounds.
It is also stated that before you start putting your child on the booster seat, make sure to start with infant seats first, then to a convertible seat, and then move to booster seats.
It is your responsibility to know whether your child is ready to be seated on a booster seat no matter what the age is.
Here's the top list of booster seats for your toddler.
Age, Height, And Weight
This is an important aspect to look at when you want your child to fit in a booster seat.
You need to know that booster seats are designed for children above the age of 8 and weigh approximately 40 pounds.
The child passenger safety technicians state that parents should be able to note the mental maturity of their children to test if they can remain seated for a long time and if their bodies are big enough to fit in the seat.
In addition to that, it does not mean that you should move your child immediately if they reach the age limit because, as for some kids, it will be fine to switch at a young age, but for some, it can take time as it can also depend on the physical appearance of your child.
Regardless of looking into the age, height, and weight limit.
It is also important for you to look at things from a different aspect, such as the mental maturity of your child.
The behavioral manners of your child will indicate the decision you should make.
Some kids can take a couple of days or weeks to adjust with booster seats, but for some, it might take a long time, or they cannot adjust at all.
Moreover, some kids might be playful and mess around with their seat belts, which can be dangerous.
It is also important for you to know that your children need to be physically big enough to sit and fit in and stay in place, especially when they fall asleep.
This is important because sometimes, kids who are not suitable for the seat can lean forward during sleep and get seriously injured.
2. Is This Transition Good For My Child To Fit In A Booster Seat?
The sooner you transit from one seat to another, the less protective your child will be.
It is stated by the Federal Aviation Administration to keep your child on the rear-facing car seat for as long as possible, only make the transition when your child reaches the height and weight limit.
Booster seats do not provide as much protection as the harness car seats as they are designed and used differently.
There is a high chance of getting severe injuries when your child is in the booster seat too early.
The process should only be done slowly, as your child will need time to adjust to this change.
Switching Can Wait For Booster Seats
You should slowly switch because it can take time for your child to adjust to the new seating.
Even though it can be the most comfortable seating arrangement for your child as there will be no rear-facing or both-side shoulder belts, it is not the safest seat to sit on.
You need to note that even if your child is eight or above, but the weight limit is not matched, then you must not transition too soon.
Moreover, the importance of height and weight limits is because if there is a crash and your child does not fit in the seat properly, the crash forces can be directed through the child's body instead of the car seat, which can cause internal injuries.
There are also chances of your child to unbuckle the seat belt on the booster seat.
Children can also lean forward or start slouching while on the booster seat, which can be dangerous if an accident occurs.
If this is something, your child often does when on the seat, then it is important for you not to change to the booster seat too early.
However, you should teach your child about safety before transitioning.
Safely Transition For Your Child
To keep your child in place and fit properly on the booster seat, it is important to always use the shoulder and the lap belt at all times.
It is a crucial step before starting your car journey to always keep your child properly buckled and your seat belts locked.
The DMV states that it is important to make sure that you are using both belts simultaneously instead of just using one, as it can be dangerous for your child.
When you are transitioning to the new seat, make sure to install it correctly in place with the help of your vehicle manual as well as your booster seat manufacturer's instruction manual.
You should start using the booster seat slowly by taking your child out for a while around the block to make your child start adjusting to the seat well.
Lastly, it is important for you to teach your child lessons on safety and why they should not play around with the seat belts and always behave well when they are seated.
3. Types Of Booster Seats
There are commonly four types of booster seats found in the market with distinctive features, but people mostly use the backless and high back booster seats.
It is also important for you to read through this as it will help you better understand what type of booster seat is good for your car and your child.
Backless Booster Seats
This type of booster seat is designed and manufactured to lift your child when he/she sits on it.
It only consists of cushioned seats with a shoulder rest that will help secure the shoulder belt and the lap belt in place for protection and keep the seat belt, and your child stays fit.
It is important when your child is seated; your child's head is not above the vehicle seat. This is because it will protect your child from skull injuries from the whiplash of the crash.
High Back Booster Seats
This seat is designed differently than the previous one I mentioned because it will come with back and head support, which will be good for your child, especially when asleep.
You need to note to fit your child into this seat; your child should be at least 40 pounds and above in order to reach the seat belt placement.
As it is important for your child to be big enough for the booster seat, it is also important for the seat belts placement as it should be in the middle of the chest.
In addition to that, it will protect your child during a crash because it also provides the best positioning for the shoulder belt.
4. Choosing A Right Booster Seat
When it comes to choosing a right booster seat for your child, it mainly depends on your preference and your child.
It is also important to note that you should always make sure that you read through the manufacturer's instruction manual and vehicle manual before getting a booster seat.
It is also good and okay to transition from different types of booster seats according to your child's preference because the safety and comfort of your child should always be the number one priority of the parents.
5. How To Install A Booster Seat
It is important for you to note that the booster seat is mainly in place with your child's height and weight.
If it is not installed and the seat belts are not secured/locked properly, then during a crash, the seat can also lift up, which can cause serious injuries to your child.
Here's how to install the booster seat properly:
Always read the vehicle manual and manufacturer's instruction manual first.
Place the booster seat on the vehicle seat.
Secure in place the lower anchor of your booster seat with your vehicle seat.
Next, you should lock the seat belt of your vehicle.
Lastly, use the shoulder and lap belt over the child's upper thighs and secure the shoulder belt for best positioning on the middle of your child's chest. Then you are all set!
Conclusion
Overall, the transition is necessary as your child grows and eventually your child will fit in the seats, but it is also important to know when and how it should be done.
I hope this article and the important piece of information was helpful for parents in order to understand what the proper booster seat fit is for their child as well as more in-depth study about the booster seats.
It is necessary for every parent to think about the safety of their child and to look into these details before you decide to switch or fit your child into booster seats.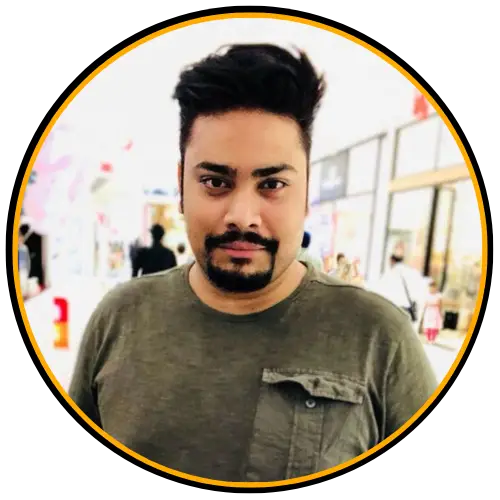 I am Tahir Azam, and I have been writing amazing articles for TaxiHack for as long as I can remember. I know everything that is to know when it comes to automobiles and is always on top of industry news and developments. While I am not an expert by any means, I pride myself on knowing the ins and outs of many different problems and, of course, their solutions. The articles on our website are some of the best and well-researched content that you will find, and I spend countless hours making sure this remains to be true. This is why I ask you to take your time out and read some of my articles, especially if you find a topic that resonates with you or is something you are looking into. This way, you will find the perfect mix of information and tips on your desired topic. Learn more about Tahir.