If you clicked on this article, then the chances are that you are looking to buy a NorthStar product.
It is perfectly logical to learn more about the company you are buying from to ensure that it is trusted. Now, a name like NorthStar is trusted. But I have to convince you of that.
So, this article will be focusing on the best NorthStar battery review alongside a detailed FAQ that will answer most of your questions and confusion.
By the end of this article, you will have made up your mind if NorthStar is the brand for you. So, without any further ado, let's begin!
In A Hurry? Here's My Top 6 Picks…
Are NorthStar Batteries Any Good?
Before you sacrifice your precious time on this lengthy article, it should be known beforehand if the brand is worth it or not.
I can tell you that NorthStar is one of the topmost rated battery companies in the world. Some of its products come in direct competition with brands like Optima and Die Hard batteries.
So, you don't have to worry about their products being subpar. Perhaps the most influential factor in this matter is the brand's use of the latest and greatest AGM design.
Most of the batteries that NorthStar is developing currently feature the AGM design. It has proven to be a huge upgrade over conventional flooded batteries.
I will be discussing this more in the product listings. In short, NorthStar batteries are not good but are excellent. And they are worth it.
Who Makes NorthStar Batteries?
It looks like you want a peek behind the curtain to make sure you trust the brand from the inside out.
Well, I have got you covered. The current owner and manufacturer of Northstar batteries are EnerSys.
Yes, EnerSys is the same company that also owns the battery company Odyssey. The conglomerate has some pretty big names under its belt.
If you are worried that the acquisition will drop the quality of the batteries, well, you have nothing to worry about.
NorthStar retained its quality too. I must admit that this is very rare to witness.
Usually, product quality drops when there is a change in leadership. But Enersys must have a top-notch way of handling new businesses.
What Are The Top Rated NorthStart Automotive Batteries?
As promised, I will now be listing and getting into the details of the top six batteries currently available to buy from NorthStar.
These products have been arranged according to their positive to negative review ratio and their offerings.
I can guarantee you that you won't find a NorthStar product better than the ones I will be mentioning here.
1. NorthStar Pure Lead NSB-AGM94R Battery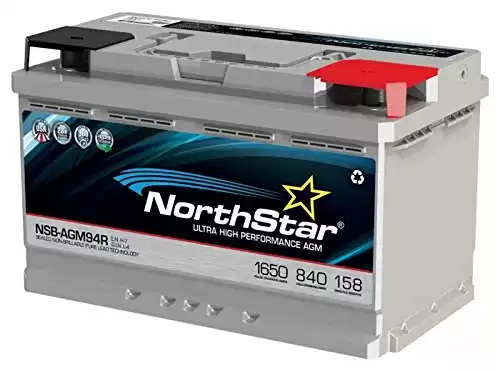 Taking up the first spot is this amazing NSB-AGM94R Battery by NorthStar. I must admit that this product does not have that many ratings.
But it is the number one choice for thousands of people. It has some pretty fantastic offerings which you will surely love.
The name has given you two clues about the battery. The first one is that it is a pure lead one.
Yes, that's right! The brand does not cut corners and uses lead alloys. These alloys not only have poor conductivity but also shorten the battery's life.
Well, pure lead has many advantages. The first one is that you are getting a thinner plate, thanks to its purity.
This means that the manufacturer can pack in more plates. This improves conductivity. The pure lead will also last longer than an alloy.
The second clue was in the model number. This battery is an AGM one. For those who don't know, AGM means Absorbed Glass Mat.
Fundamentally, the battery is a lead-acid one, but its workings are completely different than a flooded battery.
It doesn't require water every few weeks and is designed to be spill-proof. The battery has been sealed shut.
You can mount it in any position you want and won't have to worry about it leaking.
Let's talk numbers!
This battery can provide you with a whopping 840 CCA.
This basically means that you won't ever have to worry about the battery not starting up your engine reliability in extreme weather conditions.
Combine this with the 158 minutes of reserve capacity provided by the battery, and you are looking at a long-lasting power supply.
More than two hours of backup at maximum load is something you find only in top-end batteries. And guess what, this NorthStar battery is one of them.
Some buyers complained that the battery lasted them for a few months.
The only possible explanation for this is that they were sent defective units. NorthStar must look into this issue and solve it as soon as possible.
PROS
Pure lead used
AGM design
840 CCA for a reliable startup
One hundred fifty-eight minutes of reserve capacity
CONS
May fail after a few months
Apart from the fact that the brand sent out defective units, you don't have anything to worry about. The high value of CCA and reserve capacity is some thing you will surely love.
2. NorthStar Pure Lead Group 27F Battery
Coming in a very close second place is this Group 27F Battery from NorthStar. This one, yet again, has some pretty great offerings, which you will surely appreciate.
Let's dive a bit into the details of this product!
This battery is capable of a CCA of 930 A. This is greater than the previous battery and one of the best I have ever seen.
A CCA value of 930 A means that the battery will work reliably and start up your car in the coldest of weather.
So, if you are one of those people who live in an exceedingly cold area or frequently travel to one, then this battery is perfect for you.
You will certainly never have any issues with it due to the weather. You must be wondering about the reserve capacity.
How does more than three hours sound to you?
Yes, that was not a typo. This battery is capable of outputting power at a maximum load for more than 3 hours. The exact number is 195 minutes.
This is just insane. If there is an emergency or you just want to keep the battery on the shelf for a few months, this battery will most probably never drain on you.
This makes it the ultimate upgrade for your vehicle. And, as expected, the battery uses cutting-edge AGM technology.
This means that you won't have to worry about adding water to it every few weeks. And because of this reason, the battery has also been sealed shut.
This also makes it an SLA battery. It can be mounted in virtually any position, and you won't have to worry about it leaking or spilling.
This makes it very convenient to own. The battery can also handle deep cycles pretty well.
Unlike most car batteries on the market, which cannot handle even one full discharge, this one can handle 900 cycles at a 50% depth of discharge.
It's like NorthStar has crammed in every great feature in a single product.
There was one negative rating for this product, and it was quite serious.
The buyer complained that the negative and positive terminals of the battery were labeled incorrectly.
He attached them in the wrong direction, which blew fuses. This is a very serious matter and must be looked into by NorthStar as soon as possible.
PROS
930 CCA for a reliable startup
195 minutes of reserve capacity
900 cycles at a 50% depth of discharge
AGM technology
I urge you to recheck the battery terminals if you choose to buy them.
Apart from this issue, the product itself is great. It can output some serious cranking power and is perfect for use in all sorts of environments.
3. NorthStar Pure Lead Group 34/78 Battery
It looks like all products from NorthStar are of great quality.
This NSB-AGM34/78 Battery is yet another example of the high quality of the brand's products. It also has a pretty solid 4.5 star ratings. Chances are you will also love this battery.
This is the third consecutive product on the list, which has an incredibly high and excellent value of CCA and reserve capacity.
This Group 34/78 battery has a CCA rating of 880 A. This is, yet again, greater than the first one. CCA means cold-cranking amps.
The value is taken at a temperature of -0-degrees Fahrenheit. The higher the value, the more reliably the battery will work in cold temperatures.
Anything above 650 is considered decent. But NorthStar strives to be the best. They come very close to it.
The reserve capacity has also been set at an excellent value of 134 minutes. This means that you can use the full amperage of the battery for more than two hours.
If you are not using the battery for a few months, then it will definitely not drain out. It will also work for a long time in case of emergencies.
The rest of the battery has similar specs to the previous two. You are getting a battery that uses pure lead instead of lead alloys.
The alloys have poorer conductivity and are not that durable. The use of pure lead also allows the manufacturer to fit in more plates in the battery.
Combine this with the AGM design used by the brand, and you can expect excellent performance from this product. The reserve capacity and the CCA value speak for themselves.
The brand also promises a faster recharge rate than conventional batteries. The battery can also handle 900 cycles at a 500% depth of discharge.
This is another great addition. This means that you won't have to worry if the battery completely drains down.
The battery has very few ratings. Plus, one of those ratings stated that that the battery reduced its capability after two years.
It should last for at least four years. It may be possible that the user received a faulty unit.
PROS
880 CCA
135 minutes of reserve capacity
900 cycles at 50% depth of discharge
AGM design
CONS
May fail prematurely
Fewer ratings
Apart from the one negative rating, buyers were mostly satisfied with this battery. Although it has fewer buyers, the brand itself is more than trusted.
4. NorthStar Pure Lead NSB-AGM35 Battery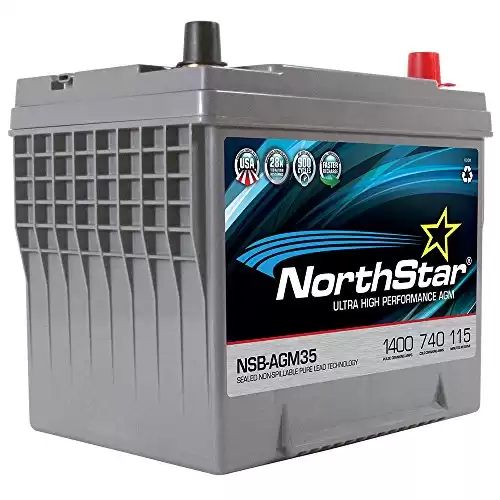 Now, if you are one of those people who don't want excessive CCA and reserve capacity, then I have got just the thing for you.
Arriving in fourth place is this NorthStar Pure Lead NSB-AGM35 Battery.
This product, yet again, has fewer ratings, but the people who bought it were satisfied with its performance.
Let's dive a little deeper and see what it has to offer!
As I said before, this battery does not have excessive offerings like the previous three products.
The CCA value of it is 740 A. This is still more than enough for cold weather conditions.
Although the reliability will not be the same, you can still be sure that, if you travel to a colder area, it won't cause any problems. It is never bad to prepare for the future.
The reserve capacity on the battery has been set at a very respectable 115 minutes. You are getting almost two hours of backup on this battery with a full load.
Honestly, anything above the one-hour mark is considered more than enough by me. You must be wondering why I am mentioning this again and again.
Well, if you know how much time the battery will last you on a full charge, then you will never try to drain it fully.
The battery features the same AGM pure lead design as the other batteries in this article. It is efficient, has excellent performance, and is durable.
The brand has made sure that the battery will have an OEM fit. It has been built using exact BCI standards. This means that it will fit in your vehicle without any modifications.
The housing used for the making of this battery utilizes advanced plastics, which not only enable the battery to be more durable but also make it strong enough to handle vibrations.
This is a major cause of concern for most users. The heat resistance is of the plastic makes sure that the battery will not be affected by the scorching temperatures of the engine.
There was one user that stated that the battery stopped holding a charge after a few months of usage.
The issue occurred after the owner's vehicle was not used for a few weeks.
NorthStar must look into this issue and ensure that future buyers won't have to go through with this.
PROS
Pure lead AGM design
OEM fit
Advanced plastics for durability
740 CCA and 115 minutes reserve capacity
CONS
It may fail if not used for a few weeks
NorthStar has made yet another excellent battery. If it solves their products' charging issues, then all of them would be no question recommendations for you guys.
5. NorthStar Ultra-High-Performance Group 31 AGM Battery
Earning the fifth spot on this highly competitive article is this NorthStar NSB-AGM31 Battery.
We are coming to an end. Each and every single one of these batteries has proved to be an excellent choice for buyers.
And this one is no different. Although it has fewer ratings, buyers were mostly content with what they received.
Let's take a closer look and see what it has in store for you!
The first thing mentioned by the brand on its product page is that its products are proudly manufactured in the USA. And that is something definitely to be proud of.
As some of you must know, the United States has a strict policy on quality control. This basically means that you can expect the best quality from the brand.
The materials used are of the highest grade, ensuring that they will have a very little chance of being faulty.
The company has used the same pure lead design. Most competitors are using a lead alloy which is basically a way of cutting costs.
This is the reason there are very few brands that even come close to NorthStar in terms of performance.
The pure lead allows the manufacturer to fit in more plates in the battery. This allows for better conductivity and higher power output.
The AGM design adds to this excellent performance. The battery does not need any water every few weeks. This makes it very convenient to own.
This battery takes the lead over all other listings on this article. With an output of over 1150 CCA, it is easily the champion of working reliably in cold weather.
Even the reserve capacity has been set to 220 minutes. That is almost 4 hours of backup at full load. This is honestly crazy.
Buyers had some serious issues with this battery. Apart from the failing issue, NorthStar refused to replace the batteries under warranty.
This is unacceptable as they sent out a faulty unit. The brand must not do this to customers.
PROS
AGM design
Pure lead used
Made in the USA
220 minutes of reserve capacity
1150 CCA for a perfect startup
CONS
The battery may refuse to charge
Warranty claim issue
I can guarantee that you did not expect such a performance from this battery. But the fact that the brand did not honor its warranty for this product is quite a serious matter.
6. NorthStar Pure Lead Group 27 Battery
Finally, arriving in the sixth and final place in this Group 27 Battery by NorthStar. Although this NSB-AGM27 battery earned the last spot on the list, it is definitely not the least.
It must be remembered that all six of these products from NorthStar's catalog of batteries.
And, believe me; the company makes a lot of batteries. This battery is quite similar to all previous ones.
Let's see what it has to offer!
This battery is another AGM one. Now, I know that I am repeating myself, but the technology is so advanced.
You are getting improved performance, better durability, and a maintenance-free design. This makes the battery super convenient to own.
The AGM design also allows the battery to be charged faster than conventional batteries.
Anything you can think of, except for the price, AGM batteries are superior to traditional batteries. As an added benefit, you don't need to clean the terminals every now and then.
The battery has an OEM fit. This means that there will be no modifications required to get the battery to fit in your vehicle.
The dimensions of the battery are of BCI standards, meaning that there won't be any fitment issues.
The construction of this battery is also very high quality. The advanced plastics used make the battery more durable.
The heat resistance of the battery is also bumped up, thanks to this premium plastic. The CCA rating of this battery is a very impressive 930 A.
You won't run into any issues regarding an unreliable startup in freezing weather conditions.
The reserve capacity is a whopping 195 minutes. You are getting three hours of constant backup on full load. You won't ever drain the battery completely.
The brand even offers a four-year warranty with this battery. This means that you won't have to worry about any manufacturing faults during the course of the battery's usage.
The battery has the least number of reviews, and there were users that complained about the battery failing after a few months of usage.
After checking out all these products, it can be concluded that the brand has a common issue which must be solved as soon as possible.
PROS
AGM design
930 CCA for a reliable startup
195 minutes of reserve capacity
Four-year warranty
CONS
The battery may fail prematurely
Fewer ratings
NorthStar, yet again, has created an excellent battery. It should work on its quality control. The battery itself is an excellent product.
NorthStar Battery Warranty
Fortunately, for you, the brand offers a decent one year warranty with its batteries. Now, I know that the coverage duration is less, far lesser than the likes of Odyssey.
But it is still better than nothing. If there are any issues due to a manufacturing fault, the brand will provide you with a replacement unit, completely free of cost.
And, to be honest, one year is more than enough for any faults to come to surface. But, it must be kept in mind that the warranty does not cover accidental damage caused by the user itself.
Frequently Asked Questions
Q1. How Long Do NorthStar Batteries Last?
An excellent question! From a company as popular and big as NorthStar, you would expect their products to last for quite a lot of time.
Well, you would be right. No matter your usage, you can expect a NorthStar battery to last from 3 to 5 years.
Yes, that's right! You can squeeze the power out of this battery for a maximum of 5 years.
The number may be pushed even farther, but that is possible with very light usage and maximum care.
So, if you are worried that your buy will become a heavy paperweight after a year or two, you have nothing to worry about.
Q2. How Long Do NorthStar AGM Batteries Last?
Some of you may be wondering that this question looks similar to the previous one. It is, and it is not. The above question talks about all NorthStar batteries in general.
But now, we will be discussing the brand's AGM lineup. Of course, you would expect a pure lead battery to last for quite some time.
Well, according to the brand's own website, their AGM thin plate lineup can last for more than 12 years. That is, if the battery is used with a continuous charge and a stable voltage delivery.
Plus, these batteries can work in extreme temperatures, are maintenance-free, completely spill proof and safer than conventional batteries.
So, in short, you are getting a high-performing battery that will last you a decade or even more and does not require any water.
Q3. Are NorthStar Batteries Good For Car Audio?
A typical vehicle user would not ask such a basic question. It looks like some of the readers take part in car audio competitions.
I have some good news for you. All NorthStar AGM batteries are perfect for heavy usage.
This is, yet again, only possible due to the pure lead construction and an AGM design. The power output is unparalleled when compared with products from other manufacturers.
So, whether you take part in competitions or are just an audio enthusiast with a hi-tech audio system installed in your vehicle, a Northstar AGM battery is perfect for powering it up.
And, if you are one of the majority and use the stock speaker setup, well, you have nothing to worry about.
Q4. Are Odyssey And NorthStar Batteries The Same?
As I told you guys before, at the start of the article, Odyssey and NorthStar are owned by the same brand, EnerSys.
Although they go by different names, the brands will be producing identical batteries, at least from the inside.
Both of the brand's batteries are even manufactured under the same roof in Missouri. This means that the brands definitely borrow design ideas from one another.
Now, this is not a bad thing. Companies usually use the good stuff of other brands. So, they are making themselves better.
So, since both the brands have been under the same ownership, they have become better and not worse.
This is the reason for both the companies not losing their quality after changing owners.
Conclusion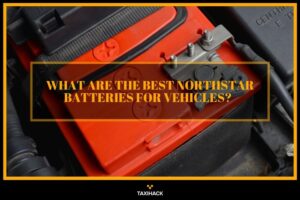 There you have it, guys, my take on the NorthStar battery review.
I have covered everything from the ownership of the brand to its best products on the market.
I did all of that so you can be sure that you will have all the information about the brand in one place—no need to search the internet for each question.
Moreover, there are many sources that provide inaccurate information.
This is what TaxiHack is all about, providing quality content to its readers, so you don't have to think twice before choosing something.
Regardless, you can choose any NorthStar battery, and you will be more than content with how it performs.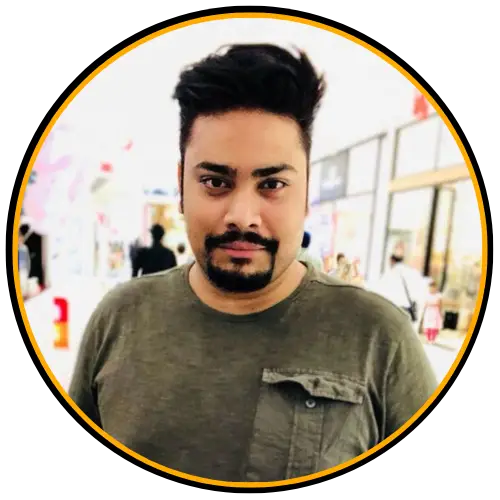 I am Tahir Azam, and I have been writing amazing articles for TaxiHack for as long as I can remember. I know everything that is to know when it comes to automobiles and is always on top of industry news and developments. While I am not an expert by any means, I pride myself on knowing the ins and outs of many different problems and, of course, their solutions. The articles on our website are some of the best and well-researched content that you will find, and I spend countless hours making sure this remains to be true. This is why I ask you to take your time out and read some of my articles, especially if you find a topic that resonates with you or is something you are looking into. This way, you will find the perfect mix of information and tips on your desired topic. Learn more about Tahir.