I have written articles on numerous big brands such as Mighty Max, Exide, and even DieHard. These companies have created a standard for themselves.
One of their biggest competitors is the brand Odyssey. They are the veterans in the battery space.
Their battery-making history can be traced back to more than 100 years prior. This means that they know what they are doing.
This article will give you a little insight into Odyssey and list some of its top products available to buy right now. I have also included FAQs that will answer some of your questions.
In A Hurry? Here's My Top 6 Picks…
Are Odyssey Batteries Any Good?
Before we start our venture into the depths of Odyssey and its products, one must be sure if the brand is worth reading about or not.
Well, fortunately for you guys, Odyssey is a beast when it comes to manufacturing car batteries.
Their products are considered premium quality, and they have satisfied hundreds of thousands of users throughout their journey. You don't have to take me at my word.
If you scroll down farther, you can judge for yourself after checking out the products I will be listed there. And, spoiler alert, you will most definitely love all of them.
Who Makes Odyssey Battery?
Finally, a brand that does not keep the name of its manufacturer up in wraps. Brands like Exide make it hard for users to know where and who exactly makes the buying product.
But, fortunately for us, the brand states the name right on their own About Us page. EnerSys Energy Products Inc handles the manufacturing.
The company is a huge name in the battery world. It makes batteries for tons of applications, such as automotive and military.
So, you can be sure and have peace of mind that the battery you will be getting will be of top-notch quality.
What Are The Top Rated Odyssey Automotive Batteries?
As promised, here I will be listing the best batteries available to buy from the brand Odyssey.
These products have been chosen after carefully analyzing their ratings and their positive to negative rating ratio.
I can guarantee you that you will not find batteries from Odyssey, which are better than the ones I will be talking about.
1. Odyssey 34/78-PC1500DT LTV Battery
You might have guessed it with the name of the product itself. The number one product with over 150 five-star ratings has been designed for LTVs or, as commonly said, cars.
This Odyssey 34/78-PC1500DT LTV Battery has some pretty fantastic offerings, which you guys will surely love.
Let's talk numbers!
I know that some of you are reading this article from a cold place or planning to take the vehicle to such an area very soon.
Well, you guys are very lucky. This battery has a CCA of 850. I will talk more about that later on. But, a decent value of CCA is considered to be 650.
This value tells you how reliable the battery will be in the winter. I can guarantee you that you will have a reliable startup every time, no matter the temperature.
The brand also offers a four-year replacement warranty with the battery. This is one of the best offerings I have seen. And I have written about many battery brands.
Coverage of such a period means getting a replacement unit if a manufacturing fault arises during the battery's usage. It also tells you that the brand knows its product will last long.
One could naturally expect the battery to last around the four-year mark, around the battery's warranty period.
Well, lucky for you, you can expect a battery life of up to 10 years with this product. Now, the duration of usage may depend solely on how aggressively the battery is put to use.
Light usage will last you the whole decade. You can still expect the product to last you around five years without any issues.
Buyers reported about the battery dying after a few years or months of usage. Some buyers even had their units die after 3 years.
Although such short usage is unacceptable, the warranty would be extra useful in scenarios like this.
PROS
850 CCA for a reliable startup
It can last for up to 10 years
Four-year replacement warranty
400 cycles at 80% depth of discharge
As I said, Odyssey has created a fantastic battery. The ratings speak the same thing.
If only they would not have sent out those few faulty units, it would have been a perfect buy for anyone.
2. Odyssey PC925 Automotive And LTV Battery
If you are looking for a battery with a bit more ratings than the previous one, then I have got just the thing for you.
Arriving in second place, with over 550 positive ratings, is this PC925 Automotive And LTV Battery. This product, yet again, shows how good Odyssey is at making batteries.
Let's dive a little deeper and check what this product has to offer!
This battery has been designed for use in warmer climates. I thought it would be fair to write about an equally performing battery that will work in exceedingly hot temperatures.
This Odyssey product has a CCA of only 330. It is quite low, but only because it has been designed for use in warmer climates.
The reserve capacity has been set at a moderate 52 minutes. It is not a lot but is enough for starting purposes.
You are getting the same service life out of this battery. You can expect it to last for a maximum of ten years.
This means that this single-time purchase will last you so long that you won't even have to worry about it.
You guessed it. This battery has a sealed design. This means that it does not need any water every few weeks.
Plus, it has the fastest recharge time out of any sealed battery on the market. It can be fully charged in a mere 4 to 6 hours.
The sealed battery has a non-spillable design. This means that it can be mounted in any position, except for inverted. This makes it very convenient to own.
Buyers had a disappointing experience with this product. They stated that the battery stopped holding a charge after a few weeks of usage.
The brand also made it difficult to claim a warranty with this product.
PROS
Fully sealed design
It can be mounted in any position
Up to 10 years of service life
Fast charging capable
CONS
May not charge after a few weeks
Low CCA
Although the battery having a low CCA is not a con, it is meant for people living in warm climates.
The charging issue is quite serious and must be looked into and solved to ensure that future buyers won't go through the trouble again.
3. Odyssey PC1200 Battery Terminal
Arriving in third place is yet another fantastic battery by Odyssey. Although this product has fewer ratings, it is still a great product.
The brand has made this battery to ensure that people living in warm and cold climates will both be pleased. The PC1200 Battery Terminal is made of 100% pure lead.
Unlike other manufacturers, which use additives to cut costs, Odyssey has remained true to its purpose and delivers top-of-the-line products with very few competitors.
Odyssey PC1200 battery provides a reserve capacity of 540. Now, I know this is not a huge number. It is incomparable to the 850CCA of the first product.
But it must be kept in mind that each product is aimed towards different people of different areas.
540 ensures that the battery will work in cold conditions. The reliability in such temperatures may vary. But it is a guarantee that it will work.
Let's talk reserve capacity!
The battery can output power at full load for a very decent 78 minutes. This means that you are getting more than an hour of juice. This is great in case of emergencies.
There are batteries out there with much larger numbers than this one, but 78 minutes is more than enough for almost everyone.
You may want to know that this battery can handle up to 400 cycles at an 80% depth of discharge. Normal vehicle batteries are unreliable in this regard.
If they are fully drained, there is a probability that they will not come back to life. Well, you won't have to worry about that with this Odyssey battery.
Apart from the battery having very few ratings, one user received the battery that had been previously used.
There were scratches and scuffs on the battery's body. Odyssey must look into these issues and solve them as soon as possible.
PROS
Made from pure lead
400 cycles at an 80% depth of discharge
78 minutes reserve capacity
More plates due to pure lead
Apart from the one user, most buyers were happy with this product. It must be kept in mind that the listing has very few ratings. This makes buying from the seller a bit of a risk.
4. Odyssey 65-PC1750T Automotive And LTV Battery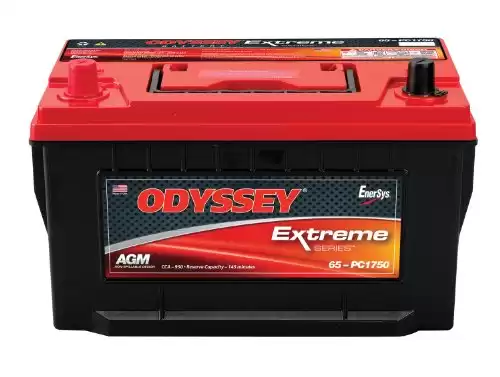 Although there was no mention of the brand having any specific series, the webpage lists this 65-PC1750T as an Automotive Battery from their Extreme Series.
There is not much information about it online, but the name suggests that it may be a pretty high-end series.
This Odyssey battery has an AGM design. This means that, with this product, the brand is using cutting-edge technology that all of you will surely love.
Combine that with the fact that the manufacturer uses pure lead to manufacture the product, which means that it can pack in more plates than any other lead-alloy battery on the market.
When compared to such batteries, you can expect twice the performance and up to three times better cycle life from this beast.
The cycle life of this battery is the same as the previous ones. You can expect up to 400 cycles at an 80% depth of discharge.
This means that you won't have to worry if the battery is fully drained while using it.
It will charge back up just fine. This is something that cannot be said about many batteries available to buy right now.
Let's talk numbers!
This battery can output a whopping 950 CCA! This is the best one out of the bunch.
A value of 950 means that you can expect a reliable startup every single time, no matter the temperature.
The reserve capacity has also been bumped up to 145 minutes. This means that you are getting more than two hours of power output at maximum load.
This is great if you use the battery in vehicles that have many electronics.
Yet again, buyers complained about the battery not charging up after a few weeks of usage.
This looks like a serious issue that Odyssey must solve. If users continue to get such batteries, it will only be bad for them.
PROS
950 CCA for a reliable startup
145 minutes of reserve capacity
Pure lead used
Up to 400 cycles
CONS
May stop charging after a few weeks
Odyssey has outdone itself yet again with this beefy battery. If only the brand solved its charging issues, it would have been a no hesitation product to recommend to all of you.
5. Odyssey PC680 RedTop Battery
Taking up fifth place is yet another very popular product from the brand Odyssey. This PC680 RedTop Battery has been designed for users whose vehicles are subject to rough use.
Let's see what it has to offer!
The battery is perfect for people who own Powersport vehicles. If you don't know what type of vehicle is this, these are used mainly for off roading purposes.
In rocky areas, a normal battery will fail sooner rather than later. This is where the PC680 steps in.
Moreover, rugged construction of the battery, combined with the pure lead plates, means that you will be getting solid and reliable performance wherever you go.
As this battery is not designed for cold weather purposes, the CCA is kept at a low value. The value is 170. It cannot be used in colder environments.
Even the reserve capacity has been set a minute 24 minutes. This means that the battery has been purely designed for starting purposes.
There has been no compromise on cycle life. The manufacturer promises the same 400 cycles at an 80% discharge rate.
The charging rate is also as fast as ever, with the battery going from 0 to 100 in 4 to 5 hours.
It can work at temperatures as low as -40-degrees and as high as 45-degrees. As I stated before, the performance will not be reliable in exceedingly cold temperatures.
The brand even offers a two-year warranty on the battery. Although it is not as good as the four-year option provided with other batteries on this list, it is still better than nothing.
Buyers complained about the same issue with this battery. They stated that it would stop charging after a few weeks or months of usage.
PROS
Designed for off-road purposes
400 cycles at an 80% depth of discharge
Two-year warranty
CONS
Low reserve capacity
Charging issues
Although, the brand should have increased the reserve capacity to something more decent.
Twenty-four minutes is nothing to power electronics. Regardless, the battery is a great one, and you will surely love it.
6. Odyssey 34R-PC1500T Automotive And LTV Battery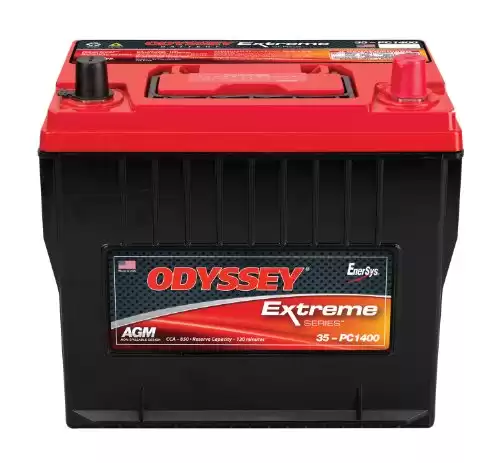 Taking up the last spot is this Odyssey 34R-PC1500T Automotive Battery. This battery is one of the only three on this list that has been designed for use in extreme environments.
Let's dive directly into the numbers!
This Odyssey battery is capable of providing a whopping 850CCA. This is similar to the PC1200, which was another example of a beefy battery.
CCA is a measurement taken at a temperature of 0°F. The reliability of the battery is tested at that temperature.
The higher the value, the better the reliability. Although anything above 650 is considered decent, 850 is on a whole other level. Reserve capacity has also been upgraded to 135 minutes.
This means that you will be getting more than 2 hours of backup on maximum load. That is impressive. Odyssey knows how to satisfy its users.
And, if you were wondering, this battery does have an AGM design. This means that you are getting cutting-edge technology which leaves the flooded design in the dust.
Well, Odyssey does not cut corners like that. The brand uses pure virgin lead, unlike most competitors out there. They use a lead alloy because it is cheaper to manufacture.
Pure lead not only means better conductivity but also allows the manufacturer to pack in more plates. This significantly increases the battery's performance.
So, overall, this 12V battery provides you with superior cranking power, an excellent reserve capacity, and unparalleled performance, thanks to the use of pure lead.
This product has some serious drawbacks. Apart from the usual charging issues, buyers also complained that the incorrect product was sent to them.
Odyssey has a serious problem which it must address as soon as possible.
PROS
AGM design
135 minutes of reserve capacity
850CCA for a reliable startup
Pure lead used
CONS
Charging issues
Wrong product sent
If you receive a free battery from all these issues, you will be pleasantly surprised by its performance. I can guarantee you that it will exceed your expectations.
Odyssey Battery Warranty
The brand has made it easy for users to understand its warranty. The dedicated pages on its website are a true help for many people.
First of all, the brand states that it knows how good its products are. They say that users have gotten more than ten years from their products.
But they still provide a decent warranty to ensure that you are getting a product that will be replaced without any additional cost, regardless of the fault.
But the damage must be something that the user has not caused. It must be a manufacturing fault. If it is, then, unfortunately, the warranty does not apply to you.
Frequently Asked Questions
Q1. How Long Do Odyssey Batteries Last?
Now, this is a great question. Just because the brand makes high-quality batteries, it has dedicated a whole page to explain its warranty and why you will never need it.
Odyssey claims that its batteries can last for up to 10 years. Realistically, you can expect it to last around 5 to 6 years.
The 10-year mark is possible with light and careful usage. Regardless, six years is more than enough for a battery to last.
Until the day the battery dies on you, you can expect reliable performance from it. This is mainly possible thanks to the use of 100% pure lead plates instead of lead alloys.
Q2. Does AutoZone Sell Odyssey Batteries?
Fortunately, for some of you, AutoZone does sell Odyssey batteries.
I confirmed that by visiting the retailer's website and then searched for Odyssey batteries. And, voila, there were many listings for the brand's batteries.
AutoZone is one of the most trusted retailers in the USA. Users highly regard it, and it always keeps fresh stock, not the one sitting on the shelf gathering dust.
This is great news for battery buyers. You can be sure that the battery you buy will most probably not be drained by the time you install it in your vehicle.
Q3. Do Odyssey Batteries Need A Special Charger?
There were buyer complaints that their batteries were not charging fully because they were not using Odyssey batteries.
Only two users stated this. Others had no issues in charging their units. Although, the specified 4 to 6 hour charge time may only be possible with a charger from Odyssey.
Regardless of the charger you use, the voltage must be set at 14.7 V. This value must not be changed unless you are looking to damage the battery.
To answer your question, Odyssey batteries do not require proprietary chargers. You can use any AGM charger, as long as it is set at the correct voltage.
Q4. Is Odyssey Battery Worth The Money?
Although these batteries tend to be on the expensive side, they are worth it. The fact that the brand uses pure lead instead of an alloy is a reason alone for buyers to spend more money.
The better and more reliable performance is difficult to get from impure batteries.
Plus, Odyssey batteries last considerably longer than their counterparts. You can expect a lifetime of up to 10 years from an Odyssey battery.
The brand states this value itself. This is how much confidence it is in its product. Odyssey's batteries are expensive but are worth the money.
Q5. Are Odyssey Batteries Gel Or AGM?
It looks like you skipped through the entire article and jumped directly to the FAQ section. Don't worry, as I have got you covered. Odyssey charges a premium on its batteries.
They have been designed using the latest and greatest AGM technology. AGM technology uses thin fiberglass plates to store the electrolyte.
This is vastly different than a gel battery and is also more efficient and better performing. The durability of the battery is also increased using this design.
All major manufacturers have shifted to the AGM design. It is the latest innovation in the battery arena.
Q6. Is Odyssey PC680 A Deep Cycle Battery?
Now, some of you may be wondering what a deep cycle battery is?
Yes, it is! Unlike normal automotive batteries, a deep cycle battery has been designed for aggressive usage.
This means that you can drain and fully charge it all you want, and it will not fail on you.
If your vehicle supports the PC680 and you have a lot of electronics in your vehicle, too, then there is no battery better than this one to power up your car.
Such batteries also have a high CCA value, meaning that they will work in all sorts of temperature conditions.
You can take it wherever you want, and you can expect reliable performance out of it.
Conclusion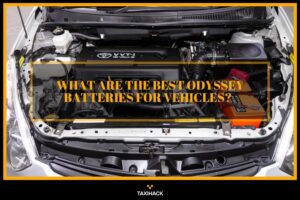 So, there you have it, guys, my take on the best Odyssey battery review.
If you read through the entire article, you must have understood that Odyssey is a brand that produces such high-quality batteries that there is a very small number of brands that can come and challenge it.
I hope you enjoyed this article, and I hope that the included FAQs may have helped answer some of your questions.
If you decide to buy from Odyssey, I can guarantee you that you will certainly love your purchase.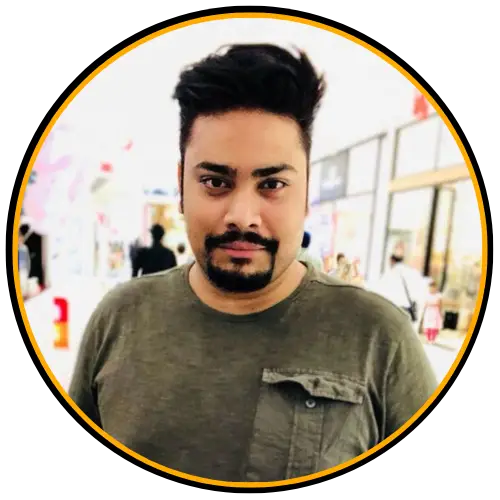 I am Tahir Azam, and I have been writing amazing articles for TaxiHack for as long as I can remember. I know everything that is to know when it comes to automobiles and is always on top of industry news and developments. While I am not an expert by any means, I pride myself on knowing the ins and outs of many different problems and, of course, their solutions. The articles on our website are some of the best and well-researched content that you will find, and I spend countless hours making sure this remains to be true. This is why I ask you to take your time out and read some of my articles, especially if you find a topic that resonates with you or is something you are looking into. This way, you will find the perfect mix of information and tips on your desired topic. Learn more about Tahir.