Since its inception in 1967, DieHard has been making premium quality batteries. With over 50 years of experience under its belt, you can expect some solid performance out of its products.
But you need a guide that will help you in choosing the battery which is right for you. This article aims to do exactly that.
With a five die-hard batteries review and a ton of FAQs, you can rest assured that this article will provide you with every single bit of information you would ever want to confirm if DieHard is the brand for you.
So, without any further ado, let us begin!
In A Hurry? Here's My Top 5 Picks…
Are DieHard Batteries Any Good?
Of course, the first question that arises before any other is if DieHard batteries are worth it. I have some good news for you.
If you are looking for a high-quality battery but are restricted by a budget, then there is nothing that can defeat this brand in that regard.
The manufacturer does not cheap out in terms of build quality and performance. And that is what makes Die Hard so great.
It is unparalleled in the budget category, making it easy to recommend to anyone. Their products also last much longer than the competition.
After all, that is what everyone is looking for.
Are Die Hard Red Batteries Also Good?
Are you looking for a reliable starting battery?
Take a look at DieHard Red. Starting at an affordable price, you are getting extremely good performance. These starting batteries can last for at least three years.
The brand even offers a one-year warranty with the product, making sure that you are getting full coverage if there are any problems.
Although these batteries are good, Die Hard batteries are on the low end of the spectrum.
They meet the bare specifications. Most users are more than satisfied with what they get, but you should check out their Gold, Silver, and Platinum lineup if you are looking for more.
Who Makes DieHard Battery?
Until 2019 Johnson Controls manufactured DieHard batteries. In 2019 they sold the entire battery division to Clarios LLC.
In the past, DieHard production has been handed over to different brands. At one time, Exide also manufactured the company's batteries.
There is very limited information on the matter. But I can confirm that, unlike most brands that take a severe hit in terms of quality, after changing manufacturers, DieHard retained it.
This is no minor feat. So, the batteries are just as reliable as they were a decade ago. This is something that cannot be said for most brands, including popular names such as Exide.
Where Are DieHard Batteries Made From?
As I stated, the brand has changed manufacturers plenty of times. There is no information as to where the batteries are being manufactured currently.
But, when Johnson Controls was ahold of the job, they were assembled in Wisconsin, USA.
Manufacturing in the states means that you are getting extreme quality control and only the best materials.
So, you won't have to worry about getting a product that is made from subpar materials.
The reality is that there the DieHard name has been a part of many organizations. It is difficult to keep track of all that, but what is guaranteed that their quality is still topnotch.
What Are The Top Rated DieHard Automotive Batteries?
1. DieHard 38232 Advanced Gold AGM Battery
TOP PICK
Arriving in the first place, with over 50 five-star ratings, is this 38232 Advanced Gold AGM Battery. Yes, that is right!
DieHard uses cutting-edge technology to make sure it stays ahead of the competition. This Group 34 battery has some pretty impressive offerings which you will surely love.
Let us talk durability!
There are many batteries on the market that provide great performance but are extremely weak. They cannot handle vibrations.
Now, you really do not want a product like that in your vehicle. This is where DieHard enters. The brand guarantees 20 times better vibration resistance than the best battery on the market.
This is great news. Whether you like to go off-roading or not, you can expect this battery to last through anything easily.
When comparing with lead-acid batteries, you are getting twice the cycle life.
After all, this battery is an AGM one. It has huge benefits, which just leave conventional batteries in the dust.
For example, this battery has a completely sealed design. This means that it will not leak ever. You can mount it in odd positions and will not have to worry about it leaking.
It also does not need any water every few weeks. This is something that conventional battery owners have to worry about a lot.
Let's talk numbers!
This battery has a whopping 120 minutes of reserve capacity. This means that you get two hours on full load.
How incredible is that! This is great in case of emergencies. This also ensures that the battery will not drain as quickly when it is resting on a shelf.
The design of this battery is to make sure there will be no accidents at all. The full-frame positive and negative terminals will not let any electrical shorts from taking place.
This means that you will not ever have to worry about an electrical fire from this battery. After all, this product is one of the best Die Hard has ever made.
Buyers reported that their batteries stopped holding a charge after around two years. This is unacceptable because the brand guarantees at least four years of life from the product.
PROS
20 times resistant to vibrations than the competition
AGM design
Spill-proof
Full frame terminals to prevent shorting
Although DieHard has made a stellar battery, it must be kept in mind that the user that complained most probably received faulty units.
This rare occurrence should definitely not deter you from considering this otherwise spectacular product.
2. DieHard 38188 Advanced Gold AGM Battery
Arriving in a very close second is yet another gold battery from DieHard.
This 38188 Advanced Gold AGM Battery has been designed to replace your Group 34R battery. It is quite similar to the previous product, which automatically makes it an excellent offering.
Let's dig into the details and see what this battery is offering!
Just like the previous battery, this one also has great protection against vibrations. You are getting 20 times better vibration resistance than the competition's best offerings.
This means that you can take your vehicle off roads or wherever you want, you won't have to worry about the battery giving up.
I don't know about you, but I drive in a manner to ensure that my vehicle's parts will not get damaged. So, getting a part like this will certainly bring peace to my mind.
Group 34R battery also provides a reserve capacity of 120 minutes. I did say that it was quite similar to the previous product.
Regardless, 2 hours means that you will have more than enough juice when you need it.
Thanks to the 775 CCA or more commonly known as Cold Cranking Amps, this battery will work flawlessly in the coldest of situations. CCA is measured at 0-degrees Fahrenheit.
A good value is 650. With this one being more than 100 points than the baseline, you are guaranteed to get excellent performance.
As this is an AGM battery, you are getting extreme protection from all sides. The fully sealed design means that there will be no spillage.
The battery has also been heating sealed and has been made tamper-resistant. This means that the internal components will stay protected and isolated forever.
However, the brand is even kind enough to provide a three-year warranty with this battery. This means that you get 36 months of zero tension.
You will be eligible for a free-of-cost replacement if there is any manufacturing fault.
Buyers had the same exact complaint as the first-class Red battery. They stated that it stopped holding a charge after a few months.
The manufacturer should look into these issues and resolved them as soon as possible, so more users don't face the same problem.
PROS
775 CCA for a reliable startup
120 minutes reserve capacity
Heat-sealed
Three-year warranty
DieHard must increase its quality control because sending out faulty products is unacceptable.
Other than that, the product itself is great. With more than plenty of power for most of you, it will keep you satisfied for a long time.
3. DieHard 38275 Advanced Gold AGM Battery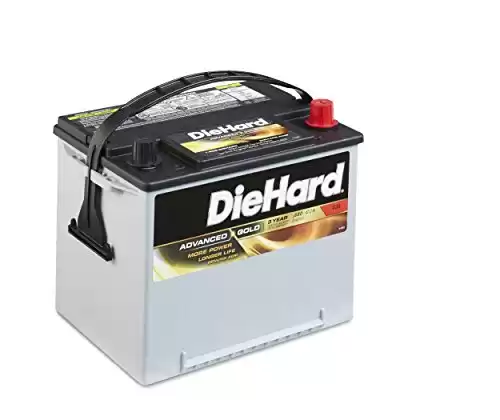 If you own a vehicle that takes in a Group 35 battery, then I can guarantee you that there is no brand better than DieHard to keep you content.
To be specific, this 38275 Advanced Gold AGM Battery will do wonders for your car. The high CCA and reserve capacity are two of the many things to love about this battery.
This is the first product on this list that has different offerings than the previous one. This does not mean that it is bad.
In fact, the durability of this battery is the same as the previous two products.
Twenty times resistance to vibration means that you won't have to worry about the battery failing at any period of time.
You must be wondering how this product is different than the previous two. Well, this battery provides 650 CCA, which some of you will consider less. As I said before, 650 is respectable.
It means that you will have a reliable startup at temperatures as low as 0-degrees Fahrenheit. The battery also cuts back on the reserve capacity.
It has now been capped at 100 minutes. To be honest, anything over an hour is excellent. One hundred minutes is more than enough for most.
This battery is also just as secure as the previous two. The full-frame positive and negative plates eliminate the chance of electrical shorts.
Electrical fires are no joke. They are more lethal and can charge water around you. But you won't have to worry about that with this battery.
Being an AGM battery, this product needs excellent isolation to ensure it will not be compromised. The thin fiberglass will lose its efficiency quickly if it is exposed.
Well, thanks to the sealed and spill-proof design of this battery, you won't have to worry about that.
You also don't need to worry about topping the battery off with water every few weeks. I know this is a huge burden off of some of you guys.
As expected, buyers again reported that their batteries started dying after a few months.
It looks like that this is a real problem for DieHard. They must improve their quality control, so fewer units like this reach consumers.
PROS
Fully sealed design
Spill-proof
20 times more vibration resistant
Full frame positive and negative plates
CONS
May die quickly
Lesser CCA and reserve time
DieHard has yet again, created an excellent battery. If only they would fix the battery failing issue, it will become a no hesitation recommending for anyone.
4. DieHard 38228 Advanced Gold AGM Battery
Arriving in fourth place is yet another product from DieHard's Gold lineup. It is now clear that buyers mostly buy products from this lineup.
The reason for this is that the products are not only high quality but have great performance too. This 38228 Advanced Gold AGM Battery proves just that.
This battery is a Group 48 one. It has been designed to ensure that it will leave the competition in the dust. Very few products can do that.
From durability to performance, you can expect great things from this product.
This product is an AGM battery. The absorbed glass mat design is far superior to anything that is available to buy today.
The battery is 20 times more vibration-resistant than ever. I know it looks like I am repeating this again and again. But the fact is that it is such an upgrade over anything available.
You can take your vehicle wherever you want and won't have to be tense about it getting damaged in the process.
If you want to know the numbers, then I have some good news for you. The 760 CCA is almost similar to the first two products.
This means that you will have a great performance, no matter the weather. If you live in cold areas or travel to such places frequently, then this battery is best suited for you.
On the other hand, the 120 minutes reserve capacity is more than enough for most of you. If it is not, then I don't know what will please you. The rest of the battery has the same offerings.
The full-frame plates ensure that there will be no short-circuiting. The sealed design allows you to mount the battery in any position you want.
It's enhanced electrolyte suspension is designed to take in as much electrolyte as possible. This ensures great conductivity and also ensures that the internal components are protected.
Buyers reported about batteries dying yet again. This time the fail duration was spread out.
One user had his battery fail at 2.5 years, while another one failed in a mere few months.
DieHard has a serious problem that will only lead to more negative ratings if this continues.
PROS
760 CCA for a reliable startup
120 minutes reserve capacity
Sealed design for mounting in any position
Enhanced electrolyte suspension
CONS
Reports about battery failing
I honestly did not expect something like this from a brand like DieHard.
The common failure occurrences are something that scares buyers away and also makes it difficult to place their trust back in the company.
5. DieHard 38217 Group 49 Battery
Finally arriving in the fifth and final place in this Group 49 battery.
It has arrived in the last place due to its poor positive to negative rating ratio. It is not very bad, but when compared to the previous ones, it is worse.
Let's see what this 38217 Group Battery has to offer!
This battery, despite the negative ratings, has the highest power output of all products on this list.
It can provide a whopping 850 CCA, which is 200 points higher than what is considered a decent value.
Which means that you won't have to worry about the battery having problems in cold weather. It will work just as flawlessly and reliably as in summers.
Now, let's talk about reserve capacity!
This beast of a product provides you with 170 minutes of power at full load. That is very impressive.
The fact that you are getting almost three hours after a full charge means that this product is perfect for emergencies. The rest of the product is basically the same.
As this is yet another one of their Gold lineup, there is nothing different or special going on. The lineup is already more than good enough for everyday use.
So, why change it? Well, this battery has the same 20 times better vibration resistance. It is also spill-proof.
You can install it in any orientation you want, and there will be no worry about it leaking. The battery is also maintenance-free.
It does not need to be topped off with water every few weeks. Moreover, security functions of this battery are also top-notch.
The full-frame positive and negative plates ensure there will never be a short circuit.
The electrolyte suspension system ensures that the internal components will stay protected and isolated always.
Buyers had two complaints about this battery. They either received the product in a completely unusable state, unable to hold a charge, or it failed soon after.
Buyers had two complaints about this battery. They either received the product in a completely unusable state, unable to hold a charge, or it failed soon after.
This is a very serious issue. If it was not for the product's warranty, it would not have been on this list.
PROS
850 CCA for a reliable startup
170 minutes reserve capacity
Spill-proof design
CONS
Faulty on arrival
May fail before time
DieHard has yet again, created a very good battery. Only if they improved the quality control it would have scored first place on the article.
DieHard Battery Warranty
Is the 90-day replacement battery warranty provided by Amazon not good enough for you? Then let's talk about the coverage provided by the manufacturer itself.
Well, lucky for you, the brand provides a warranty of 36 months or three years. This is great. A battery is usually rated to last around 4 to 5 years.
A 3-year coverage means that you won't have to worry about any manufacturing defects during most of the course of the battery's lifetime.
How great is that?
If the battery is faulty, you can get a free-of-cost replacement.
After checking online ratings, I learned that the brand only honors their warranty if you buy from them directly. If you buy from Amazon, then they ask you to refer to Amazon.
This is not a good practice but is more common than you would think. This is something also missed out on by most people online.
Frequently Asked Questions
Q1. Who Sells DieHard Batteries Now?
Currently, Advance Auto Parts sells DieHard batteries. The brand already makes great products.
But they still chose to be the official retailers of DieHard batteries. Previously, Sears was the only brand that did this.
They still do sell them. I guess that they will do that until the remaining stock runs out. This is completely normal practice.
So, if you are looking for fresh stock, then you should go to Advance Auto Parts. But even if you buy from Sears, there won't be any problems.
You will get the same warranty, and even the shelf life of these batteries is great. You won't have to worry about getting dead or faulty batteries outside the box.
DieHard really has made stellar products. They have made sure that even products that have been on the shelf for some time will be ready to go whenever installed.
Q2. Does Walmart Sell DieHard Batteries?
No, they do not. Although the brand DieHard is featured on Walmart, they sell only products such as battery chargers.
As I said before, DieHard only sells batteries via Sears or Advanced Auto Parts.
There may be local dealers that may resell the batteries, but it is rare to find sellers for DieHard batteries.
If someone claims to be an official dealer and does not have the name Sears or AAP with him, then you should report them.
Plus, they may be selling counterfeit products. You really don't want to get in that sort of a mess. It is always best to buy from known brands.
Regardless, Walmart does not sell DieHard batteries. You can check out the brand's official battery charging lineup on there.
Q3. How Long Do DieHard Batteries Last?
As I stated above, the brand provides a three-year warranty with its battery. So, naturally, one can assume that the battery will last that long.
That is where you would be wrong. A DieHard battery will last you around 4 to 6 years. It will achieve the four-year mark with rough usage.
If you use the battery with care and don't overwork it, then you can expect it to give you stellar performance for six years.
But, as you may have seen in the five products I listed before this, there is a common problem of batteries failing on users.
Although the chances of something like this happening are slim, it is still possible. In that case, the battery can die anytime, from a few months to a year or even two.
And, the fact that you won't even know if you have received a faulty product means that you just have to use it to make sure.
Thanks to the brand's warranty, you won't have to worry about that.
Q4. What Type Of Battery Is A DieHard Gold Battery?
Although it is named as an AGM battery and uses proper technology, the battery is a lead-acid one. But do not be confused. I am here to explain.
In short, the AGM design is the latest version of the lead-acid one. It provides better CCA and better reserve capacity. You also get better durability and vibration resistance.
So, let's get into the details of what this means!
Most vehicle batteries, which are non-electric, use the lead-acid design. Yes, that is true. This accounts for AGM batteries too.
There is the use of electrolytes and lead. But, in an AGM battery, instead of the electrolyte flowing freely, it is trapped in thin fiberglass sheets. The electrolyte is also in a gel format.
So, the battery is a lead-acid one fundamentally but is also quite different in terms of working. But it is far better than the wet cell or free-flowing design.
Most importantly, an AGM battery does not need water every few weeks.
Q5. Is DieHard Silver An AGM battery?
Let's talk about DieHard Silver!
There was no mention of this lineup anywhere on this article because the Gold one overtook it in every single regard. This does not mean that the lineup has poor quality or has issues.
It's just that it is meant for users that don't have too aggressive usage. The naming scheme of Die Hard is really creative.
To answer your question, no, a DieHard Silver battery is not an AGM one.
I know that some of you may be expressing your disappointments. But even this one comes on the highest end of the spectrum of conventional flooded batteries.
Let us take their Group 121R battery, for example!
The battery can output around 600 CCA and 750A. This means that it is not for cold weather.
Although it will work in temperatures close to zero, you will not get reliable performance in those conditions.
The 750 cranking amps are more than enough for a reliable startup in warm weather.
Q6. Are DieHard Batteries Maintenance-Free?
Although these questions have been asked by people many times, most of them are pretty much interlinked.
To answer the question, it depends on which DieHard battery you are talking about—the Red and the Silver use the traditional free-flowing design.
At the same time, the Gold and the Platinum lineup are using the latest and greatest AGM technology.
It must be kept in mind that these lineups are designed for totally different buyer categories.
The heavier the usage, the higher you should go on their lineups. In answer to the question, the first two need to be maintained.
The Platinum and Gold batteries do not need any maintenance. They can be installed and forgotten for years.
Q7. Are DieHard And Auto Craft The Same?
Yes, they were. The manufacturer of both brand's batteries was Clarios LLC, or more commonly known as Johnson Controls.
But they sold DieHard to Advance Auto Parts in 2019. The deal cost a whopping $200 million.
This must not be forgotten that these two brands are completely separate. Even if they were being manufactured under the same roof, their similarities stopped there.
Each brand has its own manufacturing design. But, speaking of the matter currently, these two brands are not the same.
Both are independent of each other. So, don't get tricked into buying an Auto Craft battery just because you thought it is similar to DieHard.
Conclusion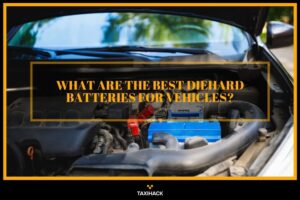 So, there you have it, guys, and my take on the best DieHard batteries review.
I know that this article is very long, much longer than anything I have written before. But the reason for that is there was a lot to cover.
From FAQs to product reviews, there was nothing that I missed. I hope that this article helped you in deciding if DieHard is the brand for you.
I have also written similar articles for Optima and Exide, with more on the way. They will be similarly formatted so you can decide which brand of batteries you should go for.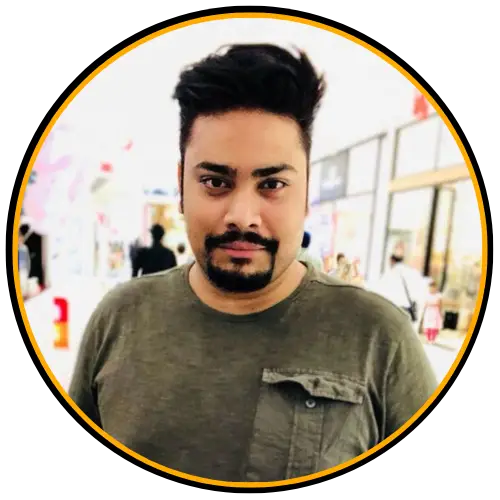 I am Tahir Azam, and I have been writing amazing articles for TaxiHack for as long as I can remember. I know everything that is to know when it comes to automobiles and is always on top of industry news and developments. While I am not an expert by any means, I pride myself on knowing the ins and outs of many different problems and, of course, their solutions. The articles on our website are some of the best and well-researched content that you will find, and I spend countless hours making sure this remains to be true. This is why I ask you to take your time out and read some of my articles, especially if you find a topic that resonates with you or is something you are looking into. This way, you will find the perfect mix of information and tips on your desired topic. Learn more about Tahir.