While your car battery may have decided that it has served you for long enough and wants to retire, you don't have to worry about finding the best Group 35 battery for your vehicle.
Looking for a replacement for your battery can be a hassle for anyone.
With many options available, the differences in price ranges and dimensions, it can be stressful, especially if you are not well versed in car batteries (which most of us are not).
Below is a list of professionally researched and reviewed batteries available today; of these, the most recommended battery has to be the Arc-Angel Group 35 LiFePO4 Battery.
6 Top Rated Group 35 Batteries Comparisons
1. Arc-Angel Group 35 LiFePO4 Battery
TOP PICK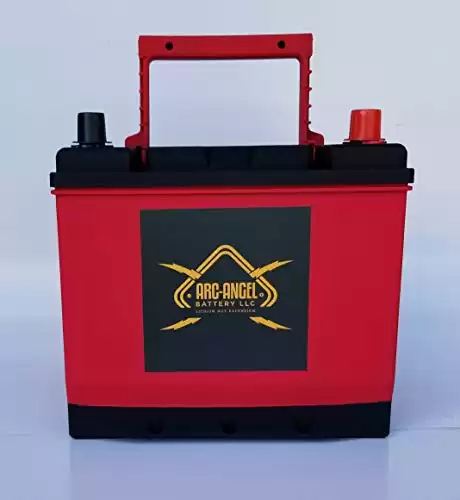 The Arc-Angel Group 35 LiFePO4 Battery is my top pick is because of its enhanced performance and its lightweight.
Almost, half the weight of a regular flooded-cell battery or even an AGM battery, this weighs only 16 lbs.
The next thing I love about this battery is its warranty. You get a 10-year warranty from Arc-angel for this battery. Any problems with the battery, you get a replacement, as simple as that.
The battery is completely resistant to heat and easy to install. It has a solid build and s completely shock resistant.
No water or shock can budge its exteriors. The battery holds its charge for a long period.
I kept this battery for over a year and when I again used it, it was as good as new. Didn't need to charge again and also it maintained its voltage.
These batteries are also not off-gassing issues it cranks my car so smoothly and effortlessly, that it's a pleasure to start my car now.
So, the long service life of the battery of almost 10 years makes it my first and foremost recommendation. Also with 900 CCA (cold cranking amps), it is simply the best.
The only thing I dislike about this battery is its high price. It's the best battery but also the most expensive battery in the market.
But the dollars you pay for it are worth it. I would also recommend using a LiFePO4 based battery charger to make the best use of or even prolong the battery life.
PROS
Lightweight
High performance
10-year warranty
4X times more charge cycles
2. VMAXTANKS VMAX V35-857 12 Volt 35AH AGM Battery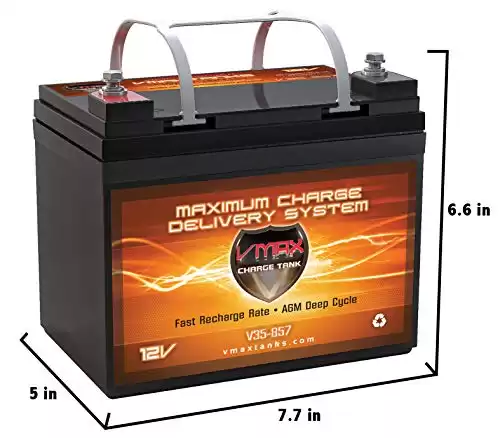 My second pick on the list is the VMAXTANKS VMAX V35-857 Battery because of its high performance and reliability.
VMAX ensures special treatment to every battery during the process of manufacturing to make them extra sturdy.
These batteries are packed with lead-tin allows which gives them extra service life and higher performance Even after continuous over discharges and in deep cycling application, these batteries perform the best.
It has an AGM design which makes it leakage proof. The DOD is almost 6% which is much better than the traditional flooded cell batteries.
The battery charge is retained even after repeated and continuous deep discharging. The compact design makes it fit under the hood of your car very easily.
This battery also does not require any maintenance. No need to check if it is overcharged, no need to check the water levels and you can simply let it sit idle and it stays good as new.
It is both mechanically and chemically durable. it has a nice handle to carry it and every easy to install. Most people install it within a few minutes. The posts/terminals are of high quality.
The only disadvantage is that it discharges fast. Some people complain that it did not last as long as they would have wanted it to last.
Further; the warranty information is not concise and scattered over many bits and pieces.
PROS
Battery maintains itself
Sturdy and compact
High power
The extra margin of performance
3. Optima Batteries 8020-164 35 RedTop Starting Battery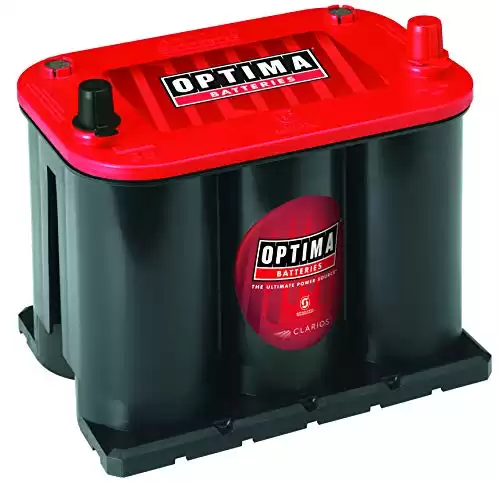 If you are looking for high performance and good cold-cranking amps, then Optima Batteries 8020-164 35 RedTop Starting Battery is for you.
The battery is best for your car, especially if you have trouble starting your car during the wintry morning.
This battery has 720 A which keeps your car running in any condition. You can simply rely on this battery in the deep cold winters or very hot summer days.
The reserve capacity is also high of almost 90 minutes, which you won't easily get in other Group 35 batteries.
This battery uses a polypropylene case which makes it stable and reliable. It is a compact box battery and has a high vibration resistance.
Its vibration resistance is 15 times better than the average resistance of Group 35 battery AGM.
Installing this battery is also very easy. You don't need to spend much time installing and using it.
The other best thing about this Optima battery is its price it is very affordable and can fit your budget easily.
It gives very high performance and has a very long service life. You will enjoy its high power and enjoy all your electronics and gadgets in your car at the same time.
The deep discharge recovery is a bonus of the battery. The faster charging of this optima battery is because of its spiral-wound cells of pure lead plates.
Some people have had some very bad experiences with the warranty of this battery.
I would recommend buying only from the authorized dealers of the battery. It also takes a much longer time to charge than another Group 35 batteries.
PROS
Easy to install
High performance
Good cranking amps
Very affordable
CONS
Takes times to charge
Issues with warranty
=> Check the Optima battery's buying guide at https://taxihack.com/optima-batteries-review/.
4. Odyssey EXTREME 35-PC1400T Battery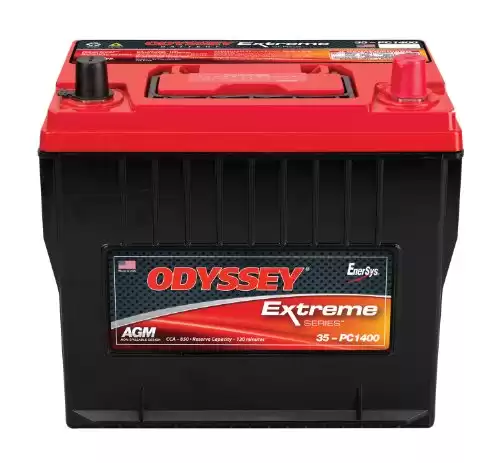 Looking for a powerful AGM battery for your car with a high CCA and good performance? Odyssey's brand name is synonymous with power and sturdiness.
All the batteries of Odyssey boast of the best warranty in the market and good service life. The Odyssey EXTREME 35-PC1400T Battery also lives up to its name.
This car battery has a good 850 CCA rating. With this battery, you will never be left stranded.
Even when you are getting late to go to your office on a frigidly cold morning, your car will start smoothly with this battery.
This has a long service life and comes with a four-year full replacement warranty. If you are buying this battery, it is likely to save you money, time, and frustration in the long run.
The stable voltage it provides keeps your vehicle running for hours in the end without charging. It also has 400 cycles at even 80% discharge rate.
Further, the AGM (Absorbent Glass Mat) design makes it solid. It is completely sealed and safe to use. You don't have to worry about getting acid spills or corrosion.
Further, it has the fastest recharging rate of all AGM batteries available in the market. Even if the battery is deeply discharged, you just have to charge it and in 4-6 hours, it is fully charged.
Most batteries take 10-14 hours or longer to get fully charged but not this one. It has the fastest recharge rate.
Also, the price range is affordable and it can fit your budget easily. You don't have to spend exceptionally high prices and you get a monster of a battery in your car.
It comes with universal connection cables which makes it easier to fit and install in any type of car.
The only drawback of the battery is that it is less powerful than other models of the same company. It has only a power of 12 V/35AH.
The other drawback is its size it weighs around 41 lbs which is quite bulky for a battery in this segment.
PROS
Affordable
Fast recharging
No leakage
High CCA
=> To learn more about Odyssey batteries, go to https://taxihack.com/odyssey-batteries-review/.
5. NorthStar Pure Lead NSB-AGM35 Battery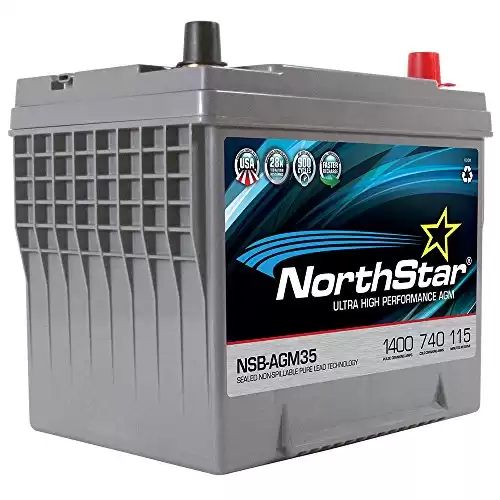 If you need a strong battery for your truck car, buy NorthStar Pure Lead NSB-AGM35 Battery.
This battery is meant for daily drivers and continuous use. It will power all your electronics in your car and maintain its voltage at all times.
This battery holds its charge and has a good design. The battery is solid and gives a very strong output.
The 740 CCA of the battery makes it just right to start your car smoothly even on those subzero nights.
The battery is made with pure lead AGM technology which helps in delivering the high CCA. The reverse capacity and the cycling ability of the battery is also very high.
It cycles over 900 times at almost 50% DoD (depth of discharge). The starting time of your vehicle is always very quick thanks to this battery.
It is made in the USA and the state-of-art battery plant of North star. The company claims the OEM fir and heat resistance of the battery.
The only thing I don't like about it is its heavyweight.
I wasn't able to lift the battery by myself and had to get some help to lift the battery. It is a bit costly but the battery lasts forever.
The extra money paid is well-invested in the North star battery. It fits in almost all kinds of vehicles but before buying the battery, check if it is meant for your car or not.
PROS
Quick starting time
Fast recharging
Durable
Heat resistant
=> Check out the list of top-rated NorthStar auto batteries.
6. DieHard 38275 Advanced Gold AGM Battery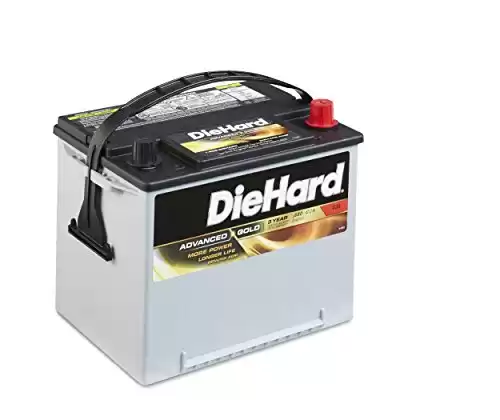 If you are looking for a replacement Group 35 battery for your performance car or off-road vehicles or even tuner cars, then you have to know about DieHard 38275 Advanced Gold AGM Battery.
Last but not the least, the final recommendation s a strong one.
If you still haven't been able to decide from the above 5 suggestions for the Group 35 battery, then this battery will clear your mind.
This battery withstands all types of temperature variation and stands strong in all weather conditions.
It does not require any maintenance; on the contrary, the battery maintains itself. It has more power than other AGM or flooded cell batteries and has a long life period.
It can be mounted in practically any direction due to the AGM design. You never have to keep it upright, like in the case of flooded cell batteries.
This battery is spill-proof and has a CCA of 650 A. The reserve capacity is also impressive at almost 100 minutes with a 50 AH rating.
The drawback of the battery is its heavy weight. If you have a back problem, never try to lift the battery b yourself. Always get some help lifting the battery or, moving it.
Also, the battery is usually used by all vehicles but check the vehicle recommendations and regulations beforehand before buying this heavy-duty battery.
One of my friends didn't check the regulations and brought the battery but then realized it won't for his Honda Crosstour.
So, always makes sure that the dimensions of the battery will fit your car before buying.
PROS
Good performance
Vibration resistant
Spill-proof design
Safe and sound
=> Check my buying guide for the best DieHard batteries.
Frequently Asked Questions
Q1. What Is A Group Size 35 Battery?
Group 35 batteries are medium-sized batteries found in many cars and trucks. They provide 620-850 CCA, 90-130 minutes RC with a 20h capacity in the 44-65 Ah range.
The battery dimensions are as follows: Length- 9.06 inches, Width-6.87 inches, and Height- 8.8 inches.
Q2. What Cars Can Use A Group 35 Battery?
It can be found in a variety of vehicles such as Toyota, Nissan, Mitsubishi, Subaru, and Acura cars and trucks, as well as some older American cars.
Q3. What Is The Difference Between 24F And 35 Battery?
The Group 24F and 35 battery in two things. The Group 24 battery is slightly smaller in dimensions than the Group 35 battery, and the Group 24F battery has a reversed polarity.
Q4. How Many AMP Hours Is A Group 35 Battery?
The AMP hours provided by a Group 35 battery is 40h for a standard battery. There may be slight variations between different manufacturing companies.
Q5. How Much Does A Group 35 Battery Weight?
The weight of a Group 35 battery depends on which manufacturer/brand of battery you purchase. It can range anywhere between 16-50 pounds.
Final Thoughts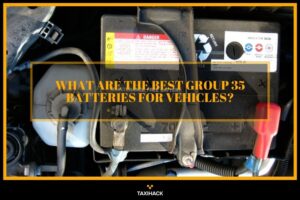 Choosing the best Group 35 battery is one of the toughest jobs.
When you are choosing the right one for your vehicle, you have to compromise on quality if looking within your budget or else you have to spend a few extra bucks to get the best quality.
The Arc-Angel Group 35 LiFePO4 Battery is my no.1 recommendation. It is not only because of its superior performance but also because of its lightweight and high cold-cranking amps.
Although, the battery is a bit on the expensive side, but all the money spent on this battery is worth it in the long run.
So, when you try to look for the best gems, making an optimal choice between quality, performance, and budget, is a tough choice.
And when you make this choice, the final list is a very short one.
I am sure that the above guide will help you pick the right one for your car as per your personal car needs and your budget.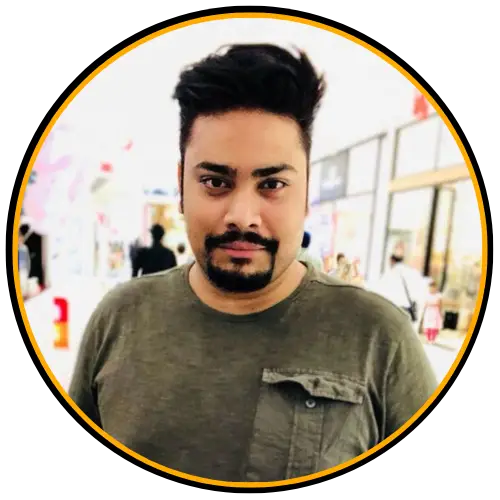 I am Tahir Azam, and I have been writing amazing articles for TaxiHack for as long as I can remember. I know everything that is to know when it comes to automobiles and is always on top of industry news and developments. While I am not an expert by any means, I pride myself on knowing the ins and outs of many different problems and, of course, their solutions. The articles on our website are some of the best and well-researched content that you will find, and I spend countless hours making sure this remains to be true. This is why I ask you to take your time out and read some of my articles, especially if you find a topic that resonates with you or is something you are looking into. This way, you will find the perfect mix of information and tips on your desired topic. Learn more about Tahir.