If you are looking to buy a reliable battery from a decent brand, then I have just the one for you. The company goes by the name Mighty Max.
Although it is not as popular as Optima or Exide; the people who buy the brand's products have always been impressed with them.
In this article, I will be covering seven of the top products currently available on the market, alongside FAQs which contain commonly asked questions.
If you are interested in Mighty Max battery review or want a question answered, this article contains everything there is to know. So, without any further ado, let's begin!
In A Hurry? Here's My Top 6 Picks…
Are Mighty Max Batteries Any Good?
Let's start with a basic question. Everyone needs to know if a brand is worth it or not before they start researching it.
I have some good news for you. Mighty Max is an extremely reliable and trustworthy brand.
Let's talk about the company's batteries!
The brand uses an SLA design, which is just another name for AGM, commonly used by other big names on the market.
The design is still surprisingly good and has some great offerings. I will get into that when I talk about the best products the company currently makes.
Who Makes Mighty Max Batteries?
Because the brand is not that mainstream, there is little information available about it online. I did find their official website, which, fortunately for us, has an About Us page.
Because there is no manufacturer mentioned, it can be assumed that the company makes the batteries themselves.
This means that you won't have to worry about getting mediocre-quality products.
This has been the case with companies like Optima Batteries. When conglomerates like Johnson Controls manufacture the brand's batteries, there is a drop in quality control.
This is where Mighty Max has the upper hand. The brand also makes lithium, motorcycle, and many more batteries.
Although they entered the market in 2006, they have made a pretty decent name for themselves.
What Are The Top Rated Mighty Max Batteries?
As promised, here I will list the top-of-the-line offerings provided by Mighty Max itself.
I will be getting into the pros and cons of each product, with poor-performing ones further down the line.
1. Mighty Max ML100-12 12V SLA Battery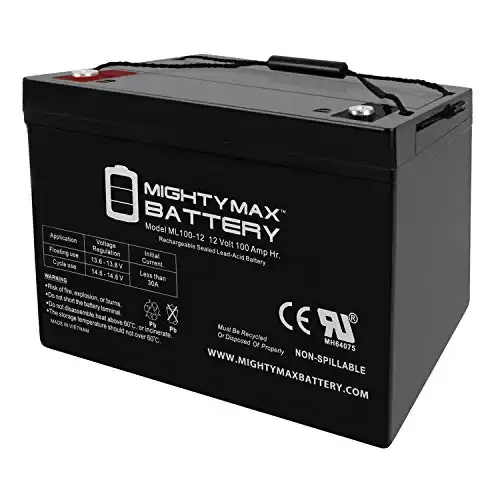 With over two hundred solid five-star ratings, Arriving in the first place is the ML100-12 12V SLA Battery by Mighty Max. This is the most popular offering by far.
Let's take a deeper dive and see what it has to offer!
This battery has been designed for all sorts of heavy-duty purposes. This SLA battery is perfect for the job whether you need to operate an electric gate and fences or garage doors.
The brand even recommends the battery for use with off-grid solar panels. This means that it can manage deep cycles easily.
This is something that is very rarely found in such purposeful batteries. This rechargeable battery has an SLA design.
Now, I know that this must be confusing to you. SLA means Sealed Lead Acid. What this means is that it has been designed to ensure there won't be leaks or spills.
And, you might have guessed it, an AGM battery is an SLA battery too. In simpler and layman terms, the brand has made a stellar AGM battery.
It uses fiberglass mats to store the electrolyte. You don't need to refill it with water every few weeks.
You can buy the battery for the sole purpose of testing. The brand also offers a 30-day refund for the product. This makes the product a complete risk-free buy.
If you don't like it on a rare occasion, you will get your money back with no deductions. Even if you choose to keep it, you will be getting a full year of warranty coverage.
Mighty Max knows how to please consumers.
The brand mentions in the instruction manual that charging the battery above 2A will reduce battery life.
This has not been stated online and makes it useful for only a handful of solar applications.
PROS
AGM design
It can be mounted in most positions
30-day refund and one year warranty
Designed for heavy usage
CONS
Charging above 2A will reduce capacity
The fact that the battery has to be charged on such low amperages is very disappointing. It is still great for plenty of usage scenarios but not worth it with solar panels.
2. Mighty Max ML-18-12 SLA Battery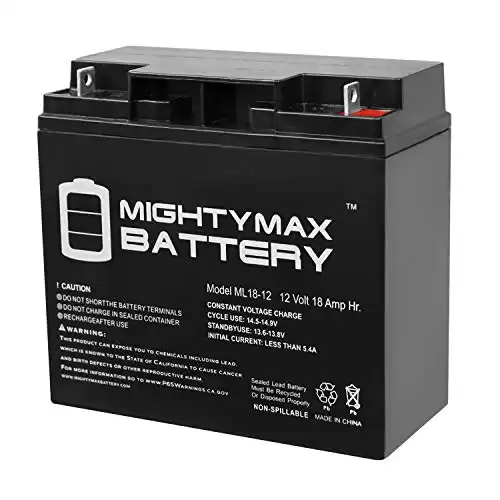 If you buy products based on the number of ratings it has, then I have just the product for you.
With close to three thousand five star ratings, the ML-18-12 SLA Battery is an example of how much Mighty Max is popular among users.
This is a rechargeable battery. Because it is designed to work with generators and lawnmowers, it will manage full deep cycles in a pretty great manner.
There are many batteries on the market which can't manage even a single full discharge. So, this is something where Mighty Max has done a fantastic job.
As evident by the name, this battery is yet another SLA/AGM battery.
I will be calling it AGM from now on, as it is fundamentally the same thing. This AGM battery has huge benefits over conventional batteries.
Apart from the fact that this battery can be mounted in any position, except upside-down, you are also getting a product that does not require any maintenance at all.
You don't need to fill it with water every few weeks.
Now, I know that this must be a huge load off of some of your reader's minds. Plus, an AGM battery is also much more durable than conventional batteries.
The manufacturer provides the same 30-day money-back guarantee. You can buy the product and return it if you don't like it.
You are also getting a full year of warranty. If the product becomes faulty during that time, you can get a free-of-cost replacement.
Buyers had two main concerns with this battery. They either complained that the battery was faulty on arrival or reached that stage soon after.
This is unacceptable and must be looked into by Mighty Max as soon as possible.
PROS
AGM design
Can handle full discharges
Maintenance-free
30-day refund and one year warranty
CONS
Defective on arrival
May fail after a few months
Regardless of the almost 3000 ratings of this battery, the brand has to look into these cases to ensure this will not happen to future consumers again.
3. Mighty Max ML35-12 SLA Battery

Taking the third spot is yet another AGM battery that is quite popular among buyers. This ML35-12 SLA Battery has more than a whopping 1000 ratings.
With most of those ratings being a straight-up five-star, this battery came very close to the previous one.
Let's take a look and see how it performs!
This Mighty Max battery is yet another deep cycle one. It has been designed to withstand frequent discharges and charges without any issues.
Many batteries on the market have had issues of not being able to pick a charge after being drained completely. You need to stay away from those products.
But, Mighty Max and its 15 years of experience is something that can be trusted blindly. This battery can be used with solar panels, inverters, trolling motors, and even lawnmowers.
Some of these tasks are pretty heavy-duty. This means that the battery is capable of handling such loads.
The sealed design of the battery allows it to be mounted in any position except upside down. This makes it very convenient to use.
The rest of the offerings also ensure that the battery will turn out to be a great buying decision. It can work in extreme temperatures. It will also last you for quite some time.
And, as expected, Mighty Max provides a 30-day refund with the battery. This means that you will get your money back with no deductions.
But, if you are one of the 1000 people who chose to keep the battery, then the one whole year of warranty ensures that any manufacturing defects will make you eligible for a free-of-cost replacement.
Buyers complained that the product they received was faulty on arrival.
The battery would not keep a charge or would not output enough power. Mighty Max really has to figure out the source of the problem and eliminate it.
PROS
AGM/SLA design
Designed to handle full discharges
Sealed design
30-day refund and one year warranty
Although Mighty Max has proven itself to be a superb brand, they should tighten up their quality control so that products like this never make it onto the hands of consumers.
4. Mighty Max ML100-12LI12V 100AH Lithium Battery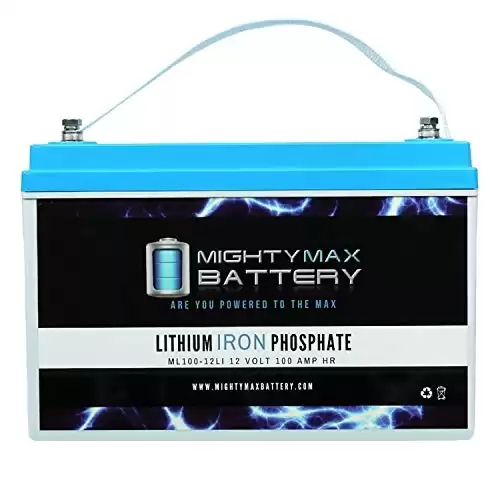 If you are looking for a decent solar battery and want to try something new, then I have got just the thing for you.
This ML100-12L12V 100AH Battery, Made by Mighty Max, is a lithium one. Now, I know that it is considerably expensive than the first three options, it is perfect for use in many places.
Let's take a closer look and see if it is worth it!
The first thing the brand states about this battery is that it is a direct replacement for lead-acid batteries.
When talking about some applications, you are getting significantly better performance than lead-acid batteries.
This ML100-12LI battery is more durable and lighter than a conventional battery. The 2500 cycle life straight up dwarfs the 200-300 offered by all previous options.
This lithium battery also has excellent protection capability. The BMS makes sure to protect the battery from a high and low voltage as well as high current too.
When the battery reaches 100%, the charge will be cut off to prevent overcharging and to preserve battery life.
Perhaps the best thing about this product is that it can be used in parallel with four identical batteries.
This means that it is perfect for solar applications or others that require a lot of energy.
The brand also recommends using only compatible chargers with the battery. Loose terminals may overheat which don't only pose a fire risk but also significantly reduce battery life.
You really don't want that to happen to this $600 battery. Alongside the same 30 day refund, the brand offers a two-year warranty with this battery.
The fact that the company has double the coverage period for this product means that it knows how reliable it is.
Apart from the eye-watering price tag, buyers were content with what they received. There is very little chance of lithium batteries becoming defective.
PROS
2500 cycle life
It can be used with four identical batteries in parallel
30-day refund and a two-year warranty
BMS for excellent protection
Although a lithium battery is great and does win when compared to lead-acid batteries, it needs an extremely high budget.
Most can make do with the less expensive ones as they have been designed for a similar purpose too.
5. ML9-12 Rechargeable SLA Battery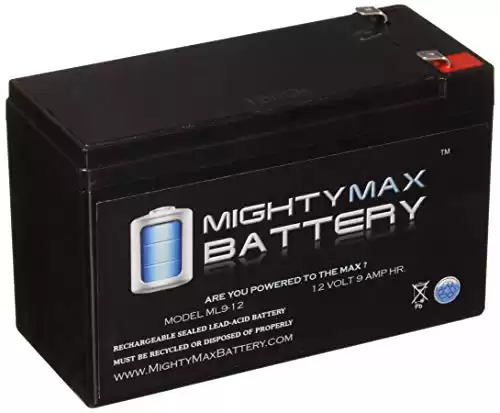 Still not satisfied with the number of ratings of each product?
Well, how do more than 4800 reviews sound to you?
Yes, that's right! This ML9-12 Rechargeable SLA Battery has a whopping 4890 ratings.
This is the highest-reviewed product in the article. Earning a more than respectable 4.5 stars from buyers, this 12V battery will certainly meet most of you people's needs.
Perfect for use with UPS systems and electric scooters, this high-capacity battery can output a current of 9AH.
The battery is made up of heavy-duty calcium alloy, which not only makes the battery perform in a great manner but also boosts its lifetime.
It is perfect for use in cyclic and float applications. This battery, just like all previous ones, features an AGM design.
As I have stated several times before, this design is a lot better than conventional batteries.
From performance to durability, you are getting a huge upgrade. The battery is completely spill-proof. It can be mounted in any position except for inverted.
The best upgrade is that you don't need to maintain the battery. It is completely maintenance-free. You don't need to pour water into it every few weeks.
Whether it is a solar array or a lawnmower, you are getting a battery that will power it all. You will never have to worry about running out of power.
The rechargeable nature allows it to handle frequent discharges easily. This is frequently seen when using it with solar panels.
Buyers reported that their batteries failed after a short amount of time.
Although the percentage of people who reported this was extremely low, it is possible for you to receive such a unit.
The manufacturer should make sure that this does not happen again.
PROS
AGM design
Extremely durable
Made from calcium alloy
Mighty Max has done it yet again. This rechargeable battery is one that genuinely impressed buyers and reviewers like me.
If only they would stop sending faulty units, it would have scored a much higher place on the article.
6. Mighty Max ML7-12 SLA Battery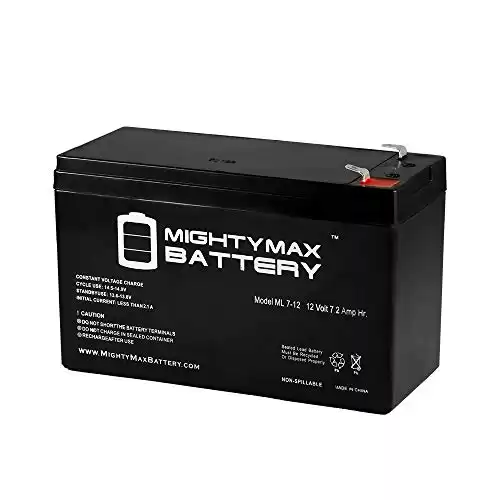 Taking the sixth spot on this highly competitive list is this ML7-12 SLA Battery.
With over 3100 ratings, this is yet another product that is highly recommended by buyers and reviewers alike.
Let's inspect what this battery has to offer and if it is worth buying!
With a price tag of $20, this SLA battery is certainly a bargain. You are getting cutting-edge tech at an unbelievable price tag.
One may assume that the company may have cut corners in order to do this. That is where you would wrong.
Mighty Max has been on the market for more than a decade and has always priced products so competitively than other brands on the market find it hard to beat.
The AGM design of this battery allows it to be completely maintenance-free. You won't have to refill it with water and won't have to worry about anything.
After all, this design is a significant upgrade over the conventional battery design.
With better durability and vibration resistance, there are a whole lot of applications that can use this type of battery.
Because this is a rechargeable battery, it can handle several deep cycles easily. You won't have to worry if the battery drains out completely. It can easily handle it.
On the rare occasion that you receive a faulty unit, the brand offers a 30-day refund and a one-year warranty with this battery.
This takes out all the risk from it. You can buy it with complete peace of mind. If you don't like it, the brand will take it back within the first month, no questions asked.
Buyers had the same exact issue of receiving units that became faulty after weeks or months.
Some even received batteries that would not hold a charge on arrival. This clearly states that the problem lies in Mighty Max and its manufacturing process.
PROS
AGM design
Competitive price
Can handle full cycles
CONS
Faulty on arrival
May stop holding a charge after a few weeks
Although the brand has made a stellar product which is a steal in the price, they must improve their quality control so that no users have the same issue ever again.
Mighty Max Battery Warranty
If you buy an SLA/AGM battery from Mighty Max, then you will be getting a whole year of coverage. Yes, that's right!
Twelve months from the date of purchase are completely risk-free. In the case of lithium battery, like the one is listed above, the warranty is upgraded to two years.
One of the main reasons for this is that the latter is much more reliable than the first one.
Regardless, the brand also has a one-month refund policy. You can return the battery within 30 days, and all of your money will be returned to you.
Frequently Asked Questions
Q1. How Long Does A Mighty Max Battery Last?
A mighty max battery can last you anywhere from three to six years.
Now, I know that some of you may be wondering why is there is such a huge difference in the life expectancy of the battery.
Well, this solely depends on how the battery is used and treated. Too frequent discharges will lead to shorter battery life.
Regardless, even three years is more than enough for a sub $100 battery. You will be pleasantly surprised by its consistent performance.
Plus, there is no reliable brand that is offering an AGM battery at such a price.
Q2. Are Mighty Max Batteries Rechargeable?
Yes, they are. All Mighty Max batteries that have been listed in this article are rechargeable. This means that they are capable of handling many discharge cycles.
They have been designed for uses such as operating a garage door, a lawnmower, or for solar applications.
The fact that the brand has stated the use scenarios means that the product has been designed for such usage.
You can use the battery in parallel to hold more charge for longer power output.
This is perfect for off-grid solar systems. It must be remembered that the connecting in series should not be done.
Q3. Is Mighty Max battery AGM?
It looks like you skipped through the product listing and jumped right into the FAQs section. The fact that Mighty Max uses the term SLA instead of AGM creates massive confusion.
Both are, in fact, the same thing. SLA means sealed lead-acid design. An AGM battery is an SLA one. It has been sealed because there is no requirement for water every few weeks.
So, why use a non-sealed design. Plus, the battery can be mounted in any position you want, except for inverted, and you won't have to worry about anything.
To answer your question, yes, a Mighty Max battery is an AGM one. If you ever hear the term SLA, remember that it is the same as AGM.
Q4. Are Mighty Max Batteries Made In China?
Yes, they are. Now I know that some of you may be worried that a product that is manufactured in China may not have high quality.
That is where you would be wrong. The brand has ensured that it will adhere to strict quality control protocols, so very few faulty products make it off the assembly line.
Unlike brands like Exide and DieHard, whose manufacturing plants are set up in countries like the USA, the brand can also keep the cost low while not compromising on the quality.
This can be confirmed by the number of positive ratings on each of the products I listed above.
Q5. What Are Mighty Max Batteries Used For?
Unlike many other brands that make starter batteries for vehicles, Mighty Max batteries are designed for home-usage. They are designed to be used with consumer electronics.
Some examples of such electronics are golf carts, lawnmowers, motorcycles, solar applications, and emergency lighting.
When I was checking out product ratings, I came across more uses for the battery. One user used the battery for opening and closing a hen door on a timer.
That is a really unique idea. This means that the possibilities of the use of this battery are endless. You can use it for any lightweight work, and it will work flawlessly.
Q6. How Long Does It Take To Charge A Mighty Max Battery?
Mighty Max batteries are a freak when it comes to charging them.
On average, these batteries take about 6-7 hours to be fully charged at a current of 12-13 amps. This is true for warmer months, say from the mid of May to early September.
Keeping the current voltage at 12 amps, the battery will charge pretty quickly, and this will lead to greater warming of the body; hence it is advised to not push the battery to its limits to avoid overheating.
Lastly, there should be some kind of ventilation around the battery for more protective measures in case.
Q7. What Kind Of Charger Does The Mighty Max Battery Take?
Commonly, the mighty max battery uses a 12 volt 1 amp charger along with a maintainer that comes with alligator clips.
It is made up using high-quality materials to make sure that it stays light, compacted, and provides a strong power supply to your battery.
In addition to this, it also has an advanced charging mechanism that supports a full charge and also avoids overcharging, along with temperature protection and other mishaps protection.
The charger also comes with a dual-LED Indication that shows the operation of the process during which your battery is being charged.
Conclusion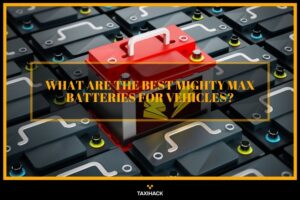 So here it is, my complete mighty max battery review.
They are a powerhouse, perfect for your daily usage and homes.
There was a lot to tell you about this battery which is why all that I have written ensures that you have the best knowledge for it.
I have covered more batteries, so if you feel like checking out others, do visit my blog page.
Keep updated for more detailed reviews and perfect information on more batteries that you could opt for.
I'll be making sure your decision is based on complete facts and the best reviews.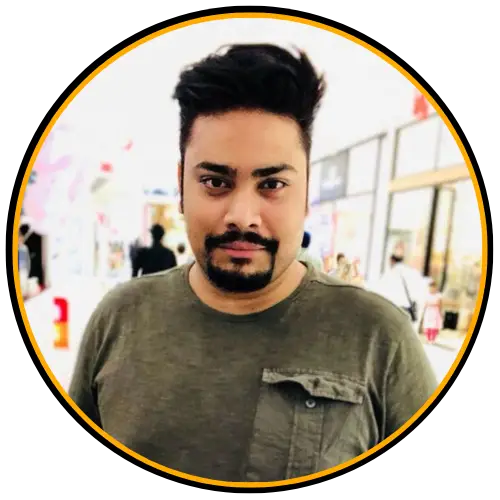 I am Tahir Azam, and I have been writing amazing articles for TaxiHack for as long as I can remember. I know everything that is to know when it comes to automobiles and is always on top of industry news and developments. While I am not an expert by any means, I pride myself on knowing the ins and outs of many different problems and, of course, their solutions. The articles on our website are some of the best and well-researched content that you will find, and I spend countless hours making sure this remains to be true. This is why I ask you to take your time out and read some of my articles, especially if you find a topic that resonates with you or is something you are looking into. This way, you will find the perfect mix of information and tips on your desired topic. Learn more about Tahir.