High-performance, high quality, expensive, and luxurious supercars, aptly known as exotic cars, are top-of-the-line high-performance vehicles that are legal on the streets and are coveted by every automobile enthusiast known.
Every man has once in his life thought of owning an exotic car.
Still, with the wide selection of vehicles and models available today, each with its own set of features, functions, speed, and design, it can become difficult to recommend one car over the other based on anything other than design.
While many people choose their preferred exotic car purely on design, they may forgo reliability, so I am listing the most reliable supercars currently available to the public.
Some of the Top Reliable Supercars:
Koenigsegg Agera RS
Buggati Chiron
Ford GT
Saleen S7
Nissan GT-R
Porsche 911 Turbo
Hennessey Turbo GT
Vector W8
Acura NSX
Lexus LFA
Audi R8
Bentley Continental GT
Ferrari 812 Superfast
Chevrolet Corvette Z06
Now that I have established this list let me explain why these cars are so reliable.
List Of The Most Reliable Supercars
Let's talk about all the supercars in more details below. I have done enough research to explain each car accordingly so without any further delay, let's get started.
#1 Reliable Supercar: Koenigsegg Agera RS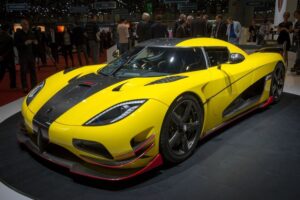 Packed with a dependable engine various enhancements, the Koenigsegg Agera is built to last and a durable car, which is why it is first on my list.
Koenigsegg's Agera model is currently the fastest producing exotic car model on the planet, with the RS version being extremely fast and reaching speeds of 284 miles per hour.
The company itself has had a fairly good reputation.
A Swedish company utilized the famous Coyote engine for the Agera, the same engine that cars such as the Mustang GT and Ford GT use.
This engine is a 5.0 L V8, which has been around for over 40 years but has seen many upgrades and alterations when it comes to releasing the Agera RS.
This makes it perfect on the racing track and allows for everyday usage, which is exactly what all supercars should offer since what's the point of owning an exotic car if you cannot drive it on more than one road.
The Agera RS also includes various enhancements, such as an advanced lightweight body that also comes with sound insulation, an advanced underbody flap system, a dynamic rear spoiler, and a front splitter optimized for track racing.
#2 Reliable Supercar: Bugatti Chiron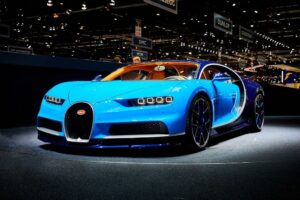 It ranks 2nd on this list because it is one of the most expensive exotic cars in the world and because the Bugatti Chiron is also the company's fastest and most powerful vehicle, which features innovative technology and a sophisticated design.
It is immediately recognized as an iconic vehicle that is performance-oriented and pushes the boundaries of what modern-day automobiles can do.
The turbocharged 8L 16-cylinder engine can churn out 1500 HP at a maximum of 6000 RPM making it reach 261 miles per hour.
It reaches these performance values by merging the beautiful design with intelligent air intake management, which improves aerodynamics and enhances cooling efficiency for the engine and brakes.
The supercar also has a great aesthetic inside the vehicle, as is seen by the quality interior, which also comes in with a Skyview option with a glass roof.
It is one of the safest and most reliable cars on this list.
#3 Reliable Supercar: Ford GT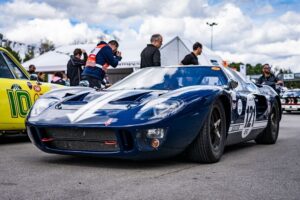 Because of a reliable engine, state-of-the-art design, and high durability, the Ford GT ranks 3rd in this list.
It is easy to see why any variant of the Ford GT is considered a great choice among enthusiasts as one of the top reliable supercars available on the market.
Firstly, the exotic designs of any Ford GT version make them extremely aesthetically pleasing to look at.
The Ford GTs has their proprietary designs, from keys to door handles. Their engines have been tried and tested and have been at the top of their class for decades.
And now Ford has deployed the 5.4-liter Modular V8 and the 3.5-liters EcoBoost V6 engines in their vehicles, allowing them to rank among the most reliable and the most powerful of supercars.
This model shows reliability both on the race track and off it. The Ford GT can last you long if you give it the proper maintenance it deserves.
However, doing this yourself can be very daunting, so it is best to have it done by a professional.
#4 Reliable Supercar: Saleen S7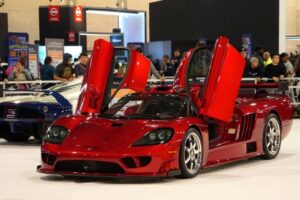 Celine Automotives is an American company I did not know about.
Still, upon research, I realized the reliability and performance the company has been putting out, and seeing the powerful and reliable engine was the main reason this car is 4th on my list.
The Saleen S7 is the perfect segue from the Ford GT. This is because this vehicle uses one of Ford's older yet powerful engines.
This is the 1.0-liter 427ci Windsor engine which was in production for almost four decades. The Saleen S7 features an altered version of this engine, an aluminum block version.
And that it does, seeing as this car can have an output of up to 550 horsepower at 6400 rpm. This also allows this car to get from 0 to 60 in just 2.8 seconds and has a top speed of 220 mph.
#5 Reliable Supercar: Nissan GT-R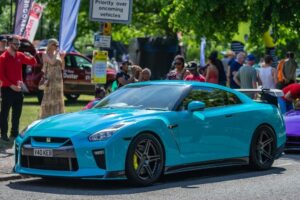 The Nissan GT-R is one of those vehicles that get better when modified and upgraded.
This is because of the amazing upgrading capabilities that the vehicle offers.
This way, the Nissan GT-R is the perfect car to take down any powerful supercar available on the market, and that is why it ranks 5th on the list.
This vehicle uses a specialized engine that has been modified and has evolved over the generations into the VQ V6 engine that we know today.
This engine can produce up to 600 horsepower and 481 pound-feet of torque. Along with this, the GT-R has been a car capable of getting up to a maximum speed of 200 mph.
The Nissan GTR has been built largely on the success of the GTR Nismo, which has a great reputation for building top-quality, record-breaking cars, which shows that the GTR has great durability.
#6 Reliable Supercar: Porsche 911 Turbo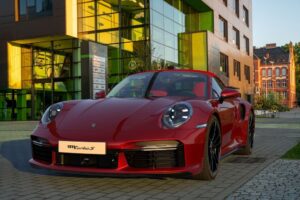 This might be controversial because the Porsche 911 is not the vehicle that comes to any enthusiast's mind when they think of a supercar.
I included it here because, over the decades, this car has evolved and proven to be more than capable of deserving the title of a reliable supercar.
The Porsche 911's capabilities in terms of its power were first seen in the 1970s. This is when the vehicle started featuring turbocharging and wide-body aero.
Performance-wise, this car has always been a great one. However, with its now water-cooled 996 generation engine, the car has also gone up in terms of reliability.
This makes it the perfect vehicle to perform well in any weather or road conditions.
German engineering is probably the greatest globally as the Porsche is known for easily sailing past the 200,000-mile mark, making it a great and reliable vehicle.
#7 Reliable Supercar: Hennessey Venom GT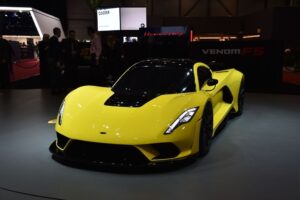 Although this vehicle has an upcoming successor model that is due to debut soon, the Hennessey Venom GT in and of itself is a vehicle that packs some really impressive performance, which is why it steals 7th place.
This car is based on classic American V8 architecture and hence uses the Chevrolet LS7 7.0-liter (427ci) V8-like engine, which is the main reason for suck breathtaking reliability.
The one in the Venom GT is a twin-turbocharged engine capable of producing up to a whopping 1244 horsepower at 6600 rpm.
Like the Ford GT, this vehicle's V8 is coupled with the Ricardo six-speed manual. This is used in many other cars, which is why it might sound familiar to you.
It seems that the company is now moving on to greater prospects as they have developed the Venom F5 engine, which the company is marketing as an engine that can easily push 310 miles per hour and, combined with the new chassis, can pump out 1800+ horsepower.
#8 Reliable Supercar: Vector W8
With how great the Vector W8 is, it is sad to see that this supercar did not achieve the production volume that would allow it to compete with its competitors in terms of sold units.
However, it is included here because it is a completely different story in terms of specs and durability.
The Vector V8 featured a modified version of a twin-turbocharged V8 made by Rodeck and was placed under a quality body made of lightweight carbon fiber and Kevlar.
This allows up to 1200 horsepower and up to 649 pound-feet of torque. It also features the GM 3-speed Hydramatic.
While only available for a short period of only four years, the Vector Aeromotive Corporation outdid themselves when they made this vehicle as reliable and robust as it is.
#9 Reliable Supercar: Acura NSX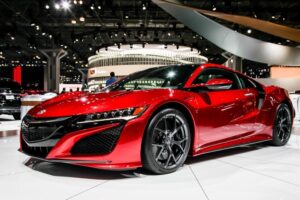 The latest Acura NSX uses a unique method to achieve its level of performance by combining internal combustion with electrification.
This may add a layer of complexity to the vehicle. However, the reason behind the amazing reliability of this vehicle and why it ranks a solid #9 is its engine.
The current NSX runs on the Honda J engine, a direct descendant of the Honda C V6 engine.
This V6 engine has proved its worth in many of Honda's vehicles like the Accord and the Odyssey, and it has been in production since 1996.
The JNC1 V6 version of this engine goes in the RSX giving it unparalleled performance power and reliability.
Unfortunately, the Honda Acura NSX will be discontinued after 2022, saddening.
This decision was made simply because the car is too powerful and expensive for Honda to mass-produce and so it was better left discontinued rather than Honda trying to re-invent the car.
#10 Reliable Supercar: Lexus LFA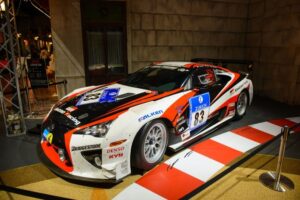 Toyota has proven that it can create any type of car, whether it be a Prius or an exotic car which is why I feel safe in including the Lexus LFA at #10 in my list.
The Lexus is Toyota's luxury brand that had a brief life cut short back in 2012.
I say cut short as the Lexus gained quite a reputation for being a great and reliable supercar which quickly became a favorite for many in the car community.
Like Honda's Acura, this model was too much for Toyota to handle, being expensive to mass-produce.
This is usually a good sign as you can be sure that the company did not cut any corners when designing this vehicle.
Capable of pushing 533 horsepower and coming with a 4.8 L V10 engine that sounded great, you got a car that could easily last you for years.
#11 Reliable Supercar: Audi R8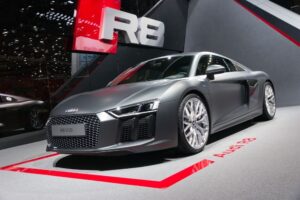 While the German company Audi is not particularly known for reliability, I have mentioned above that German engineering might just be the greatest globally as the Audi R8 tends to change this perception.
The Audi is #11 and reliable because the high-performance exotic car will hold up just as good as any other Audi on the market.
However, it will turn out better and last longer if you give it the love and affection it deserves, i.e., regular maintenance.
Audi spent a large amount of time implementing the Lamborghini engine with this model, integrating dual-clutch transmission, which allowed for power, increased longevity, and improved performance.
The Audi R8 has been around since 2006, so parts and services are also easily available, which is why the car was given such a lower position on the list.
The car shows little to no issues and lots of great benefits. Inspired by the racetrack, it is a great car overall, easily smashing 200 mph and outputting 602 HP like it's nothing.
#12 Reliable Supercar: Bentley Continental GT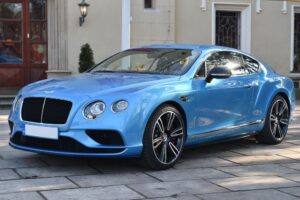 The United Kingdom is known for its elegance and royalty, and nothing says royalty more than owning the Bentley Continental GT.
Bentley has been manufacturing cars and limousines for the Queen herself, which should give you an idea of how they make their cars since they have been deemed worthy by her majesty herself.
Over the decades, the car has proven itself in performance, value, reliability, and stability.
It continues to improve itself as newer models are released, which is why it was easily able to secure this position on my list.
Available in coupe and convertible body styles and fitted with a specially calibrated powertrain, linked to a phenomenal W12 engine.
This model of the Bentley offers fast-paced action, quick responsiveness, and amazing agility, all at a top speed of 205 miles per hour.
This line-up originally debuted in 2003 and was overall a huge success.
#13 Reliable Supercar: Ferrari 812 Superfast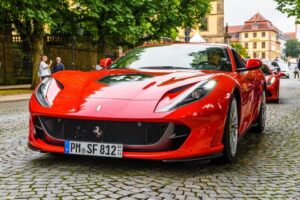 Whenever you think of the term supercar, it is hard not to think about a Ferrari.
Some might even say that a red Ferrari is the definition of a supercar.
Despite that, they are not well known for being reliable vehicles.
However, I decided to give this car 13th place due to mostly positive reception, great durability, and high performance.
The 812 Superfast is powered by a 6.5L V12 engine which can push out up to 789 horsepower.
This model can also reach top speeds of up to 211 miles per hour and reach 0 to 60 in less than 3 seconds. The Superfast is the first Ferrari to incorporate electric steering into the mix.
Coming in with three different transmission types and a generous 92 Liter gas tank, you have yourself a reliable and popular car that everyone will want to ride in.
#14 Reliable Supercar: Chevrolet Corvette Z06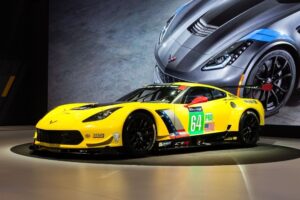 Chevrolet is no stranger to producing quality cars and has been releasing its line-up of supercars, the Corvette series, for more than 60 years, so reliability should not be under question.
We have a solid and reliable car worth your attention and easily take the last place on this list.
The reason why this car takes 14th place is that the 7th generation of the Corvette is one of the best models the company has put out, being quite reasonable to purchase as it comes in a package and boasting high performance and handling, which gave it great value, along with the fact that it has no shortage of spare parts being from a line-up as old as it is.
The car is powered by a 6.2L V8 engine capable of producing 650 horsepower, which reaches a respectable top speed of 185 miles per hour and can reach 0 to 60 in exactly 3 seconds.
Frequently Asked Questions
Q1. What Is The Most Unreliable Supercar?
Despite being supercars, they are not immune to breaking down or suffering from defects so bad that they must be recalled.
Unfortunately, that was the case for the Mercedes AMG GT, which is widely regarded as the most unreliable and overall worst supercar available on the market.
This is because this car suffered from 18 different recalls over its years, averaging 2.6 recalls a year.
It received a less than average score in the industry-standard rating for supercars and had an initial MOT pass rate of only 92.8%, which is fairly decent.
Q2. What Is The Cheapest Supercar To Maintain?
From my research, the Nissan GTR is the cheapest to maintain supercar available on the market. The GTR is a Japanese-produced car available since 2007 and is present to this day.
Due to its Japanese origins and long presence on the market, you can be sure that the car will have lots of spare parts available to buy for low prices.
There are plenty of them out in the wild as well, so you shouldn't have any trouble looking to buy one either. As for repairs, you can also get them fairly cheap, according to the repair.
Q3. What Supercars Last The Longest?
A car is meaningless if it does not last long, but do not worry as many supercars are built to last and offer a long-lasting service for years to come.
These supercars include models such as the De Tomaso Pantera and Aston Martin V8, which had an astonishing life of around 20 years.
Other models which could only last half as long included the Lamborghini Gallardo, Koenigsegg CCX, Ferrari 308, and Bugatti Veyron.
Other long-lasting supercars included the PaganiZonda and Acura NSX, which also had impressively long lives.
Q4. What Is The Best Daily Driver Supercar?
While supercars have no trouble being fast, they tend to struggle with space and fuel efficiency.
For your daily commuting needs, you will undoubtedly require a decent amount of fuel efficiency, a good amount of cargo space, and a fast set of wheels.
Luckily, the Toyota Supara has all of this covered. You wouldn't consider a Toyota as a supercar, but this model is a BMW Z4 with a hardtop.
Its hatchback design allows for increased cargo space, and the car itself is generally decent on fuel consumption.
Q5. What Is The Most Fun Supercar To Drive?
When it comes to cars, fast and fun usually go hand in hand, but it takes a lot more than just speed to make a car fun. A fun car must be comfortable to ride in, fast and smooth to drive in.
In that case, the Jaguar F-type supercar is probably one of the most fun supercars out there right now, featuring a lightweight aluminum body, fast acceleration, and a comfortable interior.
If this doesn't do it for you, you may want to consider the Mercedes Benz SLC, a slower but topless supercar.
Conclusion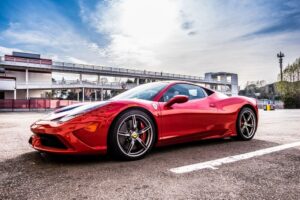 Supercars are what every man dreams of and what millions of people spend their entire lives saving up for, just to have the chance of owning a luxurious and exotic vehicle they can brag about to their friends or show off in general.
It should be known that not all supercars are made the same, which is why you should be aware of the most reliable supercars so that you can put your hard-earned money and invest it into a car that will not break down after a few years.
The cars on this list are generally the most reliable supercars you can get your hands on.
While quite a few have been discontinued, they have been made with proper engineering and durability so that they can last you a long time.
Other vehicles on this list may require a bit of regular maintenance if you want them to last long, but overall they too should be extremely reliable and worth every penny.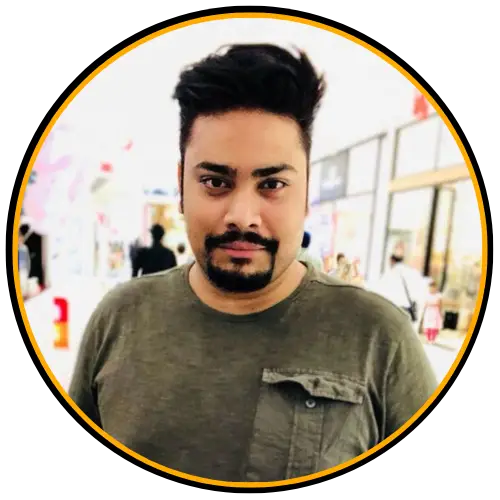 I am Tahir Azam, and I have been writing amazing articles for TaxiHack for as long as I can remember. I know everything that is to know when it comes to automobiles and is always on top of industry news and developments. While I am not an expert by any means, I pride myself on knowing the ins and outs of many different problems and, of course, their solutions. The articles on our website are some of the best and well-researched content that you will find, and I spend countless hours making sure this remains to be true. This is why I ask you to take your time out and read some of my articles, especially if you find a topic that resonates with you or is something you are looking into. This way, you will find the perfect mix of information and tips on your desired topic. Learn more about Tahir.