Many renowned and famous brands might appear once you think of names of cars that start with M, for example, Mercedes, Mazda, Mitsubishi, etc.
In this list, you will find about 50 car and brand names that start with the letter M, and a background to each one of them, as certain individuals have put a lot of efforts of each of these brands to become successful so we'll talk about some of them.
Many of these brands have been discontinued as they were older brands; however, some are still in the market, which you can check out if it piques your interest.
The brand names I will be talking about in this article are:
Mazda
Mercury
Mastretta
MTM
Marussia
Multimatic
Matra–Simca
Mazzanti
Magna
Mercedes – Benz
Mallett
Maserati
MCA
Maybach
McLaren
Matech– Ford
Muntz
Mercedes
Mercedes – Knight
Mansory
Malkus
Mercer
Mazel
MG
Mamerow
Minerva
Melling
Mini
Mirage
Mosler
Mobsteel
Mercedes – AMG
MSO
Momo
Monteverdi
Moon craft
Moretti
Mitsuoka
Morgan
March
Marcos
Morris
Marmon
Mr Norm's
Mugen
Mitsubishi
Mullen
Now that you've gone through the list of all the car and brand names, starting with M, let's dive deeper into each of these companies.
Below is the full list. However, these are only the brand names, and each one has many models, making countless items in total.
Full List – What Cars Start With The Letter "M"?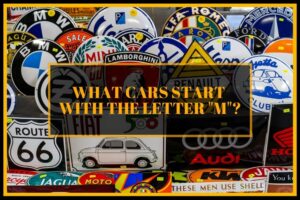 Here I will talk in detail about all of the car companies starting with M.
Among them are tuning companies that work on customizing existing automobiles, companies that produce complete vehicles and those that work on specific parts.
#1: Mazda
Mazda is a Japanese automobile company that works mainly on cars, engines, and trucks. The company started as an engine tools manufacturer, but it started making vehicles in 1931.
Their extensive collection of vehicle productions includes sedans, sports cars, pickup trucks, SUVs, concept cars, etc.
#2: Mercury
This is a division of the motor company by Ford. Edsel Ford founded this company in 1938 to work on a Lincoln and Ford models line.
The first car made was Mercury Eight. This was a debut model and was produced between 1939 and 1951. The Mercury division was later discontinued by 2010.
#3: Mastretta
Daniel Mastretta established the company in 1987 in a design studio in Mexico. The company earned national and international recognition, and it is headquartered in Mexico City.
The emblem is the Mexican flag, and some famous models include Mastressa MXA, Mastressa MTX, etc.
#4: MTM
This is a small manufacturing company located in Wettstetten in Germany that also works on tuning cars. This company has worked on the engines of Audi vehicles.
Some of the work is also related to making components for brands like Seat, Skoda, Bentley, and Lamborghini.
#5: Marussia
This is a Russian brand which works on sports cars and not only this. It is the first Russian company to do so.
The best and most popular models are the Marussia B1 and B2 series. The company had above 300 employees, but it closed down in 2014.
#6: Multimatic
A Canadian automotive engineering and manufacturing company that works on supplying engineered components, services, and systems worldwide.
It is well known for developing the RUF CTR3, Aston Martin V12 Zagato, Aston Martin One 77, and Aston Martin Vulcan.
#7: Matra–Simca
Matra is a French company specializing in sports cars and racing cars and has been much successful in motorsport racing.
Some of the popular sports cars manufactured by this company include Matra Bagheera and Matra 530. Matra Bagheera was a partnership with Simca.
#8: Mazzanti
The company was founded in 2002 by Walter Farall and Luca Mazzanti and is an Italian company.
The company is famous because of the high-quality performance of their vehicles, for example, the 701 hp sports car, Mazzanti Evantra, which was presented at the 2o13 Marques Show Monaco.
#9: Magna
Magna International owns the company, Magna. It is a Canadian company, and it makes vehicles on contracts for automobile manufacturers worldwide.
Many vehicles, for example, Fiat Bravo, Peugeot RCZ, and Audi TT were a product of Magna and a BMW 5 Series.
#10: Mercedes – Benz
The Daimler Benz company was formed in 1926, leading to Mercedes Benz.
This infamous company is located in Baden in Wurttemberg and is another subsidiary company of Daimler AG.
The company produces a range of top-quality vehicles, from ambulances to luxury cars, buses, vans, coaches, and trucks. The company today sold more than 2.31 passenger cars in 2018.
#11: Mallett
This Company is headquartered in Charlotte, North Carolina, and is an aftermarket company for tuning.
Mallet modifies cars and has done so, including some especially famous names, such as Cadillac V Series, C6 Corvettes, and V8 Solstice, to make them perform much better.
#12: Maserati
This is an Italian company that works on making luxury cars, and the founder is Alfieri Maserati, who founded the company in 1914.
The company works on making highly luxurious and stylish cars with high performance and specializes in concept cars, racing cars, and road-going vehicles.
#13: MCA
Located in Monaco, Monte Carlo Automobiles was founded in 1983 by Fulvio Maria Ballabio.
The company works on customized and exotic styles, for example, the Montecarlo Automobile Rascasse and Carlo ChitiStradale. Another famous model is the Monte Carlo ALA 50.
#14: Maybach
A German company that was initially a sub-brand of Mercedes Benz, owned by Daimler AG.
This had been an ultra-luxury brand to the end of the 20th century and towards the 21st century. Since 2018, this name has been used for the Mercedes Benz S Class.
#15: McLaren
Another British automobile manufacturer is McLaren. The company started because of a formula one racing team in 1963 by Bruce McLaren.
Their racing team is one of the most popular and credible racing teams for Formula One in history, and some awesome models include McLaren 650S and McLaren GT, etc.
#16: Matech – Ford
Matech Concepts is a company from Geneva, Switzerland, founded in 2006 by Martin Bartek.
The company has partnered with Ford and developed the Ford GT, a well-known and popular sports car, and has been very successful in many competitions.
#17: Muntz
Another automobile manufacturer is the Muntz Car company. This one is well known for its luxury car series, which produced convertible products known as the Muntz Jet.
Only around 200 of these were produced starting from 1949 to 1954. These luxury vehicles were so high quality and, to this day, are rare collectible items owned by very few.
#18: Mercedes
The Mercedes brand started production in 1900, with their 35 horsepower, which was pretty impressive back in that time.
DMG then started to produce other cars under the same brand name, for example, the Mercedes 8/11 horsepower and the Mercedes 40 horsepower Simplex.
Another brand name is Mercedes Benz.
#19: Mercedes – Knight
This brand name was used for a car series from 1911 to 1924. Only three models were made under the brand name.
Among them are the Mercedes Knight, 16/45 hp (1913 to 1923) and the Mercedes Knight 16/40 hp (from 1911 to 1913).
#20: Mansory
Kourosh Mansory founded this company back in 1989. This is a German company which works on modifying cars like some mentioned above.
The cars are famous for their lightweight wheels, great body, and customizable interiors.
The company has worked on Rolls Royce SUVs and some supercars like Ferrari and many Italian brands.
#21: Malkus
In 1959, Heinz Melkus founded the company, a German automobile manufacturer that works especially on sports cars and single-seat racing cars.
The company has produced vehicles for the Formula Junior, Formula Ford, and Formula 3 championships. The company continued until 1959, when it closed down.
#22: Mercer
From 1909 to 1925, Mercer was a vehicle manufacturer in America.
It earned a reputation through its high-performance cars and has been producing sports cars, for example, the Type 35 Raceabout.
This was one of the most popular race cars during the 1910s.
#23: Mazel
Located in Barcelona, Spain, is the company Mazel Group and Engineering. The company works on concept cars and also helps to provide automotive solutions to automakers.
The Mazel Identity i1 is a concept car with a rear-wheel-drive concept introduced at the Geneva Motor show in 2006.
#24: MG
This is a British automobile manufacturer named M.G Car Company Limited. The company is known for some of its productions, for example, two-seater sports cars, coupes, and saloons.
Some famous launches include MG RV8, MG Midget, MG MGB, MG RV8, and MG XPower SV.
#25: Mamerow
Mamerow is another brand that specializes in modifying engines in cars to help with better performance, for example, with higher speeds.
The company has worked for some very high-end brands, including Porsche sports cars and other racing vehicles. It even serves some classic cars brands.
#26: Minerva
Minerva was a Belgian-based vehicle company in business between 1902 and 1936 and was well known for its high-quality luxury vehicles.
Initially, the company started with motorcycles and bicycles back in the 1890s.
One popular product used by many notable individuals at the time was the Minerva 8 AL Rollston Convertible Sedan and the Minerva AP 22 CV limousine.
This product was a favorite among many celebrities, for example, movie stars and industrialists, and politicians of that time; this was because they were as high quality as the Rolls Royce; however, they weren't as expensive, so many loved to own one of these.
#27: Melling
Al Melling established MellingSportscars, a British company that works on producing sports cars.
The company has produced a very popular model, the Melling Hellcat, which took everyone by storm due to its reputation as the fastest street-legal car worldwide.
#28: Mini
Founded in 1969, Mini is a German automobile manufacturer and has been producing cars under BMW beginning 2000; the company launched a series of smaller economical cars, which continued until 2000.
The MINI marque is still used for a series of smaller cars, for example, the Mini One Hatch.
#29: Mirage
Another British company, Mirage, was built by JE Automotive Engineering. The automobiles took part in racing, performing quite well.
For example, the Gulf Mirage GR8 won 1978 Le Mans, proving the brand's credibility, and this was the most successful item.
#30: Mosler
Located in Rivera Beach in Florida, Mosler was founded by Warren Mosler in 1985 and was initially known as Consulier Industries.
The company makes high-performance cars, and the first one was the Consulier GP, produced between 1985 and 1993, which was later rebranded in 1993 until 2000.
#31: Mobsteel
Another custom automobile designer and builder is Mobsteel. Not only this, but the company also works on aftermarket cars.
The company utilizes vintage and classic vehicles and converts them into modern looks. The vehicles, therefore, possess uniqueness owing to the company's unmatchable effort.
#32: Mercedes – AMG
This company is a Daimler subsidiary of the Mercedes brand. These cars are not only superior in their looks.
Still, they are can also be handled well and perform much better thanks to the high carbon fiber amount in the manufacturing, making the cars the most luxurious Mercedes models.
#33: MSO
McLaren's bespoke division, MSO or McLaren Special Operations, is a company that works on developing and designing customizable sports cars.
The company works on the customer's preferences to work on unique automobiles through bespoke customization options by making limited edition ultra-exclusive models.
#34: Momo
Located in Milan, Italy, Momo is an automobile company that works on making accessories and parts for the industry.
The products include shift knobs, steering wheels, auto racing equipment, alloy wheels, helmets, and racing suits.
Many regional Sabaru include MOMO steering wheels, including the company's airbags.
#35: Monteverdi
Founded by Peter Monteverdi, Monteverdi is a luxury car brand based in Switzerland.
The company is infamous for its high-quality touring cars and luxury sports cars, including the Monteverdi High Speed. This popular item was produced between 1967 and 1976.
#36: Mooncraft
Moon craft is a company that works on engineering and design and is based in Japan.
One of the most popular items produced by the company was MooncraftShiden, which was a prototype race car and was made to take part in the Super GT GT300 class.
#37: Moretti
From 1925 to 1989, Moretti Motor Company manufactured, designed, and also sold cars Fiat-based sports cars are the most popular production to date.
The series includes the Fiat Moretti Sportiva, which the Fiat 850 inspired. The company works on motorcycles, microcars, etc.
#38: Mitsuoka
A smaller scale but significant Japanese automobile manufacturer is Mitsuoka Motors.
The company is known for its unmatchable designs and styles, which are unique, and the company also customizes existing vehicles, among which include the Nissan march, which had a few parts of the bodywork replaced for a customizable look.
The company has even worked on producing its own sports car, it being the Orochi, but mainly the company works on being a custom design coachbuilder.
#39: Morgan
Henry Frederick Stanley Morgan founded the company back in 1910, and it is headquartered in the UK.
The company is infamous for its wood body structure which is one of a kind. The most popular item was perhaps the three-wheeled sports car, the Morgan 3- Wheeler.
#40: March
This is a British company that works specifically on Formula One racing cars for customers.
Between 1970 and 1992, the company has worked on several teams for the Formula One race and has been quite successful. The company has also been very successful in other races.
#41: Marcos
This is another British company. This one is a manufacturer which works on producing sports cars.
Some famous names are Marcos GT, Marcos Mantula, Marcos Mantis, Marcos Xylon, and Marcos GT.
The founders are Frank Costin and Jem Marsh, and the company is headquartered in England in Kenilworth.
#42: Morris
This is a private UK-based company which works on manufacturing vehicles.
It was founded in 1912, the founder being Mr. William Morris, and the company was named WRM Motors Limited until the name was changed in 1919.
The best selling items were the small-sized saloon cars.
#43: Marmon
Howard Carpenter Marmon founded this American automobile company back in 1902. The company is famous for their highly reliable vehicles, which perform highly and are fast.
Its top product was the Marmon Wasp because of the victory in the first Indianapolis 500 race of 1911, and it is also is the company that introduced the rearview mirror.
#44: Mr Norm's
Mr. Norm Kraus, an automotive enthusiast, based in America, is the owner of the Grand Spaulding Dodge. It is headquartered in Chicago in the United States.
This company also possesses expertise in modifying Dodge muscle cars for them to become much faster, and so far, the company has been quite successful.
#45: Mugen
This is a Japanese company that works on tuning cars and car parts, named the Mugen Motorsports Company.
The company has worked on exhausts and body parts. The company regularly participates in motorsports with Honda cars.
#46: Mitsubishi
A well-known Japanese car manufacturer is Mitsubishi Motors.
This company has produced an enormous number of economy cars, passenger cars as well as commercial vehicles, which are sold worldwide in above 160 nations.
Mitsubishi has also been successful in the Motorsport industry with cars racing in World Rally Championships.
#47: Mullen
Based in California in the United States, Mullen Technologies is an electric vehicle manufacturer. The company is also related to Qiantu Motor, a Chinese company.
The company developed the Qiantu K50, an electric sports car in the partnership, which was later introduced in the US.
Frequently Asked Questions
Q1. What Expensive Cars Start With M?
The expensive and luxury cars which start with the letter M are:
Mercedes-Benz A-Class (W177)
Mercedes-Benz CL-Class (C215)
Maserati Quattroporte
Mazda Luce
Mazda Persona
Maserati Ghibli
Maybach
Mazda Sentia
Mercedes-Benz 600
Mercedes-Benz CL-Class (C216)
Mercedes-Benz CLS-Class
Mercedes-Benz E-Class
Mercedes-Benz EQE
Mercedes-Benz EQS
Maybach Zeppelin
Mercedes-Benz W126
Mercedes-Benz W140
Mercedes-Benz W187
Mercedes-Maybach 6
Maserati Ghibli (M157)
Mercedes-Benz CLS-Class (C218)
Mercedes-Benz CLS-Class (C219)
Minerva
Mitsubishi Dignity
Maybach 57 and 62
Mercedes-Benz S-Class (W220)
Mercedes-Benz S-Class (W221)
Mercedes-Benz S-Class (W222)
Monica
Mercedes-Benz CLS-Class (C257)
Q2. What Old Cars Start With M?
The classic cars starting with the letter M are:
Marcos Mantis
Marcos Mini Marcos
Marendaz 15/90
Marendaz 17/97
Marmon Big Eight
Marmon Roosevelt
Marmon Sixteen
Marquette Six
Maserati Bora
Maserati Indy
Maserati Kyalami
Mathis MY
Mathis PY
Mathis QM
Matra – Simca Rancho
Mercedez Benz 130H
Mercedez Benz 170
Mercedez Benz 220
Mercedez Benz 320
Mazda 1200
Mazda 200
Mazda R100
Q3. What Sports Cars Start With M?
Some sports cars which start with the letter M are:
Marcos GT
Marcos Mantara
Marcos Mantis
Maserati A6G 2000 Pinin Farina
Maserati 300S
Maserati Bora
Maserati Indi
Maserati Shamal
Mazda Cosmo
Mazda RX-8
MazzantiEvandra
McLaren F1
McLaren 12C
Mega Monte Carlo
Mercedes AMG GT3
Mercedes GT S
Mercedez Benz CL
Mercedez Benz CLK
Mercedez Benz SLK
MG 14/28
MG C – Type
MG D – Type
MG J1
MG Rover XPower SV-R
Mitsubishi Starion
Mitsubishi Eclipse
Mitsuoka Himiko
Morgan Plus 4
Morgan Aero 8
Morgan Plus Six
Mosler MT900S
Q4. What Chevy Cars Start With M?
Chevrolet has many vehicles starting with M.
Among them are:
Chevrolet Malibu
Chevrolet Malibu Maxx
Chevrolet Master
Chevrolet Matiz
Chevrolet Menlo
Chevrolet Mercury
Chevrolet Meriva
Chevrolet Montana
Chevrolet Monte Carlo
Chevrolet Monza
Chevrolet Monza (China)
Chevrolet Move
Chevrolet MW
Q5. What Ford Cars Start With M?
The Ford vehicles which start with the letter M are:
Ford Mainline
Marquis (custom car)
Ford Maverick
Ford Maverick (1970–1977)
Ford Maverick (2022)
Ford Maverick (SUV)
Ford Meteor
Ford Model 48
Ford Model A
Ford Model A (1903–04)
Ford Model A (1927–1931)
Ford Model B (1904)
Q6. What Muscle CarsStart With M?
Muscle cars can be spotted by their huge V8 engines, flared fenders, wide tires as well as big hood scoops.
Here are the ones that start with M:
Mercedes-Benz 300 SEL 6.3
Mercury Comet
Mercury Cougar
Mercury Cyclone
Mercury Cyclone Spoiler II
Mercury Montclair
Mercury Montego
Conclusion
Many of the companies mentioned above were either tuning companies, automobile manufacturers, on companies that worked on customizing existing automobiles.
Many of them are old companies that aren't in business anymore; however, each of them has secured their names in history owing to all the hard work of the individuals owning these companies.
I have tried to include all the cars that start with M in the above list to make it easier for you to sort out brands accordingly.
I'm sure many of you are aware of some of the brands mentioned above because of how famous they are, but I would recommend checking the histories of other car manufacturers as well.
Moreover, the FAQ section includes many car models starting from M as well.
The most popular of these is Mercedes Benz which is a sensation among all automobile lovers. However, most have their preferences.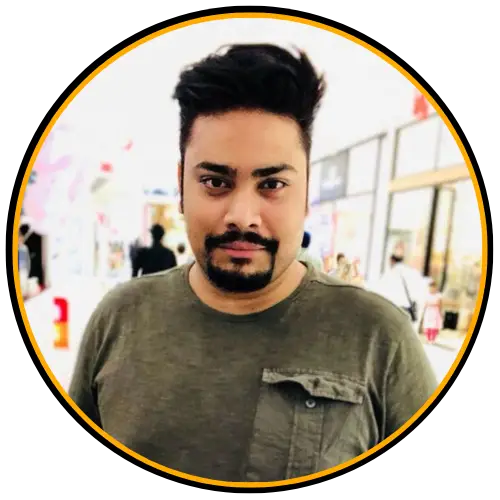 I am Tahir Azam, and I have been writing amazing articles for TaxiHack for as long as I can remember. I know everything that is to know when it comes to automobiles and is always on top of industry news and developments. While I am not an expert by any means, I pride myself on knowing the ins and outs of many different problems and, of course, their solutions. The articles on our website are some of the best and well-researched content that you will find, and I spend countless hours making sure this remains to be true. This is why I ask you to take your time out and read some of my articles, especially if you find a topic that resonates with you or is something you are looking into. This way, you will find the perfect mix of information and tips on your desired topic. Learn more about Tahir.