Some parents who prefer purchasing used car seats believe that they can save a couple of dollars.
There might be some reasons behind buying a used car seat; maybe a friend is giving it to you because their child has outgrown it or maybe because there was a discount at a garage sale, but they do not realize that they might be compromising the safety of their child.
Are used car seats safe for your baby?
It is highly recommended that parents purchase a new car seat from the child safety administrations.
However, parents who still prefer buying a used car seat have a couple of things that you should keep in mind before buying.
It is always important to think for the best for your child when it comes to safety, so it is necessary to make the smart choice.
Here are 5 factors to keep in mind before purchasing used car seats:
Age-Appropriate
Expiration Of Car Seat
Crash Or Serious Accident History
Features Of The Used Car Seat
Used Car Seat Checklist
In this article, I will be providing you with the ultimate guide that every parent should be aware of before purchasing a used baby car seats.
5 Things To Keep In Mind Before Purchasing Used Car Seats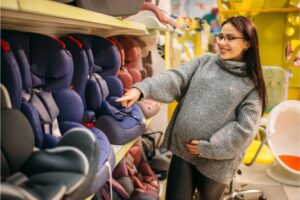 It is important to do your research on things beforehand if you are purchasing a new thing or trying something different so you can have a better idea and make the correct choice.
The purpose of this article is to provide you with information regarding the good and bad aspects of purchasing a secondhand car seat for your child.
1. Age-Appropriate
The number one priority of parents should be the safety and comfort of their child when it comes to car seats, whether new or used.
You must be buying a used car seat just for the price and for the comfort of your child and as per the rules and regulations set in your country.
Height And Weight Of The Car Seat
There are a couple of obligatory things for you to check before you buy the used car seat.
You must verify the appropriate height and weight limit of the used car seat according to your child's age and the height and weight of your child.
Just to be assured that your child will fit in and can ride comfortably.
Furthermore, after verifying the height and weight, you should check if the car seat is appropriate for your car type as every car is designed differently, so it is your responsibility to verify if the car seat will fit in your car or not.
Do not risk your child's life by purchasing the used car seat if it is too big or too small to fit in the back of your car.
Moreover, if you think that adjustments can be made, then you should check if there have been any recalls.
If yes, then it is appropriate for you to call the manufacturers and provide you with the requirements that can help the adjustments.
Rear Facing Car Seat For Babies
It is stated that the only appropriate car seat for infants and toddlers, even for kids above the age of 4, is the rear-facing car seat.
You should make sure the used car seat that you are thinking of purchasing should only be rear-faced as it provides extra protection, extra leg space, and comfort for a long period of time.
It is worth mentioning that if you do find a good quality used car seat that is rear-faced, you can use it for years until your child outgrows it, so yes, you will be making a good investment after all.
2. Expiration Of Car Seat
This is a must! Every product you buy has an expiration date, and when it comes to car seats, it is really important for you to check before purchasing, especially second-hand ones.
The expiration date will help you determine the compatibility of the product as well as if it is worth investing in.
It is important to note that you should never buy a product after its expiry date, even if it looks like the quality is still good, as it can be a risky choice to make.
The authentication of the used car seat is crucial because it will help you make up your mind about whether you should or shouldn't buy it.
You can always determine this by checking the manufacturer's label that will be stamped on the back or at the bottom of the used car seat, or you can search online on the manufacturer's website as they always have the information that you will be required.
There will be the date of issue and date of expiration mentioned on every car seat or booster seat.
If you cannot find the sticker, then you can check the instruction manual that is provided with the used car seat.
Moreover, the usual lifespan of the car seat is from 6 to 10 years but mostly a minimum of 6 years.
If the used car seat has reached its expiry date, then please refrain from purchasing it as it can be risky.
Why Expiration Of The Used Car Seat Is Important To Check?
The reason why you should always check this is because you want to be sure about the structural integrity of the used car seat, as you obviously have no idea how the previous owner used it.
It is also because the car seat can lose its strength over time as the components or the seat safety can be out of date.
Moreover, if it is mentioned that the car seat was not used for a long period of time or it was a brand new seat that was just sitting in the car, you still shouldn't buy it if it exceeds its lifespan/expiry date because it is still recommended to not use it as it can be dangerous.
Lastly, there might be cases in which you cannot find the expiry date anywhere. If that's the case, then there's another reason for you not to buy it.
3. Crash Or Serious Accident History
One of the most important aspects to look for when purchasing a used car seat is to know if the seat was ever caught in accidents/crashes before when used by the previous owner.
It is also important to know the integrity of the accident, what caused it and what the after-effects of the accident are to the car seat and the child using it.
All this information will help you to understand and determine whether it is safe to buy a used car seat.
When you are buying a used car seat, there are high chances that the previous owner does not want it because it was either damaged or was caught in a car accident.
It is your duty as a parent to interrogate these things further for the safety of your child.
You should take into consideration if there were injuries made to the child, make sure to know about the impact on the car seat as that is where your child will be sitting on.
So if there were some serious changes made on the seat due to the accident, please do not think about buying it as it decreases the chances of protection.
If the car seat was involved in an accident, it could be risky to purchase it as it will not perform well if another accident happens.
It is worth mentioning that if you do not see any visible damage on the car seat, it still does not mean that it is safe because some damage or impact cannot be detectable.
Why Is It Important To Make Sure The History?
It is stated by the NHTSA that there will be criteria you should follow on whether you should or should not change the car seat after the crash happens.
This is by determining how serious the crash was and what were the damages or the injuries that happened to the child while sitting on the car seat.
However, it is necessary to always replace the car seat after an accident as it increases the chances of the seat becoming weak or damaged, and if you cannot find any records of crashes, then it is better not to buy it.
4. Features Of The Used Car Seat
The features of the car seats are what make it stand out and enable you to buy it even if it is a used car seat.
It is necessary to have the labels and manuals on the used car seats in order to determine the features and the uses of the car seat.
This will also help you to see the product as a whole and ensure that no parts are missing.
It is common that sometimes people unintentionally leave the most important components or parts of the car seats.
Inspection Is Important When It Comes To Used Car Seat
Before you buy the used car seat for your babies, make sure that you do a full inspection of the product, that there are no original parts missing, and it is functioning properly.
As I have mentioned earlier, the labels and manual are the main things you should look for when you are buying a used car, which will include the FAA-approved sticker that will make your traveling experience easier as you can use it in your car and also for flights.
Make sure that the quality of the product is not rough, such as the harness straps don't have holes or ripped quality, and the quality, as well as the seat, matches the manual.
Even though you will be compromising safety, it is still important to check the quality, whether it has an adjustable height system and if it comes with adaptive side impact protection, and if it provides leg space.
If you are not satisfied with the features, then it is best not to buy them then regret them later.
Inspection Is Good For Safety Purposes
The main reason for you to do the inspection is to determine if purchasing the used car seat is safe for your child or not.
The seat must come with an instruction manual that should provide you with full information, such as warnings manufacturer's information, the model of the car seat, etc.
If this information is not given, then you cannot determine if the car seat was recalled or not.
Lastly, if you cannot find the history of the car seat, then it is definitely not safe for you to use, you are already compromising the safety by buying a used car seat, and the least you want is to gather as much information as you can.
5. Used Car Seat Checklist
Now that you have made it this far, this is the most important part you should follow if you are someone who is determined to purchase a used car seat for your child.
You should always make sure the car seat has never been in a car accident before.
Make sure the complete information is provided, such as the manufacturer information, model number, labels, and instruction manuals.
Make sure you know if there were any recalls made on the car seat.
There is an ECE Approval number included on the seat.
It fits perfectly in your vehicle.
Always buy a used car seat only if all the parts are included within the car seat.
It is suitable for your child's height and weight.
Make sure to get your car seat checked for fitment and do an inspection before using it.
Conclusion
As a parent, it is your responsibility to do your research thoroughly and decide what is better for your child, as safety should be the number one priority.
It is always suggested to purchase a new car seat for your child. However, this does not mean that used baby car seats are bad.
With the right product that fits the purpose and with the help of this article, you can make the right choice.
You would have to make sure to follow the checklist and the important issues rose in the article to make a decision.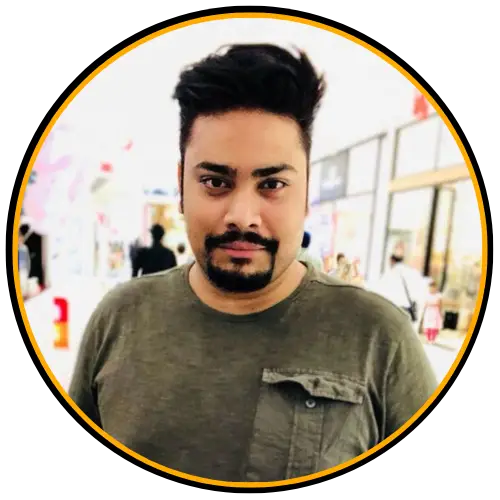 I am Tahir Azam, and I have been writing amazing articles for TaxiHack for as long as I can remember. I know everything that is to know when it comes to automobiles and is always on top of industry news and developments. While I am not an expert by any means, I pride myself on knowing the ins and outs of many different problems and, of course, their solutions. The articles on our website are some of the best and well-researched content that you will find, and I spend countless hours making sure this remains to be true. This is why I ask you to take your time out and read some of my articles, especially if you find a topic that resonates with you or is something you are looking into. This way, you will find the perfect mix of information and tips on your desired topic. Learn more about Tahir.