Keeping kids safe in the car is a top priority of parents and caregivers. Minnesota has laws on the books to make sure that's possible–but the laws can get complicated.
It's important to understand the appropriate age, height, and weight limits for each stage and the type of seat to use to protect our littlest passengers.
Minnesota has set limits that ensure the safety and security of all kids, no matter how small.
Car seat laws in Minnesota have been designed for children up to 8 years old and up to 57 inches in height.
I would suggest that you stick around, especially if you are a new driver in the state of Minnesota.
There are many things to know about car seat laws, which will be covered here today.
Minnesota Car Seat Requirements By Ages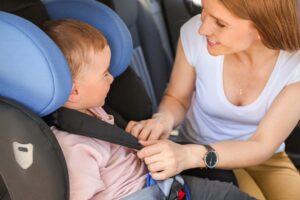 One thing to note is that the state has not classified age groups and has just stated the maximum requirement for car seat use.
So, this article will focus on the generally agreed-upon units. Let's jump straight into it.
1 Year Old
Children under one year old should always ride in a rear-facing car seat.
This is because young children are heavier and have large heads compared to older children, so they need more protection when riding in a car.
2 Year Old
In Minnesota, a child must be at least two years old before using a forward-facing car seat.
Now, this transition must only be made if the toddler has outgrown his or her previous car seat. You can check the weight and height requirements in your car seat manual.
3 Year Old
A three-year-old kid is normally grown enough to be in a forward-facing car seat.
A forward-facing seat is less secure than a rear-facing one, but it is the best option for this age range. You must ensure that a proper tether and harness is used to secure your toddler.
4 Year Old
Four-year-old toddlers are in their prime for forward-facing car seats.
As there is no specific age group law, the same applies to a four-year-old. The seat must be NHTSA approved, and you should ensure it is properly installed.
5 Year Old
Unless your five-year-old has outgrown his forward-facing seat, which is unlikely, you have to keep him or her in it.
You must pay extra attention to the weight and height requirements, as kids can grow up fast. You need to be prepared for a switch.
6 Year Old
When kids reach six-year age, they are ready for the switch to a booster seat.
This applies to a small percentage only because most are still not ready. Regardless, a booster seat should be ready for you to use.
7 – 9 Year Old
A booster seat uses the car's seat belt and is the next safest option.
Minnesota car seat guideline does not state this specifically, but the age of 7 to 9 is the best age range for transitioning to a booster car seat.
Although the state only requires the use of a seat until the age of eight, you should make sure to use it until your kid has outgrown it.
10 Year Old
Most ten-year-olds are long enough to be shifted to a normal car seat. The state requires that they be 4'9" inches long or be of 8 years of age.
So, you can safely store away the seat as your child is ready to ride on a real seat. You should teach him to use a seat belt by himself.
Car Seat Weight And Height Requirements In Minnesota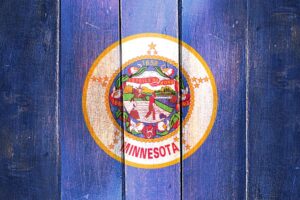 Minnesota law requires children younger than eight years old to use child safety seats that are federally certified.
The state also enforces that the child should be at least 4'9'' in height before being shifted to a regular car seat.
There is no mention of weight in these regulations, so you must follow the manufacturer's recommendations.
These regulations must be followed unless you want to be fined.
Type Of Car Seat Laws In Minnesota
You can be charged with endangering the life of your child if you don't follow the car seat laws of the state of Minnesota.
1. Rear Facing Car Seat
First, you should always use a rear-facing car seat for children under the age of 2 years old.
This is because the bones in their spine are still growing, and they are more likely to break if they are not properly secured in a rear-facing seat.
2. Forward Facing Car Seat
Once your child has reached at least two years old and 20 pounds, you can move her into a forward-facing seat with a shield.
This type of seat helps protect his head, neck, and spine if he were involved in an accident.
3. Booster Seat
Once your child has outgrown his forward-facing car seat with a shield (usually around 40 pounds), then you can move him into a booster seat with either an adult belt system or lap/shoulder belt system depending on what type of vehicle you drive and what type of seat belt system it has installed for adults.
When Is The Time For My Child To Sit In The Front Seat In Minnesota?
In Minnesota, children can sit in the front seat when they are over eight years old and at least 4 feet 9 inches tall.
Moving your child sooner will not only result in a hefty fine but will also risk his life too. So, there is no point in doing something like this before time.
What Happens If You Leave Your Child In A Car In Minnesota?
Minnesota is one of the few states that do not have any specific laws regarding leaving children in cars.
This means that, depending on the circumstances, you could face charges for child endangerment or neglect.
The law is often applied differently depending on where and when the incident occurs.
For example, if a parent leaves their child in a car at night while they go into a bar or restaurant, they might face more severe consequences than if they left the child in the car during daylight hours while they ran errands around town.
So, you should make sure to have an adult in the car or carry your child with you wherever you go.
Taxi Car Seat Laws In Minnesota
As expected, the law in Minnesota does not have anything that discusses taxis. So, drivers are not required to install a car seat in their vehicles.
You can certainly take your own car seat, which can be easily installed. What you need to know is that you will not be fined if you do not do so.
Minnesota Law Regarding Car Seats In Accidents
In Minnesota, you're required to have your child in a car seat if they are under the age of 7.
If your child is eight or younger, you must have them in a booster seat unless they are 4 feet 9 inches tall and weigh 80 pounds.
If the accident that caused you to harm was not your fault and you were using an appropriate car seat for your child's age, then you may be able to bring a claim for damages against the other driver.
Uber Car Seat Laws In Minnesota
Uber and Lyft are two of the most popular transportation services in Minnesota, but they're also two of the most misunderstood.
Many people don't know that Uber is not a taxi service. In fact, it's a ride-sharing service that connects riders with drivers who are already on their way to work or other destinations.
Although they should follow the rules, there are none set for the state of Minnesota. So, they are not responsible for installing a car seat in their vehicles.
Conclusion
In conclusion, Minnesota car seat laws are in place to protect your child and ensure that they are safe while riding in the car.
The goal of these laws is to reduce the number of injuries and fatalities caused by car accidents.
You should always follow these laws and make sure that your children are wearing their seat belts as well.
It is important to remember that the state's laws are not updated, so make sure you check with a local car seat installer or an expert before making any decisions about what kind of seat you want for your child.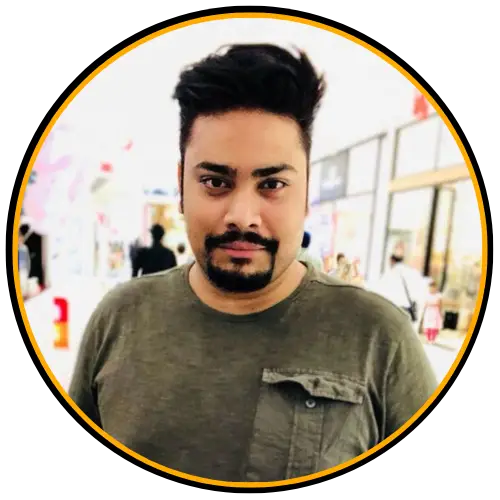 I am Tahir Azam, and I have been writing amazing articles for TaxiHack for as long as I can remember. I know everything that is to know when it comes to automobiles and is always on top of industry news and developments. While I am not an expert by any means, I pride myself on knowing the ins and outs of many different problems and, of course, their solutions. The articles on our website are some of the best and well-researched content that you will find, and I spend countless hours making sure this remains to be true. This is why I ask you to take your time out and read some of my articles, especially if you find a topic that resonates with you or is something you are looking into. This way, you will find the perfect mix of information and tips on your desired topic. Learn more about Tahir.