Talking from a parent's perspective, I know exactly what many of you might be going through. Having and managing more than one child is not an easy task.
You have to take care of their comfort and ensure that there are no compromises. One thing that parents of multiple kids look for, are slim car seats.
They search for something specific like this because they can install more than one in a vehicle.
In this article, I will not only be listing the best narrow car seat but seven of them, with all of them being excellent performers.
So, without any further ado, let's get straight into it!
7 Top Rated Slim & Narrow Car Seats Comparisons
1. Graco SlimFit 3 in 1 Car Seat
TOP PICK
Arriving in the first place is a product that has a lot of ratings and has received a solid five-star from users.
With over 31000 happy buyers, this Graco SlimFit 3 in 1 Car Seat is the best product you can buy now.
After you look at what it can do, you will certainly appreciate the effort Graco has put in. As written in the title, this is a 3-in-1 car seat.
It has been designed for as lightweight kids as 5 pounds and can support them up until the 100-pound limit.
The seat can be shifted from a harness to a booster, which means your child will enjoy it for a very long time.
As we are here to talk about the slimness of the seat, this Graco product will blow you away.
The manufacturer has created an amazing product in such a slim package that more than one can easily be installed on the backseats of any vehicle.
This is perfect for parents that are confused about whether to buy a larger vehicle due to them not being able to manage many kids.
Well, worrying about that is a thing of the past. The manufacturer did not compromise on anything while making this product.
It has passed through Graco's crash tests, which are rigorous and performed from all sides, including the rear.
The comfort level of this product is great too. It has been designed to provide maximum comfort to your child.
The 10-position headrest and a reclinable design mean that your kid will never complain about the seat being too uncomfortable.
Although the design of this product is perfect, there is one thing that the manufacturer did not account for, and that is the safety sticker.
As it is not permeable, it gets warm pretty quickly and becomes a source of discomfort for kids.
PROS
3-in-1 design
Slim and compact
Graco ProtectPlus certified
Adjustable headrest
4-position recline
CONS
Non-breathable sticker in the middle
Apart from this sticker issue, the rest of the product is as close to perfect as it can get. Graco's offering is hard to beat.
2. Diono Radian 3R 3-in-1 Convertible Car Seat
Looking for something even thinner than the Graco product? You are in for a treat with the second seat on this list from the brand Diono.
The manufacturer has made a solid product that has attracted thousands of buyers, out of which most are more than happy.
Let's take a look at what makes this Diono Radian 3R 3-in-1 Convertible Car Seat so good. Like the Graco car seat, this one has been designed for long-term usage.
It can be used as a rear-facing seat for kids up to 4 years old and as a booster seat for kids up to 120 pounds in weight.
Both of these limits are higher than the Graco car seat, which also suggests that it will last longer. The manufacturer promises a 10-year usage.
The seat is perfect for newborns and youngsters. Durability is something that car seat manufacturers normally don't talk about.
Well, Diono has aimed to set itself apart from such brands. The manufacturer has created a product made up of a steel-reinforced core.
Even the plastic on the exterior is automotive grade, which means that it will not break easily.
Finally, when it comes to talking about the slim design of this car seat, the manufacturer assures users that three of them can be used in one vehicle simultaneously.
The seat is so slim that there will be no compromises in the comfort and safety of your child. This makes this car seat an excellent option to consider.
Buyers complained about the product being in poor condition on arrival. With the box being resealed and missing parts, the shipping company is to blame for these mishaps.
The manufacturer should look into the complaints and alleviate them immediately.
PROS
3-in-1 design
Steel reinforced core
3 across design
Extremely comfortable
The manufacturer should probably change its shipping partner to ensure that customers get the product they are paying for.
The car seat itself is great, and you will be pleased with your purchase if you choose to buy it. Diono has made a solid product, and it deserves this spot.
3. Cosco Finale DX 2-In-1 Booster Car Seat
Coming in a very close third place, with some amazing features, is this Cosco Finale DX 2-In-1 Booster Car Seat.
The manufacturer has been checked out by me several times, and it never fails to disappoint. Well, the DX 2-in-1 is doing the same thing. It has left more than 6000 users very impressed.
After reading the product description, you will appreciate its offerings very much. This Cosco Finale car seat can be used in two modes.
The first one is the forward-facing harness, which is suitable for kids between the 30- and 65-pounds range. It can also be used as a booster seat for kids at least 40 pounds and up to 100 pounds.
This 2-in-1 design means that you will not have to buy a new car seat when your child is growing up. The Cosco Finale is one of the best on the market when talking about slimness.
Just like the previous car seat, three of them can be used in a vehicle simultaneously. This is perfect for people with many kids.
The comfort of the kids is not compromised in this design. The same can be said for security. This car seat is also extremely lightweight.
It is great for people who need to move car seats around and move them from vehicle to vehicle. It is one of the lightest options on the market.
The comfort level is also unmatched with this Cosco product. The manufacturer has used a high-quality fabric, which is comfortable.
Buyers complained about an overall lack of padding in this car seat. Although a very small percentage of users reported this issue, it is still present.
Given the fact that the 6000 people were content with their purchase, it could suggest that there is a quality control issue.
These issues must be resolved by the brand as soon as possible.
PROS
2-in-1 design
It can be used in a three-across fashion
Very lightweight
High-quality fabrics used
Cosco is a manufacturer that makes stunning products, and that line-up includes this one.
There were complaints from a few users, but the overall response was very positive. It should be on your consideration list.
4. Evenflo Tribute 5 Convertible Car Seat
Although a child's safety knows no costs, there may be instances that a cheaper product is preferred.
Well, I present to you a product that beats most options in this article and is an excellent buy. Coming in fifth place is the Evenflo Tribute 5 Convertible Car Seat.
This slim car seat is an amazing example that you don't need to spend a lot to get quality products.
Let's look at what it offers and if it is worth it. The first thing that the manufacturer writes about the product is that it has been manufactured in the USA.
This means that you will get the highest quality materials and quality control. The material in question here is polyester.
The manufacturer has used 100% polyester to create this car seat, which is strong and durable. Talking about strength, Tribute puts its products to the test with impact tests.
It has tested this slim car seat for side impacts. Before you ask, yes, the product does exceed all US standards, which means that it is perfect for everyday use.
The integrity of this product is almost double what the federal requirements are. This car seat is a great option if you look for something slim and not bulky.
The manufacturer assures users that the Tribute 5 car seat can easily be used as a 3-across one.
So, if you have more than one kid, you should purchase the same amazing product three times.
Although Evenflo has created a product that checks all the right boxes for a high-quality car seat, the manufacturer did not consider the installation.
This car seat is very difficult to install, which was the complaint of several users.
PROS
Extremely durable
Slim design
Extremely comfortable
Relatively cheaper
I must assure you that although this product is cheaper, you must not think that it is of low quality.
If only the manufacturer had fixed the installation issues of this car seat, it would have easily earned the top spot on this article.
5. Britax Skyline 2-Stage Belt-Positioning Booster Car Seat
Many of you are going to love this next product. Coming in fifth place is an amazing car seat from the manufacturer Britax.
The brand is a highly trusted one, making some great quality car seats. The Skyline is not only a slim product but has a dashing look to it too.
This Britax Skyline 2-Stage Belt-Positioning Booster Car Seat is extremely comfortable and secure.
Although Britax has created a slim and stylish product, it made sure not to compromise on any other aspect of it.
The brand has used not one but two side-impact layers. They are excellent at dissipating impact forces. The dissipation is also greatly boosted with an energy-absorbing shell.
There are even color-coded belt guides, which ensure that there is a very small chance that your kid will not be strapped incorrectly.
Unlike the previous options in this article, this car seat is a booster seat only.
You may be wondering what the 2-stage design is for?
Well, this seat has two stages for the booster mode.
It can be converted from a high back booster seat to a backless one. It is perfect for kids ready to be transitioned to sitting on an actual car seat.
With this amazing car seat, you will never hear your kid complain about it being too uncomfortable.
Besides the high-quality padding and armrests, the manufacturer has also included a 10-position headrest, which will allow the seat to be adjusted to your child's requirements.
It is a great addition and is one of the reasons why Britax is one of the most sought out car seat manufacturers out there.
Although lightweight is considered good when talking about car seats, buyers complained that this product's lightweight is not by design but due to a poor choice of plastic.
The installation is not easy too, which was reported by some people.
PROS
2-stage booster design
Excellent impact protection
10-position headrest
Color coded belt guides
CONS
Low-quality choice of materials
Difficult to install
Britax has created an amazing product, but it must work to make sure that there are no-cost cuttings, as it can cost a child his or her life.
But, other than that, the car seat is solid, and you will love it.
6. Evenflo Chase Harnessed Booster
Looking for something that is not only cheap but has been checked out by a lot of people?
This Evenflo Chase Harnessed Booster, with over 7000 buyer ratings, is what you are looking for. It has some unique offerings, which you will love.
Let's take a closer look and see if it deserves a spot on this article.
Evenflo is the only manufacturer on this list that offers different color options in its car seat. The manufacturer has color-coded its seats with some very interesting names.
The first one is Jameson, which combines grey and black. Coming in second place is Jayden, which has a pink theme. The third one is called Jubilee and has a teal color.
All of them look great, especially the first one. This car seat is a 2-in-1. It can be converted from a forward-facing harness to a booster seat easily.
This is perfect for people looking to get something good for the long term. It can be used for kids between the 22- and 110-pound range. The installation of this car seat is easy and secure.
This is possible, thanks to the use of an amazing latch system, which allows for quicker installation and removal. This is great news for people that need to switch vehicles often.
The manufacturer has also improved the security of this car seat, with it being impact tested. The structural integrity is a lot more than the requirements.
The only issue that many users had was that the cupholders did not stay attached.
Buyers complained that they could easily be pulled out, which is bad news for people whose kids like to throw stuff.
There is nothing worse than a permanent stain on the fabric of your vehicle.
Other users complained that it is extremely difficult to remove, which is not good for frequent car changes.
PROS
Different color options
2-in-1 design
Easy to install
Durable and safe
CONS
Cupholders do not stay attached
Very difficult to remove
Apart from these two issues, Evenflo has created an amazing product. It checks all the right boxes and should definitely be on your consideration list.
7. Baby Trend Trooper 3 In 1 Convertible Car Seat
Finally arriving in the seventh and final place on this article is the Baby Trend Trooper 3 In 1 Convertible Car Seat.
This is the only product on this article that has scored less than 1000 ratings.
Don't let this deter you from the fact that it is an amazing car seat. It can be classified as being underrated rather than being a low-quality product.
Many users were more than satisfied with the product they received due to several reasons, with one of the main ones being its 3-in-1 design.
The car seat can be used in the rear-facing position for infants and toddlers. There is also a forward-facing mode for kids that are up to 65 pounds in weight.
The installation of this car seat is easy and simple. The right-angle installation ensures that the seat will always be installed in an upright position.
It does not end there. There is a bubble level too, which will completely eliminate the risk of the car seat not being installed in a proper upright position.
With a 16.75-inch width, the Trooper can easily be installed in 3 across fashion.
This is perfect for people who are looking to get something that is not only usable in the long term but is perfect for more than one kid.
For added comfort, there are shoulder and crotch adjustment options too. Your child will not complain about the seat being too uncomfortable.
Users complained about the straps getting stuck during installation.
If they get stuck, then a proper level cannot be achieved, which can be dangerous if there is an unfortunate accident.
The installation instructions are of no help either. The manufacturer should fix these issues as such an installation means that the seat is no good for long-term use.
PROS
Included bubble level for an upright installation
3-in-1 design
Slim and narrow
Different adjustment options
CONS
Straps get stuck
Useless instructions manual
Baby Trend is a company that I have not heard of before, but it surely left a great impression on me while writing about it.
The manufacturer has some mistakes to fix, but the overall car seat is a fantastic one.
What To Look For When Buying A Narrow Car Seat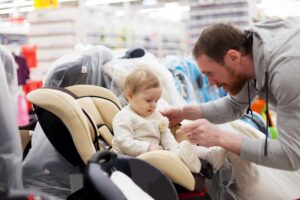 For people who have multiple children and need a car seat, you will want to be on the look for a narrow car seat. That way, you will be able to fit more in your car.
Many people do not know what criteria they should look for when browsing narrow car seats.
Here are a few features you should be actively searching for if you want to get a small and narrow car seat:
Smaller Dimensions
Comfortability Despite Narrowness
Easy Installation Near Other Car Seats
Good Amount Of Room For Your Child
Loose Yet Secure Harness System
These features may seem weird at first, which is why you should read this guide to understand all of these features.
Smaller Dimensions
One thing to note is that your car seat should be wide enough to house the child. This should be a given if you want a narrow car seat.
Make sure that the dimensions are narrow enough that they satisfy your liking. This will be an important factor which I will explain later.
Comfortability Despite Narrowness
Narrow car seats are not known for their comfort, so you should ensure that your car seat is perfectly comfortable for your child.
The last thing you need is your child fussing and screaming throughout the ride. Just make sure that the seat is not too constricting.
Easy Installation Near Other Car Seats
Whether you plan on housing it near other car seats or your luggage, you will want to ensure that your narrow car seat can be easily installed next to various items.
This is especially so for other car seats. This way, you can house up to 3 of them in a single car.
Good Amount Of Room For Your Child
While you want it to be narrow, ensure it has enough room to let your child easily slide in.
This is often a problem for narrow car seats and must be avoided for a smoother travel experience.
Loose Yet Secure Harness System
A good car seat will include a harness system, whether wide or narrow.
The issue with narrow car seats is that their harness systems can be too tight and make it uncomfortable for the child.
While being tight is essential for safety, being too tight can achieve the opposite, so you should have it adjustable and generally loose.
A narrow car seat is the best option if you want to have multiple car seats in a single car or want to save space. You should be able to get one now that you have finished this guide.
Frequently Asked Questions
Q1. What Is A 3 Across Car Seat?
If you are new to all these car seat scenarios, then learning about this may come in handy in the future.
A 3 across car seat means that; three of the same seats can be installed in the rear of a vehicle.
This possibility is also used to assess how narrow the product is. All of the above products can be fit in a 3 across fashion easily.
It is advised to use all seats from the same brands, or else there may be compatibility issues.
Q2. What Is A Backless Booster Seat?
In layman terms, it is basically a cushion that can be installed in your vehicle.
Let me explain a bit more! These specialized seats have been specifically engineered to make sure that they protect your child as much as possible during the event of a crash.
All backless booster seats have to be used in tandem with a vehicle's seat belt, which allows your child to keep in place and not get off.
They are great for kids that are almost ready to ride without any seat at all.
Q3. How Wide Are Compact Car Seats?
Generally, car seats are around 25 inches in width. When it comes to talking about compact car seats, they are around 18 to 20 inches.
However, the difference may not seem that much; every inch matters to make sure that a vehicle can fit three car seats properly. All of the car seats on the above list are compact.
Q4. Can All Vehicles Fit A Car Seat In A 3 Across Fashion?
The answer changes when talking about different vehicles. People always ask if their growing family can fit in a certain car.
They never consider the fact that the size of the seat is not the only thing that matters, but also the vehicle's width.
The amount of space between the two rear seats is important when buying a new car.
=> Here are the cars you can buy to fit 3 baby car seats in the back.
Q5. How Much Does The Graco SlimFit Weigh?
This is an excellent question because a parent must have an idea of how much a seat weighs, so they can be sure that it can be carried.
The weight of the SlimFit is a mere 19.47 pounds. You will not be adding a lot to your child's own weight.
This makes the SlimFit very easy to carry around. If you are able to carry your child on their own easily, then you will not have any issues in adding a few extra pounds.
Q6. Is The Graco SlimFit FAA Approved?
Yes, it is! You will not have any issues while flying in a plane because the size and dimensions of the product make it a perfect fit for this vehicle.
The manufacturer, Graco, has also made sure that the latch system is easy to use, so when you need to move the seat, you won't have to spend too much time doing so.
The same system also makes the installation a breeze, adding to the convenience factor of the product.
Q7. Are Slim Car Seats Less Safe?
The slimness of a car seat does not have anything to do with its safety. As long as you have attached it and secured your child correctly, it should be relatively safe.
Q8. Does Britax Make A Slim Car Seat?
Britax has made various slim car seats over the years, such as the Slimm line AHR, which was very well received.
Conclusion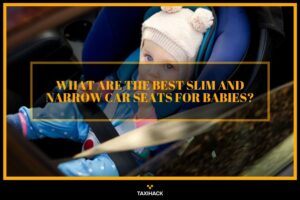 So, there you have it, my take on the best narrow car seat on the market.
I made sure to only research products that have great performance, and more than one will easily fit inside all sorts of vehicles.
All of the above products have excellent performance, but Graco is the brand that has stood out of all of the competition.
I recommend the Graco SlimFit 3 in 1 Car Seat to you because it checks all of the boxes of a high-end seat.
It is a little pricier than its alternatives, but it is absolutely worth it. Regardless of the product you choose, as long as it is from this list, you will have a fantastic experience.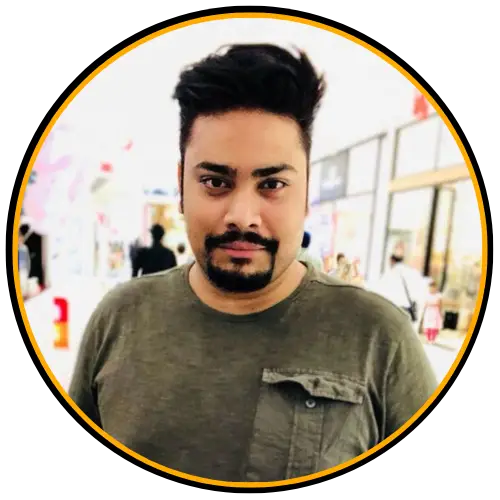 I am Tahir Azam, and I have been writing amazing articles for TaxiHack for as long as I can remember. I know everything that is to know when it comes to automobiles and is always on top of industry news and developments. While I am not an expert by any means, I pride myself on knowing the ins and outs of many different problems and, of course, their solutions. The articles on our website are some of the best and well-researched content that you will find, and I spend countless hours making sure this remains to be true. This is why I ask you to take your time out and read some of my articles, especially if you find a topic that resonates with you or is something you are looking into. This way, you will find the perfect mix of information and tips on your desired topic. Learn more about Tahir.