When you search the internet for a decent car seat for your child, you are bombarded with options from various retailers.
Most of them are more than decent at their job. But when it comes to choosing a car seat that meets your specific needs, the search gets a whole lot harder.
So, what can a family of a small car do?
The answer is clear!
This article will be focusing on the best convertible car seat for small cars, so you will not have any issues regarding space constrictions.
So, without any further ado, let's get straight into it!
7 Top Rated Convertible Car Seats For Small Cars Comparisons
1. Graco Extend2Fit Convertible Car Seat

Arriving in the first place is the best product on the market. The Graco Extend2Fit Convertible Car Seat is the number one option for all parents, whether you have a small car or not.
With over 50000 positive ratings, it leaves all competitors in the dust. So, let's see what this car seat has to offer.
As stated in the title, this is a convertible car seat. What this means is that it has two modes for easy usage.
If your child is in the 4 and 50-pound range, then you can use this car seat in its rear-facing mode.
For kids between the 22 and 65-pound range, you can use the model with the forward-facing harness too.
This gives parents a great deal of flexibility. The headrest has no-rethread, meaning you can adjust it and the harness together.
Because we are talking about small cars, we must be sure that the car seat will fit in them. Well, this seat has a 5-inch additional legroom option.
Of course, to save space, you will not use it. There will be no compromise on the child's safety and comfort. So, there will be more than enough space for easy fitment.
This car seat has been engineered using the brand's very own Graco ProtectPlus guidelines. It makes sure that the car seat will provide adequate safety features in all scenarios.
All in all, you can have complete peace of mind that the seat will provide you with top-of-the-line security features.
Buyers had one issue with this otherwise perfect car seat. They complained that the installation was very difficult.
If this is true, then the manufacturer must look into it and resolve it as soon as possible.
PROS
2-in-1 design
Graco ProtectPlus engineered
5-inch leg room
No-rethread harness
If you are ready to deal with the difficult installation of this car seat, then I would advise you to get this for your child.
There is no better option than this one out there. Graco is a brand that you can buy from with complete peace of mind that the product you receive will be of high quality.
2. Graco SlimFit 3-In-1 Car Seat

Arriving in second place is yet another product from the brand Graco. The company earning two consecutive spots on my lists is becoming a common occurrence.
This SlimFit 3-In-1 Car Seat is a worthy product, and you will appreciate its feature set.
With over 27000 ratings, this is the second most popular option in this article. The SlimFit comes in five different colors, putting a bit of customizability in your hand.
The name SlimFit is directed towards the less space-taking design of this car seat. It has been made compact to ensure that it will fit in small cars easily.
The best thing about this car is its three-in-one design. It can be used as a booster seat. It could be used as a rear-facing seat, and finally, you can use it as a front-facing seat.
You can use this car seat for as long as ten years. This is something not provided by most manufacturers, so I appreciate this feature a lot.
Just like the previous car seat, this one is also Graco ProtectPlus engineered.
The seat has been tested in rigorous simulated car tests, which test the car seat's safety features from almost all angles.
This ensures that the seat will protect your young one if there is an accidental collision. You can never be too safe. The headrest on this car seat can be adjusted in 10 different positions.
As it has been designed to work for toddlers and youngsters, the manufacturer must take steps to ensure that the seat will never be uncomfortable.
The adjustable headrest ensures that.
Although more than 25000 people had no issues, it falls to personal opinion. Buyers complained that the car seat is not made of high-quality materials.
But, if it is true, the manufacturer should make sure that it is corrected in newer product iterations.
PROS
3-in-1 design
Graco ProtectPlus engineered
Ten positions adjustable headrest
Designed for small cars
Graco is not a brand to cut corners and make low-quality products. There were thousands of people that had no issue with this car seat.
So, you can go ahead and buy one right now. You will certainly love it.
3. Graco Tranzitions 3-In-1 Harness Booster Seat

It looks like Graco is ready to break the previous cycle of earning two spots. This third product is yet another extremely popular option available from the brand.
With over 25000 happy customers, it comes very close, in terms of performance, to the previous two products.
Let's take a closer look into what this car seat has to offer!
This Garco Tranzitions 3-In1 Harness Booster Car Seat is available in six distinct color options.
You can choose the one that suits your vehicle or just pick one that is different and unique. Just like the previous car seat, this one is also a 3 in 1 one.
This must be great news for some of you. Although the previous one is more than good enough, buyers need alternatives too.
Well, there is no better alternative than this one. The harness has a no-rethread design. The harness system and the headrest can be controlled using one motion.
This makes adjusting the seat quick, easy, and convenient. The headrest has eight different positions, making sure that your kid will be comfortable at all times.
Moreover, the brand has chosen to make this car seat exceptionally lightweight and portable.
This is great for parents who move frequently and want something that will not slow them down. This is a major convenience factor, but it does not end there.
There are open-loop belt guides that help you position the seatbelt over your kid's shoulder in a proper fashion. The manufacturer has even included two cup holders that are easy to clean.
This is very convenient. You can be sure that your child will be close to his snacks at all times, and you can focus on driving your vehicle.
Buyers, yet again, complained about the car seat not being able to install easily.
It looks like this is a common issue in Acronis products, and the brand should tighten up its quality control process.
PROS
3-in-1 design
Compact and portable
Two cup holders
No-rethread harness
Apart from this installation issue, you will find this Graco car seat perfect for everyday use. It is a fantastic product.
4. Chicco Fit4 4-In-1 Convertible Car Seat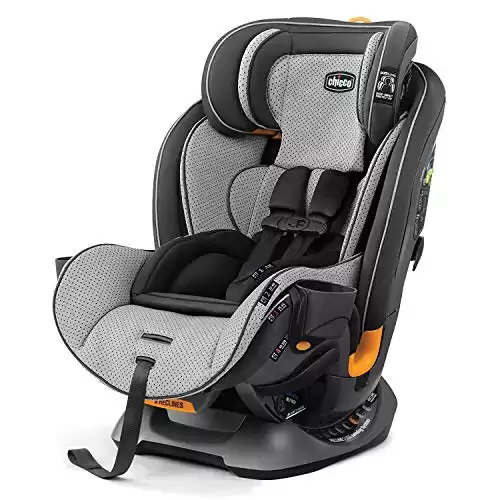 Graco dominates the market. Buyers buy products from the brand because it is extremely reliable. But that does not mean that other brands do not stand a chance.
Take this Chicco Fit4 4-In-1 Convertible Car Seat, for example. With over 1000 positive ratings, it cannot challenge the popularity of Graco.
But when you read about its offerings, you will surely appreciate it. The manufacturer has offered this car seat in three color options.
You can choose from Stratosphere, Onyx, and Carina. They look pretty elegant, and they will blend in perfectly with most vehicle interiors.
As you may expect, this 4-in-1 car seat is designed to support your kid from a toddler till he or she is ten years old.
As the brand calls it, the multi-stage construction and easy to remove layers ensure that the car seat will be spacious enough to accommodate your child as he grows up.
The brand claims that this product is the easiest to install.
The Chicco-exclusive installation features, such as the ReclineSureleveling system, the RideRight bubble levels, make sure that the installation will not only be easy but proper.
The DuoGuard system on this car seat is a great example of what a safe one should look like.
Moreover, the system has two layers of protection. The first one is the steel-reinforced frame, which will hold even when there is an unexpected collision.
Other than this, the manufacturer has used EPS foam, which is extremely good at absorbing energy impacts. This will ensure that your precious will experience as little force as possible.
A few buyers complained that the car seat started falling apart after a few months of usage.
This is completely unacceptable, and this can be blamed directly on the company's quality control.
They must tighten that up to ensure consumers don't go through this issue again.
PROS
Three color options
4-in-1 design
DuoGuard protection system
Extremely easy to install
CONS
May fall apart after a few months
Although the seat may fall apart, the chances of something like this happening are slim.
After all, if all of them were faulty, then surely the seat would not have gathered more than 1000 content buyers.
5. Safety 1st Jive 2-In-1 Convertible Car Seat

Taking up the fifth spot is a fantastic product from the company Safety 1st. You can tell a lot by the name of a brand.
Well, what does Safety 1st tell you?
Their car seats are focused on providing maximum security and safety to your kids. But the brand has not compromised on comfort either.
Let's see if it is worth it!
This Jive 2-In-1 Convertible Car Seat is designed for kids that are in the 5 and 65-pound range.
It is not designed for longer usage, like the previous ones, but your experience will be unparalleled.
For maximum comfort, the brand has added a removable head and body pillow. This ensures that your child's comfort level will be as he or she deems fit.
The car seat uses a 5 point harness system with five adjustable height positions and three buckles locations. This ensures that the system will work for your child as he grows up.
Being a father of two, I know how quickly children do. So, I know you will appreciate this feature in the future.
The Safety 1ST Jive is an airplane-ready car seat. This means that it will work perfectly with those seats, and you will not have any installation issues.
Another big advantage is that this car seat is designed to be compact. This ensures that it will be easy to transport anywhere, whether it be airport security or a busy street.
The chances of the car seat bumping into something or someone are reduced.
Buyers complained that the seat is not good for use in a rear-facing fashion. A kid that is close to the limit of the rear-facing seat is not tightened fast enough.
This is a serious issue and a design flaw that must be fixed by the manufacturer as soon as possible.
PROS
5-pointy harness system
Airplane ready
Removable head and body pillow
Compact design
CONS
Tightening issues in the rear-facing mode
If you are willing to use this car seat in the front-facing fashion, then it is perfect for you.
Although there were a few buyers who complained about the rear-facing mode of this car seat, you probably will not. But the manufacturer must resolve it as soon as possible.
6. Britax Marathon ClickTight Convertible Car Seat

We are nearing the end of this list, but the competition is still strong.
Coming in sixth place is a Marathon ClickTight Convertible Car Seat from the Brand Britax, yet another one that I have checked out before.
The company makes excellent quality car seats and is seriously underrated. Don't believe me? Well, after you see what it features, you definitely will.
The car seat has two modes for use. It can be used in the rear-facing fashion for kids between the 5 and 40-pound range.
For children between the 20 and 65-pound range, you can use the car seat in the forward-facing fashion too.
Britax has included a patented installation feature that will make it as simple as possible. The patented click tight will make the installation as simple as buckling a seatbelt.
Surely, there can be nothing as simple as that. The car seat will not require any rethreading, ever. This is possible, thanks to the 14 position harness and the 2 positions for the buckle.
This ensures that your child will be as comfortable as possible as he or she grows up. The comfort factor does not end there!
The manufacturer has also used seven recline positions for maximum comfort and for accurate adjustment with regard to your vehicle's space.
Let's talk about security!
This car seat has a full layer of side impact protection. It has a steel frame, which will not let the car seat break, even when there is a lot of pressure applied.
The base also uses an absorbing material that will reduce the impact of forces from collisions.
Some buyers complained that the patented click tight feature does not work at all.
This clearly indicates that the company has a quality control issue because other consumers were in awe of the feature. So, it must be fixed as soon as possible.
PROS
Two modes
Patented click tight feature
14 position harness
Extremely secure
Apart from a small number of users that complained about this issue, others were content with the car seat they received. It is highly likely that you will be too.
7. Chicco NextFit Zip Convertible Car Seat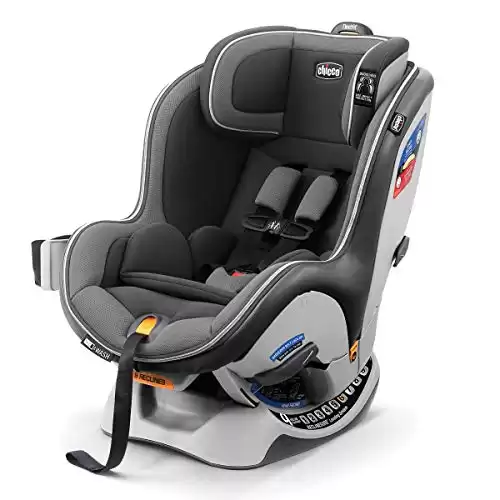 Finally, arriving in the seventh and final place is this Chicco NextFit Zip Convertible Car Seat. The brand was able to snatch up another place on this article, which is really impressive.
Let's see if what it offers will please you or not!
The first thing that you all may be curious about is the mention of the word ZIP in the title. Well, this car seat has zip-off padding.
What this means is that the padding can be removed and can be machine washed.
So, whether your kid spills something on it or you just want to keep it clean, the brand has made the process extremely easy and convenient.
The manufacturer has implemented the same DuoGuard system on this car seat. The system uses a deep and rigid shell along with an EPS foam.
Both of them, combined, provide your child with excellent security and safety from all sides and angles.
As this car seat has been designed for growing children, it accommodates them like that too.
There is a newborn positioner that can be removed when your kid grows out of it. There is a no-rethread harness.
The headrest has nine adjustable positions, which makes it extremely comfortable, and also makes the transition from rear to forward-facing much easier.
The included cup holder can be removed. It can be washed in a dishwasher, making sure you can keep it clean at all times.
So, you can give your kid food and drinks in the vehicle, knowing that there will be no issues in cleaning the whole seat if something is accidentally spilled.
Apart from the car seat having fewer ratings, one buyer complained that the car seat he received was manufactured over a year ago.
This is unacceptable! The brand should never ship products that are more than three months old, at maximum.
PROS
DuoGuard system
Removable seat pad
Removable newborn positioner
CONS
The unit sent with old manufacturing date
Fewer ratings
Although Chicco is a brand whose products mostly fly off the shelves, this one is particularly slow.
So, you can try it out, and it will most probably please you. You can still check out the other six products in this article, which is also excellent.
What To Look For When Buying A Convertible Car Seat For Your Small Car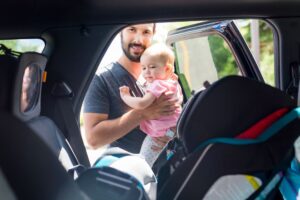 If you are the proud owner of a small car, you might find getting a worthy car seat challenging.
This section of the article will go over all of the features I find necessary that should be present in your car seat.
I will start by listing all of them out below:
Compact Design And Build
Easy Installation In Close Quarters
Lightweight As Not To Overweight The Car
Simple Conversion Between Modes
Good Value In Small Car
While some features you may not agree with, I believe these are the most important convertible car seats for small cars.
Compact Design And Build
Naturally, you will want a convertible with a narrow yet strong build that can easily fit in your small car.
Some people might want to install more than one car seat, so having a narrow and compact design can help.
Easy Installation In Close Quarters
It can be quite difficult to install car seats even in normal cars, which is why you should ensure that the one you are buying can easily be fixed in a small car.
It should be easy to do so even when installing multiple of them.
Lightweight As Not To Overweight The Car
Try to get a car seat that has a good build but is also lightweight. This will make it easy to carry and will not overweight the car.
You won't carry much weight in a small car, and a heavy car seat will only reduce the amount of luggage you can carry.
Simple Conversion Between Modes
Having a convertible means that you will want to toggle its modes. This can already be hard to do normally and even more so in a small car.
Ensure that you can efficiently toggle the car seat modes whenever you want.
Good Value In A Small Car
Since you are sacrificing all this space in your already small car, you should ensure that your car seat has good value.
Here are some features that can increase its value significantly:
Cup Holders
Separable Back Seat
Washable Back Seat
Adjustable Head Rest
Harness System
Make sure to have these in your car seat as well! Getting a small car seat might be challenging at first, but with the help of this guide, you should be able to find a top-tier car convertible seat!
Frequently Asked Questions
Q1. Which Car Seats Can Fit Three Across?
Of course, many of you guys are parents of more than one child. So, you may definitely need more than one car seat.
Finding the car seat that is not only designed for compact cars but is also three across is very difficult to find. Well, two of the products on this list do meet those requirements.
The first product is the Graco Extend2Fit, and the second one is the Britax Marathon ClickTight. Both of them can be used three across in vehicles of all sorts of sizes.
Q2. When Should I Put My Baby In A Convertible Car Seat?
The best time to put a baby in a convertible car seat is when he or she is anywhere between 0 and 2 years old.
This is the perfect time to get them used to something new that is not only comfortable but is also safe.
Plus, children enter the weight range when they are within this age limit. So, you can safely transition to a convertible car seat.
You can use a car seat at a later time, but in the meanwhile, do you really want to compromise on your kid's security?
Q3. What's The Smallest Convertible Car Seat?
By far, the smallest car seat out there is the Diono Radian 3RXT. This car seat is 17 inches wide and is small overall.
Q4. What Is The Safest And Most Comfortable Convertible Car Seat?
Britax is known for its world-class safety and comfortability, which they can deliver in the Britax Marathon Clicktight, which is, in my opinion, quite safe and comfy. (Check the popular convertible car seats from the Britax brand).
Conclusion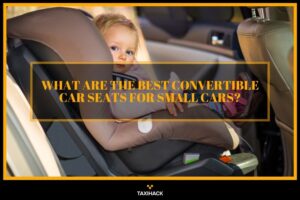 The correct seat for a small car is not difficult to find.
But with thousands of products on the market, which are nearly indistinguishable in terms of performance, buyers tend to get confused and order incorrect ones.
Well, this article has eliminated that issue. Every single one of these car seats will fit in small vehicles, with a full guarantee.
Out of all these listings, the best convertible car seat for small cars is the Graco Extend2Fit Convertible Car Seat.
It has the greatest number of ratings and offers the best features. You can buy it with complete peace of mind that it will be perfect for your vehicle and your child.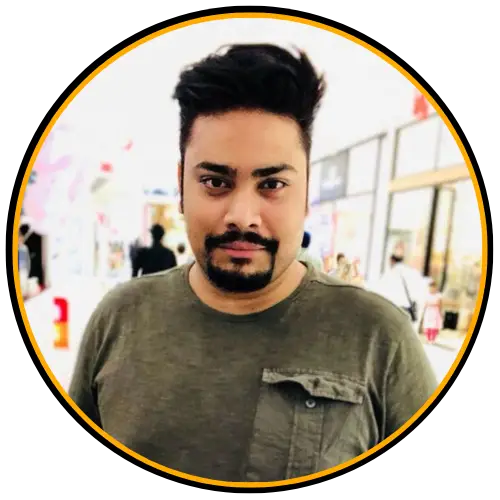 I am Tahir Azam, and I have been writing amazing articles for TaxiHack for as long as I can remember. I know everything that is to know when it comes to automobiles and is always on top of industry news and developments. While I am not an expert by any means, I pride myself on knowing the ins and outs of many different problems and, of course, their solutions. The articles on our website are some of the best and well-researched content that you will find, and I spend countless hours making sure this remains to be true. This is why I ask you to take your time out and read some of my articles, especially if you find a topic that resonates with you or is something you are looking into. This way, you will find the perfect mix of information and tips on your desired topic. Learn more about Tahir.