Lift kits are modifications you can add to your truck to raise their height so that you can have a better off-road experience; it can also be done simply for appearances.
The Toyota Tundra, like many trucks, has many brands that claim to be the best lift kit for the truck.
To make your decisions making the process easier when purchasing a lift kit, below is a list of the best lift kits created after thoroughly researching Toyota Tundra lift kit reviews.
The standout lift kit has to be the ReadyLift 2″ R SST Lift Kit.
6 Top Rated Toyota Tundra Lift Kits Comparisons
1. ReadyLift 2″R SST Lift Kit
TOP PICK

Coming up in first place is a kit from a highly regarded brand, ReadyLift.
They have dominated my lists before, so it is no surprise that the company takes the number one spot when talking about the Toyota Tundra.
It is compatible with the 2007 to 2018 models of the truck. This one provides you with a 3-inch lift from the front and a 2-inch lift from the rear.
It gives you a whole new perspective to drive from.
The company guarantees that, even though with all these additional raises, the riding experience will not be affected by any means.
You will not notice any degradation in ride smoothness. It is vital to get an alignment after installing this product.
Otherwise, you will notice quicker tire wear. This is the case with all lift kits.
The increased ground clearance is very beneficial for people who take their vehicles for off-roading activities frequently.
The clearance protects the undercarriage from potential damage. With this kit, you will be able to install up to 35-inch tires on your truck.
This is not the only benefit of this product. You save tons of time during installation because it has a 100% bolt-on installation.
What this means is that you don't have to disassemble the strut assembly to install it. You can also install it from the comfort of your home as no complex tools are required.
There is also no cutting required to install this one.
The provided instructions are very poorly written. You have to refer to YouTube if you are a beginner.
PROS
Bolt-on installation
Supports up to 35-inch tires
Stock driving experience 
CONS
Unclear instruction manual 
This lift kit by ReadyLift is an excellent one. It surely deserves the number one spot.
The brand could have improved in the included instruction manual, as it might be a minor inconvenience for people to follow tutorials on the internet.
2. Supreme Suspensions Full Lift Kit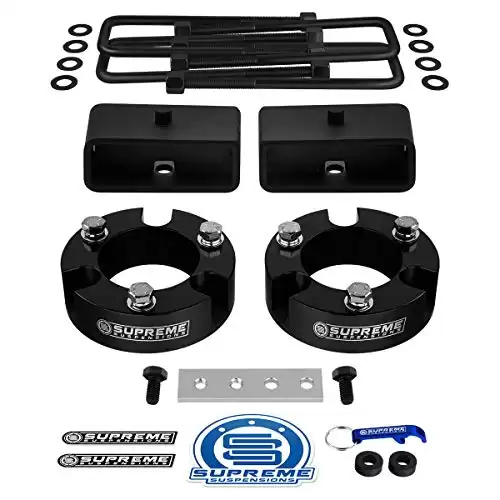 I know that many of your readers might have older models of the Toyota Tundra.
Well, you don't have to worry as this product by Supreme Suspensions is compatible with the 1999 to 2006 models of the truck.
This one allows you to raise your truck by 3 inches from the front and 3 inches from the rear. This is an overall greater lift than the one provided by the ReadyLift one.
Thanks to the manufacturer's dedication to their products, this product is compatible with the truck's 4WD and 2WD variants.
The brand clarifies the thing that confuses most buyers. They inform that the spacer for the front is not 3-inches in height.
It changes the angle of the lower control arm, which allows you to get the raise the brand advertises.
It has excellent durability, with the brand stating clearly that the kit is completely corrosion resistant alongside its superior structural integrity.
So, you don't have to worry about it breaking or failing on you, no matter the driving conditions.
Installation of these is also easy and simple. Thanks to the bolt-on design, the whole kit can be installed within six hours.
If you choose to get the work done through a mechanic, it might be done even quicker.
But who doesn't want to save money?
This brand does not require any complicated tools, which means that it can be installed from your garage.
Buyers had no complaints with this lift kit by Supreme Suspensions. It does have limited compatibility. It cannot be used in the Rock Warrior and TRD Suspension models.
PROS
Bolt-on installation
Compatible with 4WD and 2WD variants
It does not require complex tools for installation
Supports larger sized tires
CONS
It cannot be used with TRD suspension and Rock Warrior models
Nothing is perfect. The same can be said for this product.
If only it would have been compatible with all truck variants, it would have been an excellent buy for people who own the 1999 to 2006 models of the Tundra.
3. Dynofit Lift Kit For Toyota Tundra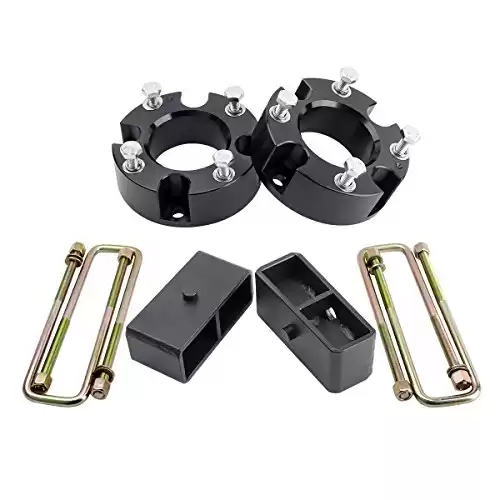 This third lift kit by Dynofit has a considerably greater number of reviews than either of the two listed above.
You must be wondering that why did it score a lower position?
I will be answering that question in the following paragraphs. If you did not like the ReadyLift kit, then you will most definitely love this brand.
It will allow you to lift the truck's front by three inches while raising the rear by two inches.
You must be wondering why most companies create kits that produce an equal amount of raise. That has been answered in the detailed buying guide at the end of this article.
These are made out of the top of line materials. According to the manufacturer, the whole kit is forged from aircraft-grade biller aluminum.
In layman's terms, it means that you won't have to worry about the kit breaking on you.
The company advises buyers to get an alignment after installing the system for a better driving experience. The installation itself is simple and easy.
It can be fully installed in under two hours, without the need of a mechanic. You don't need to open the strut assembly, which makes the procedure a lot less complex.
There is even a two-year warranty included with this product. If any problems occur within two years from the date of purchase, you will be able to get free of cost replacement.
The company also assures buyers that if they have any queries, they will be answered within a maximum of 24 hours.
Buyers had issues with this one. Some received no bolts in the box. And for some buyers they had the issue of the bolts not lining up. This causes a major inconvenience.
PROS
Easy to install
Extremely durable
Better viewing angles
Supports bigger tires
CONS
No bolts in the box
Misaligned bolts
These two bolt problems indicate that the brand has quality control issues.
Although many people were pleased with what they received, there were still people unsatisfied. The chance of getting a bolt issue is low but is possible.
4. Rough Country 3.5'' Lift Kit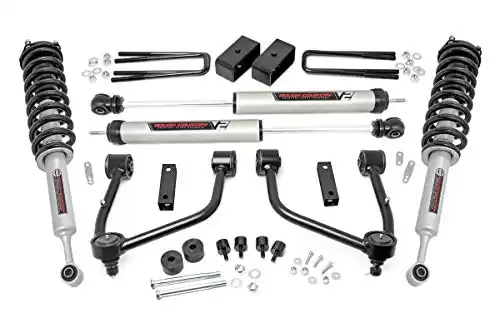 Yes, you read that title right!
This Rough Country 3.5″ Lift Kit allows you to achieve a 3.5'' raise. It creates a mind-blowing difference which makes riding your truck a whole new experience.
The raise amount is so much that the brand had to include new shocks in the box, as stock ones are too small to accommodate.
The brand themselves work solely in the suspensions department. They make outstanding shocks, some of them which I have reviewed before.
So, getting a complete package deal like this one is truly an offering you cannot miss, given that you are looking for such a raise.
Moreover, the company assures buyers that you will not experience any degradation in ride quality even with the new shocks.
You will get the same stock riding experience as without installing this product. The shocks themselves have a monotube design, which is the best design out there.
They will give you excellent shock absorption, miles better than the stock ones. Installation is also a breeze.
With its bolt-on installation, you can install it from your garage without any complex tools or even without a mechanic. All you need is two hours of your time.
Lastly, the manufacturer takes pride in its product. That is why they have provided a lifetime warranty with it.
This means that if any fault arises during its usage, you can get free of cost replacement. And the shocks come with their warranty of three years.
The complete set is protected against any issues that may have been caused due to improper workmanship.
The only drawback of this one is that it is expensive. Due to the amount of the lift, installing new shocks is extremely important.
So, if you want this Rough Country lift kit, then you have to pay for the shocks too.
PROS
Lifetime warranty
Easy to install
Monotube shocks
Stock driving experience
I know this set is very expensive. But I have to cater to the needs of all types of truck owners. This is the best one for those who are looking to go all out with lifting their truck.
5. KSP Tundra Leveling Kit

We are nearing the end of this article, and the competition has been extremely close.
This fifth product by the brand KSP impressed me because they managed to create an outstanding product that I have never heard of before.
These are available for the 1999 to 2006 models of the Toyota Tundra.
Yes, if you thought that I would only list one product for those trucks, then you guessed wrong. The kit raises the truck by 2" only from the front.
This is a leveling kit. If you don't know the difference, then the buying guide at the end of this list will clear up what the difference between the two is.
The kit itself has outstanding durability. That has only been made possible thanks to the aircraft-grade aluminum used to manufacture it.
You don't have to worry about it breaking or failing on you, even under the most intense situations.
They are compatible with only the 4WD variants of the truck. It also does not fit the Rock Warrior models or the ones with the TRD suspensions.
The brand mentions the wrong torque amount for the bolts. They recommend 70lbs, and the bolts break after 55lbs. This makes the buy completely useless.
PROS
Lifetime warranty
30-day refund
Extremely durable
Easy to install
CONS
Not compatible with 4WD variants
It cannot be used on the TRD suspensions package and the Rock Warrior models
Wrong torque amount is written, leading to bolt breakage
Even if we set aside the product's compatibility, the brand mentioning the wrong torque value is completely unacceptable.
So, it is always recommended to search thoroughly on the internet before finalizing your purchase.
But the warranty alongside the full refund policy is something that ensures you can return this product without any issues.
6. WULF Lift Kit With Extended Shocks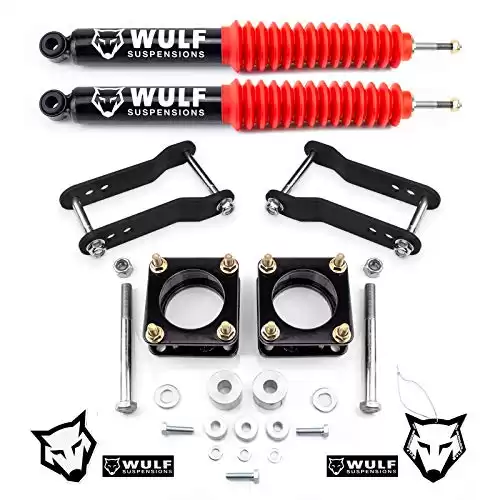 Finally, being awarded the sixth and final place is the lift kit by WULF Suspensions. This is yet another brand that is known to make good quality suspension systems.
So, them ending up on this list is no surprise for me. It can be used on the 2007 to 2020 models of the Toyota Tundra. These are compatible with only the 4WD variants of the Toyota Tundra.
It is made out of solid steel, which is powder-coated to prevent rust and corrosion. This makes it usable in any environment, no matter how harsh.
The rear lift shackles are adjustable. Yes, you can adjust the raise from the rear of the truck! You can choose from a 1, 1.5, and even 2" raise from the behind.
This makes it extremely versatile to use. The shocks included in the package are for the rear. They have to be changed if you want to use this one.
Moreover, the brand also offers a limited lifetime warranty with this product. This means that the warranty is valid for as long as you own the truck in which this product was installed.
As far as you are concerned, the warranty is unlimited.
Installation is a bit tricky. If you are a beginner, you may have to refer to YouTube to ensure you install the kit properly.
It also does not support models with the TRD Suspensions.
PROS
Limited lifetime warranty
Adjustable rear lift
Included shocks for the rear
CONS
Only for 4WD variants
Not supported by TRD pro models
Tricky installation
There is no real drawback. The installation is a bit difficult and time-consuming. I would advise you to search the internet thoroughly before installing the whole kit.
Frequently Asked Questions
Q1. Does Lifting Tundra Void The Warranty?
If you have a new Tundra model that is under warranty, you must know the answer to the question. You are completely safe if you choose to lift without cutting the frame.
As long as the durability of the vehicle's structure is not compromised, the warranty will stay intact. So, you can go right ahead and order one for your truck.
Q2. Will My Driving Experience Be Affected If I Choose To Lift My Truck?
It is a common misconception that a lift kit will reduce the smoothness of a vehicle. So many people believe that is because most of the kits on the market are falsely advertised.
But if you buy from reputable manufacturers like the ones I have listed above, you don't have to worry about that at all.
You will experience the same as stock or even better stability and overall experience while driving.
Q3. Can I Fit 33-Inch Tires On A Stock Tundra?
If you are looking to upgrade the Tundra tires to only 33 inches, you don't need a lift kit at all. The stock setup has enough headroom to support this sized tire.
You don't have to worry about getting your truck lifted. But, if you are looking to install 35 or 37" tires, you have to install a lift kit.
If you are getting a lift kit for the sole purpose of installing larger-sized tires, then you should research if the tires you want even have a lift kit requirement or not.
And if you want to know if the new tires will void the warranty, then it is only possible if the larger-sized tires cause the issue.
Q4. Is The Tundra TRD Pro Lifted?
The TRD model of the Toyota Tundra is the one aimed towards performance enthusiasts.
It is perfect for those who like the added stability and go off-roading frequently. It also has special shocks from the brand FOX. So, this means that it is also lifted.
It has a two-inch lift which protects the undercarriage and also provides additional stability. If you have the TRD model, then you already have more than sufficient lift from your truck.
Q5. How Much Does It Cost To Lift Toyota Tundra?
The cost of this depends on whether you do it yourself or go to a professional to do the job for you.
The cost of doing it yourself can range from $400 to $4000. At the same time, the cost of a professional can be anywhere from $800 to $8000.
Q6. Will Toyota Dealership Install A Lift Kit?
Toyota dealerships will install your lift kit for you. In fact, if you want to avail of your warranty, it is recommended to have your lift kit installed by the dealership itself.
Q7. Does Toyota Sell Lift Kits?
Toyota does, in fact, sell lift kits, and they can install them for you as well should you choose to have one installed.
Q8. Do Lift Kits Hurt My Toyota Tundra?
A lift-kit will not harm your Toyota Tundra at all. In fact, it can improve performance for off-road use.
Conclusion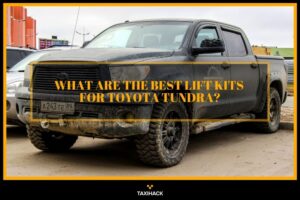 There you have it, my take on the top six lift kits for the Toyota Tundra.
As I said before, the list could have been considerably longer, but I aim to choose the ones I see fit that will satisfy you in the long run.
I checked out all of the important Toyota Tundra lift kit reviews and have concluded that the best one of all the six options is the ReadyLift 2″R STT Lift Kit, which is the one that scored the top spot on this article.
Apart from the poorly written instructions manual, it has no fault and is an excellent choice for those looking to compromise on nothing.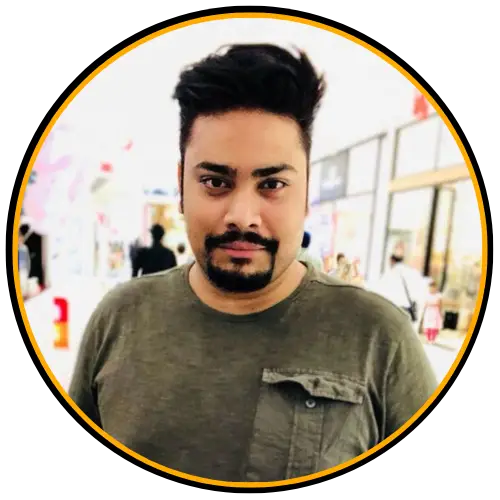 I am Tahir Azam, and I have been writing amazing articles for TaxiHack for as long as I can remember. I know everything that is to know when it comes to automobiles and is always on top of industry news and developments. While I am not an expert by any means, I pride myself on knowing the ins and outs of many different problems and, of course, their solutions. The articles on our website are some of the best and well-researched content that you will find, and I spend countless hours making sure this remains to be true. This is why I ask you to take your time out and read some of my articles, especially if you find a topic that resonates with you or is something you are looking into. This way, you will find the perfect mix of information and tips on your desired topic. Learn more about Tahir.