The GMC Yukon was first introduced in the year 1992 by General Motors.
The Yukon has a lot of storage capacity, plush seats, strong towing capabilities, and a variety of engine options to suit your desires in just one vehicle.
It is said to be one of the best full-size SUVs. It offers an excellent driving experience and is known to be a family-friendly vehicle at an affordable price.
But before you decide to purchase, there are certain things you must look into which you might be curious to learn about.
The most common question asked is how long do GMC Yukons last?
With proper maintenance, GMC Yukons are known to last between 250,000 miles up to 300,000 miles.
On vehicle conversation groups, a couple of owners of GMC Yukon have recounted reaching 400,000 miles with few difficulties and repairs.
If appropriately maintained, the Yukon can last up to 20 years or beyond.
Read this article till the conclusion if you want to learn everything there is to know about the GMC Yukon.
I'll go over several key aspects of this full-size SUV that you shouldn't overlook. There will also be a section dedicated to frequently asked questions, answering the majority of your queries.
What Is The Average Life Expectancy Of A GMC Yukon?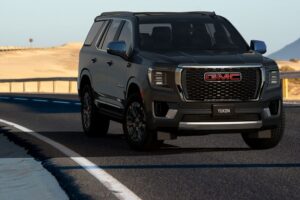 To make your vehicle last longer, one of the most common ways to do it is by taking extra care of it.
A GMC Yukon will typically travel between 200,000 miles to 300,000 miles on average.
You must note that a GMC Yukon must stop in the garage for unscheduled repairs and maintenance around 0.33 times every year, with a 16 percent probability that the crisis may be drastic.
Other than that, it is also worth mentioning that the owners of the GMC Yukon also pay about $747 per year on maintenance.
Besides that, routine maintenance, excellent driving practices, and staying on top of the service schedule all contribute to the vehicle's longevity.
This is why you must always pay extra attention to how your vehicle runs and provide services whenever needed.
It is also worth noting that many people who took good care of their GMC Yukon even reached up to 400,000 miles.
Does GMC Yukon Last Longer Than Other Similar Vehicles?
Comparing the GMC Yukon to the competition is the most crucial test for determining its durability, reliability, and safety.
All prospective rivals' data will be used to establish how credible the data is. This information will help you decide if you want to buy this automobile.
Let's get started without further delay.
1. GMC Yukon Vs. Chevy Tahoe
When it comes to the GMC Yukon and the Chevy Tahoe, you must know that these vehicles are at the top of their class.
But you must know that the Chevy Tahoe has higher towing capacity and low purchasing costs than the GMC Yukon.
However, the GMC Yukon has better fuel economy and offers better safety features than the Chevy Tahoe.
Nonetheless, you cannot decide which one is better without looking into certain factors. Let's compare the two to see which is better.
Both the GMC Yukon and the Chevy Tahoe have longevity between 200,000 miles and 300,000 miles on the odometer.
According to the Repair Pal website, both the GMC Yukon and Chevy Tahoe received a reliability score of 3.5 out of 5.
The GMC Yukon has around 596 complaints on more than 29 model years.
Whereas the Chevy Tahoe has around 1178 complaints on more than 27 model years.
Overall, both of these vehicles seem reliable and capable of lasting longer.
But before jumping to a conclusion, you must know that the Chevy Tahoe has more complaints than the GMC Yukon, which can turn its longevity and make it an unreliable and unsafe vehicle to drive.
2. GMC Yukon Vs. Chevrolet Suburban
The GMC Yukon and the Chevrolet Suburban are built on a similar GM chassis.
They feature identical engines, transmissions as well as configurations. Thus room and power are comparable.
The Yukon XL, on the other hand, is a little more opulent. The EcoTech V8 engine produces 335 horsepower and 383 pound-feet of torque as basic.
But it's important to compare them based on other factors as well.
The Chevrolet Suburban does not last longer than the GMC Yukon as it can go between 200,000 miles up to 250,000 miles only.
The Chevrolet Suburban has fewer reliability scores than the GMC Yukon. It received 3 out of 5 from the repair pal.
The Chevrolet Suburban has more complaints, around 1142 on more than 32 model years, compared to the 596 complaints on around 27 model years of the GMC Yukon.
Well, it appears that the GMC Yukon has a longer lifespan, reliability scores, and fewer complaints than the Chevrolet Suburban, which makes it a worth buying and a safe vehicle to own.
It will be best for you to do some research on the problems of the Chevrolet Suburban to see how serious the problems are because some issues can affect longevity and seriously cause issues while driving.
3. GMC Yukon Vs. Ford Expedition
The GMC Yukon has an 8,400-pound towing capability, whereas the Ford Expedition has a 9300-pound towing capacity.
The independent rear suspension on all the Ford Expedition models enhances handling and ride satisfaction over the live-axle systems on the GMC Yukon.
But it is crucial to compare the two with other factors to see which one is better.
The GMC Yukon and the Ford Expedition can last up to 300,000 miles on the odometer.
The Ford Expedition has a less reliability rating of 3.0 out of 5 by the Repair Pal.
The Ford Expedition has more complaints around 1539 on more than 24 model years than the GMC Yukon.
It is worth noting that the Ford Expedition has longevity between 150,000 miles to 300,000 miles.
According to some people, the only longevity of this vehicle is exactly reliable according to some people, plus it has a lot of complaints as well, and the reliability score is average.
This is why it will be best for you to purchase the GMC Yukon.
Life Expectancy Of GMC Yukon Car Parts
If you've read this far, you're probably aware that this is another crucial consideration before buying a GMC Yukon. For a car to last longer, drivers must look after its components.
Remember that maintaining the GMC Yukon's parts is another factor that can help it last longer. You must clean the parts regularly and have them tested by mechanics.
Here, I'll go through the most significant GMC Yukon car parts, how to extend their life, and what problems can shorten it, so you can get a better idea.
Make a point of reading it thoroughly and incorporating it into your everyday practice.
Let's get started without further delay!
Average Lifespan Of GMC Yukon Brake Pads
The brake pads of a GMC Yukon typically last around 30,000 miles to 40,000 miles. You must keep in mind that the brake's lifetime is mostly determined by how you drive your vehicle.
Your brakes will need to be replaced frequently if you perform a bunch of stop-and-go driving and brake hard.
You must also remember extensive stops at high speed most commonly cause that premature brake pad damage.
This is why you should avoid doing such a thing and make sure to drive carefully and responsibly at all times.
Average Lifespan Of GMC Yukon Battery
Depending on factors like temperature, battery type, and maintenance, GMC Yukon batteries are said to last from 3 to 5 years maximum.
It is beneficial for you to note that regular inspections by vehicle specialists will maintain your batteries in top shape and prevent you from becoming stranded on the road.
This is because the vehicle will not be able to start when the battery does. If the vehicle stops randomly on the road, it can cause serious situations.
This is why make sure to regularly check the battery, especially if it is tightly secured in place and no connections are loose.
Average Lifespan Of GMC Yukon Tires
GMC Yukon tires can last up to 3 years maximum, which can also last up to 50,000 miles. However, you must remember that it can only be done if you drive it for 15,000 miles each year.
Maintaining proper tire tension will not only maintain your safety but will also extend the life of your tires.
It is also worth mentioning that the precise tire tension is usually set up in the driver's door jamb.
Moreover, you must also rotate your tires as supervised in the owner's manual as well as on the new tire warranty procedures to assure rightful wear.
This is typically said to be done every 5,000 up to 8,000 miles.
Average Lifespan Of GMC Yukon Transmission
The GMC Yukon transmission system typically lasts 130,000 miles up to 180,000 miles.
Getting the GMC Yukon transmission system completely serviced whenever your car reaches 150,000 miles is recommended to spot any flaws before they become severe problems.
This is because transmission problems can cause other components of the vehicle to wear out as well. It can also cost a lot of money for repairs as well as replacements.
So be sure to change the fluids accordingly and keep a regular check on them.
Average Lifespan Of GMC Yukon Spark Plugs
Spark plugs in GMC Yukons are designed to last 30,000 miles up to 60,000 miles before they are required to be replaced.
You must know that the spark plugs are in charge of igniting the air as well as the fuel mixture, resulting in an eruption that causes the engine to generate power.
When you drive in for a tune-up, they are normally examined as well as replaced if necessary.
The spark plugs can wear out quickly, so it is necessary to check them every time you go for a drive and clean them regularly so they can perform well.
Average Lifespan Of GMC Yukon Key Fob
Normally it is said that the key fob of the GMC Yukon will last between 3 to 4 years. But the life expectancy also depends on the battery used in the let fob.
It is said that the battery will occasionally need to be replaced so the key fob can work efficiently. Sometimes the battery lasts for years and sometimes only for a couple of months.
If the key fob is not working properly, then it is best to replace the battery.
What Is Good Mileage For A Used GMC Yukon?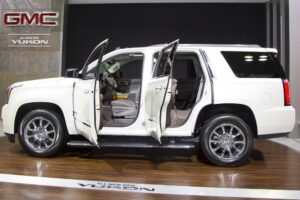 If you are planning to purchase a used GMC Yukon but are not sure about the mileage, then you must know that mainly GMC Yukon with a mileage of 150,000 up to 200,000 miles is considered good mileage.
This is because they will be less likely to have any serious problems, and you will be able to drive efficiently at all times.
However, it only depends on how well the previous owner used it and how well you use as well as maintain it.
Pre Owned vehicles require extra attention as well as care. At times it can also be quite expensive to do so.
If you are willing to spend your time as well as your money, then purchasing a GMC Yukon is a great idea.
How To Increase How Long Your GMC Yukon Last
Automobiles may often be made to last longer if they are cared for properly. I'll go through a few things you should do every day to help your GMC Yukon last longer.
So, without further ado, here are a few pointers to remember:
Maintain consistent rust-proofing intervals.
Maintenance that is both timely and thorough.
Maintenance should be done on a regular basis.
Driving slowly and carefully.
Cleaning schedule for both interior as well as exterior parts.
Make sure there are no areas that are exposed to moisture or air.
Examine the transmission fluid and, if necessary, replace it.
Maintain the radiator core.
The AC condenser should be serviced.
Every two weeks, inspect the engine oil.
If at all feasible, park the vehicle in a garage away from the aspects.
Check for fluid leaks.
Check the tire pressure before and after driving.
Change the engine oil by following the owner's manual.
Use high-quality products, especially petroleum.
With these tips alone, you will be able to see a significant change, so make sure to follow them regularly.
You can do more research and find out more tips that can help prolong the life of the GMC Yukon.
Problems That Limit The Life Of Your GMC Yukon
Now here I will be discussing some problems with the GMC Yukon that you must know about so you can track them immediately before they get too out of hand.
1. Electrical Problems
Despite being GMC's flagship, the Yukon isn't perfect. It's been linked to a slew of electrical problems that can be expensive to repair. There could be several issues.
2. Upper Dash Cracks
This happens mainly in the pre-2014 model years.
It is highly recommended to keep the vehicle away from the sunlight as that can cause the upper dash to crack a lot. Or cover the dash with something so it can be protected.
3. Ignition Switch Issues
The ignition switch is usually the cause of the security light turning on. The diagnostic will set you back around $100, and replacing the ignition switch will set you back at around $180.
4. Power Locks Failure
This is a typical problem that prevents the door from automatically locking, forcing you to close it manually.
The door lock actuator is an assumed reason for this problem. You should expect to pay roughly $280 for this replacement. If you have an aged model, you will experience this issue.
5. Front And Rear Differential
The bearings in the differentials are inclined to rub and crack, and if the GMC Yukon is an older model, there will be a lot of wear and tear, resulting in odd grinding noises coming from beneath the SUV.
A comprehensive overhaul would be required to solve this issue. The price will vary based on the severity of the condition.
Related: GMC Yukon Starting Problems
What To Look For When Buying A GMC Yukon
Before purchasing a new or used GMC Yukon, there are a few things you should understand completely.
Here are some things to consider before purchasing:
Go for a test drive.
Safety features and ratings.
Problems and complaints reported by owners.
Maintenance and repairs costs.
Best and worst model years list.
Compared with other full-size SUVs and competitors.
Pros and cons list.
Resale value.
Recalls.
Car parts and how many times they have been repaired or replaced.
All the generations.
Well, these things will make it easier for you to understand the model year you are willing to purchase.
You should avoid the models that have the most problems, such as the 2001, 2003, 2005, 2007, and 2015 model years.
Related: Best And Worst Years For GMC Yukon
Frequently Asked Questions
Q1. Is The GMC Yukon A Reliable Car?
Yes, the GMC Yukon is a reliable vehicle. It received reliability scores of 73 out of 100 by J.D. Power. It also received 3.5 out of 5 on the Repair Pal website.
Q2. Does GMC Yukon Have A Lot Of Problems?
Well, GMC Yukon sure has a fair share of problems, but it still has above-average reliability scores.
Some model years have problems and have around 586 complaints on more than 27 model years. It is best to avoid certain model years for your safety.
Some of the most common problems are:
Vibration.
Jerking.
The transmission can shudder while shifting gears.
Ignition switch problems.
Power locks failure.
Q3. Is It A Good Idea To Buy A Used GMC Yukon?
Yes, it is a good idea to buy a used GMC Yukon. It is a great vehicle to drive in and is family-friendly as well.
It also has a lot of great safety features to offer and lasts for a long period, so you can get the most out of it.
Q4. Does GMC Yukon Rust Easily?
The GMC Yukon does not have a severe rusting problem like other vehicles do.
The most common rushing issue is with the frame, which can be fixed easily, but you should keep a regular check and clean the vehicle parts, so it does not rust at all.
Q5. Is GMC Yukon Expensive To Maintain?
During the first ten years of ownership, a GMC Yukon will cost roughly $8,300 in maintenance and repairs. This is $580 cheaper than the industry standard for popular SUV models.
Conclusion
You probably figured by now that the GMC Yukon is a popular full-size SUV that is capable of lasting longer, is also quite reliable, and barely has as many problems as other vehicles do.
But you must keep in mind that how long do GMC Yukons last mainly depends on how you take care of it, drive it, as well as if you provide regular maintenance or not.
With the help of this article, I assure you will be able to see a big difference if you start following the tips regularly.
So prepare yourself to take extra care of the vehicle before you purchase it.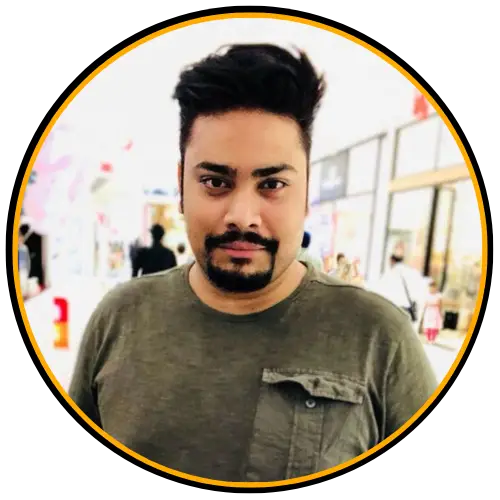 I am Tahir Azam, and I have been writing amazing articles for TaxiHack for as long as I can remember. I know everything that is to know when it comes to automobiles and is always on top of industry news and developments. While I am not an expert by any means, I pride myself on knowing the ins and outs of many different problems and, of course, their solutions. The articles on our website are some of the best and well-researched content that you will find, and I spend countless hours making sure this remains to be true. This is why I ask you to take your time out and read some of my articles, especially if you find a topic that resonates with you or is something you are looking into. This way, you will find the perfect mix of information and tips on your desired topic. Learn more about Tahir.