Whether you want to go to a park or ride your bike on dirt trails, it can be a long journey to get there.
Still, with your vehicle, it is made easier as you can now mount your bicycle with the best bike rack for Tesla Model 3.
You can now mount not one or two but three bikes easily without having to worry about scratching or damaging your car.
Here I have listed down the best bike racks with my thorough research that will help you gain knowledge and understand which rack is best for your vehicle that will make your journey memorable and easier.
7 Top Rated Tesla Model 3 Bike Racks Comparisons
1. Allen Sports Deluxe Trunk Mount 3-Bike Carrier
TOP PICK
It is important to look into the history of the brand you are purchasing from us. You want to trust and believe that they are a reliable company.
As for Allen Sports Deluxe Trunk Mount 3-Bike Carrier, the company was established in 1971 and was the first-ever trunk mount bike rack available at that time which is now a well-renowned company and manufactures its bike racks at their facilities.
This product is designed to fit on various kinds of vehicle and is trusted by many users as it is easy to install on Tesla Model 3 with the support of your trunk.
One of the greatest things about this equipment is that it comes fully assembled, so it would not be a hectic job to set up as it also comes with easy instructions to follow with basic handy tools.
In addition to that, safety is the priority for everyone; this equipment comes with a patent tie-down system that will protect your vehicle and secure your bicycles from falling on the ground or from touching the ground.
Furthermore, it is useful equipment that is easy to set up on different vehicles such as sedans, SUVs, minivans, etc.
This equipment provides you with a narrow set of carry arms that will fit with a broad spectrum of bicycles sizes.
Moreover, the lateral stability of the bike rack will unable your bikes from moving around or causing accidents when hitting a speed bump.
The padded lower frame will protect your vehicle from bicycles causing any scratches.
Lastly, the bike rack comes with high-quality components that will last for a long time, and Allen assures you to provide a lifelong and reliable service throughout the usage period.
Do keep in mind that many users have complaints about the damage it caused on the truck as it might ruin your car paint or bend out of shape and might not be tight enough on the trunk.
PROS
Fully assembled
A padded lower frame keeps it protected from damaging your car
Easy installation
Safety and protection
CONS
Damage your license paint
Bend out of shape 
This product will make your journey easier and worthwhile, whether it is going to a park or travel a different city.
However, though, it is necessary to do your research before and find the accurate bike rack for your car type as it does not fit well with big trucks.
2. Summit SUM-603 Bike Carrier
This brand has been supplying a wide range of products from roof bars to bike racks that are majorly used by many vehicle owners and satisfy their needs.
The Summit SUM-603 Bike Carrier can be easily installed on your Tesla Model 3 provided with simple instructions and design that helps you travel around without having to worry about speed bumps as it places securely and tightly.
One of the major aspects is that it can fold on easily and make storage space for you so you can simply unfold and install; it is also designed to fit various kinds of bicycles with different sizes and styles and can hold up to 2 bikes safely.
The features of this rack, such as adjustable positioning arms that make your job easier to install and fit various bicycle frames without any hassle.
Moreover, it is light weighted equipment that would not be heavy on the back of your vehicle and can be constructed quickly within 15 minutes.
It is also important to keep in mind that this rack has protective rubber, which will deliver shielding from the contact area from your vehicle to your bicycle.
The straps and hooks of the rack are unchallenging to adjust as you can simply unfold and secure in place. The rack can hold up to 15 kg or the weight of two bikes easily.
You would not have to worry about the bikes moving around or falling down as the racks are painted with metal frame and consists of plastic connectors, which will make them stay sturdy throughout your travel period.
And if you wish to remove the racks, it will not be a hassle as they can be displaced from your vehicle with handy tools, and u can install them again whenever you wish to.
It is important to note that it will be suitable for a 4×4 vehicle that consists of rear-mounted spare wheels as it will not stay stable and may cause damage to the car.
Moreover, the brand does not provide you with protecting tools that will prevent any kind of damages from happening, such as locks, and it might also cause your bicycle to cover headlights or plate numbers.
PROS
Simple design
Easy to install
Value for money
CONS
Broken plastic buckles on some cars
Do not provide locks or fasteners 
It is one of the easiest and quickest ways of installing and removing from your vehicle with simple instructions, which makes your job easier.
I would suggest that summit should consider using locks instead of straps for steadiness and design it differently, so it does not cover the lights and license plate.
3. Thule 598001 Roof Bike Rack ProRide
The Sweden-based company, established in 1942, delivers its products worldwide for people who love outdoor activities.
Their unique designs and features attract people all around the world as they've made transportation easier for you and your family.
With the Thule 598001 Roof Bike Rack ProRide, you can travel carefree as the rack can hold up to 4 bicycles.
Safety should be the number one priority for everyone, and Thule's main aim is to provide protection for you and your loved ones as they test their products multiple times before launching them.
With its flexible and durable carrier, it is able to withstand the weight of 4 bikes and hold up to 60 kg without making the back of your tesla model 3 feel heavier.
It can be tightly placed with powerful coupling and is easy to mount on your vehicle with the tools included.
The process of installation is rapid and unchallenging as it does not require any pre-adjustment with the help of ISO-approved towbars.
Moving on, the helpful tilt-able feature makes it unique and different as it allows you to have boot access without having to displace the carrier from the tow bar than any other bike rack out there.
Furthermore, it is also foldable equipment which is great easy access for you as it will make storage space for you.
Lastly, the most attractive feature of this rack is that simple straps are included for safety purposes, along with reflective pads to ensure drivers and motorcyclists surrounding your vehicle to be aware and prevent any damage or accidents from happening.
This equipment is flexible and can hold up to four bikes.
However, it might not be accurate for children's bikes as some people have complained that bikes do not fit well, and even with four bikes, it is not ideal to go on high speed.
PROS
Easy to install and remove
High-quality brand
It can hold up to 4 bikes
Five-year warranty 
CONS
Lower mount might disconnect with the weight of four bikes
Cannot mount electric bikes with thick frames 
It is a great choice for you and your family as it has unique features and is a highly known brand for outdoor equipment.
It is still important to keep in mind that it might not be a suitable choice for certain types of bikes.
4. IKURAM R 3 Bike Rack Bicycle Carrier
With enthusiastic engineers, IKURAM aims to provide you with the best quality and reliable products.
The manufacturing of the IKURAM R 3 Bike Rack Bicycle Carrier is designed in such a way that it is innovative and high-tech that will make your journey trouble-free.
It is designed with high-quality materials such as powerful steel construction that can hold the weight of three bicycles up to 110lbs so you can take your bike and travel anywhere easily.
This bike rack has the Dual-Arm Mounting design, which will accommodate spacing among your bicycles that consist of a broad spectrum of frame sizes and styles.
Not only that, but this bike rack also comes with easy and durable fold-down arms so that you can easily fold down the equipment when you are not using it, thus saving you space and time.
The equipment comes with a lifetime warranty as well as professional assistance help so that you can clear out any sorts of doubts you may have simply by contacting the manufacturing company.
Moreover, another great aspect of this equipment is that it can be easily installed onto your Tesla Model 3 without requiring the assistance of technical tools.
The secure straps of the equipment, along with strong steel, ensure maximum safety when driving.
Besides safety, the equipment also has a swing down backward design, which is simply a mechanism through which it swings vertically downwards to allow you to take something out of the boot, and after you are done, the equipment smoothly and efficiently pops back up with locking pins.
Although the equipment is strong and can hold the weight of multiple bikes at once, some users have complained that the strapping material is quite cheap and hence causes the bike to bounce when traveling at high speed.
PROS
Reasonable price
Protective tie-down cradles system
UV resistant rubber straps
Easy one-time assembly
CONS
It starts shaking after holding more than two bikes
Tight straps
Overall the product has managed to steer into the lives of many car owners who wish to carry their bicycles around as it offers numerous benefits.
However, the equipment has a weight limit and, if exceeded, could prove to cause more damage than safety.
It is crucial to take all safety precautions and to double-check before traveling with your bicycle attached to the equipment.
5. SeaSucker Talon Single Bike Rack
This product is one of the most popular products of SeaSucker Company. The features and the unique innovation of this equipment differentiate it from any other brand's bike racks.
This design of SeaSucker Talon Single Bike Rack is a Fort-mount-style rack with heavy-duty vacuum cups that can hold the weight of your bicycle easily.
It comes with high durability and safety features that ensure the traveling experience is worthwhile without any stress of your bike falling off.
One great aspect of this is that it is three times lighter than most bike racks out there.
Before the release of this product, the company has made sure that it is well tested at the roughest races to ensure its durability.
The equipment is travel-friendly as it fits in backpacks or carries on without any hurdles.
Though the product itself weighs 6 pounds only, which means you can easily install it in a matter of a few minutes on your Tesla Model 3.
Even though it has such a lightweight, it is designed in a way that can hold weight up to 44lbs.
It's not only attaches to the back of your vehicle but also to the roof and hatchback due to its 200 pulls strength and truck bed vacuum cups holding it onto your car.
Furthermore, the equipment can be easily detached with the help of a built-in lift tap that can easily come off of your vehicle with a slight push.
The interior hardware is made up of stainless steel to prevent the equipment from rusting over time.
In addition to that, the equipment also has a power indicator band that tells you when to re-pump.
Besides its unique features, one limit factor that comes with this product is that it can only carry one bike at any time, and it is not built to accommodate different types of bikes.
PROS
Lightweight
Detaches easily
Travel friendly
Easy installation and removal 
CONS
The suction cup may fall easily
Carries one bike at a time
This distinctive style differentiates it from other bike racks that can be placed on your roof, hatch, or typically at the back of your car.
However, I feel like products such as this should be built in such a way that can accommodate more than one bike.
6. Saris Bones Car Trunk Bike Rack
Coming over to product 6, which is the Saris Bones Car Trunk Bike Rack for Tesla Model 3.
I think it is comparatively more efficient and reliable as compared to other traditional bike racks in the market.
The company has made this product with a lifetime warranty and durability. The equipment has the capacity to hold two bikes, including children and women bicycles.
The product is made from the injected molded inner frame and a rubber frame to prevent the scraping of paint during your traveling journey.
The product itself weighs 4.9 kg which is relatively lighter in terms of other products.
The product comes within assembly instructions that you can easily follow and be done within 10 minutes or so.
Moving on, one important aspect of this equipment is that it is made up of rigid material to withstand the immense weight of your bike.
This product is also designed, built, and engineered in the US and has been tested multiple times under various harsh conditions to confirm its strength and weaknesses.
It is worth mentioning that the arc shape of this product can fit over small spoilers.
The manufacturing company took special consideration to ensure that it is not only corrosion resistant but is also made with 100% recyclable material.
The plastic parts of this equipment are placed to protect your car and bicycle from injuries such as light crashes or accidents.
Despite its many useful functions, some buyers have complained that the equipment does not entirely fit in with women and mountain bikes and that the product also cannot be used without a lighting board.
PROS
100% recyclable material
Made of the injected molded frame
Two bike capacity
Corrosion-resistant
CONS
Not suitable for highway
May damage bumper 
To conclude, the product has many useful benefits to ensure that your car journey by bicycle is as safe as possible.
However, the design of the equipment may cause damage to your bumper if used on highways. To prevent this from happening, you have to take special consideration during traveling.
7. ROCKBROS Suction Bike Rack
This article has now come to its seventh and last product on this list which is the ROCKBROS Suction Bike Rack.
One of the fascinating things I found about this product is that it can be easily installed on Tesla Model 3 without requiring any additional tools.
Besides attaching the bike to the trunk of your vehicle, this equipment also helps you to attach it to the roof of your car.
The product includes synthetic rubber suckers, which can be easily attached to the car roof, reducing the chances of your car paint is damaged.
Furthermore, the overall body of this equipment is made from aluminum which is a strong metal that prevents it from rusting or cracking over time.
Besides being a strong material, the aluminum alloy body holds the weight of different bicycles such as mountain and women bikes.
Another great aspect of this product is that it holds the weight of three bicycles at the same time without affecting the strength or speed of your car due to the low weight of the product itself.
Due to the low wind resistance of the equipment, your driving experience can be more comfortable as less noise and friction between the bicycle and product is produced.
The product comes with a hook and loop for the crank to ensure that the product is entirely stable when attached to the car.
Moreover, the lid of the equipment is manufactured in a way that prevents dust from accumulating, hence protecting the suction cups.
It should be mentioned that one distinctive feature which makes this product stand out from the rest is that it has four suction cups instead of the typical 2 or 3, providing extra strength and safety to your bicycle and car.
One important aspect of this product which you need to keep in mind is that sometimes one of the suction cups may be faulty.
Even though the product is designed to suit all kinds of bicycles, some buyers have argued that not every bicycle type can fit exactly to the equipment.
PROS
Easy installation
Anti-dust lid
Protects your car paint
Provides low wind resistance
CONS
Expensive equipment
Weak suction cups
Overall the product has proved to help many buyers as it is made up of a strong material that protects and ensures that you're traveling journey is safe.
However, one important factor that the manufacturing company should keep in mind is the price and the quality of the suction cups so that no future accidents occur with buyers.
What To Look For When Buying Bike Racks For Your Tesla Model 3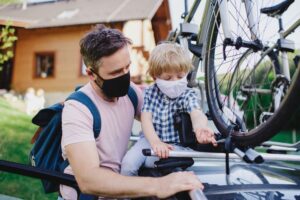 If you are looking for a bike rack to attach to your electric daily driver, there are a few things to keep in mind.
This buying guide will list them so you don't make a mistake.
Should Not Damage The Paint
First, ensure it doesn't damage the paint on your trunk.
Tesla is already known for their expensive repairs, so you must get a bike rack that won't add to your repair costs.
Check user ratings to confirm if it damages the trunk paint. If it does, you'll have to search for another bike rack that will not alter the look of your Tesla's paint.
Check If It Works With Children's Bikes
When buying a bike rack for your Tesla Model 3, you should ensure it works with children's bikes.
If you must carry children's bicycles, ensure the bike rack is compatible, or you will have to compromise.
This can be double-checked by searching for reviews for the bike rack you would like to buy.
This way, you will not have to guess or assume if the rack is compatible with all bicycles, potentially saving you some money.
Should Be Easily Able To Carry More Than One Bike
You may be looking for a rack that can carry more than one bike at a time. Although many have been designed for use with multiple bikes, they don't hold up well with the added weight.
Some can have their mounts disconnected while others vibrate, which can be dangerous and costly, especially if the rack or the bikes fall off.
Frequently Asked Questions
Q1. How Do I Assemble A Bike Rack On Tesla Model 3?
In order to attach the bike rack, simply find a suitable place other than glass or metal where you can attach the side straps securely.
Secondly, take the bottom straps and fit them in with the trunk of your car while making sure that the equipment is in the correct place so that when you attach the bicycle, the paint of the car does not glide off.
Q2. Can Tesla Model 3 Hold The Weight Of More Than Two Bikes?
Tesla Model 3 is built in a way that can accommodate the weight of multiple bikes that has a total weight between 700-950 kilograms.
Q3. Is It Safe For Me To Put A Bike Rack On Top Of My Tesla?
The newly designed Tesla is built in a way to have maximum aerodynamic efficiency, reduce noise levels that may be produced due to wind, as well as maintain the heavyweight of your bicycle without affecting its interior, so yes, it is safe.
Q4. Does Tesla Sell Bike Racks?
If Tesla is known for one thing, it is its product's build quality. Yes, Tesla does sell bike racks for many of its models.
The Model 3 Roof Rack is a great option to consider. It's made of aluminum, so it won't affect the car's aerodynamic efficiency.
It's easy to install and has a perfect coat to match your car's roof's color scheme for a seamless look. You will not have to worry about the vehicle's range being reduced or not being sturdy.
Q5. Who Makes Tesla Bike Racks?
Many manufacturers make bike racks for Tesla vehicles, but a few stand out from the crowd. For example, Rack Attack makes great bike racks designed to fit your Tesla Model 3.
Another great choice is T Sport Line's Tesla bike racks. These have been designed specifically for Tesla vehicles—so you know they'll fit perfectly and be safe for travel.
Conclusion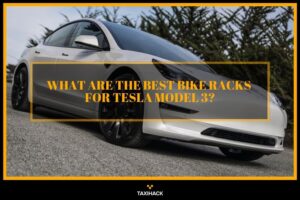 Having bicycles attached to your car and traveling with it can be a challenging risk to take on as there are factors to be considered, such as the weight, the bike rack durability, and overall the safety of your car.
I believe that the best bike rack for Tesla Model 3 is the Allen Sports Deluxe Trunk Mount 3-Bike Carrier for your vehicle as it's not only affordable but also provides immense benefits and reduces the chances of your vehicle being in danger.
The material and its strength, which the product is made out of, ensure that your car and bicycle is not damaged in any way during traveling at high speeds.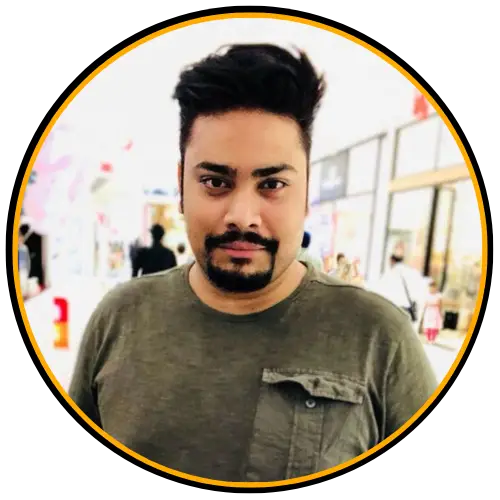 I am Tahir Azam, and I have been writing amazing articles for TaxiHack for as long as I can remember. I know everything that is to know when it comes to automobiles and is always on top of industry news and developments. While I am not an expert by any means, I pride myself on knowing the ins and outs of many different problems and, of course, their solutions. The articles on our website are some of the best and well-researched content that you will find, and I spend countless hours making sure this remains to be true. This is why I ask you to take your time out and read some of my articles, especially if you find a topic that resonates with you or is something you are looking into. This way, you will find the perfect mix of information and tips on your desired topic. Learn more about Tahir.