Are you wondering about the best tires for Jeep Grand Cherokee currently available in the market?
Worry not; I have done enough research to put up a list of top 10 tires that you could buy for your Vehicle.
The Jeep Grand Cherokee is an outstanding car for those Jeep lovers who want rugged, elegant, and low maintenance Jeeps for their adventures.
It has provided buyers on-road and off-road satisfaction.
With a better engine, resilience, transmission, and performance, this luxurious model is an upgrade from the last generation of Grand Cherokee.
With a Jeep so luxurious and highly resilient, it requires such accessories to maintain its level.
So for that purpose, I have done this article for you to get the excellent tires available in the market. Without wasting any time, let's get into it!
10 Top Rated Jeep Grand Cherokee Tires Comparisons
1. Michelin Defender LTX M/S All Season Radial Tire
The Michelin Defender LTX M/S All Season Radial Tire is very durable and long-lasting in extreme conditions and that is the reason they are first on my article here.
The Jeep Grand Cherokee requires tires that can take up its resilience and performance to the next level.
Moreover, they are known to provide a quick break on wet surfaces and have amazing snow traction.
Treadwear is durable and long-lasting, providing a 70 000 mile limit, and adding perks of assistance for the whole 60-days and provides intriguing 3-year flat tire assistance.
The company believes in its tire, and so do its customers. One of the awesome things regarding this jeep tire is that it helps drivers save fuel due to Max touch construction.
After my thorough research, I selected these due to their Max touch construction that has provided drivers with better brake performance, better resilience, durability, and performance.
These are claimed to have greater wet and snow traction, but some customers have reviewed this; tires are out-performed by winters.
PROS
They are eco-friendly, saving almost 65 gallons of fuel in their lifetime
Bears a load of 2150 pounds and works outstandingly
A guaranteed 70,000-mile treadwear
Durable
Comfortable ride due to low rolling resistance technology
CONS
Wet and snow traction can be improved
Following up on my research, such tires have provided customers with outstanding results; I found that the tires have an amazing heavy load response during my focus on tires' characteristics.
They have amazing on-road and off-road experience.
2. Goodyear Wrangler Fortitude HT All-Season Radial Tire
The Grand Cherokee is bought for adventure purposes and has an amazing ability to overcome any road layout for this car.
This is why I am presenting Goodyear Wrangler Fortitude HT All-Season Radial Tire.
It provides a unique tread design and pattern that makes it low rolling resistance and has a warranty guaranteeing a 65,000-mile treadwear.
Calling it an all-season tire has already made a lot of fans all over the market.
This brand provide drivers with a comfortable and noise-free drive throughout the ride, also having perks of fuel-saving and a rugged on-road and off-road experience.
For a Jeep like that, you need a tire to match aesthetics; a good year tire is described as an aesthetic and a rugged tire.
It goes very well with luxurious jeeps as originally made for vans, SUVs, Trucks, and pickups, providing all perks and privileges of a tough tire.
Though the tire is seen as an all-rounder, many drivers claim that the off-road rugged is limited and has lower snow traction.
PROS
Saves on fuel consumption
Noise free and provides a comfortable ride
Symmetric tread provides a very aesthetic look
Affordable
CONS
Off-road experience can be improved
Snow traction can be improved
Originally they were produced to work best in contemporary crossovers and SUVs. That explains comfortable drive, relentless icy, wet, and snow traction.
Also, they have increased durability and life of treadwear so you can buy these with ease of mind.
3. Bridgestone Dueler H/L Alenza Plus All-Season Radial Tire
Being an eco-friendly tire has increased demand for this one. The Bridgestone Dueler H/L Tire is made for all types of SUVs to provide a high functioning experience.
These are all-rounders tires and works amazingly on a Grand Cherokee.
Providing an amazing and surprising 80,000-mile treadwear and an eco-friendly drive these are for sure on my list to buy.
Manufacturers went a little greener when they decided to use 5% of recycled rubble that reduces CO2 emission.
The theory behind its amazing road experience is that it adjusts to its surroundings independently from its terrain.
Sidewalls of this work of art resist the tire's fading, keeping alive its aesthetics, providing the same look all year round.
Made for adventures, they have amazing wet traction and increased grip on the road that makes them function well on curves and sharp turns.
Having a load-bearing capacity of 2403 pounds, considering these are just the right pick for long road drive vacations.
Many heavy-duty vehicle drivers have reported that this brand work fine in light snow, but when the snow deepens or the fall increases, their snow traction becomes low.
PROS
Eco friendly and made with recycled rubber
80,000-mile treadwear guaranteed
All-terrain
Increased road grip
CONS
Deep snow traction can be improved
I voted for my selected tires to be among the top three. While doing my research, I found that special treads are made symmetrical.
With rubber compounds that do not become rigid or crumble in the cold, their snow traction is more than other tires. Overall I do suggest tires like these or these for a Grand Cherokee.
4. Bridgestone Turanza Serenity Plus Touring Tire
The Bridgestone Turanza Serenity Plus Touring Tire is manufactured especially for luxury cars, Jeeps, sports cars, and so, this selection of tires is the excellent one you can find on the market for your Grand Cherokee.
This makes it an all-rounder Jeep with aesthetics and efficacy.
Having an 80,000-mile limited treadwear warranty guarantees an all-terrain experience due to its unique design of asymmetric threads and grooves that provide close contact with the ground.
The basic aim is to provide the same experience no matter what climate it is, including snow, ice, mud, ponds, gravel, loose soil, dust, etc.
You name it, and the company already got it covered.
The name 'serenity' says it all for them; treads have been fashioned to reduce making a high pitch and absorb vibration and shocks.
Providing the driver with ever so quiet and smooth ride and making it comfortable to drive in a Jeep, even on unpaved roads.
Making sure on and off-road experience remains efficient; tires have improved durability and amazing seething control.
The manufacturers of these proudly claim an all-rounder tire, proving them almost correct; no client has had a problem.
PROS
It is specifically made for luxury cars
All-season tire with 80,000 treadwear warranty
Better road grip
Quite and comfortable for driver
CONS
Nothing has been reported yet
I want to describe my presented tires is 'AMAZING'. Already having a separate fan base, they have provided excellent aesthetics and efficiency to the car.
Available in different sizes, these are definitely recommended.
5. Pirelli Scorpion ATR All-Terrain Tire
On my research for the top tires, I came to know about Pirelli Scorpion ATR All-Terrain Tire.
They are known for their aquaplaning and for a Jeep meant to reach every hook and nook of the entire land. These are remarkable one of the finest you can get in the market.
They have a treadwear warranty of 50,000 miles but have known to go on for another 10,000 miles.
Their treadwear is so durable and works so well on rough terrains that the total treadwear durability is 60,000 miles.
Having an improved grip on every terrain, they have proved to have a well-established braking response and are worthy of being taken up for a mountain ride.
Constructed by a rough and tough compound, they have greater dry traction but are also good on wet terrains.
They have a very special feature known as a treadwear indicator that provides the driver a safe and well cautious ride throughout.
Special features of these tires are resistant to damage and are tough; on my review search, I found a review on treadwear to last even 65,000 miles.
Tires have given a hard time handling snow and ice traction. The customers were not at all happy with the snow traction and these are not for rough use.
PROS
Increased dry and wet braking
Improved dry handling
Damage resistant
Has tread wear indicators
CONS
The snow traction can be improved
Originally created for SUVs and pickup trucks, they have made a name in the market for being highly efficient at braking, aquaplaning, and damage resistance.
Having wonderful aesthetics, they do match the image of a Grand Cherokee.
6. Mastercraft Courser HTR Plus Touring Radial Tire
This 20-inch tire with asymmetric tread style increased corner stability for any truck, SUV, or Jeep.
The Mastercraft Courser HTR Plus Touring Radial Tire is an ideal adventure tire one should get for their Grand Cherokee.
They provide better road grip and increased dry traction for rough pavement drives.
Its construction is proudly owned by Mastercraft courser plus, providing increased dry and wet traction.
These are claimed to be all-season and all-terrain and have unique tread patterns with plus size filaments. They give drivers a smooth and quiet ride.
Giving Jeep a very aesthetic and Jeep-like look, meant for adventurous drives with limited treadwear warranty and improved handling.
Having a reputation for a while, the company upgrades their compound to manufacture improved features such as asymmetrical treads, provide a balance of sharp turns and corners, and pick up speed due to better contact with the ground.
Steering handling is easy and malleable. They are providing the drivers a good experience overall.
The drawback I would like to share is, some customers have reported noise and low snow traction, making it very hard to handle.
PROS
Improved Dry and wet traction
High cornering performance with a tough exterior
Bigger plus size filaments
Treadlife limited warranty
CONS
Snow traction can be improved
Off road-handling can be improved
My search for tires led me to them. They were originally made to carry sport trucks, SUVs, and other vans. That makes these perfect for a jeep or truck-like vehicles.
I personally like them for their Jeep-like plus size filament attire. HTR plus construction of these call for better performance on-road and even off-road.
7. Nitto 215200 Terra Grappler G2 Tire
The Nitto 215200 Terra Grappler Gs Tire is aesthetically and feature-wise a good choice for a Jeep Grand Cherokee that is why I found these to be deserving of their fame, and they are worthy of being on my list.
A whole new high-tech compound with a special feature of interlocked joints made me write about these tires in this article.
Presenting all new tires, are made up of a versatile compound and all new style to match its tough exterior, it has deep sipping and asymmetrical treads.
Provides light truck-like vehicles a better road grip, and improved braking. The tire is all-terrain DN can withstand almost any climate.
They are my favorite for a mountain drive. After reading various reviews, I could feel how smooth and quiet this drive would be while passing a mountain valley.
Having better dry and wet traction and improved sidewall design, being different on each side provides a surprisingly balanced and comfortable drive even on most rocky pavements.
Many customers have objected to tires' performance when it comes to heavy rain, mud, or dirt. They do not agree with the tires being mud terrain.
PROS
Better dry traction
Versatile compound making them tough
Durable treadwear
Different sidewalls on each side
CONS
Mud and dirt terrain can be improved
Having an all-rounder record, these have not given up when people criticize.
They bring out a new and better generation with better traction, on-road experience, and eco-friendly. Having all amazing features blended in one tire is a miracle.
8. Pirelli P ZERO High Performance Tire
Providing your Grand Cherokee with noise absorbent and better cornering experience, Pirelli P ZERO High Performance Tire brings you a new silica-carbon infused compound that gives a better ride and handling even in the first few miles.
These have specialized tread designs, with grooves and asymmetrical S-trime design that improves the road grip and traction on all terrains.
Slits and grooves on the tread provide hydroplaning and noise absorption, adding to basic features they are self-cleaning.
The internal structure of tire's tread design includes pairs of steel belts reinforced by polyamide cord plies meshed between layers of nylon and aramid cord which balances the tire's profile and even deformation.
This internal and external structure stabilizes the tread area to enhance high-speed capability and handling of the tire and the ride.
These have been rated treadwear satisfactory and have objected to the snow and wet traction of this brand, especially in heavy snow.
PROS
New silica-carbon black compounds
Increased dry traction
Improved handling
For high speeding
CONS
Treadwear can be improved
Snow and wet traction can be improved
Lastly, I found out that these are also known as summer tires; they are not for ice and snow. And if cracked due to near-freezing temperatures, the warranty will not cover it.
These go well with the Grand Cherokee Jeep-like attire. They are amazing in mountains and valleys. Also, I do prefer them on the highway or for day to day drive.
9. Firestone Destination LE2 Highway Terrain SUV Tire
Being my second last choice, here is a car specific tire, which means that there are a few cars only that actually are suited to Firestone Destination LE2 Highway Terrain SUV Tires and are easily carried.
Among the list, Grand Cherokee is also there.
Some of the top features you can get after buying these are:
Wide Circumferential Grooves in the tread design provide stability, close ground contacts, and channel water away from the Tread to Improve Wet Performance, giving it greater wet traction. Adding to wet performance, there is also improved wet braking.
The tread design has a continuous closed shoulder block design that also helps with dry performance and dry traction, and dry braking.
Asymmetric block treads are durable.
Providing buyers with a 60,000-mile treadwear warranty, but a few reviews shed light on the fact that they have a life longer than 60,000 miles.
They are known to be all-terrain and all reason. The major aim of getting such tires is to provide the same excellent experience no matter what the conditions.
Many customers have objected to these tires' snow and ice performance, claiming the handling becomes hard in snow and wet terrain.
PROS
60,000 miles treadwear warrant
Block edge design that is self-cleaning
Noise absorbing
Affordable
Improved dry and wet braking
CONS
Car specific
Snow and wet traction can be improved
I like upgraded versions. They are upgraded versions of Original LE and successfully have claimed their rightful name in the basic market.
They are made for light trucks and SUV alike vehicles.
10. Bridgestone Blizzak W965 Winter Radial Tire
Anyone up for a heavy snow vacation?
But couldn't take risks?
According to my research, I have found you the amazing winter tires to give your jeep an amazing look and make your vacation comfortable, easy and smooth.
The Bridgestone Blizzak W965 Winter Radial Tire is made from a unique Tube Multicell tread compound, tread design uses water film of the snow and ice to increase traction.
For this reason, they are called studless snow and ice tires.
They are composed of a unique compound and design blended with a zig-zag style of treads that packs snow beneath it and provides greater traction and better road grip even in the cold.
These have amazing freezing terrain capability which makes them with stand moderate to harsh environments.
Thanks to high-tech compounds, they resist cracking, tearing, and even punctures on ice and snow.
The basic structure contains long links of carbon in its compound, and for the tread surface, it has nicely presented sharp, biting edges.
Providing improved road grip and resist skidding makes the driver comfortable and confident while driving past difficult terrain and extreme conditions.
Customers have objected to the life of treads. These can be improved for sure.
PROS
Excellent snow and ice traction
60,000 treadwear warranty
A tough and durable tire with almost 8-ply
Smooth, quiet, and comfortable ride
CONS
Treadlife can be improved
Heavy but serve the purpose well. They are made for light trucks, heavy-duty pulling, and long route drives.
For a Jeep that has to drive to every corner of the world, these serve the purpose with excellence and are proudly the winter tires.
Having said enough, they are only tires with the outstanding snow and ice traction and overall performance.
Conclusion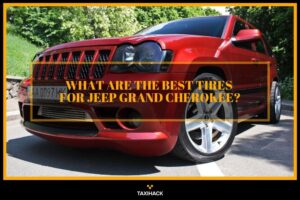 After long hours of research and zooming all markets, I have finalized this article for you.
I personally prefer MICHELIN Defender LTX M/S All Season Radial Tire; they are indeed the best tires for Jeep Grand Cherokee.
For all of those readers who have a Grand Cherokee or are planning to buy one they should consider these tires that have all needed qualities and features a good tire should have.
So coming to my point, if you want to invest in your luxury car to make it even more efficient, the above are the top 10 tires to choose from.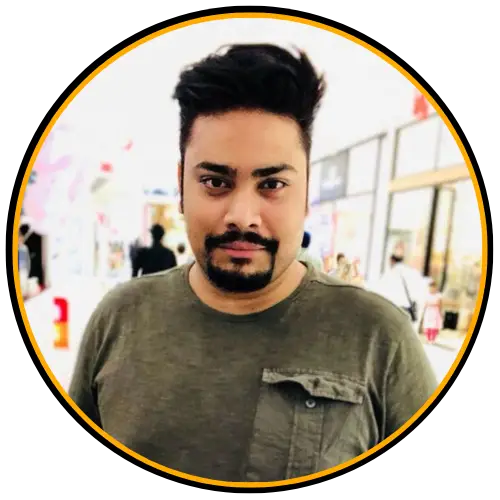 I am Tahir Azam, and I have been writing amazing articles for TaxiHack for as long as I can remember. I know everything that is to know when it comes to automobiles and is always on top of industry news and developments. While I am not an expert by any means, I pride myself on knowing the ins and outs of many different problems and, of course, their solutions. The articles on our website are some of the best and well-researched content that you will find, and I spend countless hours making sure this remains to be true. This is why I ask you to take your time out and read some of my articles, especially if you find a topic that resonates with you or is something you are looking into. This way, you will find the perfect mix of information and tips on your desired topic. Learn more about Tahir.