What is the purpose of shocks?
In layman's terms, they are a part of a vehicle's suspension system that absorbs all sorts of impacts experienced by a vehicle by driving.
Good shocks can make a night and day difference. One of the tasks that require an excellent set of shocks is towing.
You have to compensate for the sag and a whole new center of gravity. They make driving quite difficult.
So, I have managed to compile a list of the best shocks for towing designed to raise the rear of your vehicle and level it. It is an essential upgrade.
So, without any further ado, let's get straight into it!
6 Top Rated Towing Replacement Shocks Comparisons
1. Monroe MA822 Max-Air Shock Absorber
You are in for a treat with this exceptionally good set of shocks from the brand Monroe. I have reviewed their offerings before, and every single time they set new standards.
The MA822 is the one you should go for if you are looking for something that will create a noticeable difference while towing.
These are air shocks, like most which are meant for towing purposes.
Now, why am I mentioning this?
The air chamber can be deflated or inflated up to a pressure of 150 PSI. You can set the pressure according to your load.
This ensures that the vehicle's height is level. This set of shocks can surprisingly level your vehicle with up to 1200 pounds of force on it.
That is truly impressive. The shock is easy to adjust to. The air fittings make sure that there is no leakage, which may compromise ride quality.
It can either be inflated from the factory system or by even using an air compressor. Monroe is in the lead when it comes to making durable products.
According to the company itself, this one is built to last. The piston rod has been hardened to ensure consistent performance, no matter the terrain.
In addition, the air sleeve has been lubricated to reduce friction and resistance.
This significantly reduces wear and tear, making the product more viable in the long run. The fluid used in these is an all-weather fluid.
It is designed to handle extreme temperatures. No matter the environment, whether it is cold or exceedingly hot, the fluid will ensure top-notch performance with minimal friction.
Several buyers complained that the shocks produce a sound similar to a rattle.
Some noticed the sound from outside the box, while others experienced this while driving. This creates a rather unpleasant driving experience.
PROS
Extremely durable
All-weather fluid
Can be easily inflated and deflated
Can handle up to 1200 pounds of force
Lubricated air sleeve for reduced friction
Although Monroe has made an excellent shock, they really should look into this rattle issue.
The issue has a low chance of occurrence but is still possible. Other than that, it will keep you satisfied for a long time.
2. ACDelco 504-539 Specialty Rear Air Lift Shock Absorber
Arriving in second place is a product from yet another brand I have reviewed before. ACDelco created many products in the automotive category, including batteries and shocks.
They are experts at what they do, and this 504-539 Specialty Rear Air Lift Shock Absorber is proof of that. Just like the previous one, this product has an adjustable design too.
You can alter the air pressure according to the load attached to your vehicle. This ensures that it will remain level at all times.
Coming quite close to the MA822 by Monroe, this specialty shock absorber can adjust your height for attached weights that are up to 1100 pounds.
Anything above 1000 is excellent. You can easily tow anything without the risk of damaging your vehicle's undercarriage.
The shock is as durable as air shocks can get. Thanks to the chrome piston rod with a smooth finish, worrying about friction is a thing of the past.
The chrome finish is also resistant to corrosion, meaning that the shock will remain in great condition, even after years of use.
Unlike many other brands that rely more on controlled environments to ensure their products are good for consumer use, ACDelco tests their shocks in real-world applications.
This means that the shocks are tested by being physically installed on vehicles, and they have to pass a series of checks.
The manufacturer has clarified that these shocks do not increase the payload capacity of a vehicle.
They make the driving experience more tolerable under the same loads. This should be known before you set out to buy new shocks for your truck.
Buyers reported two major issues with these. First, some complained that they blew out after only a few months of usage.
Second, others complained that the airlines were either missing or in bad shape when they received the package.
PROS
Extremely durable
Real-world-tested
Can level with up to 1100 pounds of force
Easily adjustable
CONS
May become faulty within a few months
Missing or damaged airlines
ACDelco has created a superb set of shocks which has been praised by mostly anyone who bought it.
Of course, there is a chance that you may receive a faulty product or an incomplete package, but you can easily get a replacement for that.
3. Rancho RS9000XL Shock Absorber
If you have heard about the brand Rancho, then you must know that it is a beast in the world of shock absorbers. They make tremendously good shocks.
The RS9000XL is the only shock, not brand, on this list which I have reviewed before. Its feature set makes it the perfect buy for anyone looking for an adjustable shock absorber.
What makes this one a true contender is that it has nine different levels of performance to choose from. You read that right.
The knob on this shock allows you to adjust the type of drive you want from your vehicle. Ranging from very soft to firm, you have control in your hands.
This is an excellent feature for those who like to off-road frequently. But this article is focused on vehicles that are used for towing.
The good news for the owners of those vehicles is one of the excellent options you can get on the market right now.
The nitrogen gas used in this one is kept at a pressure of 120 PSI. This ensures that the air and oil do not mix, which causes poor damping performance.
The shocks are also extremely durable. The nitro-carburized piston is built to reduce not only fiction but also resist scuffs and corrosion.
The double-welded loops ensure that the shocks will not fail on you, even under the most stressful conditions.
The tri-tube body design combined with the all-weather fluid helps this shocking work effortlessly even under extreme temperature conditions.
It can be used in temperatures going as low as -40 and up to 248°F. That is truly impressive.
Some buyers reported that these shocks do not last that long. They complained that they either froze up or started leaking. This should not be the case with Rancho products.
PROS
9-level adjustment options
120 psi nitrogen-charged
Extremely durable
Can handle extreme temperatures
CONS
May break or leak quickly
Rancho has focused on all aspects of this shock apart from one.
That is the product's reliability. The performance should be reliable, so buyers don't have to think twice while ordering.
4. Gabriel 49235 Hijacker Shock
I think I can safely say that the brands on this article, all of them, have been reviewed by me before.
They have made it onto my lists before suggests that these brands know what they are doing.
Gabriel is yet another company that creates pretty decent products. But this 49235 Hijacker Shock is on a whole new level.
The Hijacker family of shocks has been in existence for more than 50 years. According to the brand, they deliver toughness, aggressiveness, and dependability.
If you buy a shock from this line, you can always be sure that you will be receiving a product manufactured using the highest quality processes and the most durable materials.
The brand calls this one the excellent air-adjustable shock for towing.
Let me be the judge of that!
This set of shocks can withstand and level up to 1100 pounds of weight. As I stated above, this is an excellent value.
But the brand has clarified that their product does not increase the payload. Instead, it makes the driving experience better than ever before.
You never have to worry about your truck or Jeep to bottom out after installing these beastly shocks. The sag issue is a problem of the past.
No matter the load, even when it is the whole 1100 pounds, you will be able to maintain and level the height of your truck.
This ensures that the handling of your truck will not be affected that much. It also significantly reduces vehicle sway.
The main issue buyers had was that the product they received was either faulty or broken.
For example, some users noticed missing bushings, while some expressed their concern by reporting that the bushing was installed incorrectly.
PROS
Easy to adjust
Can handle up to 1100 pounds of weight
Resistant to corrosion
Designed for towing vehicles
CONS
Broken or faulty bushings
Gabriel went all out with this set of shocks.
The Hijacker truly stands out from the competition and would be the perfect shock if the brand focused more on the quality control process.
5. Bilstein 24191203 Shock Absorber
Bilstein is one brand that is highly regarded by not only me but hundreds of thousands of people worldwide.
They are the true pioneers when it comes to shock absorbers. Their shock quality is unmatched.
The fact that these are not even advertised for towing and yet provides exceptional performance in that area gives you a hint of the quality of the brand's products.
This is part of their 5100 series of shocks. It is their most high-end lineup that has earned the top spot on many of my articles before.
You will notice a huge difference in ride quality and handling after you install these shocks.
They will not only level your truck to prevent bottoming out and reduce sag but will provide exceptional shock absorption.
This Bilstein 24191203 Shock Absorber has a monotube design which is the best one on the market right now.
It offers the fastest adjustment to varying road conditions and is efficient at dissipating heat.
The gas over hydraulic design ensures that there will be no fade even under the toughest of conditions.
The piston design has been made to ensure you get maximum sensitivity and excellent vehicle control like never before.
Bilstein has taken every aspect of a traditional shock and has redesigned it to give you maximum performance. They design their shocks according to the working of each vehicle.
So, you will not have to worry about fitment and compatibility issues.
Some buyers complained that the ride quality was not as advertised.
They experienced a stiffer riding experience, which occurred most probably due to them receiving a faulty product.
PROS
Reduces sag
Monotube design
Reduced fade
Custom designed for each vehicle
There were instances of buyers reporting poor performance from these, but most of the reviews praised its shock dampening.
The chance of you getting a faulty shock is extremely low. So, if you are hesitating to buy one because of this issue, I would advise you to take a little bit of risk.
They can be returned under warranty if they arrive defective.
6. KYB MonoMax 565102 Shock Absorber
Finally, arriving at the sixth and final place is the KYB MonoMax 56102 Shock Absorber.
This is yet another product that I have reviewed before, and it earned a decent place on my list. KYB makes stellar shocks, and this one deserved a spot on my article.
The first thing the brand advertises is their shock's damping performance.
It states that their product has up to 40% damping performance than the competition. That is a huge difference and a pretty Boldin addition, the aim.
In addition, the shock has a monotube design, which, as I informed you before with the Bilstein shock, is the best in class when it comes to shock dampening.
But, how is its towing performance?
This is what this article is all about, after all. The shock is perfect for heavy vehicles and a much more uneven center of gravity.
As a result, you will experience better control and handling, no matter the vehicle's weight or boat you are towing.
The fade-free performance also ensures they will not fail on you, even under the toughest of conditions.
To handle all sorts of challenges, the company had to make sure that the shock is durable. So they coated the piston ring with zinc to reduce friction and make it resistant to corrosion.
This ensures that even after years of use, the shock will provide consistent performance.
They have even included an off-road dust boot, so dust and debris don't compromise the durability of the shock.
It also prevents wearing the oil seal, which is a common issue when shocks come in contact with dust and debris.
Despite the manufacturer's bold claims, several buyers straight up said that this one is not designed for heavy-duty.
Furthermore, They informed that the shocks did not help the truck from sagging.
PROS
40% better damping performance
Better handling and control
Included dust boot
Zinc coated piston
CONS
Not suitable for extremely heavy use
This KYB gas shock is perfect for light usage and towing. However, if you do some heavy-duty work, then you will be better off checking out the other five shocks on this article.
Frequently Asked Questions
Q1. Are Coil-Overs Better For Towing?
If they were, I would have put one up in this article.
The reason for coil-over shocks being a poor choice is that when they are under heavy loads, the shocks become stiff, which directly affects the driving experience.
They can handle towing, but you do have to sacrifice ride quality.
Q2. Do Good Shocks Help With Towing?
Yes, they do, but shocks are not the only thing that can affect a vehicle's towing capability. The rear leaf springs handle most of the load.
So, you may want to take a look at their condition, too, before you start complaining that your new shocks did not make a huge difference.
Q3. Which Is Better, Rancho Or Bilstein?
In any other scenario, I would blindly place the crown on Bilstein's head. But Rancho outdid themselves in the towing category. So they are better than Bilstein in this regard.
Q4. How Many Miles Do Rancho Shocks Last?
Many people show their interest in products from Rancho. This is their most commonly asked question.
You can expect a Rancho shock to give you decent performance from 50000 miles to a maximum of 100000 miles. The number may increase if you use them lightly.
Conclusion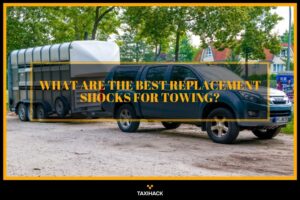 Shocks come in all sorts of shapes and sizes.
Unless you have a proper guide, the chance of you getting the wrong product is extremely high.
This list, for example, states the best shocks for towing.
I analyzed and reviewed the top-rated products and selected these six as my recommendations for everyday usage.
But, if I have to choose one as my number one recommendation, then I would go for the Monroe MA822 Gas Shock.
It stands out from the competition and is ensured to work in all types of environments.
Nevertheless, no matter which shock you choose, you will be more than satisfied with your decision as long as it is from this list.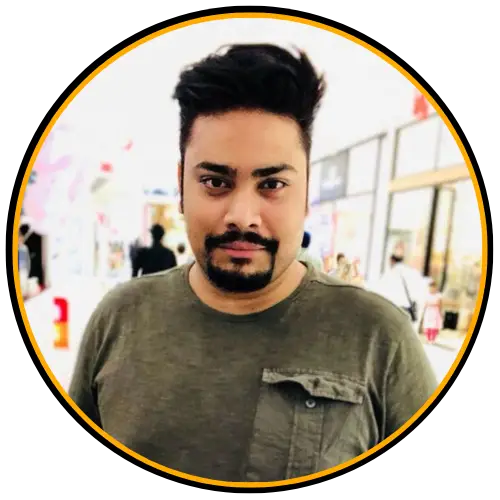 I am Tahir Azam, and I have been writing amazing articles for TaxiHack for as long as I can remember. I know everything that is to know when it comes to automobiles and is always on top of industry news and developments. While I am not an expert by any means, I pride myself on knowing the ins and outs of many different problems and, of course, their solutions. The articles on our website are some of the best and well-researched content that you will find, and I spend countless hours making sure this remains to be true. This is why I ask you to take your time out and read some of my articles, especially if you find a topic that resonates with you or is something you are looking into. This way, you will find the perfect mix of information and tips on your desired topic. Learn more about Tahir.