Choosing a car seat for your child is not an easy task.
With countless factors to consider, there is a pretty good chance that the product you choose will either be subpar in terms of quality and safety features, or your child will reject it.
The latter is an option that many parents just cannot afford to have. That is a cause for concern for parents who blindly choose car seats.
If you have a guide like this one that will never be the case. This article will be focusing on the best forward facing car seat on the market.
Some pretty big names have made it here, which I cannot wait to share with you.
Let's get started!
7 Top Rated Forward-Facing Car Seats Comparisons
1. Graco Tranzitions 3-In-1 Harness Booster Seat

I already told you that this list would be containing offerings from some big brands.
Well, starting with a bang and taking a huge lead over all competitors is the Graco Tranzitions 3-In-1 Harness Booster Seat.
The manufacturer is one of the most respected names out there when talking about car seats.
Let's take a closer look at what this seat offers. The manufacturer offers this car seat in five different colors.
Although the simple black one looks dashing enough, it does not hurt to have a little customizability at your hands.
All of these color options look exceptionally good. The car seat has a 3 in 1 design, evident from the product name. It can be used in a forward facing fashion to a booster seat.
You can also shift your child to a backless booster, which is great for kids that are ready to let go of their seats. The simple harness system has a no-rethread design.
It is extremely easy to adjust, and it also allows the headrest and the harness to be adjusted in one go. This makes owning this product more convenient. It does not end there.
The headrest has eight different adjustable positions, ensuring that your child will not have any comfort issues.
Graco has added many more features that will make it convenient to use and make the overall experience more enjoyable.
These features include two cupholders, which are very easy to clean. The seat itself has belt guides that ensure that your child is properly secure.
It is also very lightweight, making it easy to carry.
Unfortunately, some users did not get the experience that they were promised. They complained that the seat was not as easy to install.
Some even faced the seat not having a snug fit after installation, which is a pretty serious issue from a safety standpoint.
PROS
Different color options
3 in 1 design
No-rethread harness system|
8-position adjustable headrest
Included washable cupholders
As more than 30000 people were more than satisfied with the product they received, there is a very small chance of quality control issues.
So, you can buy one right now, as Graco is a brand that you can trust blindly.
2. Chicco KidFit 2-In-1 Belt Positioning Booster Car Seat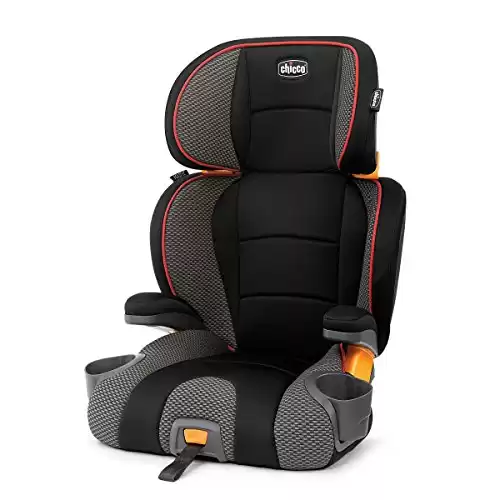 After that mind-blowing Graco product, you would think it would be impossible for something to be better.
You would not be wrong. But coming pretty close to it is the Chicco KidFit 2-In-1 Belt Positioning Booster Car Seat.
This is yet another big name and a highly commended car seat manufacturer. With over 6000 ratings, it has garnered a solid five-star rating.
Let's inspect it further to see what makes it so popular.
Just like Graco, Chicco offers eight color options with this car seat. They are pretty good as each option is a combination of two colors, rather than one.
They look stunning and will suit any vehicle's interior. Apart from the color, the car seat has also been designed for long-term usage.
There are ten positions for shoulder and head, making them great for growing children. This system is known as the DuoZone.
The simple latch-based system makes it extremely easy to put your child in and take him or her out.
This is perfect for parents who not only want a secure fit but don't want to fiddle around too much to take their kids out of their seats.
Before you ask, kids can't unbuckle themselves. So, you don't need to worry about them.
Adding more to the comfort factor of this car seat is the double foam padding, which is perfectly contoured.
Your child will not complain about the seat being too uncomfortable, regardless of how long he is in it. But, still, it is recommended not to push this limit any farther than 2 hours.
Some buyers were very disappointed in the product they received. Either the cloth quality was very bad or the seat was flimsy.
This indicates that there is a quality control issue that must be fixed by Chicco as soon as possible.
PROS
Unique color options
Latch based system for easy usage
Contoured padding for extra comfort
Designed for long term usage
Chicco has done it again with the KidFit car seat. It checks all the right boxes of a high-quality car seat. You should consider it before deciding to buy one.
3. Cosco Finale DX 2-In-1 Combination Booster Car Seat

Before we start, I must clarify that the price is not a factor that determines the position of this car seat on this list.
It is not advised to save costs when choosing car seats or child safety equipment.
But when it comes to parents that cannot afford products from expensive brands, there needs to be an alternative that will be good enough.
Well, that company is Cosco. It is an excellent contender, and you are about to find out why. There are a total of three color options.
Surprisingly, the manufacturer offered them, considering the price. You can choose from black, blue, and pink.
The Cosco Finale DX 2-In-1 Combination Booster Car Seat does not lack safety features. It has a 5 point safety harness, which easily converts it to a booster seat.
The seat is perfect for children in the 30 and 100-pound range. This car seat has been carefully designed. The manufacturer made sure to make it a three-across one.
So, you can fit three of these in the rear of a vehicle. It is also pretty lightweight, which is great for people who need to move the car seat frequently.
When talking about convenience, this Cosco Finale takes the lead among most competitors.
There is a cup holder that is removable and dishwasher safe. It can also be cleaned with a damp cloth. The seat pad itself is removable and washable.
Although the manufacturer claims that your child will be getting one of the best car seat experiences, some users had conflicting issues.
They complained about a lack of padding on the seat, making it a plastic chair with a cover.
PROS
Relatively cheaper
Narrow and lightweight
Removable and washable cupholder and seat pad
2 in 1 design
CONS
Padding issues in some units
I can assure you that you will not be able to buy such a good product at this price range. This car seat is cheap and a high-quality product too, despite the complaints of very few people.
4. Evenflo Big Kid High Back Booster Car Seat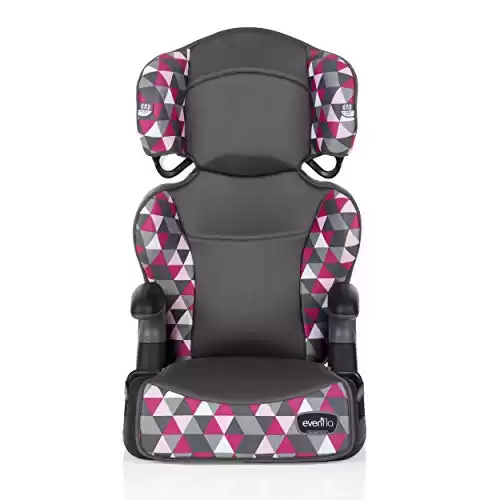 You are in for a treat with this second product on this list. Evenflo is a popular car seat manufacturer out there.
It makes high-quality car seats that consumers love. Take this Big Kid seat, for example. It has over 6000 content buyers, which indicates that it is a pretty decent product.
Let's check and confirm if this is true or not. I have been writing on Evenflo car seats for quite some time now.
They also provide users with color options, which out of all manufacturers; look the most appealing to me.
This Evenflo Big Kid High Back Booster Car Seat has a 2 in 1 design, which is perfect for long-term usage.
It can easily be transformed from a forward facing car seat to a booster one. This car seat can be used with children up to 110 pounds in weight.
As this car seat uses your vehicle's seatbelt, it will get your child ready to transition to actual vehicle seats in no time.
The belt will keep your kid in place, ensuring there are no sudden jerks. The car seat itself excels in its safety features.
The manufacturer assures users that this seat has scored more than double what federal standards require.
If you don't find that impressive, I don't know what will. Evenflo offers excellent customer support with a live video installation system.
So, if you cannot get the seat installed and are looking to return it, it would be better to consider this option.
Evenflo could not please all customers, even with this amazing feature set. They complained about the product being too flimsy.
As this car seat is cheaper than the competition, it could be a reason for these complaints.
PROS
2 in 1 design
Unique color options
Exceeds federal standards
Excellent customer support
CONS
May find the seat to be too flimsy
Achieving a lower price tag does come with a few cost-cutting measures.
But, judging by the contentment of the 6000 other buyers, the flimsiness might be more of an opinion rather than a fault.
5. Safety 1st Safety 1st Grand Booster Car Seat

You may have already realized, at this point, that this list is filled with some amazing brands.
Well, the streak is not ending anytime soon. Another great brand that has made its way onto this list is Safety 1st.
This Safety 1st Safety 1st Grand Booster Car Seat is a product you should consider buying. Let me list down all of the reasons to do so.
The brand's name alone must be enough to justify that the company means business.
This car seat has some amazing comfort-related features, including high-quality seat pads that support the shoulders and the back.
This means that your child will not complain about the car seat being uncomfortable, even in the long run.
One of the rarest features of a car seat is an easy to clean design. Safety 1st made sure that it was available to the general public.
Two cup holders are completely dishwasher safe. That is not all. The seat pad can also be removed and washed, ensuring that no stain on the seat is permanent.
High-quality car seats normally do not come in a slim form factor. They are wide enough that they cannot be classified to be used in a three-across fashion.
Well, that changes with this Grand booster car seat. The manufacturer was able to fit in many features in a pretty compact form factor, which is extremely impressive.
It can be used in a three-across fashion in most vehicles.
The installation of this booster car seat is incredibly difficult. Users even used professional help, which could not fasten the car seat securely.
This is a pretty serious issue and is a clear design flaw, which must be fixed by the brand as soon as possible.
PROS
High-quality seat pads for comfort
Washable design
Compact and narrow
Dual cupholders included
Although the installation is difficult, it is not impossible. A bit of hard work will ensure that you don't pass on an amazing car seat such as this one.
Safety 1st has made a solid product, and it deserves its spot in this article.
6. Evenflo Maestro Booster Car Seat

What a surprise! Arriving in sixth place and taking up another spot on this article is a product from the brand Evenflo.
The fact that the manufacturer could earn another spot on this list should be enough to convince you about the quality of its products.
Let's see what is so special about the Evenflo Maestro Booster Car Seat and if it has rightfully earned its spot.
Like many other brands, Evenflo has provided different color options with this car seat. It is great for people who don't want to stick to one color.
The car seat has two modes, forward-facing and the second one being the booster one.
It is great for small kids, and the fact that it can be converted at any time means that you will be using this car seat for a very long time.
The front harness on this car seat is easy to adjust. You can rest assured that the fit will be snug, which is important in case of crashes.
The harness helps reduce the body's movement in the event of a crash. Some additions make this car seat more convenient to use.
One example of this is the buckle pockets given on the side. Evenflo has focused on making the Maestro as comfortable as possible.
The head pillow on this car seat is incredibly comfortable and ensures that your child's head is properly positioned.
It does not end there. The head pillow can be removed too, which must be done when children grow up.
A few users reported two issues. They complained about the car seat not being made of high-quality materials.
This leads to safety concerns, which is something no parent would want to compromise in. Secondly, the cupholders would not stay fixed, which is a major design flaw.
PROS
Different color options
Front harness for a snug fit
Extremely comfortable
CONS
Cupholders don't remain fixed
Subpar build quality
Although Evenflo has created a high-quality product, there are some issues that need to be resolved as soon as possible.
Regardless, if you do choose to buy this car seat, the experience will be memorable.
7. Britax Grow With You Harness-2-Booster Car Seat

Finally, arriving in the seventh and final place is the Britax Grow With You Harness-2-Booster Car Seat, another highly popular car seat manufacturer.
It must be noted that although this car seat has earned the last spot, it is far from being the worst. This Grow With You car seat has some amazing offerings that you will appreciate.
The name of this seat suggests that it has been designed for long-term usage. That is correct because this seat is, in fact, a 2 in 1.
When your child outgrows the front-facing harness mode, this seat can be converted to a booster seat.
It will be belt positioned, which means that your kid will be ready to ride on actual vehicle seats in no time at all.
Britax has used high-quality fabrics in this car seat. It is comfortable and soft. The same can be said for the padding that has been used.
It provides excellent support for the back and the head. In simpler terms, your kid will not complain about the car seat being too uncomfortable.
There are even paddings on the harness straps, which make sure that your child will not get scratched.
Safety is something Britax never compromises on. The base of this car seat is made up of a steel frame, while there are two side impact protection layers.
All of them work together to absorb as many impact forces as possible. There is even a V-shaped tether that reduces movement in the forward direction.
Buyers complained that the seat would not install snugly. If the install is not tight, then there is no point in getting a car seat at all.
This means that the seat will move whenever there is aggressive movement. It is unacceptable and is a design flaw that Britax must check out as soon as possible.
PROS
2 in 1 design
High-quality fabrics
Extremely comfortable
Safe and secure
CONS
It may be difficult to install
Britax has created an amazing product, and there is no doubt about that.
Although it scored the last spot, this car seat has impressed me a lot. It should definitely be on your consideration list.
What To Look For When Buying A Forward Facing Car Seat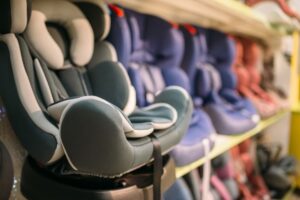 You're probably wondering what to look for when buying a forward-facing car seat.
Fortunately, I've got you covered. You'll learn all about what makes up a quality car seat, so you can make the correct decision.
Should Meet Or Exceed Safety Standards
Whether you're buying a car seat in your state or another, it's important to make sure the car seat you select meets or exceeds the safety standards of that state.
If you aren't sure what these standards are, check with the state to ensure that they are approved for daily use.
If you plan on purchasing an infant car seat from another country, make sure that it meets or exceeds the safety standards of that country—and if possible, search several models of the same brand to make sure they follow laws and regulations.
If you buy the seat despite not meeting those laws, you could be in for some serious legal trouble.
Buy According To Height And Weight Of Child
When it comes to forward-facing car seats, the height and weight of your child are going to be the most important factors when choosing a seat.
The car seat should be at least as tall as your child's and allow them to grow for several more years.
The manufacturer's recommendation is also worth considering when choosing a forward-facing car seat for your little one.
You don't want one that is too small because it could put him/her at risk of injury in an accident; similarly, there's no point in getting a larger one in which he or she can move too much.
Should Have Enough Padding
When shopping for a forward-facing car seat, pay attention to the padding. You want the head area to be padded and not just hard plastic or metal.
You also want the harness system to be padded as well. This will ensure that your child will remain comfortable during your trips, no matter the time frame.
Lastly, this will help protect your child from impacts if hit on either side of their body.
Should Be Adjustable
The seat should be adjustable, so it can make your child comfortable. It should have an adjustable headrest and an adjustable incline too.
If this is not the case, there is a good chance that your little one will not be comfortable and express it by crying or throwing stuff around the car.
Frequently Asked Questions
Q1. What Age Can A Baby Forward Face In A Car Seat?
The answer to this question is actually pretty simple. If your child is one year old and heavier than 20 pounds, then he or she is eligible to shift to a front-facing design.
Whether it be an all-in-one seat or ones from this list, the child can be shifted to face the front. It is recommended to let kids remain in the rear-facing fashion for as long as possible.
Q2. Is Rear Facing Car Seat Safer Than Forward Facing Car Seat?
The biggest advantage for rear-facing is that the positioning of the seat can better distribute the forces of a crash.
Also, a child's legs are stronger than their neck and spine, meaning that a crash can be less injurious or even completely safe if the legs are well-supported.
This is why it is recommended to put newborns in a rear-facing seat for as long as possible. It drastically increases their chances of survival.
Q3. How Much Should A Baby Weigh To Face Forward?
If your child weighs more than 20 pounds, he can be seated in a forward-facing seat.
It must be made that your child does not cross the weight limit for the forward facing design because it may reduce the effectiveness of the included safety features.
If your child has crossed the limit, it may be time to shift to a booster seat.
Q4. Can My One Year Old Kid Use The Front Facing Car Seat?
Of course! The age of one year is perfect for children to start sitting in forward facing car seats.
This is because newborns don't have a very strong bone structure, which is why rear-facing seats are preferred in the beginning.
The weak structure strengthens as they grow up, allowing them to be shifted to forward facing car seats.
Q5. Which Seat Is Safest For A Forward-Facing Car Seat?
Whether a forward-facing car seat or any other one, the center seat is the safest option for your child.
This has been statistically proven because impacts occur on the sides, and putting your child to the side will increase the risk of them getting seriously injured.
Q6. What Is The Recommended Weight For A Forward-Facing Car seat?
The recommended weight for forward-facing car seats is 20 to 80 pounds.
This means that as long as your child weighs between 20 and 80 pounds, they'll be able to ride in a forward-facing car seat.
If they are lighter than that, then a rear-facing car seat will be most suitable for use.
Conclusion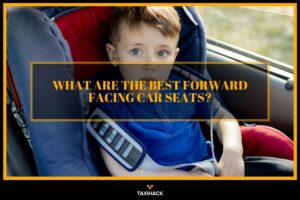 When it comes to choosing the best forward facing car seat, the decision is not easy.
This is coming from a parent who has gone through such phases.
As one seat does not have all the features, you are afraid of missing out.
Well, that changes with this article. I have compiled seven of the best car seats that money can buy.
From affordable to expensive, you will certainly be pleased with this list. There is one product that has beaten all other companies.
You guessed it, it's Graco. The Graco Tranzitions 3-In-1 Harness Booster Seat is the perfect package and checks all the right boxes.
With it being safe and comfortable, it is my recommendation to you all.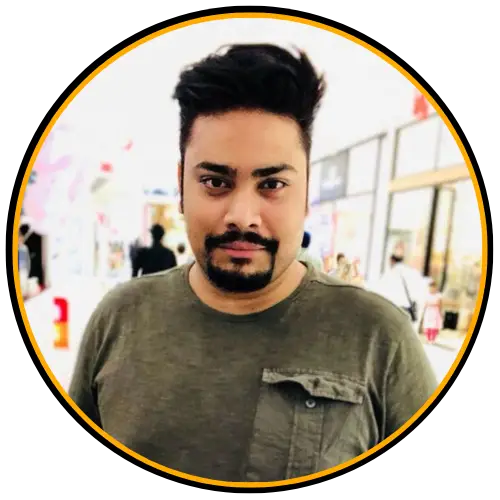 I am Tahir Azam, and I have been writing amazing articles for TaxiHack for as long as I can remember. I know everything that is to know when it comes to automobiles and is always on top of industry news and developments. While I am not an expert by any means, I pride myself on knowing the ins and outs of many different problems and, of course, their solutions. The articles on our website are some of the best and well-researched content that you will find, and I spend countless hours making sure this remains to be true. This is why I ask you to take your time out and read some of my articles, especially if you find a topic that resonates with you or is something you are looking into. This way, you will find the perfect mix of information and tips on your desired topic. Learn more about Tahir.