The Subaru Legacy has an amazing history of being a reliable and consistent vehicle for people who love to go out on long drives.
It is also said that this vehicle has the best value to offer, and it is also one of the extended running lineups done by a Japanese automaker.
It is also well known for its outstanding safety features.
Although all these are great aspects of this, and it has some amazing years, there are still some unreliable years that include many flaws.
So what are the best and worst years for Subaru Legacy?
Here are the model years that you should look into:
Best Years for Subaru Legacy:
2012
2014
2016
2017
2020
Worst Years for Subaru Legacy:
2009
2010
2011
2015
2018
With that being said, whether you prefer buying a new or used Subaru Legacy, the decision will be less time-consuming and confusing with the help of this article.
And it will be a lot easier if you check the FAQs section as well.
List Of The Best Years For The Subaru Legacy: What Years To Buy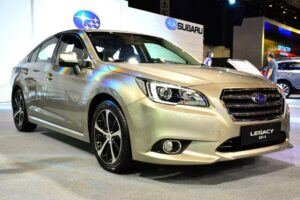 Here I will be listing down the best years of Subaru Legacy that you should most certainly consider buying.
You are probably wondering whether a Subaru Legacy is a good vehicle or not.
According to many websites and people who have used this car, it is a good car and has pretty good overall reliability ratings.
If you are most concerned with reliability and safety, then this midsize sedan is the perfect choice for you. It is also quite affordable as it has a great value to offer their customers.
So here are the reliable years of Subaru Legacy below:
#1 Best Year: 2012 Subaru Legacy
Starting with this incredible model, you have the 2012 Subaru Legacy with unique and reliable features to have the best experience throughout its lifespan.
The great thing about this 2010 model is that it comes in seven powerful trim levels that you can choose from.
These trims are the 2.5i, 2.5i Premium, 2.5i Limited, 3.6R, 3.6R Limited, 3.6R Premium, and last the 2,5GT Limited.
Do keep in mind that all these optional trims have different features to offer and have different prices. This midsize sedan can range from $19,995 up to $31,595.
Other than that, do keep in mind that some trims are better and luxuries than others, so choose wisely.
Moving on, the great aspects of this model is that it has a good steering response, roomy interior, the gas mileage is also good for an AWD car, durable turbocharged drivetrain.
The base model is also well prepared and lastly it is designed for different and harsh weather conditions especially winters.
#2 Best Year: 2014 Subaru Legacy
The 2014 Subaru Legacy is quite different from other midsize sedans for families in the market.
You can find this vehicle in five well-equipped trim levels as well as a standard all-wheel-drive system.
Like the Limited and Premium 2.5i, you will also be getting the option of 2.5i Sporty, which is prepared with the six-speed automatic transmission or the CVT.
It is worth mentioning that with the CVT, the vehicle can be rated 24/32 mpg, whereas, with the six-speed, it is rated at 21/29 mpg.
It is known to have standard interior features, which include manually adjustable cloth front seats, steering wheel cruise control that can be available as a tilt or telescoping, dual-zone automatic climate control system, etc.
It is also good for you to know that this vehicle has been a Top Safety Pick and also has been rated 'good' by the IIHS according to the three tests that they have done out of four.
To add on, the NHTSA gave this vehicle an overall crash rating of five stars, so it is a must-have vehicle.
#3 Best Year: 2016 Subaru Legacy
In the 2016 Subaru Legacy, safety has been prioritized so drivers can have a desirable yet safe experience without worrying too much.
This vehicle is available in four trim levels, and each of these models has multiple different qualities.
Do keep in mind the more powerful engine you have in your vehicle, the better the performance will be.
In the case of this vehicle, the 3.6 liters V6 Boxer Engine, which can produce 256 horsepower and 247-pound feet of torque, is said to be the most reliable and powerful.
Other than that, this vehicle received an all five-star rating from the government crash testing and is also the Top Pick by the IIHS.
It also has an anti-theft security system with an engine immobilizer, multiple airbags, and whiplash protection designed for the driver and passengers sitting at the front seat.
#4 Best Year: 2017 Subaru Legacy
The 2017 Subaru Legacy model has upgraded features as it has a new Sport trim level.
It will have a dark gray grille, gloss black housings prepared for the fog lights, and 18 inches of alloy wheels.
Another great thing is the appearance of the vehicle, with silver polishing on the side mirrors and chrome rocker trim to make it look more appealing and luxurious.
Other than that, with the standard 2.5 liters flat-four cylinder engine, the vehicle will enhance 175 horsepower and 174 pounds-feet of torque.
Though with the 3.6R liters six-cylinder engine, you will be able to enjoy 256 horsepower and 247 pounds-feet of torque.
This vehicle also has amazing safety features like adaptive cruise control, blind-spot detection, rear cross-traffic alert, ABS, brake assist system, and so much more.
It is worth mentioning that this is the only midsize sedan that features standard AWD.
#5 Best Year: 2020 Subaru Legacy
The 2020 Subaru Legacy is completely redesigned upgraded with amazing tech features, sporty styling, luxurious interior, and so much more that makes it worth having a midsize sedan.
If you do plan on purchasing this, then you have the option of getting a 2.5-liter flat-four engine or the new turbocharged 2.4-liter engine.
This vehicle also stays standard and offers all-wheel drive.
Other than that, this vehicle either comes in Limited XT or the Touring XT models that you can choose from, though do keep in mind that prices may vary considering the different features the models have.
It has a continuously variable automatic transmission, and the engine of Touring XT can hit 60 mph within 6.1 seconds.
You will also be glad to learn that this model has excellent handling dynamics, so you can have a reasonable driving experience.
List Of The Worst Years For The Subaru Legacy: What Years To Avoid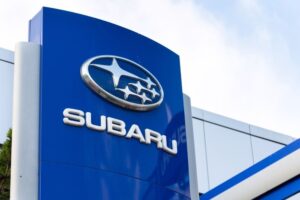 The Subaru Legacy has been in the market for a long period and has gained popularity for being one of the most consistent and reliable midsize sedans.
However, this vehicle also had disappointing years for many people as they had horrible experiences driving them.
I will be discussing the concerning issues all these model years had so you do not end up with a lemon car.
People who bought these sedans advised others to consider other model years because the issues cannot be taken lightly.
So with that being said, here are the worst years of Subaru Legacy that you should stay away from!
#1 Worst Year: 2009 Subaru Legacy
Standing at number one for the worst year is this 2009 Subaru Legacy because of its u reliability and spontaneous yet frequent issues made people complain so much.
The most common issue is engine failure, as the engine is the most important component of your vehicle.
Once it starts malfunctioning, it can ruin the entire functionality of the car. This is why regular maintenance is crucial for car owners.
However, it does not necessarily depend on maintenance. This vehicle tends to have this issue since it has the most complaints regarding the engine.
This also makes the vehicle vibrate while driving and loud irritating noises and will require replacement that can cost around $5000 or more.
It usually happens when the vehicle reaches around 75,000 miles. This model also had issues with the head gasket.
It usually leaks and can cost a lot of money, around $1600, because the entire engine will need to be removed. This happens when the vehicle reaches 140,000 miles.
#2 Worst Year: 2010 Subaru Legacy
The 2010 Subaru Legacy also has some obvious issues that can affect the performance while you drive, so it is on the worst list.
The common issue with this 2010 model is the cooling system that causes the head gasket to fail. This problem causes overheating when the cooling pressure blowing res cap is off.
Another common problem you will find in this vehicle is the ABS control module defect that will make it difficult for you to press the brakes and keep on illuminating the ABS lights.
You might have to completely replace the ABS control module as that's the only solution for it.
Other than that, you will also find engines, electrical systems, transmission, seat belts, suspension, and so much more problems with this model.
#3 Worst Year: 2011 Subaru Legacy
The 2011 Subaru Legacy has common problems like the 2010 model founded on reliability issues. Around 16 people have reported the headlight burning out issue on this vehicle.
Although this might seem like a small issue, with this vehicle, it has been estimated that it started happening in the first six months of purchase, and some even said that they had to replace the headlights multiple times.
This issue might be happening because the vehicle's electrical system might be delivering too much voltage to the lights.
Besides that, this vehicle also had a transmission system problem as the CVT tends to fail a lot. According to some reports, the repair cost for this issue can be around $7500 or more.
#4 Worst Year: 2015 Subaru Legacy
A large spike of complaints was submitted to the CarComplaints.com site for the 2015 Subaru Legacy.
It is stated that the most common issue with this vehicle is the wind noises which usually happen when the vehicle reaches 950 miles on the odometer.
Another common issue is the driver's smelling engine burning before the vehicle reaches 1000 miles.
This can be quite dangerous because some people also said that the water would cover the engine bay. This can cost a lot for repairs.
Lastly, the third common issue is that many people experience a rough ride before reaching 1000 miles.
This vehicle does not have the capabilities to control bumpy roads, and the drivers and passengers can feel it inside the vehicle.
#5 Worst Year: 2018 Subaru Legacy
The overall quality of the 2018 Subaru Legacy is said to be problematic.
Many people complain about infotainment system malfunctions, fuel system problems, steering issues, engine failure, and windshield cracks.
This is why this vehicle has been recalled multiple times by the National Highway Traffic Safety Administration.
It is worth mentioning that most of these problems arise before hitting 100,000 miles on the odometer, which is something quite disappointing.
These problems can also cost around $5000 or more to fix the issue completely because usually, people have to replace some components.
If these are not fixed immediately, they can cause serious accidents on the road, so it is best to avoid this model.
What Are The Most Common Problems With The Subaru Legacy?
You will be surprised to learn that there are 266 complaints reported on over 32 Subaru Legacy Models alone.
There are some concerning problems with the engine and the lights of the Subaru Legacy that just cannot be ignored.
According to the PainRank system, the Legacy has been ranked at 10th place out of 17 Subaru models for overall reliability ratings. Moreover, this vehicle has about 14 issues in total.
But for now, I will be listing the three most common as they have been reported by many owners and just Connor be ignored. So here are the problems that you must learn about.
1. Denso Fuel Pump Issue
This issue is most common because the fuel pump could not send the fuel to the engine. This usually happens because there will be cracks that restrict the gas from reaching the engine.
According to some inspections done, the main reason this happened was that the impellers were endangered to a drying solvent while manufacturing.
This is why Subaru recalled more than 200,000 vehicles in April just to rebuild the impellers. Remember that this issue is highly common in the 2019 Subaru Legacy.
2. Unexpected Cracked Windshields
This issue is most commonly found in the 2015 Subaru Legacy and had numerous complaints.
This issue happens spontaneously while driving as the cracks start to appear on the windshield.
It is said that it will happen on the new Subaru Legacy when it reaches around 1000 miles.
Another possible reason this might happen is switching to the acoustic windshields, De-icer adhesion problems, fuel efficiency, etc.
You need to fix this issue immediately as it can impede the deployment of the airbags.
3. Excessive Oil Consumption
This is one of the most common problems found in many Subaru Legacy models. It is said that the Subaru F series engines are not durable and will burn out more oil than usual.
This issue is noticeable because many people notice a burning smell coming out while driving. Some also noticed smoke coming from the tailpipe during idle.
According to Consumer Reports, this problem is common in the 2010 and 2014 Subaru Legacy.
It is highly suggested that you should get an oil consumption test done if you notice the vehicle running out of oil frequently.
Frequently Asked Questions
Q1. How Many Miles Should A Subaru Legacy Last?
The average Subaru Legacy lifespan is from around 200,000 up to 300,000 miles before it starts to break down and will require costly repairs.
It is also worth mentioning that the Subaru Legacy can last from 15 up to 20 years if it is driven 15,000 miles per year.
If the vehicle is used with care and maintained regularly, it can last longer.
Related: How Long Do Subaru Legacys Last?
Q2. Is The Subaru Legacy Better Than The Honda Accord?
According to many reports and research, the Honda Accord is better than the Subaru Legacy. This is because the reliability ratings of Accord are better than the Legacy.
It is also worth mentioning that the performance of the Honda Accord, the interior, and the creative engineered inputs outshine the Legacy.
However, the Legacy is more affordable than the Accord.
Q3. Which Is Better: Subaru Legacy Or Camry?
It is said that the Toyota Camry has better and more impressive EPA, which is estimated to be 29 mpg in the city and 41 mpg on the highway.
Whereas the Subaru Legacy has an EPA estimated to be 27 mpg in the city and 35 mpg on the highway. Other than that, the fuel economy of the Camry is also far better than the Legacy.
Q4. Is The Subaru Legacy Expensive To Repair?
Yes, Subaru Legacy is expensive to repair. It is said that the maintenance and the repair costs of Subaru Legacy during its ten years of service will be around $6000 or more.
This is a lot more than the industry average for well-known sedan models, which is $766.
Q5. Is The Subaru Legacy Hard To Work On?
No, it is fairly easy to work on the Subaru Legacy. When it comes to working on the batteries, radiators, or alternators of this vehicle, it is pretty simple.
However, keep in mind that working on spark plugs, head gaskets, or any internal engine components will be quite difficult and require help from an expert.
Conclusion
It can be challenging deciding which model will have the least problems and which will be best for you.
However, now that you learned about the best and worst years for Subaru Legacy, it will be much more lenient for you.
This is a great midsize sedan for people thinking about purchasing a vehicle for the first time because it is quite affordable.
Other than that, you should consider the reliability and safety features of this vehicle before purchasing, as safety should be the priority.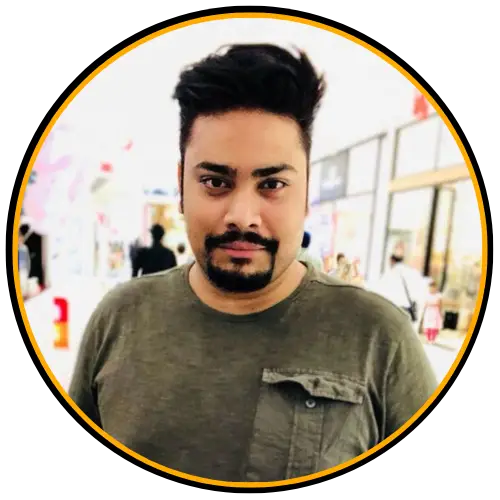 I am Tahir Azam, and I have been writing amazing articles for TaxiHack for as long as I can remember. I know everything that is to know when it comes to automobiles and is always on top of industry news and developments. While I am not an expert by any means, I pride myself on knowing the ins and outs of many different problems and, of course, their solutions. The articles on our website are some of the best and well-researched content that you will find, and I spend countless hours making sure this remains to be true. This is why I ask you to take your time out and read some of my articles, especially if you find a topic that resonates with you or is something you are looking into. This way, you will find the perfect mix of information and tips on your desired topic. Learn more about Tahir.