The Nissan Murano is a very popular vehicle that made its debut way back in 2003, surprising people with its sleek looks and surprisingly strong engine and performance.
With its 4-wheel drive, all-wheel steering, and V6 engine, the Murano is a very popular vehicle with several followers and fans. However, not all models are created equal.
For prospective buyers, it is necessary to avoid those models which do not exactly encapsulate the best qualities of the Murano and which may frustrate customers.
For this reason, I will be listing the best and worst years for Nissan Murano in this article:
Best Years for Nissan Murano:
2020
2016
2019
2013
2006
Worst Years for Nissan Murano:
2009
2004
2015
2005
2010
With the list out of the way, I will now be exploring the characteristics and shortcomings of each model in comprehensive detail, showing why they deserve their respective place on this list.
Since this list has been made thorough research, prospective buyers or researchers do not need to worry about its validity.
List Of The Best Years For The Nissan Murano: What Years To Buy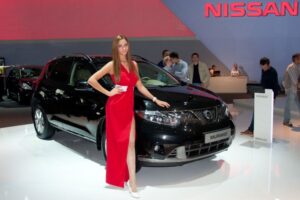 Firstly, we will be looking at those years of the Murano where it shined and where its qualities showed up.
This is because such a section is probably the most important for any prospective buyer, so we will start with it.
Without further ado, let us get into it!
#1 Best Year: 2020 Nissan Murano
In terms of quality and performance, the 2020 Nissan Murano does everything brilliantly.
It is the highest-rated out of any of the Nissan Murano vehicles and has increased reliability compared to other models.
Since it is part of the 3rd generation of Murano vehicles, it is pretty much as good as you can get with a Murano vehicle.
The interior design has also received several awards, being quite sleek and aesthetic for an SUV.
The significant upgrades in the infotainment system alongside curvier exterior looks give the car a sporty feeling while maximizing passenger experience.
The 3.5-liter V6 engine offers 260 horsepower, and the all-wheel-drive can be added with the numerous trims available.
It is tuned for comfortable riding, so the steering is light, and the curves are easier to handle. In all, this is by far the best Nissan Murano model, encapsulating all the vehicle's qualities.
#2 Best Year: 2016 Nissan Murano
The 2016 Nissan Murano is a perfect vehicle for the third generation to buy if a prospective buyer is looking for something budget-friendly.
The 2016 year provides good performance, high reliability and comfortable performance, which are hallmarks of the vehicle, but at a comparatively lower price than newer versions.
It is also very fuel-efficient, getting gas mileage from 21-28 mpg on the road and the highway.
It is a very attractive vehicle in terms of the number of trims offered; as you move up the trim ladder, you get features such as an advanced navigation system, climate control, rearview camera, smartphone accessibility and other features.
All this makes the 2016 version very attractive for buyers. However, transmission issues mean that it doesn't get the top spot.
#3 Best Year: 2019 Nissan Murano
Since we talked about how the 2020 version perfects the third generation of Nissan Murano vehicles, it is only fair to add the 2019 version with almost identical qualities.
With only marginally slow performance and fuel economy, the 2019 model has very few complaints and is also known for being safe and reliable for users.
The stylistic upgrades to the Murano were also very well received, with changes in the grille and the introduction of stylistic trims.
At the same time, the 2019 model also prioritizes passenger experience and comfort, making this a solid vehicle that is composed, quiet, and simply good for basic transportation.
The 2019 model encapsulates everything good about the SUV, which is why it gets a spot on this list.
#4 Best Year: 2013 Nissan Murano
Now that we have listed the best models from the 3rd generation, it is time to look away from that and bring in those vehicles that stood out from the 2nd generation.
The best among these was by far the 2013 Nissan Murano. The CVT fits the vehicle's needs, providing brisk acceleration without any excessive engine noise.
It has a smooth powertrain, consistent interior and exterior design, maneuverable and responsive, and is narrow enough to fit into small car spaces or garages.
It has a sleek interior that gives a comfortable feel, even if the toothy, gomey grille is a distraction.
However, despite these qualities, there are issues with outward visibility, and the CVT lacks a manual mode.
#5 Best Year: 2006 Nissan Murano
When it comes to the first generation of the Nissan Murano, the 2006 model makes our list, albeit in the last position.
It has a strong standard engine, sharp handling and a comfortable and practical interior.
The CVT allows for smoother operations alongside greater fuel efficiency than most of its competitors and a traditional automatic.
The 245 hp and 246 lb-ft of torque is also quite solid. There are also several safety features, including anti-lock brake discs and front-seat-mounted airbags.
The interior gives it a flashy look, which creates a good experience all around.
However, there are still issues with the engine and transmission that may arise with time and the vehicle is also outdated in many aspects.
List Of The Worst Years For The Nissan Murano: What Years To Avoid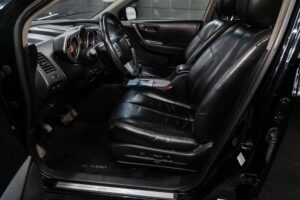 Now that we have taken a comprehensive look at the best years of the Murano, it is time to look at those models which didn't stand out as well.
These models frustrated customers and did not provide the qualities that Murano is generally known for.
With that said, these are the Nissan Murano vehicles that you should be avoiding below:
#1 Worst Year: 2009 Nissan Murano
The worst year of the Nissan Murano is the debut of its second generation: the 2009 version.
This year has shown the most issues out of all the models of the Murano, and these problems can also be quite severe.
The problems can be divided into two separate components: the brakes and the transmissions.
Starting with the brakes, the 2009 Murano has very soft brake pedals that can create issues in terms of lack of responsiveness and harder application of brakes.
An uncertain braking experience can be created due to the ABS sensor or problems with the master cylinder.
The issue with the transmission includes jerking and reluctance to accelerate.
This usually occurs at very high mileages but can still prove to be quite severe and require costly repairs.
We would advise you to stay far away from the 2009 Murano for these two reasons.
#2 Worst Year: 2004 Nissan Murano
There are a lot of issues with the second version of the Murano, and it should be avoided for them alone.
This year includes the notorious issue of weak door handles that can come off at very low mileage.
This is a real architectural issue, and it is important to know whether the door handles have been replaced before purchasing the vehicle, but it is difficult to confirm.
The 2004 Nissan Murano has excessive rust issues and excessive oil consumption as well. The gaskets are also prone to fail, and there may be leaks.
Since the first generation also has endemic issues with the CVT, you will need to replace the transmission system at one point, which can also be very costly.
There are also overheating problems with this version of the vehicle. The cabin is not well insulated, which can lead to major engine issues since it's difficult to indicate the overheating.
This version has a lot of miscellaneous and other external issues, which may not be as severe or frequent as the ones in the 2009 version but are still quite evident.
For this reason, it is advised to avoid this model.
#3 Worst Year: 2015 Nissan Murano
There is a history of mechanical problems with the 2015 Nissan Murano, which unfortunately happen at a very low mileage.
These issues range from problems with the engine system, the drivetrain, and even the seat belts in this new model.
The engine system, in particular, suffered from cooling problems, slow acceleration, and a lack of speed control.
Most of these engine problems stem from a faulty CVT, which creates issues regarding constant jerking and hampered acceleration.
This atypical acceleration may occur at a very low mileage (some have reported it to happen under 100,000 miles of usage), which is extremely disappointing for a vehicle that prides itself on its reliability.
Hence, this is the one model of the 3rd generation which you should avoid.
However, it only receives third place since the frequency of these problems is not as high as the other vehicles higher up on this list.
#4 Worst Vehicle: 2005 Nissan Murano
While the 2005 version of the Nissan Murano is a significant improvement over its predecessor, there are several problems in this version, which make it one to avoid.
The common problems with this version include excessive oil consumption, which indicates a very poor fuel economy.
This problem primarily persists due to faulty piston rings, which are a structural design flaw in the 1st generation of the Murano vehicles.
The defective valve cover gasket may also lead to intermittent power steering, which is also very problematic for users; it may create frustration within the customers who will suffer handling and steering problems.
The electrical short circuit may also lead to faulty airbag sensors and broken or unworkable seat belts; this also severely compromises consumer comfort, which the Murano prides itself on.
There are also a lot of miscellaneous problems with brakes and steering, which also hurt the handling and overall responsiveness of the vehicle.
#5 Worst Vehicle: 2010 Nissan Murano
In all, the 2010 Nissan Murano isn't a very bad vehicle compared to the others on this list.
But it still falls short on several qualities that define the Murano, especially regarding reliability and longevity.
The vehicle was officially recalled due to transmission issues. There are complaints of the engine underperforming and being noisy.
In addition, there are also complaints of the vehicle becoming very shaky and disgruntled on bumpy or uneven roads, which isn't a very good look on an SUV.
Lastly, there are issues with the brakes, which have suffered complaints of squeaking, grinding, and excessive vibrations.
For all these reasons, the 2010 Nissan Murano should be avoided.
What Are The Most Common Problems With The Nissan Murano?
Now that we are done with providing a list of the best and worst years for the Murano, we will be looking at some of the common issues with this vehicle.
Some of the issues mentioned here may be more prominent in some models than others, but their commonality exists nonetheless.
1. Drivetrain problems
This car area is responsible for transmitting power to the wheels and is therefore very important, especially for transmission systems.
Most of the Murano models are equipped with the Continuously Variable Transmission (CVT) system, which is prone to random shaking, sudden stops, and violent shuddering or jerking due to acceleration.
In the worst case, transmission failure could occur as well.
Other complaints included hesitant acceleration, lock up, experiencing oil leaks, and noise emission from the transmission or the rear.
2. Brake Problems
The Automatic Emergency Brake (AEB) system has been subject to several complaints, integrated into many Nissan Murano models.
This system can detect non-existent obstacles and put automatic brakes that can cause serious accidents.
Other brake problems include soft pedals and a general hesitancy to brake due to slow engine performance and transmission issues.
3. Engine Problems
Engine problems are unfortunately very common in all Murano vehicles.
Common engine problems include coolant leaks, shutdowns, rattling noises upon brakes, and hesitant sluggish acceleration.
It is best to resolve all these issues as quickly as possible before complete engine failure occurs.
If your check engine light is illuminating, it may be best to immediately address the issue through repair.
4. Safety System Problems
The airbag and safety seat belts can malfunction in the Nissan Murano, and there are several instances of this happening.
Regarding the former, the passenger side airbag may not identify occupants causing the airbag to not activate in the case of a crash.
In the latter case, the seat belt may malfunction and refuse to come out of the lock. This can get very frustrating for customers.
Related: Why Won't My Nissan Murano Start?
Frequently Asked Questions
Q1. How Many Miles Should A Murano Last?
The Murano can last from 150,000 to 200,000 miles with regular maintenance and repair.
You may have to get the Murano checked around 0.51 times a year, with a 14% probability of required serious repairs.
Hence, this vehicle can last you a relatively long period with regular repairs.
Related: How Long Do Nissan Muranos Last?
Q2. Is The Nissan Murano A Good SUV?
Yes, the Murano is a solid SUV with good performance and comfort. It has a very good fuel economy estimate and some of the highest safety and reliability scores for a mid-size SUV.
In addition to this, it has a strong engine, powerful performance, gentle seats, a comfortable riding experience, and technologically adaptive infotainment systems.
In all, the Murano is a very good pick for an SUV.
Q3. Do Nissan Murano's Hold Their Value?
Unfortunately, the Nissan Murano does not have a very strong resale value. It depreciates by about 50% over five years, and its resale value is generally under $20,000.
For an entry-level mid-size SUV, this is still a good sign, but in general, the Murano is not known for holding all of its value over a long period.
Q4. Which Is Better: Nissan Murano Or Highlander?
If you're looking primarily from a performance perspective, the Highlander provides a lot more features than the Murano does.
It has three rows of seating, greater cargo space, more standard safety features, and generally a stronger V6 engine as well.
There is a more spacious interior and a greater, more comfortable consumer experience as well with the Highlander.
However, the Murano still has a much lower price with relation to its features, so it may be a more cost-efficient option.
Q5. Why Does My Nissan Murano Shut Down While Driving?
This can be due to a number of reasons, the primary one being a lack of fuel due to excessive oil consumption due to faulty rings.
However, if the car is operating at low power and speeds, it may shut down due to the torque converter being broken or if there is a low level of fluid in the transmission, which may cause the converter to stop working.
Conclusion
Finally we are done with the article and I hope you were able to find the best and worst years for Nissan Murano.
The Murano is a very good and popular mid-size SUV that is known for its reliability, comfortable driving experience, solid performance levels, relative longevity, and its stylistic architecture.
If proper research is done to avoid the many problems that plague this vehicle, it is possible to obtain a car that is very comfortable and satisfactory to customers.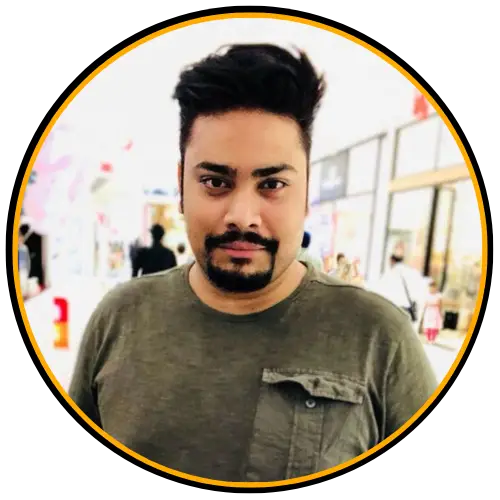 I am Tahir Azam, and I have been writing amazing articles for TaxiHack for as long as I can remember. I know everything that is to know when it comes to automobiles and is always on top of industry news and developments. While I am not an expert by any means, I pride myself on knowing the ins and outs of many different problems and, of course, their solutions. The articles on our website are some of the best and well-researched content that you will find, and I spend countless hours making sure this remains to be true. This is why I ask you to take your time out and read some of my articles, especially if you find a topic that resonates with you or is something you are looking into. This way, you will find the perfect mix of information and tips on your desired topic. Learn more about Tahir.