Although the model of Ford Edge looks pleasing and makes you want to invest your money right away. It is still crucial to note that certain years were not favoring some models.
If you plan to spend your hard-earned wealth on a Ford Edge, then learning the best and worst years of Ford Edge is valuable information for you.
So, what is the most reliable year for the Ford Edge, and what is considered high mileage for Ford Edge?
The most reliable year for Ford Edge is the 2014 Ford Edge model, and over 100,000 miles – 200,000 miles is considered high mileage for this vehicle.
Moreover, here are the best and worst years for the Ford Edge:
Best Years for Ford Edge:
2014
2018
2019
2021
2022
Worst Years for Ford Edge:
2011
2012
2013
2015
2016
In this article, I will list down the best and worst years and explain them further to better understand. Make sure to read the whole article as I will be answering some of the FAQs.
List Of The Best Years For The Ford Edge: What Years To Buy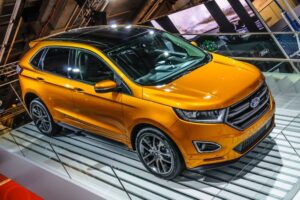 This list is certainly essential for you as it will assist in making your decision easier.
These are the best years models which you should consider investing in.
The great thing about these models is that you will be able to increase the mileage and efficiency of your vehicle and will not face problems with the vehicle that will require a lot of money for repairs.
I will explain in further detail, including the user-friendly features and how the quality is of this vehicle when compared with others.
So without further ado, here are some of the best years:
#1 Best Year: 2014 Ford Edge
Without a doubt, the 2014 model of Ford Edge is considered the most reliable and the best model of all time.
Even if you search it online, you will find various reasons it is one of a kind. This model was scored 4/5 in reliability and had the highest rating for any Ford Edge model.
The base of this model 3.5 – L V6 engine can deliver sufficient power and has two options for the engine, turbocharged 2.0 – L four-cylinder(to enhance the fuel economy) or the sportier and powerful V6 for sport trim status.
Moreover, the safety features of this model will give you forward collision mitigation and rear cross-traffic alert right away.
Additionally, with the SYNC voice control system, you will be able to have access to the aspects that require to be controlled.
#2 Best Year: 2018 Ford Edge
This 2018 Ford Edge model will cost you around $15,995 up to $36,998. This vehicle consists of many tech features that make it stand out from other vehicles.
You will be happy to know that this model did not get any serious complaints against it, unlike the first-generation Edge models.
This is already great news for you if you consider buying this model.
Another great thing is that it does not require as much repairing on it as other models do, so you can enjoy this second generation model's elegant design and unique characteristics for as long as possible.
#3 Best Year: 2019 Ford Edge
Another great model of the 2019 Ford Edge, favorite features of this vehicle stated by various buyers: the driving dynamics, exterior appearance, the engine or the transmission, the interior design, the seats, the storage area, and space in a connection.
Keep in mind that the number one priority of Ford is safety, and this model is an upgraded version that many people would love to drive around.
This vehicle is perfect for any kind of weather. It is also a fast vehicle consisting of twin-turbocharged and performance-tuned Edge ST.
This model is also designed with a dual-zone automatic climate control system.
#4 Best Year: 2021 Ford Edge
This latest design of the 2021 Ford Edge includes unique and upgraded features.
This model has now replaced the 8-inch screen touchscreen with a new version and now has a 12-inch touchscreen.
Moreover, it also has a larger infotainment screen that is Ford's elevated Sync 4 infotainment system which is the latest version an automaker can deliver.
The performance of this vehicle is remarkable as it consists of fuel-efficient and performance-oriented engines.
Moving on, this vehicle will be perfect for families as it is spacious for passengers and your luggage. Lastly, you will have a silent cabin even at highway speeds.
#5 Best Year: 2022 Ford Edge
You should keep in mind that as Ford started upgrading their models, the fewer problems were in their designed models.
This latest version of the 2022 Ford Edge appears in five trims, such as Titanium, SE, SEL, ST-Line, and ST.
A 250-horsepower turbocharged four-cylinder engine. Keep in mind that all models consist of an eight-speed automatic transmission except the ST.
This model starts at $34,905 and so on. Moreover, this model also includes the forward collision warning and forward automatic emergency braking, rear cross-traffic indication, etc.
More safety features are included in this vehicle that will help you and your family while you drive on the road.
List Of The Worst Years Of The Ford Edge: What Years To Avoid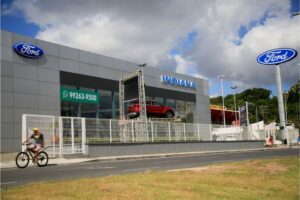 Coming to the worst models and the years for Ford Edge, you might not know why these were considered to be the worst because of the various issues that users faced throughout the years while using these models.
Make sure to read through all of these, and you should avoid them as most issues start happening as soon as you reach the 66,000 miles on these automobiles.
And if you do end up buying any of these models, you might end up paying a ton of money just for repairing regularly.
So, here are the worst years that you must avoid:
#1 Worst Year: 2011 Ford Edge
This 2011 Ford Edge model is one of the oldest versions of the Ford Edge, so obviously, there will be problems associated with this model.
There were various complaints regarding the sensor as it started to malfunction.
It is stated that this model had the most electrical problems, which also includes computer software unable to perform accurately, the battery of your vehicle might die out quickly for no specific reason, and the battery might also not be able to hold the charge in the vehicle which makes the car stop working suddenly.
This model faces problems with the door ajar lights as they will stay on.
Keep in mind that this model had about 424 reported problems faced by buyers in total since most setbacks involved problems on the engine, brakes problems, transmission casualties, and the last door sensor.
#2 Worst Year: 2012 Ford Edge
Here's the thing about this 2012 Ford Edge: the brake issues stable minimized for this model, but other issues did not make a high difference.
The problems such as transmission difficulties, engine power issues, and so on were still present.
There were about 214 reported problems faced by buyers and had about three recalls for this model.
According to the National Highway Traffic Safety Administration (NHTSA), this vehicle had several problems, including interior accessories problems, steering problems, AC and Heater problems, etc.
It is best to avoid investing in this vehicle model.
#3 Worst Year: 2013 Ford Edge
This 2013 Ford Edge model has been asserted to be the worst model for Ford Edge.There are issues with this model that just cannot be ignored.
It is not worth investing in this model because you will pay extra money for repairs and replacements.
By far, this model has the most reported problems of about 600. This model had abundant electrical issues.
With this model, you need to know that the transmission is likely to fail around 80,000 miles, whereas, for other transmissions, this problem occurs after reaching 100,000 miles or more.
In addition to that, you might also end up paying the average amount of $3000 just for repairs. This makes it the most expensive repair cost for any Ford Edge model.
#4 Worst Year: 2015 Ford Edge
The 2015 Ford Edge was not considered to be the best year for Ford Edge.
As there were multiple issues with the vehicle's functionality, many people preferred not to invest their money in it .
Because they would end up having to deal with the problems and not being able to enjoy the ride.
This model had about 137 reported problems and was considered one of the worst and problematic models by Ford.
The main problems buyers face include problems in the dashboard, reverse camera malfunctioning, water, and oil leaks, and one of the rare and most dangerous problems is losing the power steering while driving the vehicle as you will not be able to control it.
#5 Worst Year: 2016 Ford Edge
There are various reasons you should not consider buying this product.
That might make you rethink this 2016 Ford Edge model mainly involves problems with the acceleration and a regular infotainment unit that suffers a lot of numerous complications.
Other issues include the vehicle's ability to use parking assistance technology, which is quite slow. It also does not have enough power.
For example, a Nissan Murano can reach 60 miles per hour more than the Ford Edge. Moreover, the transmission could not produce power when the driver wished to speed up.
And lastly, the infotainment system will also not work and will face problems connecting to the blue tooth.
What Are The Most Common Problems With The Ford Edge?
It is worth telling that Ford Edge got amazing ratings when it comes to reliability. This vehicle got about 3.5 out of 5.0, according to the data provided by Repair Pal.
This vehicle is standing at 11th position out of 26 vehicles in the exact classification. However, there are various problems linked to this model by Ford.
People would recall it multiple times. There have been reports of various problems consumers face, making it less appealing.
So here are the most common problems faced by many people when using different models and their years:
1. Faulty Airbags
This problem commonly occurred for the 2016-2017 models, and it was stated that the airbags would not inflate properly.
They might also separate from airbag assembly. This increases the chances of drivers getting seriously injured.
Due to this problem, the Federal Motor Vehicle Safety Standard (FMVSS) declared this vehicle unsafe to drive on the road.
2. Defective Brake Booster
This problem occurred with the 2007-2015 Ford Edge Model. The reason why this happened was because of different driving situations.
This leads the vehicle to make weird and annoying hissing or squeaking noises when drivers would step on the brake pedals.
Many reports stated that this situation starts to worsen and also influences the braking function of the vehicle, which can be extremely dangerous when driving on the road.
This is why Ford expanded the warranty range for a one-time brake booster improvement policy up to 10 years and up to 150,000 miles.
3. Transmission Problems
The data presented by CarComplaints.com showed that this transmission issue occurred at a typical mileage of 80,850 miles.
To repair this problem, it can cost you about $2900 approximately. This issue happened with different kinds of models.
The transmission slipping can shift from an elevated gear to a low one without the driver's knowing about it, which can be dangerous when driving.
Another problem that might arise is the noises the edge might make. This can happen when you take harsh turns or when the edge speeds up.
Lastly, another problem that might happen because the transmission fails is that it will stop your car suddenly.
You will have to replace the transmission system, which can be quite expensive.
Related: What Are The Ford Edge Transmission Problems?
4. Door Ajar Light That Does Not Turn Off
This problem commonly occurred in 2011 up to 2013 models of Ford Edge. They are well known to have electrical problems that can lead to several interior malfunctions.
The door ajar light staying on means that there are some electrical issues in the vehicle, and even if all the doors are shut, the light will still be illuminating.
This is not just a small problem because it can lead to issues with your battery not charging, leaving the doors opened mistakenly, etc.
If this problem gets serious, it can malfunction all other components in your vehicle. The cost of repairs can start from $400, depending on the commodity and the labor cost.
5. Fuel Tank Defect
This is another issue that should not be taken lightly. This is because a defective fuel tank can lead to a hazardous situation because of fire risk.
This is because the fuel tank can deteriorate because of the saltwater disclosure. This can create leaks in the fuel tank coating welded under the mounting underpinning racks.
Due to this issue, the Ford Company ensures their buyers that if there is a leak in the fuel tank or when there isn't any, they should get their vehicle inspected and will get the fuel tank replaced free of charge.
Related: Why Won't My Ford Edge Start?
Frequently Asked Questions
Q1. What Is The Most Reliable Year For The Ford Edge?
The most reliable and one of the top model years is the 2014 Ford Edge. This is because various buyers have stated that the ride in the vehicle is quiet.
It is also a lot more durable than other vehicles out there. People also mentioned the quality of the vehicle is outstanding and has a sleek appearance.
It is also loved by many buyers because it has relatively fewer problems when compared with other model years.
If you are thinking about buying it, then this vehicle is highly recommended.
Q2. What Is Considered High Mileage For A Ford Edge?
You will not be disappointed to know that 100,000 miles are considered to be high mileage for a Ford Edge. But on great news, a Ford Edge has the ability to endure up to 200,000 miles.
This is a considerable feature that many people would love because you can enjoy the ride and go as far as possible.
But do keep in mind that going over 100,000 miles can create some issues in your vehicle.
There can be various issues in the transmission, power steering, or the engine of the vehicle and must be taken into consideration as soon as possible.
Q3. Is Ford Edge A Good SUV?
Yeah, it is. However, there have been some issues with various models years in the past.
But Ford's main priority is the safety of people driving their vehicle, which is why they designed upgraded versions and fixed their issues right away.
The Ford Edge has an elevated comfortable ride quality which includes a spacious cabin in which passengers can sit comfortably and provide extra storage space as well.
It also includes substantial average tech features, which include the durable SYNC 3 infotainment system and other modern technology.
Q4. What Is The Difference Between Ford Edge SEL And Titanium?
The most significant difference between the two is the Edge and the variants. They both also differ in price, features, functional powertrains, and so on.
Do keep in mind that the Titanium has fewer choices when compared with the SEL, which makes the SEL more flexible so you can customize it easily.
Moreover, the SEL is about $2000 more costly than the Titanium. Additionally, the SEL has a far more powerful engine than the Titanium.
Q5. Do Ford Edges Hold Their Value?
It is stated that a Ford Edge will depreciate about 51% after five years. It is also mentioned that this vehicle will also have a resale value that will be about $17,986.
If you do plan on buying Ford Edge, then it is best to buy the 2020 model as it has the best year value.
Moreover, the 2018 and the 2019 model is also a viable option since they have great value as well.
Conclusion
There you have, I have listed down and explained the reason why they are the best and worst years for Ford Edge.
If you do plan on investing in any of the models, then it is best to invest in the 2014 model since it has a lot to offer and has been used by many people, and has been proven to be a great selection.
As for other models, there might be some serious issues that will lead you to pay a lot of your hard-earned money for repairs as there are various problems with the vehicle that I have mentioned above.
Just make sure that you are researching these vehicles as well so you can have a clear idea.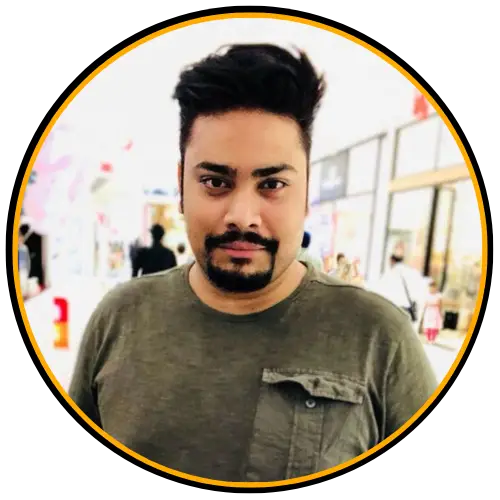 I am Tahir Azam, and I have been writing amazing articles for TaxiHack for as long as I can remember. I know everything that is to know when it comes to automobiles and is always on top of industry news and developments. While I am not an expert by any means, I pride myself on knowing the ins and outs of many different problems and, of course, their solutions. The articles on our website are some of the best and well-researched content that you will find, and I spend countless hours making sure this remains to be true. This is why I ask you to take your time out and read some of my articles, especially if you find a topic that resonates with you or is something you are looking into. This way, you will find the perfect mix of information and tips on your desired topic. Learn more about Tahir.