Audi is well known for its great quality and reliability. It is a luxury German brand that makes amazing cars and is ranked in 4th place for the highest-selling of the luxury brands.
It also has an outstanding sales percentage globally which is a plus point.
This makes them work harder to introduce better models each year. The Audi A4 is a great option for driving in, but you need to know everything about this vehicle beforehand.
You need to know about the best and worst years For Audi A4 and if it is a reliable vehicle or not.
Well, Audi A4 is a reliable luxury midsize car. It has been given 3.5 out of 5.0 for overall reliability and is pretty easy to maintain.
Other than that, here is the list of best and worst years.
Best Years for Audi A4:
2015
2018
2019
2020
2021
Worst Years for Audi A4:
2008
2009
2010
2011
2013
Make sure to read the complete article as I will be explaining in detail, including the features and the reasons so you can have accurate information and be able to understand easily.
Additionally, there will be a buying guide to make things useful for you.
List Of The Best Years For The Audi A4: What Years To Buy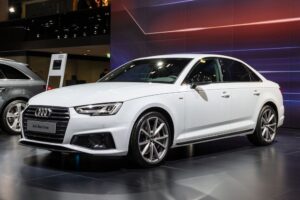 The Audi A4 model is the best model introduced by the luxury German automakers.
It is well known to hold its value as well as reliability.
Both of these things are important to people when buying a vehicle.
With that being said, here are the best models years of Audi A4 below:
#1 Best Year: 2015 Audi A4
The 2015 Audi A4 is a fourth-generation model with barely any complaints submitted to the CarComplaints.com site.
This vehicle was upgraded in size and luxury than their previous model years. It is well known for its excellent performance, making it the best model year for A4.
Since Audi replaced the steel suspension parts with aluminum material, this vehicle's handling was much better and sharper.
Keep in mind that if you prefer buying this vehicle then make sure to go for the four-cylinder all-wheel-drive model.
This is because the 2.0 liters direct-injected turbocharged four-cylinder will make sure to produce around 211 horsepower and 258 pounds-feet of torque.
This makes the 2015 model respond efficiently with no breakdowns and ensures the gears can be changed quickly and reliably. Overall, it is a great and affordable option for you.
#2 Best Year: 2018 Audi A4
There is so much to like about the 2018 Audi A4.
This vehicle has a comfortable and spacious cabin and outstanding driver aid technology, which includes the traffic jam assist and an Audi MMI that contains a virtual cockpit.
You will be happy to know that this vehicle is daily driver-friendly, so you can use it whenever you want and wherever you want.
This vehicle is also well known for offering the best yet balanced driving experiences.
Another thing that people love about this vehicle is the tech features because they are easy to use and do not malfunction at all.
But that's not all, the safety features are so quite remarkable because it includes the standard as well as the optional driver aid features onboard, warning and automatic brake assist and lane-keeping steering assist, etc.
#3 Best Year: 2019 Audi A4
The 2019 Audi A4 is also one of the best models introduced by Audi.
This is because it has the classic luxury interior design that is spacious and comfortable, has high-quality materials, simple to use tech features like the infotainment system, excellent performance, and fuel economy that allows the vehicle to go at great speed amazing mpg.
It is highly suggested to purchase the standard entry-level A4 with a 40 TFSI front-wheel-drive engine that allows the vehicle to hit 130 mph, which is considered the top track speed.
In addition to that, this vehicle will have a 2.0 liters four-cylinder engine that will make the experience so much better because it can produce 188 horsepower and 238 pounds-feet of torque.
Other than that, it has amazing performance ratings and reliability ratings and has no complaints, according to the CoPilotsearch.com site, which makes it a must-have for vehicles.
#4 Best Year: 2020 Audi A4
Now coming to the 2020 Audi A4 model, this is said to be the best model to own, according to the Consumer Report.
Consumer Reports tested this vehicle, but it has such amazing features that they ranked it overall as the best.
The main reason why this vehicle is the best is because of its sporty driving dynamics, even though it is a small luxury sedan car.
It also has amazing yet advanced cabin technology, durable quality, fast and smooth acceleration while ensuring the ride and performance is efficient and safe.
You should know that the engine options were not changed on this vehicle because of how powerful it was and its ability to produce high horsepower.
It also has amazing new design elements that you do not want to miss out on.
#5 Best Year: 2021 Audi A4
The 2021 Audi A4 is among the best choices for a luxury sedan vehicle.
This vehicle is known to deliver the best yet comforting ride, it also offers three durable turbocharged engine options that make sure to work incredibly and provide the best performance.
You will also be happy to know that the gas mileage works efficiently.
Besides that, the all-wheel-drive and other standard features, comfortable interior and great handling capabilities are loved by many users.
Remember that this vehicle does not have an overall reliability rating yet because it has not been tested completely.
But it is worth mentioning it has an outstanding safety and performance rating.
List Of The Worst Years For The Audi A4: What Years To Avoid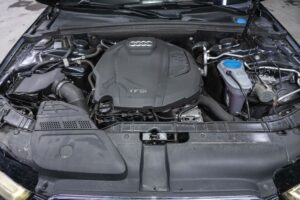 The Audi A4 had wonderful model years, but it also has some troublesome years that you need to learn about.
These models are quite dangerous to drive on the road due to malfunctions, making it hard for people to drive and causing severe accidents.
Now here are the models you should avoid below:
#1 Worst Year: 2008 Audi A4
Starting with the first model, the 2008 Audi A4 has various complaints that were hard to deal with, which is why it is the worst model.
This vehicle is likely to have oil issues, airbags, and climate control system problems. This is because the oil leaks frequently required people to change the oil many times.
Many also faced issues with climate control because the air conditioner might not work properly or not work at all.
Other than that, this vehicle was recalled five times because of the airbags.
This mainly happened due to over corrosion or failure, explosive deployment, and delays. This vehicle has safety issues, so it is reasonable not to purchase it.
#2 Worst Year: 2009 Audi A4
The 2009 Audi A4 also has similar issues to the 2008 model. This vehicle was also recalled five times because of the issues with the airbags.
Other than that, this vehicle has mechanical problems, which is why it is the worst year.
It is worth mentioning that this 2009 model has a bad fuel economy and overconsumption of oil problems that will ruin the driving experience completely.
Many people had to change the oil various times while driving and cause the vehicle to stall or not start.
To add on, you will be left with no choice but to pay a lot for repairs, as said by many people, because if not fixed, it can make things worse and damage the vehicle completely, so if you do not wish to spend your earnings on fixing the issue all the time, then it's best to avoid this model.
#3 Worst Year: 2010 Audi A4
Now the 2010 Audi A4 has various issues with the engine, which can cause other components to malfunction a lot.
This is also why the vehicle consumes oil too much and requires oil change frequently.
According to the Car Complaints site, one owner had to change their vehicle's oil so much that they had to add a liter of oil every 300 miles, which was quite problematic but costly as well.
Other than that, there are issues like warnings or check engine light illuminating, hesitation because of the failed high-pressure fuel pump, vacuum leaks, and issues with the valve cover gasket.
All of these problems can make driving extremely difficult and dangerous. They also cost a lot to fix because engine problems can spread out into other vehicle components.
#4 Worst Year: 2011 Audi A4
The 2011 Audi A4 is the worst model year for various car reviews websites because of its problems.
Most of the issues were mechanical issues that might not work properly or fail altogether because of the engine.
This vehicle has safety issues and poor engine performance that are likely to happen when the vehicle reaches around 60,000 miles on the odometer and does not allow the vehicle to go to high speeds, which is why you should avoid this vehicle.
One of the most expensive issues is fuel economy since the vehicle quickly eats up all the gas. This is why people have to fill up their tanks so much that it would cost them a lot.
#5 Worst Year: 2013 Audi A4
The last model in this list has the 2013 Audi A4, which has over 119 problems reported by disappointed drivers.
The most common issue with this vehicle is the engine and the engine cooling system.
This vehicle also has steering problems as it can get difficult to handle, which can be quite dangerous to drive with.
Many people also reported that the brakes do not work well either, it can be hard to push, or the brakes fail sometimes.
There are too many safety issues that need to be fixed immediately but can cost a lot to fix them.
Like other models, this also has oil leakage problems from the camshaft chain tensioner and the valve cover gasket as it can wear out quickly and needs to be replaced frequently.
If you do not wish to go through these problems, then make sure to avoid this vehicle.
What Are The Most Common Problem With The Audi A4?
There are a lot of issues with the Audi A4 that mainly happen because of the engine.
You also cannot ignore these problems because if they are not overhauled in the early stages, they can grow bigger, and the vehicle will delay or not turn on at all but, most importantly, can cause severe road disasters.
With that being said, here are the common problems you will see in the Audi A4 below:
1. Low Power And Fuel Economy
Due to low power, the vehicle will not perform as you expect because it will stall a lot, and some parts will not be responsible.
This mainly happens with the models that were manufactured between 2006 and 2017.
It also happens with the Audi A4s, which include 2.0FSI, 2.0TFSI, and 3.2FSI engines. It is best to avoid these models with these engine options, as fixing them can cost a lot.
It can cause the check engine light to illuminate randomly and require fixing the intake manifold, ports, and cylinder heads to be cleaned properly regularly.
2. Vacuum Leaks, Oxygen Sensor And Catalytic Converter Issues
If there are issues like these, it will make the check engine light of the vehicle start illuminating, indicating there are some issues.
Other than that, if your vehicle's oxygen sensor or catalytic converter has problems, then your vehicle might fail on the emission test, produce a foul smell and cause the vehicle to lose power.
This problem is likely to happen with vehicles manufactured before 2012. It can also cost a lot to maintain these components, but there is no assurance that they will work accurately again.
3. Engine Oil Leaks
This is the most common problem found in most Audi A4 models. This problem happens when there are issues with the valve cover gasket.
This component can wear out easily, and you might have to change it frequently, so keeping a check on this component is important.
If there are leaks because of the valve cover gasket, it can cause the oil to leak on the spark plug tubes.
This will also cause the check engine light to turn on and off, indicating a problem with the engine.
Keep in mind that this happens mainly with the models manufactured before 2010 and when the vehicle reaches around 50,000 miles on the odometer.
Frequently Asked Questions
Q1. Is It A Good Idea To Buy A Used Audi A4?
Yes, buying a used Audi A4 is a good idea and is quite cost-effective rather than buying a new engine.
Although it will be affordable for you, there will be some issues, and it will require frequent repairs than the new one.
On the other hand, the new are less likely to have wear and tear and have more mileage and performance efficiently.
Q2. Which Is The Best Audi A4 Engine?
It is stated that the best Audi A4 engine is the 1.9 liters TDI engine. It can produce 130 horsepower as well as 230 pounds-feet of torque.
In performance aspects, the 45 TFSI is the best engine option if paired with the automatic transmission since it can make the vehicle go at high speeds and run smoothly.
Q3. Is The Audi A4 Expensive To Maintain?
Yes, the Audi A4 is an expensive vehicle to maintain. Repair Pal says that the average annual repair cost for Audi A4 is about $987.
It is a lot more than the average cost across all brands, by $652. This is mainly because of the issues related to the many parts of the engine and fuel economy.
Q4. How Often Does An Audi A4 Need An Oil Change?
Audi highly recommends changing the A4 oil and the filter from around 3000 miles to 5000 miles.
However, you should also check the vehicle manual and consult your dealer before changing oil.
Keep in mind that this vehicle has an excessive oil consumption issue, so extra care is necessary.
Q5. Which Is Better; Audi A4 Or BMW 3 Series?
The BMW 3 Series is said to be better than the Audi A4. This is because of the full-out acceleration of the BMW 3 series.
However, A4 will provide a more comfortable riding experience and is a lot cheaper but at the same time offers considerable features.
But when it comes to engine and transmission, both are excellent vehicles.
Conclusion
I hope the best and worst years for Audi A4 helped you find the answers you were looking for and now can easily conclude which model is the best one for you.
Although this is a small sedan, it still has amazing features and great performing capabilities that provide sporty feels, which you do not want to miss out on.
Buying the newer models will be more beneficial for you as they are less likely to have issues, drive smoothly, and have a comfortable interior that includes highly efficient features.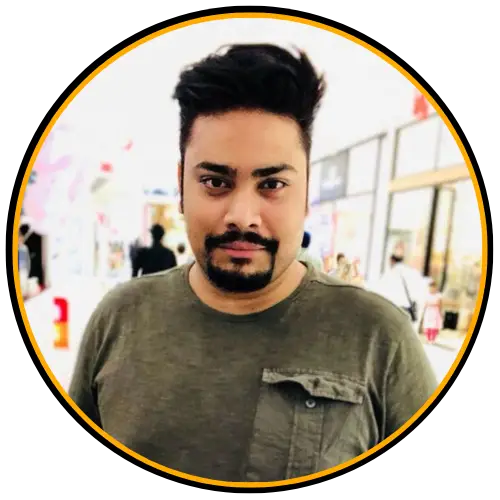 I am Tahir Azam, and I have been writing amazing articles for TaxiHack for as long as I can remember. I know everything that is to know when it comes to automobiles and is always on top of industry news and developments. While I am not an expert by any means, I pride myself on knowing the ins and outs of many different problems and, of course, their solutions. The articles on our website are some of the best and well-researched content that you will find, and I spend countless hours making sure this remains to be true. This is why I ask you to take your time out and read some of my articles, especially if you find a topic that resonates with you or is something you are looking into. This way, you will find the perfect mix of information and tips on your desired topic. Learn more about Tahir.