Did you just install brand new speakers in your vehicle and are not impressed with the sound quality?
The most probable reason for this is the small, underpowered amp used to move those cones. The only solution to the problem is a brand-new amplifier.
This article is dedicated to finding the best 1500 Watt amp for your vehicle. I will be listing seven of the top ones available on the market for you to buy.
There is even a FAQ at the end of this article, answering some of the more commonly asked questions. So, without any further ado, let's begin!
7 Top Rated 1500-Watt Amplifiers Comparisons
1. Planet Audio AC1500.1M Monoblock Car Amplifier
TOP PICK
You are in for a treat with this first product. Planet Audio is the name of the brand which has easily earned the top spot on this list.
The company has earned the same spot on one of my articles before, which tells you how good it is at making amplifiers.
With over 6000 positive ratings, this AC1500.1M Monoblock Car Amplifier easily beats all other products on the market.
It has some pretty great features, which you guys will surely love. The amplifier has been designed for use with subwoofers. They will have all the power to output the bass you want.
The amplifier also takes in high-level inputs. The input will ensure that the radio will transfer maximum quality sound.
The company has included a low-pass crossover which is an excellent addition. The crossover removes the notes that are not in the frequency range of the setting.
As this is a low-pass crossover, the high notes of the sound file will be kept out of the subwoofer. The brand has even added the bass boost function.
You can increase the bass and get the sound to your liking. I know that many of you would like more bass.
Well, there is no other product better than this one at that task. The MOSFET power supply allows the transistors to change their state instantly.
They can go from a conductive state to a non-conductive one within no time. This will greatly boost the efficiency of the product.
There is even short protection built into this amplifier. The amp will shut down if there is a short or if it overheats.
Buyers had only one issue with this amplifier. They received faulty products. The units would either not turn on or stop working after a random period.
It looks like the brand sent them faulty units, which should never be circulated.
PROS
Low-pass crossover
Bass boost function
MOSFET power supply for greater efficiency
Short protection
The manufacturer should tighten up its checking process to ensure that defective units never leave the factory. This causes too many issues for the consumers.
2. Hifonics Brutus BRX1516.1D Amplifier
Coming in a very close second place is this Hifonics Brutus amplifier. With over 800 happy buyers, it is another very popular choice among people.
Now, I know that the number of ratings on this product is close to 1/6th of the previous one, but it is almost equally good in terms of performance.
Let's take a closer look and see what this BRX1516.1D Amplifier has to offer!
I tried to search for details about this amplifier online, but even the company's website has typed in a total of four lines about it.
So, I started to dig deeper, and I could get some information for you guys. The company is using Ultra-Fi MOSFETS for powering up this amplifier.
Now, you may be wondering why this is important?
The transistors in the power supply can switch from a conductive state to a non-conductive one in a fraction of a second.
This quick change allows the amplifier to greatly improve its efficiency. Improved efficiency also means better sound quality.
The built-in LEDs on the amplifier serve two purposes. The green one is the power LED, while the red one indicates its protection mode.
Moreover, the protection mode will turn on if the amplifier overheats or a short circuit in the system. The mode ensures that the speakers and the amplifier will be safe.
The aluminum heatsink does an excellent job of dissipating the outputted heat. So, the protection mode will, most probably, not turn on due to that.
Yet again, buyers had one issue with this amplifier. They complained that it was not working when it arrived.
This is a quite serious issue that can be blamed directly on the manufacturer's quality control.
PROS
MOSFET power supply
Highly efficient
Protection mode
Aluminum heatsink for heat dissipation
The manufacturer should look into these issues and resolve them as soon as possible because sending faulty units to consumers is not beneficial for anyone.
3. Boss Audio Systems AR1500M Car Amplifier
With over 3300 positive ratings, coming in third place is this AR1500M Car Amplifier by Boss Audio Systems.
Like the previous two brands in this article, this one has been checked out and written about by me before.
And before we get into the details of this product, let me tell you beforehand that you will love this amplifier!
Available in 1200, 1500, 1600, and 2000 Watt options, the brand offers true flexibility if you choose to buy this product.
Although I would love to talk about all of them, the article restricts me to discuss only the 1500 Watt one. There is still plenty to talk about.
This amplifier has an impedance of only 2 ohms. It has been proven, time and time again, that 2-ohm amps are stable and produce more power.
The brand claims that the product can utilize all channels at a constant load of 2 ohms. That is seriously impressive.
The amplifier has an A/B topology. This is yet another fact that such amplifiers produce a clear sound that is of high quality.
The manufacturer has used its in-house linear circuitry add-on to reduce distortion while increasing the power output. The result will be a high-quality sound that you will surely love.
Like the previous two products in this article, a built-in protection system ensures the amplifier is safe. The thermal protection circuit turns off the amplifier if it gets too hot.
If there is an electrical short, then the protection circuit will cut off the power immediately. This ensures that the amplifier will stay completely safe.
Buyers reported that there were two major problems with this amplifier. Some received units that were defective on arrival.
Others complained that the sound output was not as advertised.
PROS
2-ohm impedance
Built-in protection system
A/B topology
Linear circuitry for better sound quality
CONS
Defective units sent
Sound output issue
There is no doubt that Boss Audio has made an excellent product. If only it would improve the quality control, the product easily would have earned the top spot on this article.
4. Sound Storm EV1500M Car Amplifier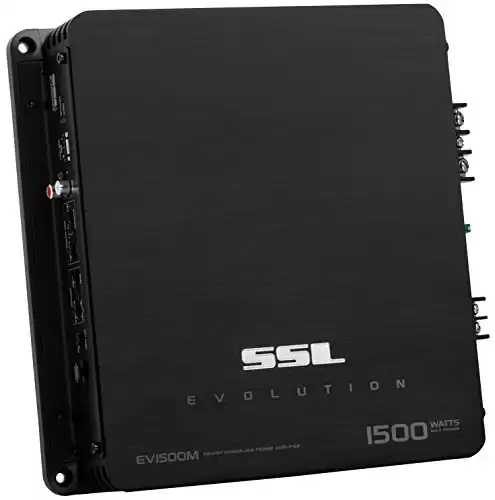 For the fourth spot, I thought that I would choose a product from a brand that is not on many types of radar. I searched and searched and finally found this EV1500M Car Amplifier.
The manufacturer's name is Sound Storm, and chances are you have not heard about the company before. Even I am learning about the company's existence for the first time.
But the product is made very impressive, and I am sure you will like it. Sound Storm offers this product in a few variations.
You can choose from a few different options, with 1500 Watt being the smallest one and 4000 Watt being the most powerful.
Let's take a closer look at the first one!
One great thing included in this amplifier, which we have not seen yet in other products, is a remote control for adjusting the sound on the subwoofer.
Although the remote is wired, it still provides you with an easy and convenient way of adjusting the sound to your liking.
The MOSFET power supply allows the amplifier to be more efficient than ever. This ensures that the amp will work at full power, all while reducing the heat output.
Overheating is a very common problem in car amplifiers. You can't trust every piece of technology nowadays. Even the manufacturer knows that.
So, to prevent damage to the product due to high temperature or a short circuit, the company has implemented a protection system on this amplifier.
The system will ensure that your amp will stay safe at all times.
Buyers complained that their amplifiers stopped working after plugging in or after a week of usage.
This usually means that there is a problem with the company's manufacturing process. Sound Storm must resolve these issues as soon as possible.
PROS
Remote control for sound control
MOSFET power supply for increased efficiency
Reduced heat output
Protection system built-in
If Sound Storm wants to make a difference, it needs to make sure its product is as close to perfection as possible.
Other than that, this amplifier is a great product that will surely exceed your expectations.
5. Power Acoustik RZ1-1500D Monoblock Amplifier
No, that was not a typo; the brand uses a k instead of a c in acoustic. I kind of like that. What I will like even more is what the company has to offer.
With over 200 positive ratings, this RZ1-1500D Monoblock Amplifier is yet another excellent product.
Let's inspect it further to see if it is worth buying or not!
This amplifier has features that I talked about in other products in this article. For example, for powering up the amplifier, the manufacturer has used a MOSFET power supply.
I have talked about this before that the transistors can go from a conductive to a non-conductive, and vice versa, almost instantly.
The transistors used in this specific amp are Audiophile-Grade IR ones. In layman terms, they are high-quality ones.
The amplifier can accept low-level inputs as well. This is possible, thanks to the presence of an RCA port on it.
You can connect an A/V receiver to the amp and won't have any playback issues. As for the high-level input, the company has implemented a Signal Sense Auto Turn On feature.
So, if the source device is turned on, the amplifier will turn on automatically. This saves you some time, as you don't have to turn the amp on manually.
You are also getting a protection system that keeps the amplifier safe from three sorts of dangers.
Whether there is a short circuit, overheating, or even over-voltage, the product will shut itself down almost instantly.
I don't know about you, but a feature like this would give me peace of mind.
Buyers complained that the fuses on the amplifier blew within minutes of installing and using it. This is completely unacceptable.
Although the fuses did protect the main circuitry, there may be some fault causing them to blow. Power Acoustik has to figure this out quickly.
PROS
MOSFET power supply
RCA port for low-level input
Signal Sense Auto Turn On
Protection system
There is no doubt that this is an excellent product. But the manufacturer must look into this issue and resolve it to ensure more buyers don't go through with this again.
6. Rockford Fosgate T1500 Constant Power Amplifier
Arriving in sixth place is a product from yet another highly regarded brand. Rockford Fosgate creates high-quality audio products that are loved by people.
This T1500 Constant Power Amplifier is an example of one of those products. With a solid five-star rating, let's if its offerings are actually worth it.
The brand states that this amplifier is the best of the best. That is a pretty bold claim. This mono amplifier is capable of outputting 1500 Watt of power constantly.
The constant power amps on this product can be up to 25% more than what the competition is offering. This is great news.
So, basically, you are getting a product that can handle heavy loads easily.The amplifier uses a Class B/D topology. Although it is not as good as A/B, it will still provide decent efficiency.
Increased efficiency automatically means lower power consumption. So, the amp will put less loads on the electrical system.
The RCA output ports allow you to pass through audio without any significant quality loss.
This means that you can connect as many accessories as you want and won't have to worry about the sound quality degrading too much.
The Butterworth crossover on this amplifier allows you to customize the frequency level for the subwoofer.
Moreover, the manufacturer guarantees that this amplifier can withstand a beating and will still come out on top.
Even still, there is a two-year warranty with this product. The warranty ensures that you will get a free replacement if any manufacturing fault arises during the course of its usage.
Apart from the product having fewer ratings, there was one buyer that stated that the seller sent him the wrong product.
Contacting the manufacturer and getting a replacement is quite a hectic task. The company should ensure something like this never happens.
PROS
RCA pass-through ports
25% more constant power amps
Two-year warranty
CONS
Fewer ratings
May send the wrong product
Rockford must make sure to send buyers the correct item, or they will not want to purchase from them. Other than that, I would order this amplifier because the brand itself is trusted.
7. TOPSTRONGGEAR Class D Full-Range Amplifier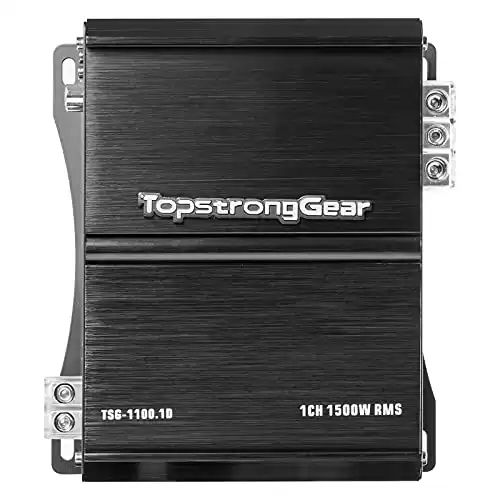 Finally, arriving in the seventh and final place is this 1 Ohm Amplifier by the Brand TOPSTRONGGEAR.
Now, don't confuse the name with Top Gear, which is a pretty popular auto show.
You probably never have heard of the brand before. I learned about its existence when I was searching the internet for this article.
The amplifier features a low pass crossover. The crossover or more commonly known as the filter utilizes an electronic circuit to remove the frequency outside of the set range.
This ensures that your subwoofer will get only low notes. Or else the sound may not be as clear as you would want.
The brand has also added a remote control which allows you to not only control the level of the subwoofer but also allows you to vary the bass setting.
Yes, that's right! The amp can boost the bass by up to 12dB. That is actually very impressive. Both of these things ensure that you will hear the song you like, just the way you like it.
You don't need to rely on the factory tuning that many brands provide with their products. Moreover, the most attractive offering by the brand is its two-year warranty.
The coverage ensures that you will get a free-of-cost replacement if there is any manufacturing defect that arises during the aforementioned time.
This completely alleviates the risk of buying it.
Not only does the product have fewer ratings, but there were also a few unsatisfied buyers as well.
One stated that his unit started clipping as soon as the bass was dialed up. The other complained that the power was not as advertised.
PROS
2-year warranty
Low pass crossover
Wired remote for easy control
I mentioned the brand only because its offerings and ratings were better than the rest of the competition.
It should be on your consideration list, but I would still advise that you choose a product from the top three.
Frequently Asked Questions
Q1. How Many Amps Are 1500 Watts At 120V?
The answer to this question is quite simple and fun to answer. The formula to calculate the amperage is power divided by voltage.
So, 1500 divided by 120 gives you 12.5 amps. This is the amperage required from the battery, so the amplifier can work in a proper fashion.
Q2. Is Planet Audio 1500 Watt Good?
If you skipped the entire article and jumped right into the FAQ, then the answer is yes.
Planet Audio not only earned the first spot on my article, but its amplifier was also my recommendation for all readers looking for a decent 1500 Watt amplifier.
The amplifier also has the most ratings out of all the products I checked out. With over 6000 happy buyers, you can be sure that you will also be one of them.
Q3. You Were Mentioning Types Of Amplifiers. Can You Please Clarify?
Of course. You would want to know which type of amplifier you are getting. The details get pretty confusing. I will be listing the different types of amplifiers.
1. D Class Amps
D class amps rely on digital amplification. Although the final result may not be as clear, D class amps are highly efficient.
They are perfect for longer durations of usage. They work at a lower temperature range and also provide excellent bass.
2. A/B amps
A/B amps are the ones to get if you want to have a 2-channel or a 4-channel setup. These amps provide excellent quality sound, which is where D class amps take the loss.
So, if you are willing to install full-range speakers, an A/B amp will be perfect for you.
Q4. What Should Be My Budget For A Good Amplifier?
There is only one rule in that regard. It is close to impossible to find a decent amplifier under the $100 price tag. Budget amps do exist.
But they have no comparison with proper heavy-duty ones. But, within the $100 to $200 range, you can find exceptionally well-made amplifiers.
Conclusion
I hope that after you checked out these seven amps when it comes to best 1500 Watt amp, you may have found the one suitable for you.
Each and every single one of these products is guaranteed to give you excellent performance and convenience.
If you were to ask me to choose one as my recommendation for you all, then I would definitely pick the Planet Audio AC1500.1M Monoblock Car Amplifier.
Apart from the poor quality control, which affects a small number of units, the product is perfect.
You are getting crisp and clear sound, which will breathe new life into the songs you already listen to.
If you still have questions and confusion, there is an FAQ following this article, which may help you.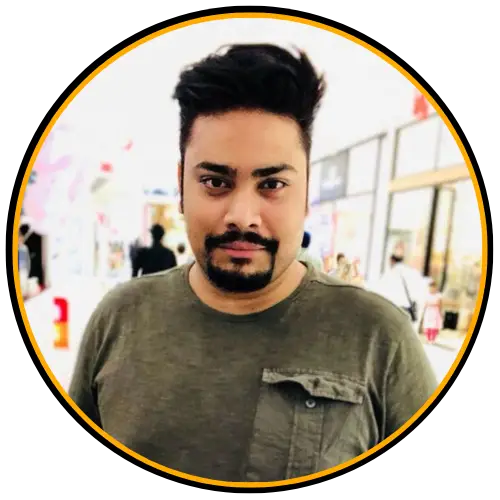 I am Tahir Azam, and I have been writing amazing articles for TaxiHack for as long as I can remember. I know everything that is to know when it comes to automobiles and is always on top of industry news and developments. While I am not an expert by any means, I pride myself on knowing the ins and outs of many different problems and, of course, their solutions. The articles on our website are some of the best and well-researched content that you will find, and I spend countless hours making sure this remains to be true. This is why I ask you to take your time out and read some of my articles, especially if you find a topic that resonates with you or is something you are looking into. This way, you will find the perfect mix of information and tips on your desired topic. Learn more about Tahir.