Mclaren Tooned is an animation by the company, lasting over four years, from 2012 to 2016.
The Formula 1 edition of Sky Sports channel aired these three-minute short episodes before the race.
Over the seasons, it had various cast members, the majority being Formula 1 drivers.
Where To Watch McLaren Tooned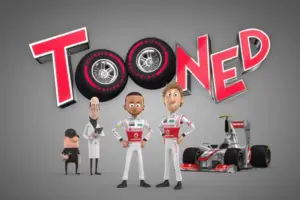 As the original productions' telecasting was done live on the Sky Sports F1 channel, they are still accessible to watch on demand through the Sky Sports F1 website.
Another way to stream it is through the Mclaren Youtube channel, where all the episodes are uploaded and are ready to watch.
All eight three-minute episodes are present as one larger episode, also available on DVD.
Cast
Season 1 (2012)
Lewis Hamilton
Lewis is the company's leading race driver.
He admires racing but considers the engineering and testing mundane and never pays any heed to Professor M. Lewis went AWOL and Sergio Perez replaced him.
Jenson Button
Jenson, McLaren's other leading race driver, is like Lewis. He adores racing but has no interest in testing and finds Lewis' actions amusing.
Alexander Armstrong
Professor M is in charge of McLaren's engineering. He has little patience or calm for Lewis and Jenson.
Also, he is confused and surprised at how they find the engineering and testing plans mundane. Alex appears in all the episodes in the series.
Season 2 (2013)
Sergio Perez
Sergio joined the community and the cast of the production in 2013.
However, Lewis's transfer to Mercedes initiated a replacement for him in the last episode of the first edition. He left the community and the cast by the end of the 2013 edition.
Brian Cox
Named The Mechanic with No Name, a little old man from Scotland narrates the story to those present at the McLaren Technology Center 'The Real Story of McLaren,' which, in terms of Professor M, is forbidden.
Nevertheless, he appears in all the series of episodes in the show.
Mobil 1 Series (2013)
Tony Stewart is known as Smoke in the Nascar community.
He is the 50% shareholder of the Mobil 1 collaborative teams of Stewart and Hass racing. He's also driven the 14-number car before a career-ending injury.
Mobil 1 Series 2 – Oil (2014)
Kevin Magnussen was McLaren's freshly hired rookie with great potential.
Other Characters
The Mechanics have an appearance in nearly every episode. Professor M always kept busy, but they never spoke at all. The main mechanic is Charlie McRae. They have a role in episodes one till eleven.
As the name suggests, the Mayoress of Woking is the leader of Woking. She appears to be a tiny older woman.
However, Professor M wrongly assumes that she barely knows anything about engineering. She has an appearance in the sixth episode.
However, on the DVD, there's a special attack episode where the Mayoress has a swap by Her Majesty the Queen.
The Tour Guide has an appearing role in the first four editions of the first season, portraying tour groups all along the McLaren team's headquarters. She often doesn't shy away from showing off memorabilia from some of the community's star drivers.
Baron von Richtmacher appears in the fifth episode. He was Professor M's archrival when M used to race back in the day. While von Richtmacher was the quickest driver, M still managed to win because of his technical edge.
MP4 RTD-1 (McLaren Project 4 Robot Test Driver) is an AI machine developed by Professor M. He's a backup by M who demands perfection in test drives. There's also a robot avatar of M called the MP4-RPM1.
Nyck, portrayed by Nyck de Vries, is a crew member of the McLaren driver development program. He is fresh and constantly dreams about driving a Formula One car.
However, he usually has to forcefully sit through M's lessons, which he finds mundane. Nyck has an appearance in episodes eight and eleven.
Mika Häkkinen was the 1998 and 1999 Formula One World Drivers' Champion. Mika tells everyone that he is retiring from racing.
Still, it does not take much effort and convincing from Jenson and Lewis to compel him to start again. Mika has an appearance in the tenth episode. However, to everyone's shock, in Season 2, he reveals himself as an Intergalactic SuperHero from planet Sisu.
Ron Dennis, the Chairman of the McLaren team. He portrays a faceless figure with a talking parrot called Cosworth. He has an appearance in the twelfth episode.
Frequently Asked Questions
Q1. Who Made McLaren Tooned?
Tooned was a creation by John Allert, the McLaren Group's brand and marketing officer.
Chris Waitt, Simon Whalley, and Henry Trotter handled the show's writing, direction, and production at visual effects studio Framestore.
Like the first series, Framestore took responsibility for scriptwriting, directing, and animating the show, drawing on cult TV comedy talent to their writing/leading team.
Q2. When Was Mclaren Tooned Made?
The airing of the first episode was on the 8th of July 2012.
This production stayed alive till 2016 with various complications, such as a 2013 renewal. There was also The Mobil Series which also lasted for two seasons.
Q3. What Was Toon 50?
McLaren and Framestore celebrated the F1 giant's golden jubilee in 2013 with the rerun of the very famous and much appreciated Tooned.
This episode tells legends about McLaren from back in the day and stories about their drivers.
Conclusion
Tooned, created by Mclaren and Framework, was an animated work of the F1 comprising various characters and drivers as their cast members.
The entire run lasted from the summer of 2012 till the fall of 2016. It's still a good show for those interested in learning more about the sport.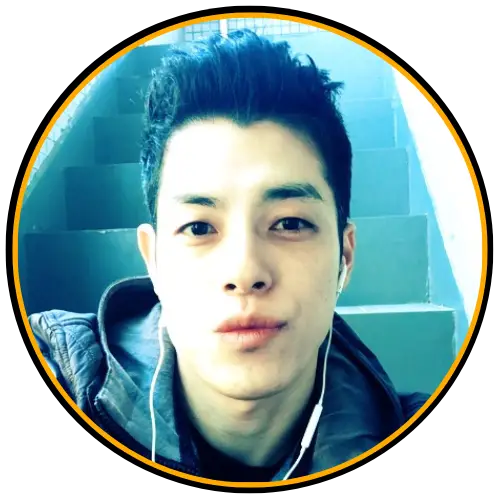 My name is Yusuke Kohara, and I am a passionate SEO expert. I am also the founder of TaxiHack alongside my business partner, Tahir Azam. Our journey began in late 2020 after I escaped the clutches of a despised job in Osaka. Determined to excel, I became a full-time web publisher and directed all my attention toward the growth and development of our site. At TaxiHack, our primary objective is to establish ourselves as the most esteemed automotive media platform, acknowledged by enthusiasts worldwide. We strive to surpass competitors by delivering exceptional content that goes above and beyond. But our mission extends beyond personal success. Recognizing the dominance of large car dealerships, insurance agencies, and rental companies in the online automotive space, we became advocates for smaller businesses and independent automotive web publishers. We firmly believe that with a strategic approach, even modest companies like ours can generate substantial traffic while maintaining a sustainable livelihood. Learn more about Yusuke.