As a parent, it is your responsibility to teach your child how to behave and what he/she should and shouldn't do in a moving vehicle.
There are various ways a parent can keep their child safe.
It is said that according to the studies done in Oregon, almost every car with car seats has been installed incorrectly and not being used by the laws and regulations.
This just increases the chances of getting seriously injured while traveling.
Car seat laws in Oregon explain that children below the age of 2 must be on infant-only or a convertible rear-facing car seat.
Moreover, children aged 2 can also sit on a forward-facing car seat only if they weigh more than 40 pounds.
Other than that, children more than four years old can sit on a booster car seat.
If you want to discover all the details about car seats and when and how you should make the transition, then keep reading this article.
Oregon Car Seat Requirements By Ages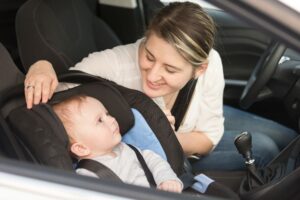 Before you begin, ensure you are familiar with the car seat criteria, which include the child's age, height, and weight restriction.
Many people are unaware of this and fail to follow the guidelines as they are written, putting the youngster in danger.
Let us look closely at this part and see what we can learn from it.
1 Year Old
Starting with the children one year old, you must know that they should always be in the backseat with a rear-facing car seat. They should only be seated on an infant-only car seat.
2 Year Old
When children are at the age of two, they should be moved to a convertible car seat but should only ride rear-facing. Make sure the child is properly bucked.
3 Year Old
Even when they are 3 years old, they should be in a rear-facing car seat. It is known to be the safest position for kids.
Plus, you can make modifications to match the weight and height of the child.
4 Year Old
At the age of four, children have two options. They can either continue sitting on a rear-facing car seat or switch to a forward-facing car seat.
This will all depend on the weight and height of the child, so you should check the manufacturer's requirements.
5 Year Old
At age five, every child should move to a car seat that is forward facing according to the Oregon state law for car seats.
However, this will still depend on the weight and height of the child, so be sure to follow that as well.
6 Year Old
At a weight of 40 pounds or more and a height of 4'9 inches, the child must be situated on a forward-facing car seat.
Only when he/she exceeds the limits can switch to a different car seat authorized by the state.
7 – 9 Year Old
Kids aged 7 to 8 can either sit on a forward-facing car seat or a booster car seat.
They should be sitting in the backseat only, and the seat can be placed in the middle seat of the car. When the child is nine years old, he/she can only sit on the booster car seat.
10 Year Old
At the age of 10, Oregon state law states that children should be on a seat belt. This is because they will most probably outgrow all car seats.
So be sure to do that when they certainly exceed the height and weight limits.
Car Seat Weight And Height Requirements In Oregon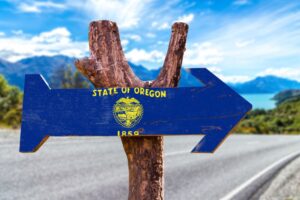 The height, as well as weight limits of a car seat, is something completely important.
This will help you decide when and which car seat you must choose for your child.
According to the law, the rear-facing car seat is for children under 30 pounds to 40 pounds.
The forward-facing car seat is for children over 40 pounds and over 5 inches, whereas the booster car seat is for children weighing more than 40 pounds and height is also more than 5 inches.
Type Of Car Seat Laws In Oregon
There are three sorts of car seats that can be wielded anywhere. These three types of car seats are the safest options since they keep the youngster secure and reduce the risk of injury.
So, without further ado, let's talk about car seats and what they may offer.
1. Rear Facing Car Seat
Children must be secured in child safety car seats until they reach forty pounds, information based on the Oregon law.
As long as the child is within the weight as well as height limits established by the car seat manufacturer, they will utilize the rear-facing car seat.
2. Forward Facing Car Seat
A kid can lawfully ride in a forward-facing car seat once the rear-facing car seat's top limit has been reached.
The forward-facing seat is said to be wielded for as long as the kid is within the height and weight limits or until the child reaches the age of 40 pounds, according to the legislation.
3. Booster Seat
When your child reaches 40 pounds and the forward-facing car seat's weight restriction, it's time to upgrade to a booster seat.
Graduating the youngster to a booster seat should be done gradually.
Continue to use the forward-facing mode for as long as you can. Until they are 4'9 inches tall or eight years old, children must be strapped in a booster seat.
When Is The Time For My Child To Sit In The Front Seat In Oregon?
There is no legislation forbidding youngsters from riding in the front seat.
However, you cannot utilize a rear-facing seat in the front seat. This would conflict with the law's mandate that car seats should be used safely.
What Happens If You Leave Your Child In A Car In Oregon?
Currently, there are said to be no laws for leaving your children inside the vehicle alone.
However, you as a parent should know that the safety of your child should be your main priority.
Thus do not leave your child alone in the car. However, always have at least one guardian with them if you do have to leave them alone.
Taxi Car Seat Laws In Oregon
Child restraint rules are not enforced in Oregon taxicabs.
That is not to say that cabs are not dangerous or that you should not take precautions to ensure the safety of your child.
If you do have to travel with your kid, then do not forget to travel by car seat.
Oregon Law Regarding Car Seats In Accidents
There are said to be no current laws regarding the matter of car seats in accidents.
However, according to the National Highway Traffic Safety Administration, it is highly advised to replace the car seat after an accident because it will not be safe for the child anymore.
Uber Car Seat Laws In Oregon
It is said that all public transportation is exempted from having a car seat. But it is still advised to follow the laws in Oregon.
You can travel with or without it. But if you want your child to be extra safe, then it's sufficient that you take it with you everywhere you go.
Conclusion
Overall, Oregon car seat laws should be appreciated as well as attended to all the time.
By following them, you will be able to protect your child wherever you go, whether in your vehicle or traveling in public transportation.
Other than that, your child would also be more comfortable in a car seat if you start at a very young age.
Moreover, make sure to let the child decide when the right time to transition is because, without their approval, they can be extremely uncomfortable.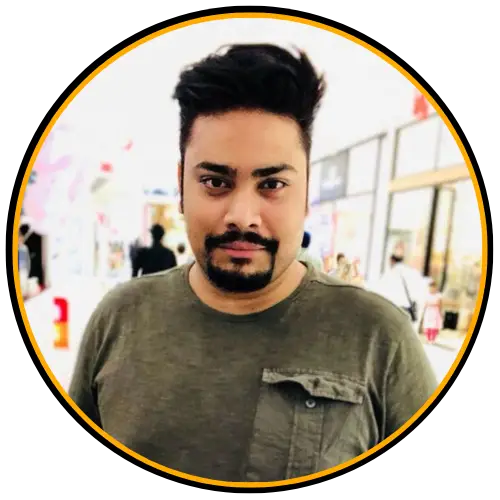 I am Tahir Azam, and I have been writing amazing articles for TaxiHack for as long as I can remember. I know everything that is to know when it comes to automobiles and is always on top of industry news and developments. While I am not an expert by any means, I pride myself on knowing the ins and outs of many different problems and, of course, their solutions. The articles on our website are some of the best and well-researched content that you will find, and I spend countless hours making sure this remains to be true. This is why I ask you to take your time out and read some of my articles, especially if you find a topic that resonates with you or is something you are looking into. This way, you will find the perfect mix of information and tips on your desired topic. Learn more about Tahir.