Maine's child passenger safety legislation makes it mandatory for parents to utilize the best car seats and restraints for their children.
This is accomplished based on various child car seat requirements, determined by factors such as the child's weight, age, and physical developmental requirements.
However, every child must sit in the car seat until it is required.
Car seat laws in Maine appoint every parent to install a rear-facing car seat or forward-facing car seat if the child is around the age of 1 to 4 and weighs less than 40 pounds, as well as a booster car seat for children above the age of 4 and over the weight of 40 pounds.
There are still rules in Maine that you must know before putting your child in the car seat or making a switch.
Make sure to read this article until the end to clearly understand what you can and cannot do.
Maine Car Seat Requirements By Ages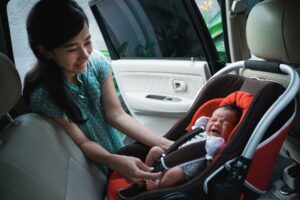 Before starting, you need to clearly understand the car seat requirements, which include age, height, and the weight limit.
This is something that many people aren't aware of and do not follow the rules as they have been set, which can be quite risky for the child.
Let's read this section carefully and apply them regularly.
1 Year Old
The safest position for a child at the age of one is rear-facing. This can be a convertible car seat or an infant-only car seat, depending on the weight and height of the child.
2 Year Old
For a two-year-old child, rear-facing is also the only best choice. It is the safest option because there are fewer chances for serious injuries.
3 Year Old
If your child of three years old hasn't reached the top height or the weight limit, then it is a must for him/her to sit on a rear-facing car seat.
4 Year Old
According to the law, a child that is four years old should transition to a forward-facing car seat.
However, this only applies to kids that are around 40 pounds or less and do not have a height of more than 5 inches.
5 Year Old
Moving on, children at the age of five usually grow up pretty fast.
There will be a physical change, and to meet that, parents must adjust their forward-facing car seat so it can be comfortable sitting on.
6 Year Old
Again, for children at six, the recommended car seat is forward-facing. This is only allowed for children who meet the height and weight limit of the seat.
Some kids might be too big for it even after making adjustments, so they cannot sit on it anymore.
7 – 9 Year Old
It is said that in Maine, children can sit on the forward-facing car seat, which includes a harness, until the age of seven.
Once children are 8, moving them to a booster car seat is best. Check before moving them because your child needs to outgrow the forward-facing car seat first.
10 Year Old
Ensure the child meets the weight and height limits for a booster seat.
Lastly, according to the law, children should sit on the booster seat until they are 13. Plus, for safety, it is required for every child under 13 to sit in the back seat only.
Car Seat Weight And Height Requirements In Maine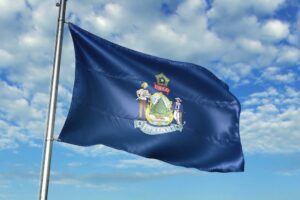 When it comes to the weight and height limits for a car seat, a rear-facing car seat allows for children with heights less than 4'9 inches, and as for forward-facing car seats, children should also be less than 4'9 inches, and the weight limit should be around 40 to 79 pounds.
If the weight and height exceed that, then children must be shifted to a booster car seat.
They can sit on a booster seat for as long as possible until they meet a car seat belts height and weight limits because fitting on a seat belt is really important.
Type Of Car Seat Laws In Maine
There are mainly three types of car seats that are allowed to be used everywhere.
These three car seats are the safest option because it keeps the child secured, and there will be fewer chances of injuries occurring.
So without further ado, let's discuss the car seats and what they offer.
1. Rear Facing Car Seat
Infants and toddlers should be secured in a rear-facing car seat to receive the best potential security.
Until kids reach the automobile's upper height and weight limits, the seat should be placed in the back seat only.
Children under the age of 24 months must be buckled into rear-facing car seats, according to Maine law.
2. Forward Facing Car Seat
Maine car seat regulations recommend that children be fastened in forward-facing car seats once they have outgrown rear-facing seats.
The seat should be positioned on the backside until they exceed the height and weight restrictions.
Children under the age of four and eight who weigh between 40 pounds to 79 pounds must utilize a restraint device. This must be carried out by the manufacturer's instructions.
According to Maine's new car seat legislation, children weighing less than 55 pounds must be restrained in a 5-point harness.
3. Booster Seat
Children who are taller or heavier than the forward-facing seat restriction should be fastened in belt-positioning booster seats.
This must be performed until they are in a position to correctly use the seat belt. It usually happens when they attain 4 feet 9 inches in height and are around the ages of 8 up to 12.
All children under the age of 12 must ride in the rear seat, according to Maine law.
When Is The Time For My Child To Sit In The Front Seat In Maine?
According to laws in Maine, it is safe for a kid who is twelve years old or more and weighs 100 pounds or more to sit in the front seat. However, the kid must be restrained by a seat belt.
When your child is old enough to wear a car seat belt, make sure they utilize both shoulders as well as lap seat belts for maximum safety.
What Happens If You Leave Your Child In A Car In Maine?
In Maine, there is no law prohibiting parents from leaving their children unsupervised in a vehicle.
However, if the child is below the age of 13, then that could be a problem. A passerby can also complain to the authorities because it can be dangerous for a child.
Taxi Car Seat Laws In Maine
There are no restrictions that apply to taxis. However, it does not mean that kid restraint systems should not be used in taxis.
You can take your child's car seat with you and install it in the back seat whenever you ride in taxis.
You must know that accidents can occur at any time, and statistics suggest that the majority of them occur within a 10-mile radius of your home.
So it is best to be careful and make the right decisions before it's too late.
Maine Law Regarding Car Seats In Accidents
The car seats should permanently be replaced after a catastrophic accident. However, this law is not required by Maine law.
Nonetheless, you must know that car seat material can develop cracks that are not evident to the naked eye.
If you use a car seat that has been in an accident, it can be quite hazardous to your kid's safety.
Always toss out any car seats that have been involved in an accident and imprint them with a permanent marker to indicate that they have been in an accident before.
Uber Car Seat Laws In Maine
According to the laws in Maine, it is said that if parents are riding in an Uber with their minor, a child's restraint must be used.
However, the law does not exactly specify who should provide the car seat. But if you have a car seat, then it is best to take it with you and install it in Uber every time.
Conclusion
Altogether, the Maine car seat laws should be respected and fulfilled so no child is put into a serious life-threatening situation.
After all, every parent's main priority should be to protect their child, and one of the best ways to do this is by following the laws set in the state you live in for car seats.
Nonetheless, if someone fails to obey the rules, then they can get in trouble and will be left with no choice but to pay expensive fines as well as fees.
Every state takes its laws seriously and expects the people to understand, after all, they are all set for the protection of the community.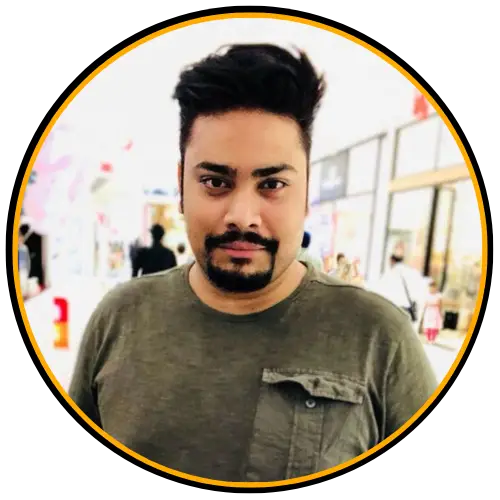 I am Tahir Azam, and I have been writing amazing articles for TaxiHack for as long as I can remember. I know everything that is to know when it comes to automobiles and is always on top of industry news and developments. While I am not an expert by any means, I pride myself on knowing the ins and outs of many different problems and, of course, their solutions. The articles on our website are some of the best and well-researched content that you will find, and I spend countless hours making sure this remains to be true. This is why I ask you to take your time out and read some of my articles, especially if you find a topic that resonates with you or is something you are looking into. This way, you will find the perfect mix of information and tips on your desired topic. Learn more about Tahir.