If your main goal is to buy an SUV over any other vehicle genre, then I would recommend you go for the Buick encore.
The Buick Encore is a small SUV with comfortable and flexible seats.
It is a 5-person car with enhanced technology function and features that set it aside from other compact and small SUVs.
Your must have one question and that must be how long do Buick encores last?
The encores have an average lifespan rate of 200,000 miles which is 13 years in the long run with a yearly usage of 15,000 with ensured durability.
If you judge the vehicle based on the exterior and lifespan rate that the car will impress you, this SUV will be a great investment for you. Read below to find out why is that!
What Is The Average Life Expectancy Of A Buick Encore?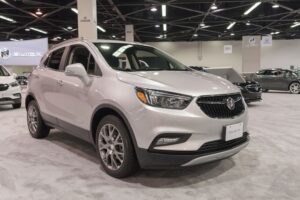 As I mentioned above, the Buick Encore has a lifespan of 200,000 miles which is perfect for a small SUV like it.
Moreover, that is 13 years on the dot if you use it for 15,000 miles per year.
You can also expect a good 2-3 years enhanced in the life expectancy if you take proper care of the car and stay up to date with its maintenance.
Does Buick Encore Last Longer Than Other Similar Vehicles?
The answer to this can be found in a simple comparison format.
I will be comparing three other cars against the Buick Encore to assure you that the vehicle of your choice is the superior one.
Besides the Buick Encore, there are many other choices in the market, but the actual question is which one is safer and smarter to buy.
1. Buick Encore Vs. Chevy Trax
First up, I compared the Buick Encore and Chevy Trax. The Chevy Trax is a heavy competitor of the encore in the vehicle business; hence the car has:
As we know by now, the Buick Encore's average lifespan is 200,000 miles, which offers 13 years of excellent service with a yearly usage of 15,000 miles for an average driver. This is perfect.
The life span rate of the Chevy Trax is 150,000 miles to 200,000 miles compared to the Buick Encore both the vehicles have similar lifespan rates. The Trax also offers 10-13 years of excellent service. I would say both the cars win this first category.
Secondly, the mileage rate of the Buick Encores is 24 MPG in the city and 32 on the highway and a combined total of 27 MPG overall, a pretty standard mileage rate for a small SUV.
The Chevy Trax has a mileage of 26 MPG in the city and 31 MPG on the highway. Comparing the two, I would say that both vehicles also have almost the same mileage rate, yet another point for both the vehicles.
Lastly, both the vehicles have a 1.4-liter four-cylinder engine that makes 148 pound-feet of torque with 138 horsepower. Both the cars also show similarity rates in this third category.
No wonder the Chevy Trax gives such high competition to the Buick Encore. Both the cars have almost the same function and features; hence buying either would be a smart choice.
2. Buick Encore Vs. Nissan Rogue
Next, I have a comparison between the Nissan Rogue and Buick Encore to see which one is better to buy over the other let's find out with quick factors of both the cars.
The Buick Encore has a mileage rate of 24 MPG in the city and 32 MPG on the highway, which, as we discussed before, is an overall standard mileage rating for a good car.
The Nissan Rogue has a mileage rate of 26 MPG in the city and 33 MPG on the highway, with a combined rate of 29 MPG overall. I would consider the Nissan Rogue has a higher mileage rate than the Buick Encore hence a point for the rouge.
The Nissan Rogue has a lifespan rate of 200,000 miles and 12 years with 15,000 miles yearly usage.
The Buick Encores have a lifespan rate of 200,000 miles with 13 years of guaranteed performance. Both the vehicles have the same lifespan rate, which is pretty common in vehicles hence a point in favor of both the vehicles.
The overall rating of the Buick Encore is 84 out of 100 for reliability and 6.6 out of 10 for performance. The vehicle has a low-performance rate.
The Nissan Rogue has 82 out of 100 for reliability and an 8.1 critic rating. I would consider Nissan superior in this category as this comparison proves that the rogue has a better performance rate than the Buick Encore.
Overall, the Buick Encore is an amazing SUV to purchase, but the Nissan Rogue wins this comparison; hence, I recommend the rogue over the encore here.
Related: How Many Miles Can A Nissan Rogue Last?
3. Buick Encore Vs. Ford Escape
Lastly, I have a comparison between the Buick Encore and ford escape. Ford cars are always a market pleaser. Just the name has a lot of power to it, but the actual factor is reliable enough.
The Ford Escape has a lifespan rate of 200,000 miles which produces 180 HP, with 13 to 15 years of excess performance from the car.
The Buick Encore, as we know, has a lifespan rate of 13 years which is 200,000 miles as well. Again the lifespan rate is very similar in both the vehicles; hence I would consider both equal in this category.
The mileage of the encore is 22 MPG in the city and 32 MPG on the highway, with a combined total of 27 MPG.
The Ford Escape has a mileage of 44 MPG in the city and 37 MPG on the highway. Comparatively, the mileage rate of the ford is higher than the Buick Encore; hence the ford escape has more of an advantage in this category.
Lastly, the overall rating of the Buick Encore is 6.6 out of 10 for performance and 84 out of 100 for reliability performance rate is very average, but the reliability rate is excellent.
The Ford Escape has an overall rating of 4 out of 5 in reliability and has a pretty good performance rate as reviewed by the customers. Hence Ford once again gains the point.
If you're looking for a good performance vehicle, go for the Ford Escape; otherwise, the Buick Encore is amazing.
If you're looking for a good performance vehicle, go for the Ford Escape. Otherwise, the Buick Encore is amazing.
Related: Ford Escape Life Expectancy
Life Expectancy Of Buick Encore Car Parts
Buick Encores have amazing and good quality car parts. The same quality parts are used so that the performance rate of the vehicle does not drop.
Below I will be discussing each car part and telling you're their life expectancy, so keep on reading.
Average Lifespan Of Buick Encore Brake Pads
The brake pads of the Buick Encore have a life span rate of 30,000 miles to 70,000 miles. This mileage can vary depending on the driver's habits and vehicle usage.
If you are more engaged in traffic, especially daily, you will need to change the brake pads more often.
Average Life Span Of Buick Encore Battery
The battery of the Buick Encore has a lifespan of 3 years to 5 years. With three years of great performance, the Buick battery will provide excellent outcomes if you keep it safe and sane.
This is only possible if you avoid parking your car in rainy, snowy, or moist weather. The battery of the Buick Encore is very sensitive and easily affected by these factors.
Average Life Span Of Buick Encore Tires
Buick Encore has several tire sizes depending upon the model being released. The tires of Buick Encore are reliable and safe.
They have a pretty good life span, but proper care and management are necessary, such as regular rotation of tires and maintaining provided pressure.
The average life span of Buick encore tires is 50,000 miles lasting up to approximately three years if maintained by the proper pressure.
Average Life Span Of Buick Encore Transmission
Buick Encore's transmission system lasts up to 200,000 miles.
The system should be taken good care of. It possesses 6- a speed automatic transmission being famous and reliable for its smoothness.
It also has been awarded for its good transmission lifespan, so you can easily rely on it to serve you well for years forward.
Average Life Span Of Buick Encore Spark Plugs
The spark plugs of the Buick Encore should be safe and healthy for about 30,000 miles which is approximately two years if the usage is 15,000 miles per year.
Spark plugs are suggested to be changed or replaced after every 30,000 miles anyway, so I would say this is a pretty good lifespan for the Buick Encore spark plugs.
Also, make sure to use good quality plugs as they're also very important for the proper working of the engine.
Average Life Span Of Buick Encore Key Fob
Lastly, the key fob of the Buick Encore has a lifespan of 2 to 3 years minimum and 4 to 6 years maximum. It's not the lifespan of the key fob itself but the little battery that gives it power.
The battery will run out faster if you use your vehicle often and will last a good 4 to 6 years if you don't use the encore that often.
If you are not a big fan of the key fob electrical battery version, then the encore also has standard normal keys to lock and unlock the vehicle.
What Is Good Mileage For A Used Buick Encores?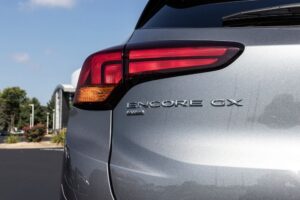 If you've decided to invest in a Buick Encore as of now and a used one, then you need to know what a good mileage to buy a used car is.
Buick Encore has a mileage of 27 MPG combined in both the city and highway, with a lifespan of 13 years that offers 200,000 miles for a well maintained Buick encore.
Secondly, when buying a used Buick encore, make sure that the mileage usage rate is not more than 15,000 miles minimum or 50,000 miles maximum.
The lower the mileage rate is, the better the car will perform. A vehicle with higher mileage will have you looking for a new car very soon.
How To Increase How Long Your Buick Encore Last
There are some factors you need to be aware of about the Buick Encore to increase is life longevity mainly.
People normally ask what more they can do for their car to go beyond its life expectancy.
Well, here are some measures you can take to increase the life of the vehicle:
Drive the vehicle sensibly and only when it's necessary. Over-driving the encores can result in decreasing their lifespan.
Get a car wash often, maybe 2-3 times a month, depending on the area you are living in. A clean and tidy car also does wonder for the vehicle.
Maintain the engine of the Buick Encore. The engine is one of the most important and sensitive car parts; hence you can easily increase the lifespan of the encores if you keep its engine well maintained.
Fix issues as soon as they appear, leading to problems with the vehicle that decreases its lifespan.
Protect the car from extreme weather conditions. It's being too cold or too hot is also not good for the Buick Encore.
Park the vehicle in the garage when not in use this will protect the vehicle from any unnecessary damage.
If you planning to buy a Buick Encore or if you have already bought one then these are some of the steps that should be practiced to keep your Encore going.
Problems That Limit The Life Of Your Buick Encore
Problems with the Buick Encores have been reported numerous times, and it's sad to say these issues don't ever get resolved properly.
Below, I have mentioned some of the problems with the Encores that limit their lifespan:
Faulty engine problems the 2017 model of the Encore was reported to have a defective engine.
Faulty airbags this is a very dangerous issue in the Buick Encore that needs to be looked into before purchasing the vehicle.
Defective seat belts that go loose can also fall under the category of dangerous problems.
Problem with the brake of the Buick Encore has also been reported numerous times. The brake accelerates a lot before stopping the vehicle.
For the faulty radio system, make sure the interior system of the vehicle is well working before you purchase the vehicle.
Problems with the battery not lasting the time it is said to, as well as acceleration loss due to bad turbocharges.
Above mentioned problems has been a part of the Buick Encore for as long as the car has come into being, and not enough proper measures have been taken to resolve these issues completely.
What To Look For When Buying A Buick Encore
What you should look for when buying is going to be discussed. If you've shortlisted the Buick Encore as a choice, then you much like the car enough to buy it.
Let me enlighten you with some facts you need to look into before purchasing the Buick Encore:
Check the mileage rate of the car before buying it, especially when buying a used car.
The mileage rate should be less than 20,000 for the car to provide you with proper performance.
Look for a good-lasting battery. The Buick offers 3-5 years of excellent battery usage.
The warranty should be available for the vehicle. In case of any problems or unexplainable issues, you can easily resolve them.
The engine should be working in excellent condition in the used Buick Encores, so you're not looking for a replacement with an only little usage.
Lastly, check for rust on the vehicle. Rust forms pretty quick on old cars. The interior and exterior of the vehicle should be rust-free.
These factors are important to look for in a car as they will provide you with a better and more enhanced experience of driving with the Buick Encore.
Related: Best And Worst Years For Buick Encore
Frequently Asked Question
Q1. Is The Buick Encore A Reliable Car?
The reliability rate of the Buick encore is 57.15, which is an amazing reliability rate. Almost the majority of the encore models are safe and reliable with a few errors.
Buick encore, I think, is a reliable car with a reliability score of 84 out of 100, rendering it a great A.J.D.
It is rated as 4.0/5.0, ranking 5 of 7 for subcompact SUVs. The damage repair ratio is average. Major rectification errors are uncommon.
Q2. Does Buick Encore Have A Lot Of Problems?
Buick Encore has quite a few problems. The 2015-2017 models is said to possess a few notable problems, including:
Engine issues (2017 Buick encore's engine problem gets pretty worse).
Problematic airbags and seatbelts.
Brake issues – this is a very dangerous factor along with.
Defective radios – make sure to check the interior system of the vehicle.
Faulty batteries are also another common problem.
Lagging in fuel efficiency, this particular issue has also not been solved properly.
Difficulty in folding the rear seats, even though the company claims for the seat to be flexible.
Transmission problems such as delayed shifts and slipping.
These problems add a bad impression on the Buick Encore so make sure to check these before buying.
Q3. Is It A Good Idea To Buy A Used Buick Encore?
It's not a good idea to buy used 2014 Buick Encore because there is a door lock problem in the 2014 model.
Apart from this, there were complaints about dimming dashboard display panels, and the rear camera display took up to 15 minutes to light up.
Owners complained most about its dead battery. It died after being jump-started two or three times.
There was a failing battery that caused a lay in the electrical system, but Buick didn't do anything about it.
Q4. Does Buick Encore Rust Easily?
No, they do not rust quickly. Compared to the corrosion rate of their competitors, the Buick Encores also have no signs of a quick or over-the-top rusting problem.
This is also one of the reasons Encore is popular in the market. Factors such as location and vehicle care will affect the rate at which rust occurs.
So try not to park your vehicle out in the extreme weather.
Q5. Is Buick Encore Expensive To Maintain?
No, Buick Encore is not expensive to maintain. These will cost around $460-$470 per year which is not expensive.
Furthermore, these have amazing reliability score so overall, these are not that costly compared to other SUVs.
Conclusion
Finally, I am concluding this article. This small compact SUV is an excellent vehicle in terms of reliability.
Any rising questions and concerns you had for the Buick Encores are covered in this article, and you can freely read all the above-mentioned factors to see if it meets your vehicle requirement.
I made sure to cover burning questions like how long do Buick Encores last and what their mileage and lifespan are to every car part that the encore has.
Start reading to know more about this luxury and modern take on a small SUV.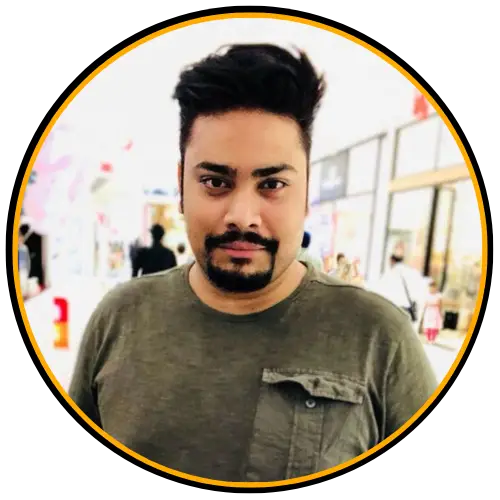 I am Tahir Azam, and I have been writing amazing articles for TaxiHack for as long as I can remember. I know everything that is to know when it comes to automobiles and is always on top of industry news and developments. While I am not an expert by any means, I pride myself on knowing the ins and outs of many different problems and, of course, their solutions. The articles on our website are some of the best and well-researched content that you will find, and I spend countless hours making sure this remains to be true. This is why I ask you to take your time out and read some of my articles, especially if you find a topic that resonates with you or is something you are looking into. This way, you will find the perfect mix of information and tips on your desired topic. Learn more about Tahir.