If you have a truck with the 2011 to 2016 LML Duramax, you must know that it just does not reach its full potential in horsepower and fuel efficiency.
Now, what can a person do to gain that performance back, which you know is possible?
The answer to that question is a tuner and if you are reading this article, then you must know what a tuner is.
So, I have compiled the ultimate lift of the best tuners for LML Duramax, which will give your truck the edge over all other Duramax's out there.
So, without any further ado, let's get straight into it!
6 Top Rated LML Duramax Engine Tuners Comparisons
1. 85400 Edge Diesel Evolution CTS2
It should be no surprise that the number one product on this list is perhaps one that I have reviewed before, and it is a spectacular tuner.
The fact that it is compatible with a vast array of trucks is an example of how good 85400 Edge Diesel Evolution CTS2 is in this category.
Whether you have the GMC Sierra or the Chevrolet Silverado, this one is the best thing you can buy for a massive performance improvement.
The 5-inch display is more than enough for you to control everything there is starting from the screen.
You get real-time data monitoring of everything that if going on with your truck's engine.
You can mount it anywhere you want inside the cabin of the truck, making it easily accessible whenever you want it.
It also supports adding accessories and components, which makes managing everything much easy and simple. The tuner has a simple one-wire connection to the OBDII port.
With this one connection, you can upload the calibrations of your choice, whether you want to go all out on performance or want a better balance between horsepower and fuel efficiency.
Moreover, you can choose from various preset performance levels for a one-click boost for your engine.
The company advertises this injector to provide up to 180 HP and 440 torque. Those truly are insane numbers.
The company is even kind enough to include a one-year warranty that ensures you can get a free replacement if the tuner to receive is defective.
If you feel like it is not performing as advertised or has missing features, you can contact them for a new unit.
Buyers did report that some tunes degraded the fuel average of the vehicle significantly.
That was unexpected and could have been caused by a faulty product or just wrong calibrations. Either way, it causes inconvenience for the users.
PROS
One wire connection
Different preset levels
Clear 5-inch screen
Realtime monitoring
One-year warranty
This tuner by Edge Products is the excellent one out there due to several reasons. It has the highest positive to negative review ratio and gives you a decent performance boost too.
2. Bully Dog 40420 GT-Platinum Diesel Performance Tuner
Coming up in second place is yet another tuner that I have reviewed before.
With over 600 reviews from owners of various trucks, I can safely say that this Bully Dog 40420 GT-Platinum Diesel Performance Tuner is a hit among users.
They have included the term Platinum in the title, states that they know what they are doing. This one is compatible with a vast array of trucks and engines.
It can be used with Ford and GM trucks too. It gives you the perfect balance between power and fuel economy, which is just not possible with the stock settings.
You also get all the things you would expect from a tuner. You get speedometer calibration, which is useful after shifting to tires of a different size.
There is a speed limiting option, which sets a limit, so the truck does not drive faster.
Furthermore, you also get a real-time monitoring feature that keeps you updated with all the important data of the engine. You can also clear DTC codes and reset sensors.
These codes can also be read, so you know exactly what is wrong. Bully Dog has also provided a one-year warranty to ensure you get a replacement device at no additional cost.
You can come forward if the tuner is degrading the performance and mileage of the truck instead of improving it.
You may not even need a new unit. The brand may reinstall the software to clear out any glitches.
Some buyers could not update the product at all. It would not get past the update screen.
Some buyers also complained that they did not notice any observable difference in performance and fuel efficiency.
PROS
One wire connection
Can clear DTC codes
Realtime monitoring
Up to 10 custom tune files
CONS
No observable difference
Does not update
Although this is an excellent product, some people had issues with this product. There is a rare but possible chance that you may experience upgrade issues.
In that case, it would be excellent to get it replaced.
3. DiabloSport 8245 inTune i3 Platinum Performance Programmer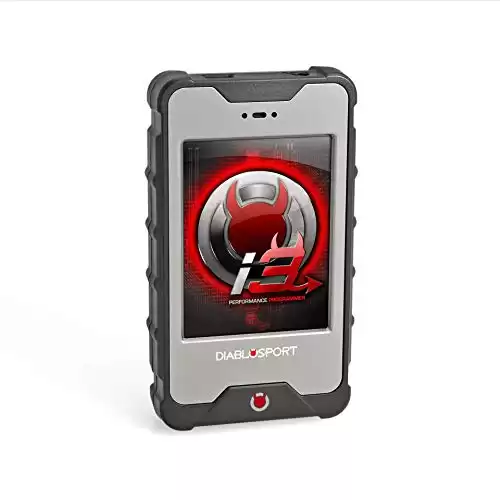 Are you looking for a product that allows you to check all possible boxes you could find in a tuner? Then this programmer by DiabloSport is the one to go for.
It has been created with incredible passion by engineers who have made sure it will please you with its tuning capabilities, allowing you to gain more horsepower.
If you feel that your Duramax engine is not performing as advertised, then the reason for that is the manufacturer has limited its performance to ensure its stability.
If you want to push those boundaries, then all you have to do is plug this i3 programmer in the OBDII port of the truck, and you are good to go.
Moreover, if you are one of those who don't like to mess with things, you will love the automatic adjustment feature in this programmer.
With the click of a button, the tuner will apply all necessary changes which it deems appropriate.
This product truly is a unique one. It also is legal in all 50 states in the USA. Yes, you heard that right. So, no matter which tune you choose to apply, it will be under all legal limits.
And just like the first two, this one also comes with a 12-month warranty which starts from the date of purchase.
You are protected if the product becomes faulty due to malfunctioning hardware. But it does not cover damage or problems caused due to own usage.
Buyers had the same issue with this tuner. It does not update at all, and the Wi-Fi feature also does not turn on.
Although most tuners do have to be plugged into a PC, the idea of getting over-the-air updates is excellent but useless as the feature is disabled.
PROS
Plug and play design
Easy tune mode
Data monitoring
Legal in all 50 states
CONS
Update issue
Wi-Fi feature does not work
I don't understand why the brand advertises features that have not been enabled.
Other than that, if you don't have updating issues, the operation of the tuner is flawless and will surely keep you satisfied.
4. Hypertech 32501 Max Energy Power Programmer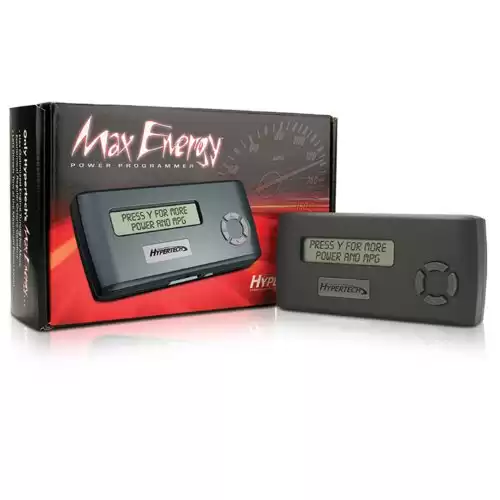 The whole article consists of brands I have reviewed before. The fact that I know and have written about them means that they make solid products.
Hypertech is another one of those companies, and their 32501 Max Energy Power Programmer is the one to go for if you want to squeeze every bit of horsepower from your Duramax engine.
This one is also cheaper than other options, coming in around the $300 price point, rather than $400 or even $500.
But don' be fooled that the lower price means fewer features. The company has packed in a lot of features which will surely satisfy your performance needs.
The company advertises this programmer as the one to set the perfect balance between performance and fuel efficiency.
There are tuning programs installed which will allow you to set the desired power level with one click.
Moreover, they also ensure buyers that all tunes are calibrated to make sure they have a safe EGT.
The company states that you can gain up to 40 horsepower over the stock settings. And you might notice that will accelerate.
Yet again, buyers had issues with the tuner not updating properly.
Surprisingly, this is a more common issue than you would think. Even on the list, three out of four brands have the same problem with their programmers.
PROS
Plug and play design
Cheaper than the competition
Safe EGT levels
Up to 40 HP improvement
Unless brands don't fix the update issues, their products' reviews will take a hit.
If you don't experience that, then you have gotten your hands on an excellent product that will give you a great boost in terms of performance.
5. SCT Performance 40490 Programmer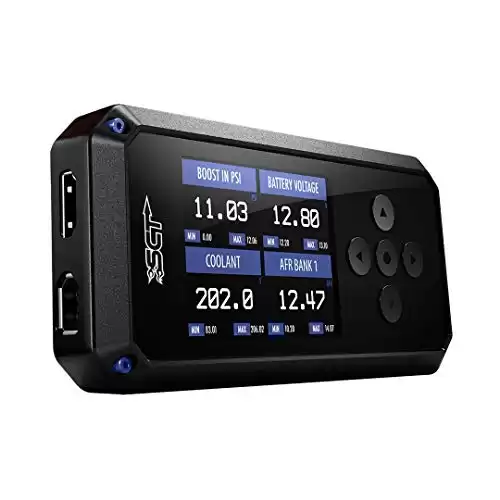 The competition on this article is not coming slow. Coming up in fifth place is another product from a previously known brand.
You know what, I don't need to keep repeating myself as the whole article is like this.
SCT Performance is a stellar company that makes stellar products. This 40490 Programmer is proof of that.
You get the option to tune your engine however you want. You can save up to 20 custom tunes, which is an insane number.
When you plug this beast in your truck for the first time, it backs up all stock settings so you can revert everything when things start getting unstable.
This is the second product which is advertised to have Wi-Fi built inside to update it. This means that you don't need a computer at all to get all the latest features.
All you need is a stable internet connection, and you are good to go. You also get all the common goodies such as data monitoring.
This is a vital feature that allows you to make sure your engine is running without any hitches.
People had various problems with this product. One buyer had his truck's PCM locked up, while others complained about slow flash times.
Some also complained about noticing no difference at all after applying the preloaded tunes.
PROS
Plug and play design
Backs up stock settings
Up to 20 custom tunes
Built-in Wi-Fi
CONS
PCM may lock up
Slow flash times
No observable difference
This product has some serious problems, which can be fixed using software updates.
Most buyers were happy with the product, but there are glitches present that have to be fixed. But, hey! The Wi-Fi on it works!
6. Innovative Performance Chips Power Programmer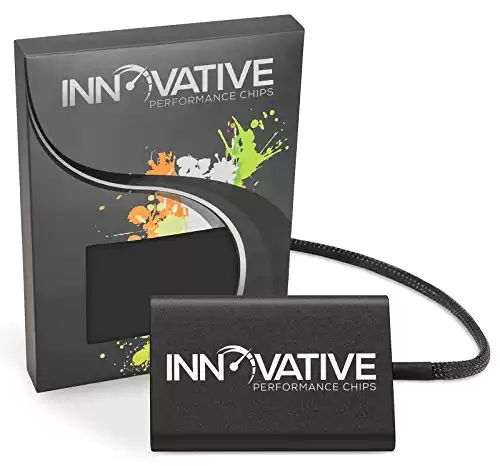 Finally, arriving at the sixth and final position is a product by Innovative Performance Chips.
Although the reviews on it are not pretty, it was better than more than half the offerings from other brands on the market. This tuner is meant for those people who like to live on the edge.
It can tune your truck to a whole new level, with the brand guaranteeing that you will gain up to 35 horsepower and an impressive 5mpg gain.
Those are bold claims, but unfortunately, there are not enough reviews to back them.
Installation is a breeze, just like the previous five ones. It has to be connected directly to the OBDII port under the dashboard.
That's it! You don't even need to open the hood. The company assures that neither does this one implements any permanent changes nor void the vehicle's warranty.
Now, I know you must be concerned about the same thing with the other tuners. My buying guide following this list will answer those questions.
The company provides a lifetime warranty alongside a money-back guarantee too. This is an excellent offering and is one of the main reasons it earned a place here.
Being the cheapest option out of the bunch, it surely doesn't come without faults.
Most of the buyers noticed no difference in performance after installing this product. That may be because it has no controls and does everything automatically.
PROS
Plug and play design
35 HP increase
5mpg gain
CONS
No observable difference
No manual controls
For the price, you can't ask for more. This one has its pros and cons, and if you find the cons too much, I would advise you to claim your money back.
Frequently Asked Questions
Q1. My New Tuner Is Creating Problems For The Truck. What Should I Do?
The most probable reason for that could be a faulty unit. But don't go ahead and claim a warranty even when there is the slightest of fault.
You could troubleshoot the problem by reinstalling the software or contacting the brand's customer support technicians.
If all options are exhausted, your best bet is to contact the company to claim the warranty. The company may get you a replacement or give you a full refund.
But this depends from manufacturer to manufacturer.
Q2. What Is Regeneration Frequency, And Will It Be Affected After Using A Tuner?
Many truck owners don't know that the engine produces soot. It is collected until it reaches the engine's capacity. Then the engine disposes of it.
This is called regeneration frequency. Normally, a vehicle regenerates after a few hundred miles, but with a tuner, that time will decrease.
The reason for that is, when the engine is under load more than ever before, the soot builds up becomes much quicker.
Depending on the setting you use, the frequency may vary. People have experienced up to one-day regenerations. But that happens if you tend to start and stop your truck a lot.
Q3. Will This Range Be Affected If I Use A Tuner?
If you don't spend 24 hours of your time using a tune to gain horsepower, you should not have to worry about your engine giving in early. I am talking about the tuners listed above.
Unfortunately, I cannot say the same thing for other products outside this article, as many have been falsely advertised.
They may lock up the PCM, which controls the operations of the engine. If it gets corrupted, then you may be looking at very expensive repairs.
If you did not know about that, well, now you do. You must always check reviews of products to ensure they will not brick your engine.
No one wants to spend thousands of dollars to fix something they should have seen coming.
Conclusion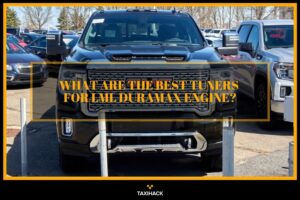 Well, there you have it guys, my take on the best tuners for LML Duramax.
As I told you, I have reviewed most of these products and all of these brands before.
They are trustworthy brands and make good quality products.
But if I have to choose anyone, then I would hand over the crown to the 85400 by Edge Diesel. It is superior to all others and offers the largest gain in horsepower and fuel efficiency.
The 5-inch screen, combined with its impressive tuning capabilities, makes it the best there is to buy for the LML Duramax.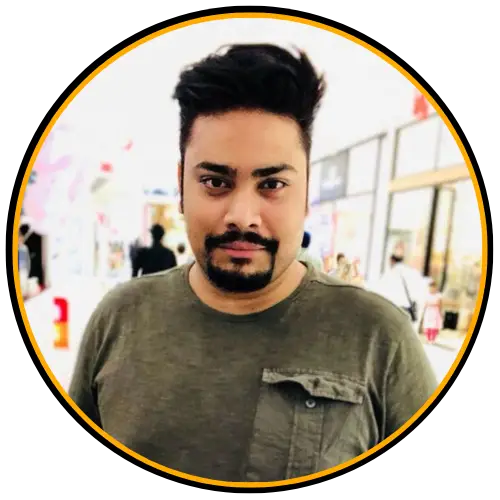 I am Tahir Azam, and I have been writing amazing articles for TaxiHack for as long as I can remember. I know everything that is to know when it comes to automobiles and is always on top of industry news and developments. While I am not an expert by any means, I pride myself on knowing the ins and outs of many different problems and, of course, their solutions. The articles on our website are some of the best and well-researched content that you will find, and I spend countless hours making sure this remains to be true. This is why I ask you to take your time out and read some of my articles, especially if you find a topic that resonates with you or is something you are looking into. This way, you will find the perfect mix of information and tips on your desired topic. Learn more about Tahir.