Seat covers enhance the interior design of the car; the right choice can give an appealing appearance to the car.
They are in charge of keeping the original seats tidy; accidental spillage of liquids such as coffee, water, tea, and cold beverage can result in permanent marks, which is a down chaser for brand new cars.
Lucky for us, there are so many cool and reliable seat covers that are now available in the market that not only protect your car's seats and interior but also give it an elevated look overall.
With my research, I have a whole list prepared of the best seat covers for Ford F150.
From all the important burning questions right down to why each one is important and all the categories it lies in, let's dive right into the world of seat covers.
7 Top Rated F150 Seat Covers Comparisons
1. Clazzio Leather Seat Covers
TOP PICK
My first pick for this list is the Clazzio Leather Seat Covers for your very own Ford F150.
The specialty of this seat cover is that it is installed on top of your original seat without having to remove the original material of the car; it gives a very neat finish after installation.
The specification of these leather seat covers is unique and interesting; these are hand-tailored to perfect, stitched to fit the size of your seat perfectly and with ease, and match the interior and exterior design of the truck.
They come in different colors, materials, and features. Every detail can be customized down to the stitching. The installation process of these covers is made for ease and comfort.
Depending on the model of your F150 and the seats, these seat covers can easily be attached with Velcro, belts, elastic straps, or the original clips 'the plastic hook'.
Moreover, the product comes with menus and instruction cards, so the whole process is easy to do and understand.
These fine leather seats are made from cow leather and use PV material for the outer panel.
These are easily compatible with airbags; in case of emergency, if the side air pads don't work, these will clip off quickly.
Another great feature is that it comes with an extra padding option for the head seater and for the front patch of the seat cover, which provides extra comfort and safety to the driver and passenger.
Most Ford F150 has heating seats, which is a great feature.
Switching the original seat covers for newer covers is fine, but adding new ones on top of the old ones can cause the heating to be slow and time taking.
Everything nice and worthy comes with a price to pay, these leather seat covers are a bit on the pricy side, and if you were intended to get seat covers for all your vehicle seats, the budget could get a little expensive.
PROS
Easy to install
Uses fine leather material
Comes with an instruction manual
Safe with airbag
If anyone ever asks you about seat covers, recommend these, highly reliable, easy to clean and maintain and overall look gorgeous and eye-catching.
These come with just the right amount of padding to keep you comfortable and secure, perfect for long trips and a good time. In this list, my first pick is the best pick.
2. Katzkin Black Leather Seat Covers
The katzkin Black Leather Seat Covers are definitely worth the mention. This seat cover, the material and construction-wise, copy the industry style leather seats.
If you're looking for a cheap alternative for leather seats that will give you that expensive rich look then these covers are perfect for you.
These leather seat covers cover the seats with leather material while the dashboard and side interior parts are covered using leather fabric; this way, you're saving money and getting the same look.
For customers who rather, fancy leather seat covers over other materials and are on a budget, these black leather seat covers get the job done.
As far as the installation specifications go, the original seat covers of the car need to be removed to install these seat covers for a more defined and fine finished look.
Another great feature of these is that it comes in a variety of colors. So if you love leather seat, these are perfect for you; they also come with a bunch of trim options.
Although seat cover installation is easy, getting professionals' help with these is recommended as the original covers need to be removed to install these seat covers for the Ford F150.
The fact that you need to remove the original F150 seat covers to install these is a drawback indeed; losing the originality of the vehicle is disheartening.
PROS
It can be customized
Easy to install
Comfortable and durable
3-year warranty guaranteed
CONS
Have to remove the original seats to install these
Not easily washable
Looking to replace your seat covers with new ones and love leather seats then these are perfect for you.
The finish is fine and neat, and they elevate your vehicle to a new level. The overall look is amazing and quite affordable, in my opinion.
3. Durafit Seat Covers With XD3 Camo Waterproof Endura Fabric
Next, I have the Durafit Seat Covers With XD3 Camo Waterproof Endura Fabric for the Ford F150.
These seat covers are a bit different and offer a wide range of unique features compared to the other seat covers.
These seats are stain and UV-resistant and use the stiffest material for manufacture. These are designed highly waterproof and are super durable compared to the others.
These seat covers are more so for off-roaders who love riding on rocky roads or uneven paths. These car seats are sturdy and comfortable on and off-road.
These seat covers are made of Endura which is driven from woven material and made using polyester that keeps it sturdy and very stiff, providing extra care and giving off a fine finished look.
Liquid spillage does not stain these covers, and the covers have proven to be pet approved, so if you're on your way to an off-road trip bring your pet alone won't be a hassle, which is a great feature.
These seats provide full protection to your car's interior while giving off a sharp and modern look.
The installation process is also straightforward; you don't need to remove the original seat covers as these covers come with straps to keep them in place once installed, keeping the seat covers intact without removing the original cover of the seats.
These also come with an instruction manual, so you can easily install the covers in no time.
So many complain about how the seat covers change color over time due to the sun, claiming they are UV resistant but are not.
The covers don't match the interior or exterior of the car due to its color change which is also a con.
PROS
Washable seat covers
Easy to install
Durable and stiff
CONS
Color change over time
Not UV resistant as they claim to be
These seat covers are more so for off-roaders, and people who love a little adventure can be used for on-road too.
Overall a good pick, their waterproof ability makes them last a lot longer. These are easily washed as the seat covers are attached to the original seat with clips and straps.
4. Exact Seat Covers With DS1 Camo Waterproof Endura
The Exact Seat Covers With DS1 Camo Waterproof Endura are for the folks who are on a budget and want an amazing alternative to the expensive ones.
These seat covers fit the category perfectly—a good material, affordable, and high feature product that everyone on a budget can get around.
The exact seat covers are liquid proof covers and are made from endura which requires low maintenance and can last a lot longer.
Besides these features, this seat cover can deal with the low-level wear and tear of the seats. The Ford F150 released in 2009-11 fits this seat cover model perfectly and with care.
For airbag deployment they come with an open door panel which is perfect; these covers come with enough material to cover both sides of the seats along with the headrest covers.
The rear and dashboard covers are also included. The seat covers are removable and washable by hand as well, which will save you money and time.
The customization process also comes with a zip-on option which is very reliable in case you're a beginner and want an affordable pick for the clips and straps.
Another great feature also includes how easy it is to install; you can slip on this cover over the previous seat covers easily; it has adjustable clips and straps to hold the seat cover in place.
Furthermore, they are easily washable, so if you're a hygienic freak, these are perfect for you on a budget. These seat covers are highly durable and very affordable.
Complaints about how the covers don't fit right, are a bit too small and have a very tight and uncomfortable fit, which is highly unlikely because, after a couple of days of use, it will start to rip from places and have an unclean finish.
Torn and uneven seat covers look blotchy and untidy, which is why this drawback is particularly the worst one.
PROS
Durable
Adjustable
Good quality material
CONS
Too small to fit the whole seat
These are recommended to people on a budget that are looking for a cheap but good quality alternative to the average expensive one.
Many people have said great things about the quality, and some even say it's worth more than what the price is, so overall a great pick for a cheap and affordable seat cover.
5. Seat Covers Unlimited Custom Fit Seat Covers With Digital Gray Camo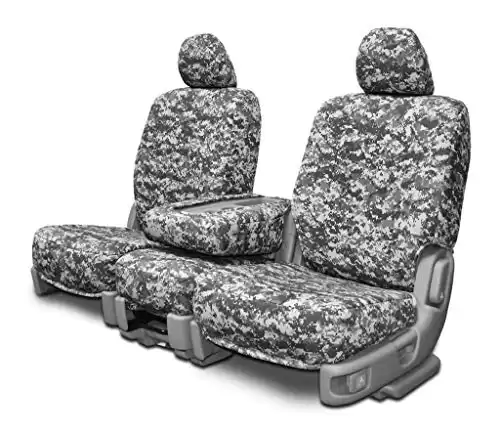 In accordance with the last pick, I have the Seat Covers Unlimited Custom Fit Seat Covers With Digital Gray Camo for the Ford F-150, another reasonably priced seat cover for your truck.
Aesthetic-wise and quality-wise, it is superior. The features and specifications of these seat covers are top notches, and you get a lot for a low price.
The material used is very durable and strong; the fabric is made of neoprene which is very stiff and can last a long time even in intense conditions.
The seats will be fully safe from any liquid spillage. Just like the previous seat cover, this one also claims to be UV resistant.
Vehicles under direct sunlight can cause the seats to decolonize and tear; this seat cover claims to eliminate that factor.
The hassle is simple; no need to remove the original seat covers. These can adjust on top, giving a fine and perfect finish; you don't need professionals to help with installation.
You can easily clip the seat covers in yourself. Another great feature is comfort; the seat covers are fitted with soft pad-like cushions that provide comfort for a long trip.
These covers are also said to be for off-road driving. So for all those off-road lovers, these can also work accordingly but nothing too intense.
A flaw is that the company does not offer a warranty, which may cause problems as the buyer is purchasing the product at their own risk, and not every site can be trusted.
PROS
Comfortable and safe
Easy to install and learn
Good material and durable
CONS
Comes with a little time warranty
Moreover, this is a great pick for a cheap alternative for people who just want a quick and cheap fix; these are ideal for the low price and good quality material use and can be easily installed without any hassle.
6. LUCKYMAN CLUB Front And Back Seat Covers With Faux Leather
My sixth pick for this list is the LUCKYMAN CLUB Front And Back Seat Covers With Faux Leather for Ford F150.
The classy and stylish design comes in many different colors, which gives it a unique custom kick.
These covers are very bling, which gives them a luxury finish that is very eye-catching for your Ford F-150.
Airbags can easily operate as planned as the seat covers don't stretch to the sides and bling only the front and back.
They are made with the finest leather, which is PU leather, very strong, durable, and soft to the touch and feel, which appeals to the eye.
Furthermore, just like any other good seat cover, these are also liquid-resistant so that the seats remain new and clean.
Some Ford F-150 are installed with heating seats; some might find that the seats can warm later than usual this is because of the thick seat cover.
Lastly, these covers also have extra padding for extra comfort and safety.
To use the cup holders in between the seats, you might need to undo the seat covers, but that's only to provide a better finish.
The rear seats are a bit difficult to handle alone. Professional help might be needed, but one can easily figure it out themselves.
PROS
Very bling and stylish
Comfortable and durable
Airbags can easily perform
CONS
The rear can be a bit tricky to install alone
A great pick, in my opinion, you live a little sparkle and sleek finish this is a must-have for you these seat covers provide style with comfort which is not often in the market a perfect pick for all those bling lovers out there.
7. Aierxuan Car Seat Covers Full Set With Waterproof Leather
Last but not least, I have the Aierxuan Car Seat Covers Full Set With Waterproof Leather for the Ford F-150.
These seat covers have a diamond-shaped puffy leather style pattern that can be customized with different trims, colors, and patterns of the driver's choice.
Moreover, this is specifically for crew cab owners of Ford F150. These are made with leather as going with the style premium PU leather seat covers for a fine and fancy finish.
Super durable and strong, and super comfortable, the seats are extra padded and provide safety and protection to the passengers.
These covers fit only the crew cab cord F150, which is why the installation process is very specific and should be followed according to the instruction menu to avoid any mishaps, an average hour or so in particular.
The features and specifications of these are very comfortable and high quality. The trim color can have different cut creases, which will make the seats stand out even more.
The working of these seat covers are very reliable; any spillage of solid or liquid can be easily cleaned as the seats are made of leather material.
Some have complained that the installing process is a bit tricky, and during that period, if not careful, the seat covers might rip, and the rear covers are also not fit.
Most people complaint they had to throw out the rear covers as they didn't sit right on the seat.
PROS
Waterproof seat covers
Easy to install
Highly comfortable
Fine finish
CONS
Installing process is a bit tricky
The rear seat covers are useless
My last pick is a bit unique and for specific Ford F-150 designs, but so worth the price and hassle.
The finished look is worth the work and total recommend to all the crew can ford owners.
I chose this to put last because it's a little bit pricy and doesn't offer a huge range of features as all the other seat covers do.
What To Look For When Buying Seat Covers For Your Ford F150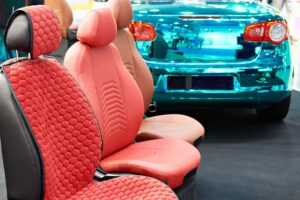 You've just purchased a new Ford F150 and want to ensure it is protected from the inside out.
But with so many options on the market, what should you look for when buying seat covers?
Here are some things to consider before making a purchase below:
The Choice Of Material
There are many different types of materials used in seat covers. You can find covers made from leather, polyester, neoprene, vinyl, or even a combination of these materials.
The most common choice is leather, which provides a durable and luxurious feel to the touch. Leather is also more expensive than other options but usually lasts longer due to its durability.
All of these materials improve the truck's looks, but they have different pros and cons. For example, leather can get very hot during summer days.
When it comes to polyester can be difficult to clean. It stains easily and can become stiff if not cleaned properly.
Some materials also make people sweat a lot, which can get annoying when driving for lengthier periods.
So, consider this too, before buying seat covers for your Ford F150, so you don't buy one which will be uncomfortable to use.
Opt For A Custom Fit Seat Cover
A custom-fit seat cover is the best option to keep your seats looking great.
These are made from high-quality materials and provide a snug fit that prevents them from sliding around while you drive.
Universal ones are great options if you are looking to save some money. They are easier to install too.
It depends on you, but it is recommended to go for a seat cover specifically designed for the make and model of your Ford F150.
Pick A Style That Goes Well With The Interior
Most seat covers are designed to blend in with the interior, so you don't have to worry about them looking out of place.
However, if you want something that stands out and makes a statement, plenty of options are available on the market.
Styles in seat covers can differ thanks to the difference in stitching and the cut of the covers.
Make sure to get the seat covers for your Ford F150 that will be appreciated by anyone who sets their eyes on it.
Ease Of Cleaning
One of the most important things to consider when buying seat covers for your Ford F150 is how easy they are to clean.
Seat covers that have been designed without cleanliness in mind are a nightmare to own if you have children. They can spill liquids, which destroy the look of the seats.
If the seat cover is easy to clean, you can always retain its looks. So, buy one that does not take too much effort to clean.
Frequently Asked Questions
Q1. How Do I Install New Seat Covers In My Ford F150?
Depending on the seat covers you choose, some require removing the original seat covers to install newer ones, while some can easily adjust on the older ones.
Either way, the installing process is different; you might need professionals to help while installing completely new covers and strapping them on can be done alone, which will save you both time and money.
Q2. Will Seat Covers Ruin My Ford F-150 Seats?
No seat covers are meant to enhance the look of the car's interior and exterior layout; if your seats are worn out and old with un-washable stains on them; it's time to change them out for newer ones.
In conclusion, the seat covers do not ruin the Ford F-150 but make them more appealing and eye-catching.
Also, getting an extra padded seat cover can increase the security factor of the seats.
Q3. Should I Put Seat Covers On My Leather Seats?
Putting leather seat covers on the previous seat cover depends on what type of material you choose and what type of material and fabric the older seat covers were made of.
To get a sleek, classier look, it's better to install a new leather seat cover and change the old ones completely.
Usually, the Ford F-150 crew cab comes with leather seat covers and can be customized with other leather covers for a stylish look.
Q4. How Long Do Seat Covers In My Ford F150 Will Last?
Buying a brand new Ford F150, the seat covers will last you a good 2-3 years roughly this depends on how much you use the car, any spillage of liquids that leave stains can cause the image of the seats to be damaged thus you might need newer seat covers sooner to re-enhance the stylish factor of the car.
Moreover, if the seat cover gets worn out quicker due to cheap quality, it's better to switch them out with better quality and material seats, so they last a lot longer than anticipated.
Q5. Do I Need A Seat Cover For My Ford F150, And Why?
Seat covers are important. Not only do they enhance the visual appearance of your seats, but they also boost and lift safety precautions.
Moreover, the Ford F150 has many seat covers available in the market for different customers and can even be customized accordingly.
If your original Ford F150 seat covers are old and full of stains and washing them out doesn't get rid of the stains, it's time you change the seat covers to make the car look brand new again.
Q6. Is There An Exact Fit Guarantee For Seat Covers?
You need to do your research before buying them online; of course, anything bought online through a website that is not the original one is shady; read the reviews check the star rating.
A perfect fit comes from the perfect material. And if you choose to get it professionally done and take it down to the shop for installation, then a perfect fit is most definitely guaranteed.
Usually, when seat covers fit perfectly, they have chancing of tearing, which is very much a con and waste of money.
Q7. What Material Is The Best For Truck Seat Covers?
In my opinion, the best material for making seat covers for your Ford F150 is canvas. It's a synthetic & waterproof.
The best thing is it is not as expensive and can be used roughly, which is a huge plus. It does not last as long as real leather, but that is a sacrifice worth making.
Conclusion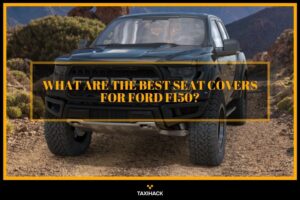 I can conclude this by saying that sleek, stylish, and comfortable seat covers for safety and style can be achieved by investing a little bit in your Ford F150.
The safety and security of a person lie within the interior, so it's crucial to have extra padded seats with comfort.
I listed out some of the best seat covers for Ford F150, and I would most definitely say that the Clazzio Leather Seat Covers are my top pick.
Their top-notch quality and design make them very unique, and they exceed all the other seat covers in features and specifications. Get your right now at an affordable price.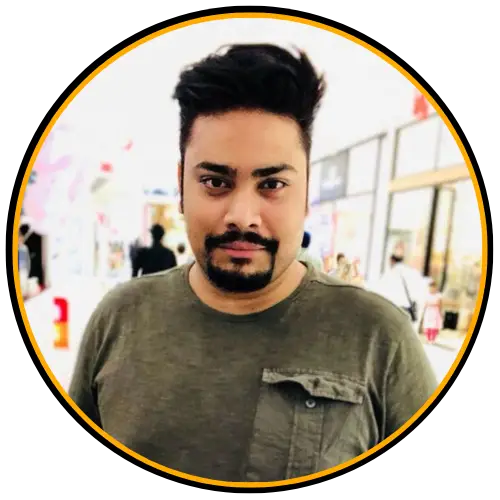 I am Tahir Azam, and I have been writing amazing articles for TaxiHack for as long as I can remember. I know everything that is to know when it comes to automobiles and is always on top of industry news and developments. While I am not an expert by any means, I pride myself on knowing the ins and outs of many different problems and, of course, their solutions. The articles on our website are some of the best and well-researched content that you will find, and I spend countless hours making sure this remains to be true. This is why I ask you to take your time out and read some of my articles, especially if you find a topic that resonates with you or is something you are looking into. This way, you will find the perfect mix of information and tips on your desired topic. Learn more about Tahir.