If you are reading this article, then the chances are that you are looking for a new cold air intake for your Ford truck.
I must congratulate you as this is a great decision and you will be extremely content with your purchase. But that depends on which product you are buying.
The market is riddled with poor-performing products that may harm your engine.
Nobody wants that! That is why I have compiled this article consisting of the best cold air intakes for 6.7 Powerstroke.
You have my word that these products are the best ones on the market, period. You won't go into any issues regarding compatibility or anything else. So, let's get right into it!
5 Top Rated 6.7 Powerstroke Cold Air Intakes Comparisons
1. S&B Filters 75-5104 Cold Air Intake
TOP PICK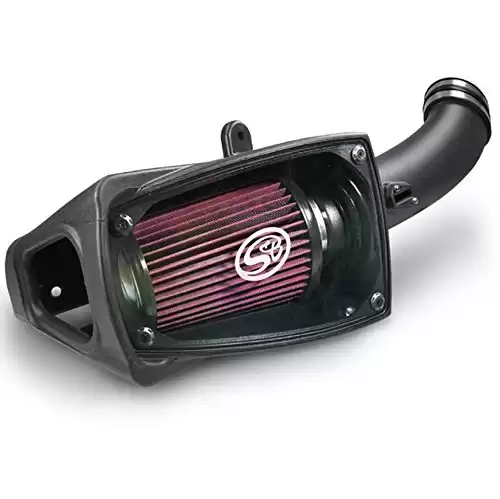 I must clarify that I have written upon cold air intakes for several different engines.
Many brands show up from time to time. But S&B is the only one that has appeared in almost every single one of them.
Not only that, but they also earn the highest positions on the articles, making their products one of the best ones on the market.
Now, the 75-5104 Cold Air Intake is just another example of the brand's experience in this category.
Let's start with numbers!
There must be plenty of you who would rather trust numbers than claims which might or might not be true. I respect that. But S&B is a brand that delivers on those claims.
The company guarantees a 36.98% better airflow than the stock settings. The efficiency of this system is almost 100%, 99.26 to be precise.
This means that you are not losing out on any air. These numbers have been announced after testing the product with the ISO 5011 standard, which is accepted worldwide.
The filter used in this one has 8 cotton layers which will block all dust particulates and contaminants from entering your engine.
This ensures that you will have a pure combustion process that won't be affected at all. The kit has been designed so that you won't ever have to worry about getting check engine lights.
This is a common occurrence in many products which are available on sale on the market.
Combine this with the easy snap-in design of this intake system, and you are looking at an install that won't take any more time than an hour.
Even the filter can be removed without removing the intake tube.
What would you expect from a number one product?
Yes, that's right! This intake system has no drawbacks or issues at all.
So, if you own a 2011-2016 Ford with the 6.7 Powerstroke, you can order this one without any hesitation.
PROS
Easy to install and remove
8 layered cotton filter
36.98% better airflow
Tested against the ISO 5011 standard
Legal in all USA states
S&B filters outdo themselves again and again with each product on their lineup.
Their intake systems are unrivaled, and the competition is not even close. It is the best product to buy, given that it is compatible with your truck.
2. K&N High-Performance Cold Air Intake System
If you are one of the odd ones and didn't like the previous intake system, then this K&N one will surely satisfy you.
This brand is one of those that pop up occasionally but can score a high place every time. K&N is yet another brand whose claims can be accepted blindly.
This High-Performance Cold Air Intake System has been dyno tested to ensure its performance is up to par.
You are getting 50% more airflow, which is more than even the S&B filter.
The 50% gain can be seen when compared to the stock system that restricts air and does not let the engine work at maximum capacity.
With this improvement, you are not only looking at better horsepower but improved acceleration and throttle response.
This is extremely useful for people who use their Ford trucks for towing and hauling.
Okay, so you get all the performance gains you would want from a single upgrade, but all of that can't be felt more dramatically without a new engine sound.
That's right; this intake system provides you with a loud and aggressive engine sound that will be loved by anyone anywhere.
This intake system is also low maintenance. You won't have to worry about cleaning the filters for at least 100000 miles.
Now, this number may vary from person to person, but you can expect values to be close to this.
This is great news as you can drive your truck tension-free, with the assurance that it is getting the maximum amount of air.
Perhaps one of the most attractive offerings of this one is its warranty. The brand provides a whopping 10-year/million-mile warranty with this product.
This means a warranty that will probably outlast your vehicle. This also shows that the company knows how good its product is.
Yet again, this is another product which has absolutely no problems at all. Buyers were nothing short of content with their purchase.
PROS
50% better airflow
10-year/million-mile warranty
Filter needs cleaning every 100000 miles
Aggressive engine sound
If you didn't like this product, then I don't know what will please you. K&N has made a formidable product that has been praised by buyers and reviewers alike.
3. Sinister Diesel Cold Air Intake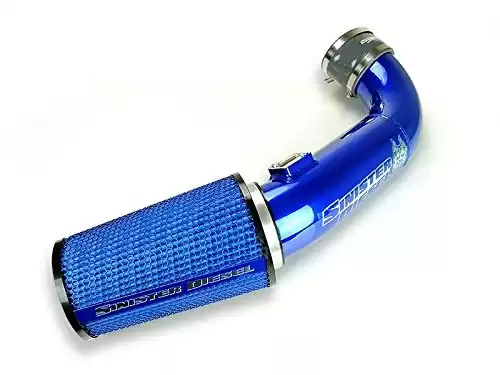 So, you have a newer Ford truck rocking the Powerstroke, and the previous two options are not compatible with it.
Well, I have got you covered! This cold air intake, by the Brand Sinister Diesel, has been designed for all 6.7 Powerstroke engines released after 2017.
It has some pretty remarkable features which will surely be loved by most. One of the main aspects of a good intake is its tubing.
It must be smooth and should have precise measurements to ensure the friction amount is less and maximum air can flow through.
Well, this Sinister Diesel product checks that box. You are getting a tubing that has bent precisely using CNC. Plus, it is made of aluminum which can resist high temperatures easily.
Whether you use your truck for normal driving, towing, or racing, you will notice a significant performance improvement.
Not only that, but you are also getting improved throttle response and turbo spool up as when comparing to the stock intake.
You will have a massively better driving experience, no matter how you use your truck. The whole system is very easy to install.
The drop-in installation, ensured by the engineers at Sinister Diesel, makes the product ready to get within a matter of 45 minutes.
It does not even need complex tools for installation. You probably have all the required tools at your home.
Moreover, the brand even offers a peace of mind guarantee, which is unheard of in the automotive market.
This means that you can have complete peace of mind in case of defects or any issues. You will get a free replacement in that case.
The brand even offers a full refund if you don't like the product. Yes, that's right! If you are not fully satisfied, then the company will take it back. Now, that's a killer offer.
The only drawback of this product, which might be a pretty big one for some people, is that there are no instructions.
A buyer contacted the brand, and they admitted that there are no instructions. This is not a deal-breaker but may certainly disappoint some of you.
PROS
Improved throttle response
Peace of mind guarantee
CNC bent aluminum tubing
Drop-in installation
Although Sinister Diesel has made an excellent product, they disappointed users by not including instructions.
Even if they were, I would still advise that you follow a tutorial on YouTube, as nothing can beat visual representation.
4. K&N Filters 63-2597 Air Intake System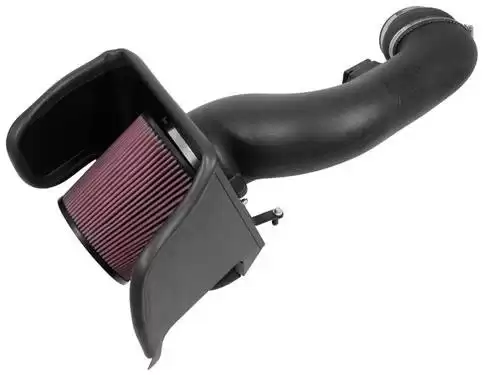 You Ford owners are tough to please people.
If you would like a product from a more high-profile brand than Sinister, then this K&N Filters 63-2597 Air Intake System will surely meet your expectations.
Yes, the brand was able to score two places on this highly competitive list. This clearly says that the brand knows what it is doing.
Instead of aluminum, this time, the brand has used HDPE or high-density polyethylene as the main material for the tubing.
This not only allows more air to flow but also guarantees an improvement in horsepower and torque. No matter your usage, you will get excellent performance in any terrain.
The cotton filter media included in the package has been oiled for optimum performance.
The filter itself is not only reusable but is washable too. So, you won't have to worry about getting a new one if the existing one starts clogging up.
You won't have to worry about anything for a long interval. The brand claims that the filter can go up to 100000 miles in a single go. You don't need any servicing in between.
Furthermore, the manufacturer has also included a heat shield that protects the intake from the scorching temperatures of the engine.
These temperatures can damage the product, but the custom design shield will help with that.
With all of these features, you would expect the system to be difficult to install. That is a completely wrong assumption.
The whole system can be installed in under two hours, which is more than some other products on this list, but hey, these features are worth that time.
Perhaps the only caveat of this product, apart from its low ratings, is that it may not be legal for use in the state of California.
The brand did not clearly state it, but it is not worth the risk to find out. Apart from that, you can drive it wherever you want without worrying about getting into legal issues.
PROS
Easy to install
Included heat shield
Can work for 100000 miles without servicing
Polyethylene tubing
CONS
Fewer Ratings
It May or may not be legal in the state of California
The brand should clarify if a product is fit for use in some areas.
Apart from that, I would not worry about the low number of ratings because K&N Filters is a reliable company that people highly regard.
5. Spectre Performance Air Intake Kit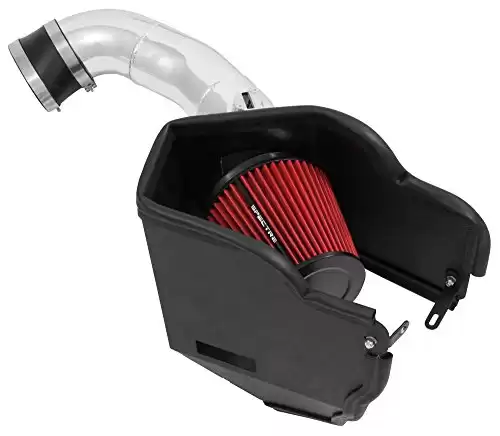 The whole article consists of products from brands that I have listed before. These brands have shown again and again that their products more capable than any other on the market.
Well, coming in the last place is yet another product from such a brand. Specter Performance is a manufacturer which popups occasionally but manages to impress me every single time.
This Spectre Performance Air Intake Kit, just like the first K&N product, offers up to 50% more airflow. This is when compared to the stock filter, and the difference is quite massive.
You will notice that while driving. You can experience better horsepower, torque which will lead to improved acceleration and throttle response.
This is great for people who use their trucks for towing or heavy-duty purposes.
Another common issue with aftermarket intakes is getting dirty quite quickly and letting harmful contaminants pass through.
Well, with this intake, you won't have to worry about either of them.
According to the company, they push limits to keeping the engine clean and clear from all harmful particles in the air.
The kit also needs maintenance every 100000 miles. This makes it extremely easy and convenient to use. You would need maintenance every two years, give or take.
This number may vary according to the usage scenario, but the filter's purpose is to install and forget, which it fulfills.
One main thing buyers look for in intakes is the ease of installation. This intake has been engineered for that.
Thanks to the people's hard work at Spectre Performance, you are getting a product that can be installed in a bolt-on installation.
Forget a mechanic; you don't even need complex tools to install this system in your vehicle.
This product has fewer ratings. One buyer stated that the intake caused poor fuel economy for their truck.
This is unacceptable as it should only increase performance without compromising on anything.
PROS
Easy to install
It needs cleaning every 100000 miles
Improved horsepower and torque
Better acceleration and throttle response
CONS
Low Feedback ratings
May affect fuel economy
The fact that that this product may affect fuel economy may scare most of you.
Plus, this intake does not have any unique features. That is why I would advise you to check other products in this article.
Frequently Asked Questions
Q1. Does A Cold Air Intake Make A Difference On A Diesel?
Of course, it does. Or else I would not have spent time writing this lengthy article.
Let's see some of the main advantages of installing an intake on an engine, such as the 6.7 Powerstroke!
Increased Acceleration
Now, some people confuse this with speed. No, the intake will not increase the speed limit of your vehicle.
Improved acceleration means that you will be getting better responsiveness when you push on the pedal.
The truck reaches the desired speed in a much quicker fashion, which means the acceleration has improved.
Improved Gas Mileage
This is another major advantage of cold air intake. Factory intakes restrict oxygen supply to the engine. This means the fuel is not only consumed more but is also not burned fully.
This increased toxic emissions too. Getting the required amount of oxygen means that the engine will consume less fuel.
These are two of many other benefits of installing an aftermarket cold air intake. If the product is reliable, then you are looking at a vastly improved performance difference.
Q2. How Much Horsepower Does An S&B Cold Air Intake Add?
I will be broadly answering this question, considering all intakes on this list. Each manufacturer guarantees an improvement in torque.
You can expect a difference of 5 to 30 HP with a product from a reliable brand. In layman terms, the engine can breathe easier, so you will see some improvement.
Q3. Will A Cold Air Intake Make My Engine Louder?
In the case of the 6.7 Powerstroke, yes, the engine will sound more aggressive. I don't know about you, but I certainly love that sound.
You will feel the power coursing through the body of the truck, thanks to the vibrations. Although some of you may not like it, most buyers buy an intake to get that sound increase.
Conclusion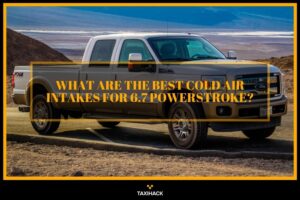 Have you decided yet?
You should take your time as choosing a proper upgrade for your vehicle is a difficult task.
Out of all, I would easily rate the S&B Filters Cold Air Intake as the best cold air intake for 6.7 Powerstroke.
The fact that it has no drawbacks automatically makes it one of my top recommendations.
But it does not end there. You get around 40% better airflow and 100% efficiency. This makes it the product to buy if you want to increase horsepower and torque without breaking the bank.
Regardless, as long as you buy any product from this list, you will be more than content with your purchase.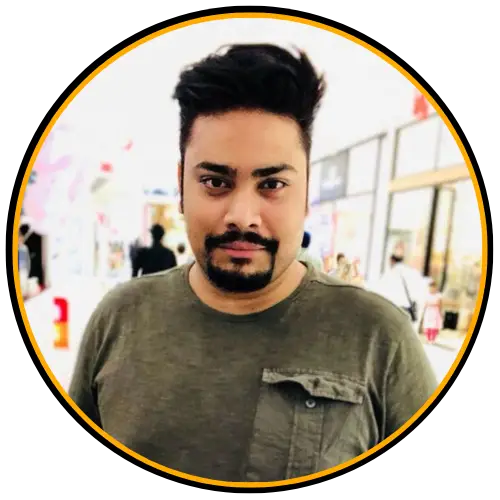 I am Tahir Azam, and I have been writing amazing articles for TaxiHack for as long as I can remember. I know everything that is to know when it comes to automobiles and is always on top of industry news and developments. While I am not an expert by any means, I pride myself on knowing the ins and outs of many different problems and, of course, their solutions. The articles on our website are some of the best and well-researched content that you will find, and I spend countless hours making sure this remains to be true. This is why I ask you to take your time out and read some of my articles, especially if you find a topic that resonates with you or is something you are looking into. This way, you will find the perfect mix of information and tips on your desired topic. Learn more about Tahir.