Making its debut after replacing its previous series, the Subaru Legacy, the Subaru Outback was marketed as an alternative to the average sports utility vehicle and later grew to the size of crossovers, offering many of the features which any normal SUV and features more of its twists and unique traits.
Cargo space is huge already, but cargo space can quickly dwindle as more luggage and items are piled in the trunk and the back for larger families who travel a lot.
Things can start to get crowded pretty quickly.
The solution is buying the best cargo box for Subaru Outback, which can easily store all of your items, small equipment, and luggage and place them on the roof of your car for easy and convenient storage.
7 Top Rated Subaru Outback Roof Storage Comparisons
1. Thule Motion XT Rooftop Cargo Carrier
TOP PICK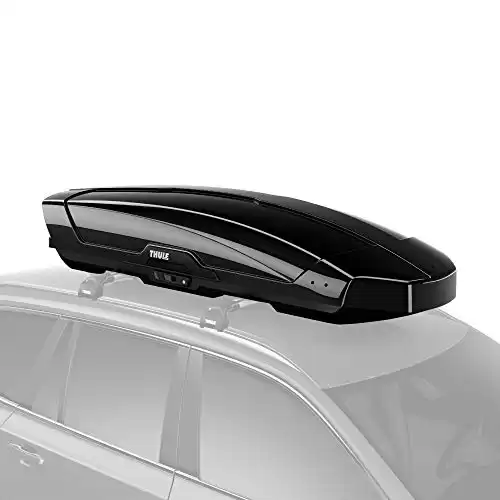 Thule is a Sweden-based company that specializes in producing storage units.
The company was founded in 1942 by outdoor and travel enthusiasts who aim to be able to make traveling for other enthusiasts like themselves.
Be they carriable bags or detachable car carriers, Thule assures you the highest quality with their products.
Their product, the Thule Motion XT Rooftop Cargo Carrier, is among one of the company's best rooftop carriers. This is because it allows for a lot of space for storage.
It is the perfect addition to your vehicle if you have a big family or friends who go out on trips a lot. This carrier is designed to be aerodynamic.
This allows the wind noise that you face to be reduced as an added advantage to the storage that it provides. At times you might even forget that it is even there.
This carrier does not seem to have any significant effect on your fuel consumption either. This installation process for this rooftop carrier is easy, and once installed, it is very secure.
You would not have to worry about buying a specific set of roof bars for your vehicle, as the mount that comes with this product fits perfectly on most of the factory-installed racks on most vehicles.
The lid on this also has a locking mechanism. The lid locks in an open position when it is opened so you will not get hit in the head when getting some luggage out of this carrier.
Once closed and locked with your stuff inside, it becomes airtight, keeping everything inside waterproof in case you have to drive through the rain.
The one problem with this is that the build quality of the outer / finishing material is not too good. It tends to start cracking after about two years of usage.
This does not mean that it will not be waterproof on the inside anymore. It just will not look as good.
PROS
Easy to install
Aerodynamic design
Inside is waterproof
locking mechanism in the open position
CONS
Appearance starts to wither out over time due to cracking
This one is for traveling enthusiasts mainly as it provides some good space and allows for efficient storage of your luggage.
However, be aware that it might start to fade out after about two years.
2. SPORTRACK SR7095 Cargo Box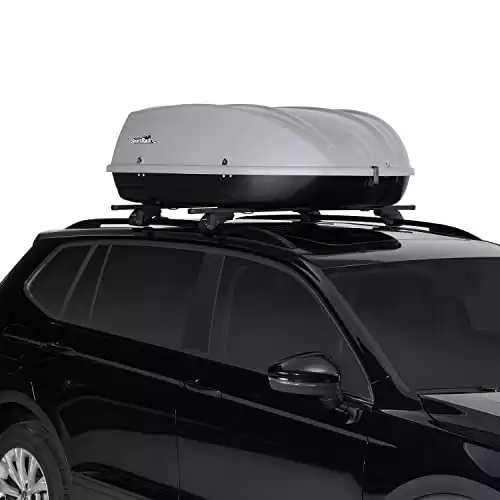 The SPORTRACK is another famous brand name among the community of outdoor enthusiasts. It is an offshoot of the Thule Group and makes very similar products.
This company is a Canadian manufacturer, and they make all sorts of products, from cargo and ski boxes to rooftop cargo baskets and boxes.
The category latter is where the SPORTRACK SR7095 Cargo Box is a part. This carrier is nuts with the amount of space that it provides.
It has a storage capacity of up to 150 pounds which is a lot even if you have a lot of luggage that you need to stow away while you are out on a drive.
This cargo box is advertised specifically for its high durability. This is because SPORTRACK uses a high-density material to make this carrier.
Moreover, this makes it rugged and strong enough to store anything you throw in it.
The inside part of this rooftop carrier has been designed to have an advanced locking mechanism for anything put inside it when the carrier is closed.
This means that you will not have to worry about your luggage moving around. This also decreases the possibility of it being damaged while you are on the highway.
The Installation process for this rooftop carrier is made extremely straightforward with the new U-belt hardware.
This, along with the mounting system, makes installing and disassembling a process that can be done in minutes.
This is unlike most of the rooftop carriers of this size, so this is quite an impressive feature for it to have.
The weight of this carrier can be a problem. This is mainly due to the aforementioned high-density material that the manufacturer uses to make this carrier so strong.
The design for this thing is not exactly the sleekest one that you may find out there.
PROS
Strong, sturdy, and rugged
Advanced luggage locking mechanism
U-belt hardware makes it easy to install and disassemble
Good max weight capacity
CONS
Not too aesthetically pleasing
Quite heavy
I would recommend this one to anyone who wants a lot of extended storage on their car because the large storage capacity is something to go for.
3. INNO BRA1210BK Shadow Cargo Box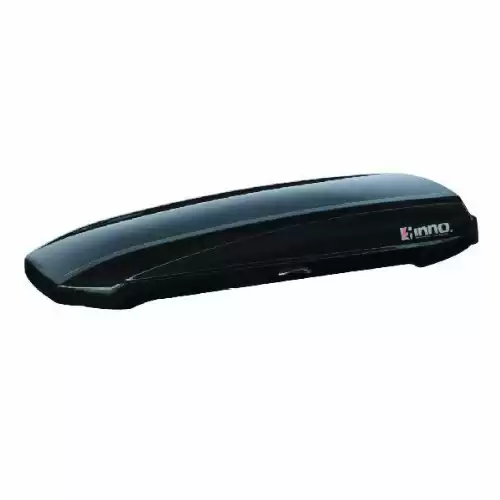 The INNO is one of Japan's top vehicle rack manufacturers. Since this company is a division of one of Japan's biggest companies, Car Mate, Inno leads the auto rack market.
INNO is known for the quality of its products due to their attention to detail and the extensive amounts of testing done to make sure their products are ready for the harshest of conditions.
A testament to their quality products is their INNO BRA1210BK Shadow Cargo Box.
The first thing that catches the eye of this rooftop carrier is the sleek design that makes it look like a bullet.
This design makes it aerodynamic, which helps in reducing wind noise while driving. It also does not affect the vehicle's gas mileage that it is attached to.
This carrier allows for a dual-opening mechanism that allows you to open it from whichever position is convenient for you in any given situation.
This is good because it will be safer for you to open it from the side opposite to the driver's side on a highway.
The carrier has an interior space of about 13 cubic feet. This can allow you to easily store about six snowboards or 16 skis (8 pairs) in there.
Furthermore, this makes it the perfect choice for someone who is part of a group that goes out for winter sports.
It also has three layers of construction and an advanced internal locking mechanism.
This will keep your luggage waterproof, but this also allows the luggage in the carrier to be extra secure in case of a bumpy ride.
So you do not need to be worried about it getting damaged.
It also allows for custom installations for vehicles.
INNO's carriers are compatible with most of the racks on the market. However, there are still many racks that they do not fit on.
In this case, you would have to get custom-fitted racks to go with your carrier. This, along with spending extra money, makes the installation a longer process.
PROS
Aerodynamic, reduced wind noise
Three layers of construction
Dual-opening mechanism
CONS
Sometimes requires custom fitting
Tricky installation
If you are a travel enthusiast, specifically if you are into winter sports, then one is for you.
Keep in mind that you should check your rack's compatibility with this carrier before getting it.
4. Thule Pulse Rooftop Cargo Box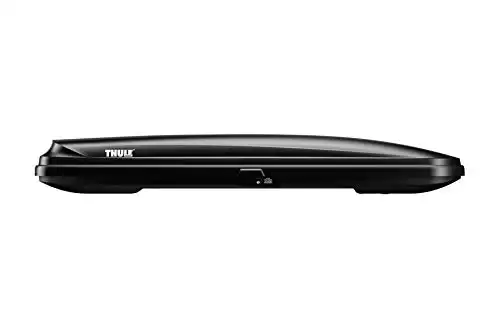 You can easily tell that a company has a reputation if they make a list more than once.
And that is exactly the case with Thule's products, as I have another one of their rooftop carriers to present here.
They are high-quality and overall good products which deserve a few spots on this list.
The Thule Pulse Rooftop Cargo Box is the rooftop carrier with the target demographic of wintering aficionados.
This is because this carrier, despite having the capability of holding other things, is specifically designed to hold equipment like skis and snowboards, etcetera.
With this carrier, you can easily fit up to 5 pairs of skis or up to 6 snowboards.
The 15 cubic feet stowing space with a length of 6 feet allows you to store other kinds of luggage that you need to store.
The SKS locks featured on this carrier make it extra sure that the contents inside are secure. However, it comes in two other variants if you need different specifications.
Speaking of security, if you want your belongings to not be damaged, you are in luck.
This is because this rooftop carrier also features an internal locking mechanism that holds the luggage in place when the lid is closed.
Lastly, this lid can also be locked into an open position, which allows you to easily access your luggage. Design-wise, this rooftop carrier has a very sleek and glossy finish.
This adds to the aesthetic points of this already aerodynamic bullet-like look of this carrier. The design looks good enough to contrast whatever color your Subaru Outback is.
The only problem with this one is that the material used to make this is plastic.
If it is not secured properly, it is prone to crack, or worse, even completely break off while you are driving.
So it is important that this carrier is installed perfectly and that there are no loose ends.
PROS
Available in multiple variants
Good looking design
Internal luggage locking mechanism
Open position locking mechanism
CONS
The material is plastic and can crack or break easily
With this one, you mustn't go over the weight limit if you are using it for anything other than wintering gear. The Plastic material can break, which can be dangerous on a highway.
5. YAKIMA SkyBox Aerodynamic Rooftop Cargo Box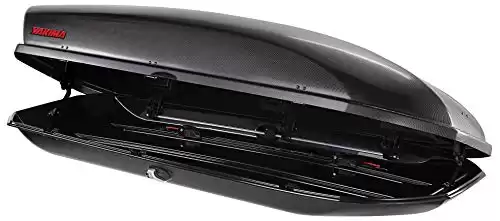 The YAKIMA is a company based in the North West Pacific, founded by people fond of outdoor activities. For almost 40 years, the company has provided outdoor and support equipment.
They claim that you can have the freedom to wander without worrying about their products. Among their great products is the YAKIMA SkyBox Aerodynamic Rooftop Cargo Box.
Made to be used in outdoor activities, this carrier allows you to track it from rough and rugged terrain or through wet rainy areas.
You will not have to worry about your belongings being damaged at all. This is because this rooftop carrier is designed to be super durable and waterproof.
Along with this, the design of this carrier is also made to be aerodynamic. This will help with reducing the wind noise that you may face while driving on the highway.
Along with that, it also means that it will not affect your vehicle's fuel consumption. It comes in multiple different variants.
Each of these variants allows for different storage sizes. The base model has 12 cubic feet of space.
However, if that is too little for you, there are also the 16, 18, and 21 feet variants available for you to choose from as well.
The specific kind of luggage that this rooftop carrier is made to hold is outdoor activities equipment.
These can include things like skis and snowboards. With the available 6 feet of available storage space, no matter what variant you have, you can hold a bunch of these in there.
That does not mean that it cannot carry other stuff as well. It most definitely can.
This rooftop carrier is on the heavier side. Its weight comes in at 54 pounds.
Along with this, it also has bigger size of dimensions 94 inches by 29 inches by 8 inches. These things combined make it a bit of a challenge to install.
PROS
Efficient for holding outdoor equipment
Strong and rugged design
Waterproof
Multiple variants to choose from
CONS
Heavier and larger than usual carriers on the market
Difficult to install
The heavyweight and the large size may be a bit of a downside for this. However, the durability makes it worth it in the end.
So I would recommend this to anyone who plans to go for outdoor activities and wants their equipment safe.
6. Thule Force XT Rooftop Cargo Box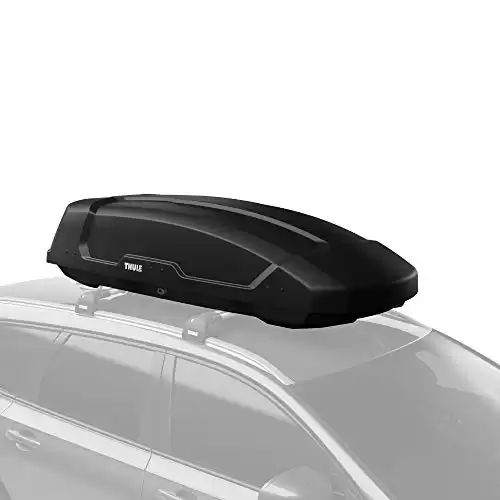 Once again, the Swedish company Thule manages to place another one of their great products on this list.
Since they have been working hard since 1942, we can expect a lot of good craftsmen ship in their products and a lot of reliability as well.
Generally favorable in the eyes of the public, Thule is a good company. Their product now in question is the Thule Force XT Rooftop Cargo Box.
This box is diverse and made for a variety of different Subaru models due to the variety in size the product offers.
You can buy the smallest option, which is 11 cubic feet, to even larger options going from 16, 18, and 22, respectively.
The box is very user-friendly and offers a lot of conveniences to the passengers.
Firstly, the box can easily fix itself onto the roof without blocking the rear access of the Subaru Outback.
Furthermore, it can be opened from both sides of the car, making it easy and convenient if you have to open and close it often.
Made from high-quality plastic and spanning the sizes mentioned above, the box can fit across a wide array of Outback SUVs.
Coming in black color, the product requires no assembly at all and even comes with a limited warranty.
The capacity is also very respectable, capable of holding 3-5 snowboards or up to 7 skis. The cargo box is also very easy to install.
The box uses a quick-mounting system that easily places it on top of your roof and clicks when it is properly positioned.
This lets the user know that they have nothing to fear as the box is now securely positioned on the roof.
Customers have reported that the product does not fit their Outback model despite confirming compatibility.
Another reported issue is that the cargo box can melt with prolonged exposure to the sun. The latches may also cause some problems due to mistakes during manufacturing.
PROS
User-friendly
Variety in sizes
Easy to install
CONS
Incompatibility issues
Latches may cause issues
Thule has made outstanding products which even people that dislike the company can agree on.
They are user-friendly and reliable, but particular ones suffer from slight complications in production and material choice.
7. DNA MOTORING PT ZTL 8166 BK Car Roof Carrier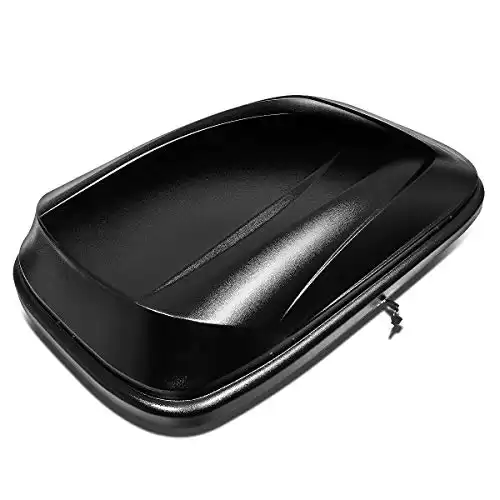 The DNA MOTORING is one of the largest suppliers of automotive products, providing high standards of quality and satisfaction to their customers by delivering innovative products related to trucks and SUVs.
They are no doubt enthusiastic and passionate in their craft which is why I am showing one of their products on this list.
Having a name that is more than a handful, DNA MOTORING PT ZTL 8166 BK Car Roof Carrier has been constructed from rugged and impact-resistant ABS material and has been applied a black texture finish for further durability.
The box construction also makes it waterproof, and the design makes it quite aerodynamic, decreasing wind noise and gas mileage.
Speaking of construction, the product boasts a staggering 53 inches in length, 34 in width, and goes up to 15 inches in height.
It is easily capable of opening to 14 inches wide, allowing for the easy storage of wider items, or you can store a bulk of smaller items as well, making it nice and convenient.
Along with being capable of storing a lot of small items, it features a capacity of 110 pounds which is more than enough for the average family and their traveling needs.
This weight capacity and the easy storage space also mean that the product is overall very strong and reliable and hence requires connection to crossbars.
Installation is a direct bolt-in and requires no modification. The product also provides convenience to the users by being able to be opened from both sides of the cargo box.
Another considerable quality of life feature is that the box stays open until you close it, so you need to hold the box open. It does that for you.
Customers have generally complained about other things and not the product itself.
The size is something they think could be a bit bigger, and the lack of an instruction manual has many customers slightly confused, but most complaints are on customer service or the lack thereof.
PROS
Aerodynamic and waterproof
It opens from both sides
Large weight capacity
CONS
No instruction manual is provided
An overall solid product, the cargo box can easily hold a lot of items and luggage and does so with relative ease.
Was it not for a few slight inconveniences like a lack of an instruction manual?
This product would get a perfect score!
How To Install A Cargo Box On Your Subaru Outback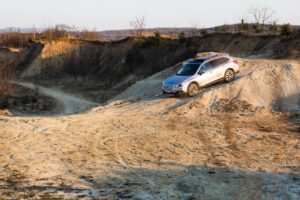 SUVs are built to have a lot of cargo space, but sometimes, you just need some more.
For such instances, you are better off getting a cargo box. But how will you attach it?
I will discuss how to attach the cargo box on a Subaru Outback here. It is a pretty straightforward endeavor.
All it takes is a little effort and the following steps:
Lift The Car On The Roof And Slide It At An Angle
Position Mounting Claws Over The Crossbars
Ensure Position Is Correct
Tighten The Mount Knobs Of The Box
If you have trouble with these steps, then do not worry, as I will explain them below.
1. Lift The Car On The Roof And Slide It At An Angle
You will want to lift the box carefully above the Subaru Outback. Ensure you can access the roof easily and do not strain yourself while lifting the box.
Additionally, you will want to lift the box at an angle to easily slide it onto the roof rack.
2. Position Mounting Claws Over The Crossbars
You will want to maintain that angle as you adjust the mounting claws over the crossbars. Make sure you do this carefully, as you can easily drop the box at this stage.
The mounting claws should easily slide to where you want them. Once in position, place the box on the crossbar, ensuring it is balanced properly.
3. Ensure Position Is Correct
You will want to make sure that the position is correct. The box should be in the center of the roof.
You should also have enough room available for you to be able to open the trunk such that it does not collide with the cargo box. If the box is off, you will have to adjust its position.
4. Tighten The Mount Knobs Of The Box
Once you have found the perfect position for the cargo box, you will want to tighten the mount knobs.
This will make sure that the box stays in place while you drive. Make sure it is not too tight; otherwise, you might damage the knobs. Also that it is not too loose.
Frequently Asked Questions
Q1. Can I Drive Subaru Outback With An Empty Cargo Box?
A cargo box is meant to move luggage and equipment from one place to another.
The short answer is that it is not recommended to drive your Subaru Outback, or any car for that matter, with an empty cargo box.
This is because the cargo box tends to increase the car's fuel mileage and even add a whistling sound.
Since the cargo box can be easily attached and removed, there is no reason to waste resources.
Q2. Does The Cargo Box Affect My Subaru Outback Gas Mileage?
Cargo Boxes can increase the gas mileage of your Subaru Outback to varying extents. The effect is noticeable; however, you decide if it's worth it or not.
Some specific roof racks and cargo boxes can easily increase the amount of gas an Outback can use while others increase it by a small amount.
An increase in fuel usage can be as big as 30% and can easily add up over time; however, you can easily justify the bad fuel economy for the extra storage.
Q3. Are Rooftop Cargo Bags Safe?
Most rooftop cargo bags are safe and well designed as the manufacturers make them specifically with high speeds and bumpy terrain in mind.
Their design is usually aerodynamic, reducing vehicle drag and preventing them from being blown by the wind.
Further features like locks, clamps, and cords can further tighten the bags for increased safety, so you can rest assured knowing that all of your equipment and luggage is safely secured in the cargo bag on the roof.
Q4. Do I Need Crossbars On My Subaru Outback For The Cargo Bag?
I would recommend that you get crossbars for your cargo bags for extra protection.
A crossbar is not needed or even essential to be purchased and equipped for your cargo bag, especially if you are hauling thin and lightweight items and equipment.
However, for heavy equipment, it is recommended to have the extra support of the crossbar so that the equipment does not fall and break and damage the car.
You can avoid purchasing the crossbars but only at your own risk.
Q5. What Features Should I Look For?
When looking for a cargo box, you must make sure that the size of the box is according to your SUV.
Then you must make sure what you want to place inside it and look for a box that can handle the corresponding weight.
You want to look for ones that are aerodynamic in design, easy to mount and install and have a locking system that adds security.
Q6. What Is The Difference Between Cargo Bags And Cargo Boxes?
For a cargo Box, it is essential to have a roof rack in place; otherwise, the box will not fit. The opposite is true for cargo bags that do not require a roof rack.
Cargo boxes are more secure from a stability standpoint and security standpoint as the boxes stay on the roof in place and can be locked, and are also harder to steal.
Bags, on the other hand, can easily be stolen and opened. Boxes protect your cargo with their shell and protect against the rain, which bags do not.
Q7. What Should I Avoid Storing In The Box?
It should be fairly obvious that cargo boxes are for items and equipment only. You should not under any circumstances put living creatures inside the box; this includes humans and pets.
Liquids such as shampoos, water, and other chemical substances should also be avoided being placed inside the box.
For other safety concerns, large pieces of metals and wood should also not be placed inside the box. This also includes construction materials like bricks.
Q8. What Size Box Should I Buy?
First of all, the size of your box should be according to the size of your Subaru Outback. The cargo box should be able to fit onto the roof of the SUV without coming out on one of the sides.
This is to prevent the box from toppling down. Once you have a definite size of your SUV, you should consider what items you want inside the box.
Longer items will require a longer box size and vice versa.
Q9. Is There An Alternative To A Cargo Box?
For those that find the cargo box a bit cumbersome, you can rest assured that there are many alternatives you can use in its stead.
The most popular option that people tend to gravitate towards is a cargo bag. They are much less expensive but are not as sturdy.
Additionally, they lack the protection from the weather that many cargo boxes provide.
This is crucial since you will put the cargo bag on the roof of your car, which is exposed to the elements.
Finally, cargo boxes are the best way to extend your cargo space. I hope you can easily install a cargo box on your Subaru outback with the help of this guide.
Conclusion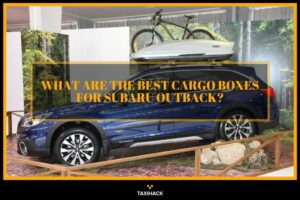 People who tend to often travel with their families and struggle to manage their luggage and belongings in the limited space of their Subaru Outback SUV can easily install a rooftop cargo box to prevent any inconvenience in seating and make sure that all of their luggage is perfectly safe and secure on the roof of their car.
This is something that Thule manages perfectly with their Thule Motion XT Rooftop Cargo Carrier, which does everything perfectly.
It has a decent design which not everyone will like; however, it makes up for it all of that with convenience and reliability, which is why it is one of the best cargo box for Subaru Outback.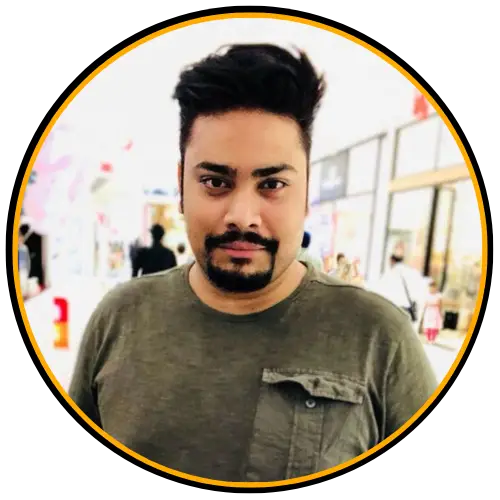 I am Tahir Azam, and I have been writing amazing articles for TaxiHack for as long as I can remember. I know everything that is to know when it comes to automobiles and is always on top of industry news and developments. While I am not an expert by any means, I pride myself on knowing the ins and outs of many different problems and, of course, their solutions. The articles on our website are some of the best and well-researched content that you will find, and I spend countless hours making sure this remains to be true. This is why I ask you to take your time out and read some of my articles, especially if you find a topic that resonates with you or is something you are looking into. This way, you will find the perfect mix of information and tips on your desired topic. Learn more about Tahir.