So, it is finally time that your 2 year old kid got a car seat. The market is filled with products that claim all sorts of things like they have the best car seat for 2 year old.
So, what can a person do?
This is where TaxiHack steps in. With daily new high-quality articles, we aim to provide you with the best products that are available to buy.
So, in this article, we will be focusing on avoiding all falsely advertised products and checking out the top ones on the market.
You will be surprised with the car seats' quality and their safety features. So, without any further ado, let's get straight into it!
7 Top Rated 2 Year Old Car Seats Comparisons
1. Graco Extend2Fit Convertible Car Seat
Arriving in the first place is a Convertible Car Seat by the Brand Graco.
I have checked out this product before searching for the best car seat for a 1 year old. Surprisingly, this is yet again the number one choice for buyers.
Coming at a hefty price tag of nearly $200, it is not cheap. But cheap does not get you the best in class security.
Let's see what this car seat has to offer!
This car seat has two modes. It can be used in a rear-facing fashion or a front-facing. If your kid is anywhere from 4 to 50 pounds, you can use the seat in a rear fashion.
For kids heavier than this, the seat shall be used in the front-facing fashion. This design allows you to use the seat for a long period of time.
The 6 positions recline enables the car seat to be extremely comfortable for the child. You can be sure that the comfort level will be to your child's liking.
Hence, the adjustable extension panel on this car seat allows it to have an additional 5 inches of legroom.
This means that the child will be safer than ever when riding in a rear-facing fashion.
However, the security offerings don't end there! The car seat has been engineered using the brand's very own Protect Plus protection guidelines.
These guidelines consist of rigorous tests that ensure the seat will protect the child if there is a collision on any side of the vehicle.
Buyers complained that they could not tighten the car seat enough with the vehicle seat. This 1% of users most probably received faulty units.
Graco must look into this issue and solve it as soon as possible because there is nothing greater than a child's protection.
PROS
Rear-facing and forward-facing design
6-position recline design
Adjustable extension panel
ProtectPlus engineered
Apart from this one issue, buyers were mostly content with what they received. I guarantee you that there is no car seat better than this one regarding security offerings.
2. Graco Tranzitions 3-In-1 Harness Booster Seat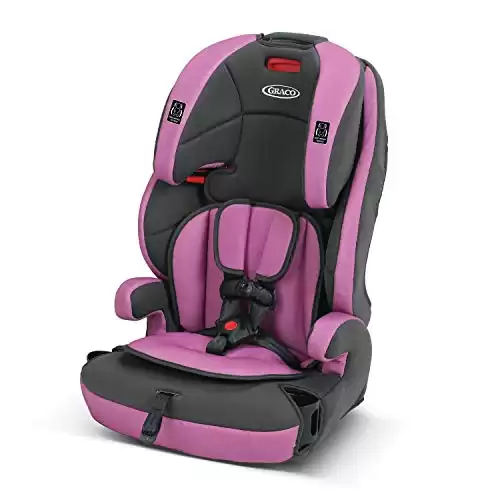 Taking up the second spot is yet Another Product by Graco. With half the number of ratings, clocking in at just above 25000, it is an extremely popular option among consumers.
The fact that the brand was able to earn two consecutive spots on this article says a lot about its product quality.
Available in five distinct color options, this car seat is very similar to the previous one. For example, it builds upon the 2-in-1 design of the last seat.
This one is a 3-in-1! So, whether your kid is a toddler, a child or a young girl, or a boy, this car seat will be with you for a long time.
The brand had to increase the minimum weight for the harness booster from 30 to 40 pounds to comply with the minimum standards. This car seat has no-rethread.
The harness system has a simple adjustable system, meaning you can control the headrest and the harness in one motion without adjusting them separately.
The one-hand, 8-position adjustable headrest is perfect for children as they grow. You can be sure that they will be comfortable at all times.
The brand has even included 2 cup holders that are extremely easy to clean.
So, you can keep your child's favorite drink and snacks and won't have to worry about having any difficulty cleaning up if the youngster does spill it.
Not only that, the seat pad, the body support, and even the harness covers are machine washable. So, you can keep the seat in pristine condition just by performing a machine wash.
Yet again, a few buyers complained that their car seats were extremely difficult and sometimes impossible to install.
This is clear proof that there are quality control issues in the factory, although they are minor.
PROS
3-in-1 design
Adjust headrest and harness in one motion
2 easy to clean cup holders
Seat pad, body support, and harness cover washable
It looks like Graco has a small but somewhat serious matter on its hands.
Although it is unlikely you will receive a faulty unit, the possibility is still there. This must be resolved as soon as possible.
3. Diono Radian 3R, 3-In-1 Convertible Car Seat
Graco is dominating the market when it comes to excellent car seats. I could probably fill this entire list with the brand's products. But, that would not give other brands to compete.
Companies like Diono Radian also make excellent car seats that are loved by thousands of people. This Car Seat Has a Model Number 3R.
A price tag similar to the first product brings many competition and features to the table. It is available in five distinct color options, which means you can choose the one to your liking.
This car seat can be used in a rear-facing fashion for longer periods. Kids that are up to 50 pounds in weight can be put in the rear-facing mode.
You can put a child of up to 4 years in the car seat in this position.
That is seriously impressive! The high back booster seat mode adds a whole new layer of protection for your child.
It is also comfortable, so the transition from the rear-facing way will be easy. The manufacturer promises that you can squeeze out 10 years from this one car seat.
This is the only seat you will need for your kid when he transforms from an infant to a young boy or a girl from birth to a booster. The car seat has a reinforced steel core.
Combine that with the use of automotive-grade high-density plastic, which is built to withstand a beating; you can rest assured that very few products can defeat this car seat's safety and protection.
Buyers complained about receiving a used product and a damaged one too, while they paid for a new one.
This is a very serious issue and must be solved by the manufacturer ASAP.
PROS
3-in-1 design
Can be used for 10 years
Reinforced steel core and automotive-grade plastic
Can be used in a rear-facing fashion for a longer time
CONS
May receive a used or damaged product
This is one of the many reasons why brands like Graco take over the market. Their strict quality control doesn't allow such things to happen.
4. Tribute LX 2-In-1 Convertible Car Seat
Now, I know that many of you readers cannot afford $200 car seats.
You are looking for something cheaper, but that segment is filled with sketchy products whose offerings look too good to be true.
What to do, then?
Well, I have got you covered. Earning its rightful fourth place, with over 2000 content buyers, is this Tribute LX 2-In-1 Convertible Car Seat.
This car seat costs a mere $70. That is a lot cheaper than some other items on this list.
So, let's dive a bit into the details and make sure that it has not compromised on anything!
Being a cheap car seat, you are getting a basic design with nothing fancy. The design is practical and distraction-free, and I like that.
Moreover, this convertible car seat can support kids that are up to 40 pounds in the rear-facing position. It has been designed for at least 2 years old, making it a very narrow save.
If you are worried that the brand may have skipped some important safety standards, I guarantee you that is not the case.
The Tribute LX has been fully tested, and it meets and sometimes even exceeds all Federal Safety Standards.
This seat has even been tested for side impacts to ensure it will stay structurally intact. This car seat is lightweight and compact.
Now, I don't want you to worry that this is due to the lower price tag. This is a design choice and a very clever one.
The lightweight design and compact nature ensure that the car seat will fit perfectly in smaller vehicles.
Buyers complained about the car seat not having a secure fit.
The brand must be looked into this issue and solved as soon as possible because there is nothing important than children.
PROS
Meets all Federal Safety Standards
Extremely economical
Lightweight and compact
Machine washable seat pads
The manufacturer has a serious issue on its hands and must solve it as soon as possible. The fact that the seat does not have a secure fit means that; it poses a safety threat to the child.
5. Cosco Apt 50 Convertible Car Seat
If you are looking for a more practical car seat, then this Apt 50 Convertible Car Seat by Cosco is the one for you.
I have checked out a product from the brand in my previous article, and its products are high quality.
Let's see if this one is similar, build wise to it!
As I said, the brand has focused on simplicity and practicality with this car seat.
It is available in two color options only, which are black and blue. It does not compromise on any of its safety aspects.
It can be used in the rear-facing mode for children with a weight of up to 40 pounds.
For kids that are between the 22 and 50-pound range, it can be used in the second, forward-facing mode.
The car seat has been tested for side impact protection. This is an extremely important feature and addition.
Side collisions are the second most common accidents, just after rear-ending collisions. So, the safety of the baby, in such unfortunate circumstances, must be excellent.
The harness used in this car seat has six different height options. There are also three buckle locations, which are useful if you can use this seat for a long time.
You can have the peace of mind that your kid will have the great fit as they grow.
The manufacturer has also included two cup holders, one on either side of the car seat. There is plenty of room for drinks and snacks during a long ride.
Buyers complained about the car seat not being installed in a proper fashion. One buyer tried it on three different vehicles, but to no avail.
Although Cosco is a reliable brand, this is a quality control issue that must be fixed.
PROS
Designed for practicality
Two modes
Tested for side impact protection
Six different options for the harness
Looks like these fitment issues are more common than I thought. Companies must fix them to ensure the kids will stay safe and secure whenever they are driven.
Other than that, you will most probably be more than content with the unit you receive.
6. Evenflo EveryFit 4-In-1 Convertible Car Seat
We are reaching the end of this article, and still, the competition is extremely close.
Arriving in sixth place is this Convertible Car Seat from the Brand Evenflo. With almost 1000 positive ratings, buyers love it.
Let's see what it has to offer!
The first thing the manufacturer mentions on the product listing is that this car seat is made in the USA.
This gives people the comfort of mind because you will be getting an excellent product that has passed strict quality-control tests.
This 4-in-1 car seat is designed for maximum security and convenience. It has been designed for children that are a minimum of two years old.
Just like the Tribute LX2, this car seat has passed and exceeded the toughest industry standards there are.
It has also passed the side impact tested, meaning that the car seat will reduce the forces during a crash by up to 30%.
This will help in saving your kid if there is an unfortunate incident.
The manufacturer has opted for airflow mesh fabrics for use in this car seat. This makes sure that that your child will keep cool, even on the hottest of days.
The material is also machine washable, meaning you can keep them clean all the time. The seat also angles your child perfectly, ensuring there will be no head slump.
Moreover, the 3 rear-facing recline positions and one forward-facing one allow you to set the car seat according to the toddler's liking and comfort level.
The manufacturer has also added two cup holders, which will keep your baby's snacks and drinks up close.
Like most of the products in this article, buyers complained about the car seat not tightening properly.
I don't know why this is such a common problem, but brands must improve their quality control even further to ensure consumers receive non-faulty products.
PROS
4-in-1 design
Airflow mesh fabrics
Machine washable fabric
4 recline position options
CONS
May not tighten up properly
Apart from this common fitment issue, buyers were mostly content with what they received. You can order this car seat right now, and you will be happy with your purchase.
7. Britax Allegiance 3 Stage Convertible Car Seat
Finally arriving in the seventh and final place is this Convertible Car Seat from the Brand Britax.
Although the number of ratings on this product is considerably less than the first one, it is still a decent product.
Although this car seat earned the last spot in the article, it must be kept in mind that it is far from being the least. It was chosen from thousands of different options.
Let's see what it has to offer!
The first thing the manufacturer mentions about this product is its ease of installation.
Thanks to push-button latch connectors and built-in lock-offs, the installation has been made super easy. You can install it within a few minutes safely and securely.
This car seat does not have a rethreading harness. Instead, the manufacturer has implemented a 10-position harness, moving from 8.5 inches to 17.5.
This ensures that the headrest will grow alongside the child, and they will not experience any discomfort.
The removable body pillow is also a great thing. This will ensure that newborns will have a snug fit in the seat.
However, this Allegiance car seat has been designed with convenience in mind.
The car seat cover can be removed without disconnecting the harness. So, the process has been made much easier and less complex.
Let's talk security!
The car seat has been tested for side impact protection, has a steel frame and a base that absorbs impact.
There is even a V-shaped tether that reduces forward movement. All of this combined gives you an excellent safety experience.
Buyers had two major causes of concern with this car seat. They complained that it does not fit on a plane seat.
One more complaint is that the covers cannot be removed for washing. It looks like the design choices of the brand are not that appealing.
PROS
Extremely easy to install
10 position harness
Removable body pillow
Extremely secure
CONS
It cannot be installed with a plane seatbelt
Covers cannot be removed
Surprisingly, the manufacturer got this product FAA-approved while it cannot even be used on a plane. This is something that must be solved in future iterations of the product.
Frequently Asked Questions
Q1. What Kind Of Car Seat Should A Two Year Old Be In?
At the age of two, a child should start to shift to a convertible car seat. The reason for that is, most seats support kids in a rear-facing fashion until they are one year old.
That is why all of the seats I mentioned in this article are convertible ones. They are perfect if your child is about to reach the two year old mark.
Q2. When Can A Toddler Go In A Front-Facing Car Seat?
The recommendation and common sense speak the same thing. No matter the product, you should keep your child in the rear-facing seat until the specified age limit has been reached.
They will be more protected than in the front-facing position. If you want to look at weight, it should be at least 40 pounds for the toddler to be shifted to the front position mode.
Q3. Can A Two Year Old Use A Booster Car Seat?
Well, according to the American Academy of Paediatrics, a kid should use a booster seat only when the five-point harness limit has been reached.
This usually happens when the child reaches the age of 5. So, to answer your question, no, a 2 year old cannot use a booster seat.
Conclusion
If you managed to go through all these articles and did some research on your own, you must know that the market is filled with all sorts of products.
With all of them claiming to be the best car seat for 2 year old, you don't know which one to get.
Well, I can guarantee you that there are no products on the market that can defeat these seven car seats.
Out of all of them, I will choose the Graco Extend2Fit Convertible Car Seat as my recommendation for all of you guys.
You can rest assured that you will be getting top-of-the-line safety features from it. There is an FAQ as well which will help in alleviating some confusion.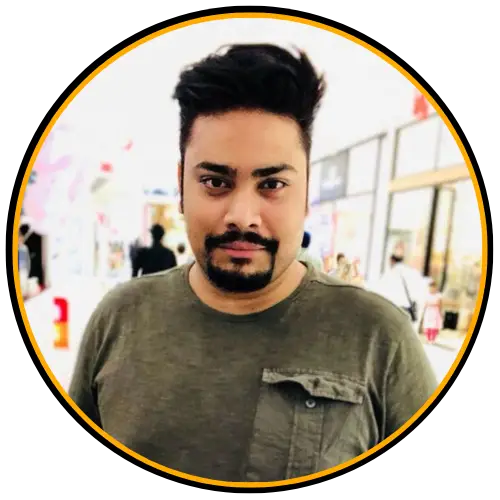 I am Tahir Azam, and I have been writing amazing articles for TaxiHack for as long as I can remember. I know everything that is to know when it comes to automobiles and is always on top of industry news and developments. While I am not an expert by any means, I pride myself on knowing the ins and outs of many different problems and, of course, their solutions. The articles on our website are some of the best and well-researched content that you will find, and I spend countless hours making sure this remains to be true. This is why I ask you to take your time out and read some of my articles, especially if you find a topic that resonates with you or is something you are looking into. This way, you will find the perfect mix of information and tips on your desired topic. Learn more about Tahir.