Since the inception of vehicles, car vandalism has been a major and common problem.
Whether it be thieves trying to steal your car or the things inside or just plain old thugs thrashing your car for the hell of it, it's the owner who is suffering, and it is the owner who should take the appropriate measures to ensure their car's security.
The easiest and most simple way is for you to install a car alarm. This will alert you in case of an attack or break-in attempt on your vehicle and scare away the people responsible.
In this article, I will look for the best car alarm for vandalism!
7 Top Rated Car Theft Security Devices Comparisons
1. Viper 5305V 2 Way LCD Vehicle Car Alarm System
TOP PICK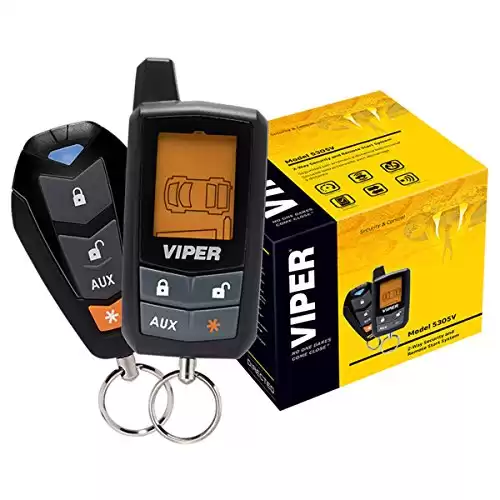 One of the most recognized companies is Viper when it comes to vehicle security. They specialize in producing various products and services for vehicle securities.
You can find anything you need, from cloud service security systems to car alarms. The product in question right now falls in the latter category.
The Viper 5305V 2 Way LCD Vehicle Car Alarm System is among the top-tier options available on the market right now.
The design of the alarm remote is very interesting. The LCD panel featured in the remote makes it look appealing. The remote control is two-way as well.
This system features a remote startup mechanism. This allows you to start your car from as far as 1/4th of a mile away from your vehicle.
This can remove the hassle of dealing with the dangling keys missing every morning before work.
Once installed, you can even use this remote startup feature using your phone. The protection that this car alarm provides is also quite good.
This is because this alarm system has a shock detection sensor that can detect vibrations.
So, you will know the moment someone tries to smash your car's window or door. This car alarm alert system is also quite interesting.
It uses a practical six-tone alert siren system. This is used to respond whenever the alarm's security system detects a threat to the vehicle.
This response is almost instantaneous, which means you will have enough time to get to your car in case something happens.
However, I did notice that there were a few complaints regarding the two-way remote control.
Like I noticed, and the other users, the two-way remote can be a bit finicky at times. This is not a major concern, but it can sometimes be annoying.
PROS
Remote start-up; Range of ¼ mile
Keyless startup and entry
Very accurate shock detection sensors
The six-tone siren alert system featured
CONS
The two-way remote can be a bit finicky at times
Overall, this one does not have any major flaws. So, since it gets the job done, I can easily recommend this car alarm.
2. PerfecTech Solar Power Simulated Dummy Car Alarm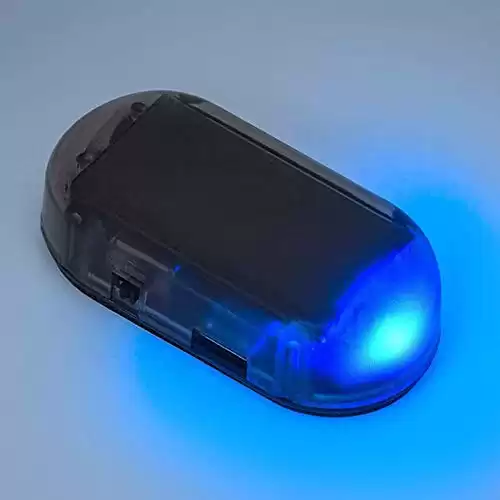 PerfecTech is not the most popular name for the automotive accessories market. Their products mostly have to do with aesthetics by using LEDs and other electronics.
They produce a limited amount of products that are not exactly necessary for the vehicle, but they are nice to have.
The PerfecTech Solar Power Simulated Dummy Car Alarm is quite a self-descriptive product right from the name.
This product is not an actual car alarm. Instead, it is made to simulate the presence of a security car alarm installed in the vehicle.
This dummy car alarm has a bright blue LED programmed to flash like the actual car alarm lights flash.
This can do wonders when it comes to deterring any thief from either stealing your car or breaking into it to steal any valuable belongings that you may have left in your car.
Moreover, this one is different from many others because it is solar-powered.
So, you do not have to worry about forgetting to charge it at home or in the car before putting it where it needs to be.
However, if you need to manually charge it, this does have a USB port included that allows you to do so.
The batteries in this one are also removable. So, if the cell dies, or you get a faulty one, you can just replace it easily.
In terms of installation, all you need to do is decide where to put this in your vehicle to make it look like the car has an alarm system installed.
However, the only thing that was annoying about this product is the size of the on/off switch.
I mean, I might just have bigger fingers, but I can imagine anyone having a hard time using their fingernails to turn this thing on and off.
PROS
Bright flashing LED
Solar-powered
USB port still presents for charging
Installation is beyond simple
CONS
The on/Off switch is small
This one might not be for anyone looking for an actual car alarm because this isn't one.
However, you can still get it in the meantime if you are waiting for one because this is not too expensive.
3. Technaxx TX-100 Car Monitoring Alarm System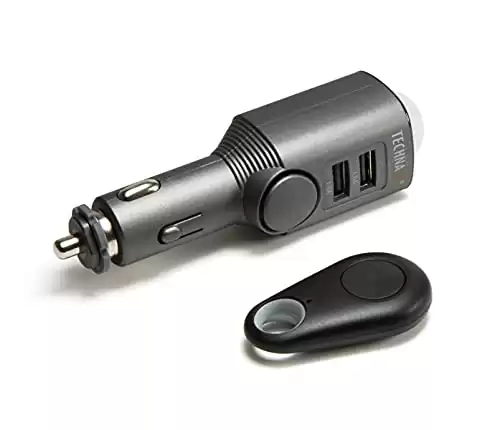 Technaxx is a German company that was founded in 2002.
Since the start, this company has aimed to bring reasonably priced products while still making no compromise on the quality and the design of these products.
Their line of products is mainly comprised of electrical goods. The Technaxx TX-100 Car Monitoring Alarm System is a very interesting product.
The reason I call it interesting is because of its unorthodox design. The actual alarm looks like a car phone charger.
It can double as a car phone charger because it has USB ports for this very purpose. This car alarm features a quite accurate PIR motion sensor.
This, along with its 110-decibel alarm, is good for performance. I can say this with certainty after having tested these features myself.
This car alarm is rechargeable with a 450 mAh battery installed in it. This removes the hassle of buying a humongous amount of batteries, unlike with most car alarms like this one.
The standby period for this car alarm is about six days, which makes it quite convenient. The main selling point of this car alarm is its portability.
It's designed to have a small form factor that requires no wiring and is lightweight. This makes it extremely convenient and easy to carry around from one vehicle to another.
Other than that, it is compatible with more than just one car which is also great.
I do wish, however, that the remote for this car alarm would have been a bit bigger. It is really small and can easily be misplaced.
I would recommend that it be put into a keychain because it can easily be lost. Other than that, the build quality of the product overall has a very unfinished feel.
PROS
USB ports for charging phones and other devices
Motion sensors and alarms are very effective
The compact and lightweight design allow for good portability
CONS
The remote is too small; it can be misplaced easily
Build quality is not the best
This is something that I would recommend to people who travel a lot, specifically because of the sheer ease of portability that this thing offers.
4. Viper 5706V 2-Way Car Security System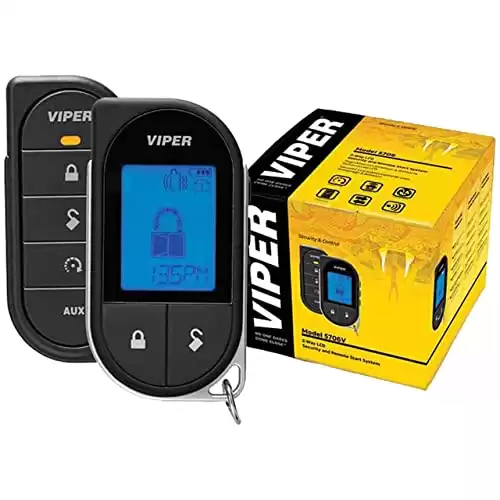 Another viper car alarm system has made its way into this list, proving that viper is undoubtedly one of the best-selling vehicle security brands currently out there.
Using cutting-edge technology provides countless dependable features and makes sure you are in control.
They provide a sense of security and relief to the user, knowing that their precious vehicle is safe and sound.
The next product that I will be talking about is their Viper 5706V 2-Way Car Security System which they have also gone to label as the responder LC3.
Being part of the responder series, it already comes in after a long line of quality car systems, and this is no different, boasting a very impressive one-mile range complete with SST.
This system comes with a 5-button LCD transmitter that features priority icons that help the user monitor their vehicle like never before.
These icons are simple and easy to identify and understand and come along with the clear and readable text.
The most important icons are in the center of the screen and are three times larger than the other ones, which signify important notifications.
Along with the standard array of security features, this system is very in-depth, coming with many innovative functions like remote start and keyless entry while also keeping classic features like opening the trunk with a push of a button.
Not only does it keep you safe, but it also protects your battery by prompting you if you leave the interior light on.
Apart from also coming with a compatibility remote, the system also uses flex relays which completely removes the need for 80% of additional relays.
This virtual tach eliminates the need for a tachometer wire and combines the status LED & valet switch with the 2-way Antenna, making the switch very easy to find.
Customers have complained about receiving defective products and their system not working.
This is further dragged down by the company's refusal to provide a warranty with their product, which does not look good and is a major inconvenience for the user in case of situations like this.
PROS
5-button LCD screen
1-mile range
It comes with compatibility remote
A great product could be held back by its lack of warranty and common instances of defective products, despite the major offering of features.
5. BANVIE Car Security Alarm System
BANVIE is a Chinese company located in Shenzhen that produces electronic products for vehicles, mostly ranging from GPS trackers, guidance systems, TPMS, parking sensors, and for the sake of our list, car security systems.
This is all manufactured using exquisite technology under very harsh quality control systems, ensuring that the product is up to their standards.
This BANVIE Car Security Alarm System is very innovative, featuring many of the operational capabilities many of us know and love ranging from keyless entry, remote trunk opening at a push of a button, and closing up the windows when the lock button is pressed.
This feature, however, requires an original window closer.
This is all doable from a 5-button transmitter with a sturdy metal frame. This alarm system is well equipped to fight off attackers and thieves.
It is equipped with a shock sensor alarm that will notify you and start sounding the alarm once the car is hit.
The car also features an anti-hijacking system that forces the car into the mode that flashes the lights and sounds the alarm upon a push of a button.
During this state, the engine is cut off. It features a microwave sensor that will also report any malicious activity. This sensor detects suspicious activity and sounds the alarm.
This feature also has a reminder feature that can remind you of your pet or child if you leave them for too long.
Speaking of reminders, the car will auto-lock itself when driven and auto-unlock once the key is taken out.
Along with the many security features and capabilities, it also has a car finding mode which is helpful if you lose your vehicle in a sea of other cars at a parking lot.
If you need to, this also serves as a panic mode as it sends out an alarm.
If you do not want to constantly hear the alarm or receive complaints from your neighbors, you can also set it to the silent arm where the siren will chirp.
Customers have complained about very difficult wiring, which is hard to install. The instructions are also very convoluted and hard to follow.
Other complaints are of the siren being weak.
PROS
Microwave sensors
5-button transmitter
Car finding mode
The product is great and features heavy, however. It is very difficult to install and comes with a generally weak siren.
6. Avital 4103LX Remote Start System
Avital has been one of the biggest names in car security and remote starts for the last 20 years, and people have looked towards their security and safety, whether it be regarding stolen cars or road rage.
The products this company manufactures offer a mix of convenience and security and are always on the road to innovation.
Avital's product, under my observation, is their Avital 4103LX Remote Start System is regarded as the company's best 1-way security and remote start-up system which can protect your vehicle from vandals and hijackers for about 1500 feet which is a very large range of protection, all from a system which is hinged on a 4-button transmitter.
This product comes with 2 of these transmitters, which is nice as you can easily lose the transmitter and be helpless.
The four buttons which the transmitter uses are simple functions that can lock and unlock the car.
One button can be used to open the trunk, and one button is a panic alarm button which will start flashing lights and sound the alarm.
This security system also has a valet mode that disables the alarm with the remote transmitter.
This mode also allows the vehicle to stay open and running even after removing the key.
Speaking of the engine, the system also has a remote start feature that can start and run the car for some time.
This security system relies on a dedicated A to D converter, which samples your vehicle's voltage and does so hundreds of times a second.
This eliminates the need for a tachometer wire connection. It also can quickly connect the Avital system to other interfaces via D2D cables. This offers a lot of convenience and support.
Customers have complained that the security system is unfriendly in setting up and hard to install.
The product has been branded as reckless and flimsy by its users. It also has no warranty.
PROS
4-button transmitter
Valet mode
D2D cables
CONS
Difficult to install
No warranty
It is another solid product overall; however, it is difficult to install and does not come with a warranty. It does, however, provide a lot of convenience and security.
7. Wsdcam Wireless Vibration Security Alarm
Wsdcam is a fairly recent company founded in 2019 and specializes in webcam security.
This company produces very versatile products which can be used for bikes, cars, doors, and windows.
They can protect any product they are installed on and will push away thieves and vandals, which offers you great security and safety.
The Wsdcam Wireless Vibration Security Alarm features an 110DB alarm triggered by vibrations and is supported by a 4-button remote control, each of which holds a different mode.
It offers ten levels of adjustable sensitivity, ranging from gentle touch to harsh beating. You can set it up according to your choice.
The four modes I mentioned above include doorbell mode, panic mode, arm, and disarm mode.
Moreover, the doorbell mode will alert you if someone is coming in, and the panic mode will completely blare the alarm, scaring away thieves.
The arm and disarm key with lock and unlock the car, respectively. Once locked, the car will make an alarm sound.
The alarm is fairly simple and easy to utilize. It is powered on two triple-A batteries, which the product does not include.
Furthermore, the batteries of the remote utilize alkaline batteries of 12 volts.
The remote also lets you know if you are low on battery life which can easily keep you from losing power. This security system is also compatible with more remotes and alarms.
Buyers of this product can reprogram and incorporate multiple remotes and alarms or program multiple alarms to one remote.
This can help you manage multiple cars and systems with one universal remote, which is very convenient.
Customers have complained about weak and low batteries on the remotes.
They also complained about the range of the remote, which they said was very low, and outside it, the remote will not work.
PROS
Very customizable
Easy and simple to utilize
Four different modes
CONS
Poor Battery life
Weak range
This product is very good and works well for multiple vehicles; however, it has a poor battery life and a very low range which could drag the product down.
What To Look For When Buying A Car Alarm For Vandalism
When you are purchasing a car alarm for vandalism prevention, there are several things that you need to look out for to ensure that your investment will be worth it.
LCD Status Indicator
The LCD status indicator (also known as the LED display) is a great feature on your car alarm.
It allows you to see the status of the system. You will never have to guess or double-check if the system is turned on. All it takes is a glance.
Loud Sound
A loud sound is important to deter vandals because it will scare them off more quickly than a quiet sound.
The louder, the better! Make sure to check the decibel output of the alarm system before getting it.
One thing to remember is that although some alarms claim they are extremely loud, they may not actually be very loud unless they have an external speaker hooked up to them.
You should check consumer reviews before purchasing one to reduce the chance of something like this happening.
Good Battery Timing
You need to ensure that the alarm system you are getting has a large enough battery for several months before being charged up again.
Once again, you will need to check user reviews to confirm if the alarm system is not too power-hungry.
Look For Extra Features
Some car alarms go an extra step to ensure your vehicle remains as secure as possible. Some common features that should be looked for in such security systems are:
Remote start
Shock detection
USB ports
This last bit is pretty interesting. This allows a car security system to not only be used as an accessory but also allows it to be perfectly camouflaged.
Even if someone gets access to your vehicle, there is a close to impossible chance for it to be caught.
Frequently Asked Questions
Q1. How Much Does It Cost To Put An Alarm On Your Car?
The cost of setting up an alarm for your car can easily change depending on the model of the car, the type of alarm system you are trying to implement, and the place where you are having it installed.
A typical car alarm will cost you around $30 to $300; while more advanced systems may bump this price up to $80 to $500.
Adding complexity, labor charges, and factoring in the model of your car, you could look at an additional $100-$450.
Q2. Are Car Alarms Worth It?
Depending on your system, car alarms are definitely worth it in the long run, as purchasing a good quality and advanced car alarm system can easily save you hundreds of dollars in damages and offers priceless protection to the belongings inside your vehicle.
Some systems also come with built-in trackers, so if your car does manage to get stolen, then you can easily track it using the tracking system, essentially saving you the trouble of buying a new car.
Q3. Will My Car Alarm Go Off If Someone Breaks The Window?
The typical car alarm is not usually connected to the windows.
The average alarm is usually connected to the door, which detects the door being opened when it shouldn't sound the alarm.
This can be easily circumvented by breaking the glass and entering from the window.
High-end alarm systems take this into account and place sensors that detect if someone breaks the window.
I recommend getting a system like this as it is more adequate and covers more options.
Q4. Will A Car Start If The Alarm Is Going Off?
Some car alarms have an engine immobilization feature that prevents people from starting the engine when the alarm is going off.
This is a handy feature that prevents hijackers from hot-wiring your car if they are able to break in, preventing them from driving off and allowing you time to reach your vehicle.
Do note that if the immobilization feature glitches out, it could prevent you from starting the vehicle despite the alarm not ringing, forcing you to visit a mechanic.
Q5. How Do I Protect My Car From Vandalism?
If you're worried about someone vandalizing your car, the easiest way to protect it is with an alarm.
It's a quick and easy way to alert passers-by that something's wrong if they see a broken window or other damage. You can find alarms at most hardware stores and online.
They come in many different forms: some connect directly to your car's electrical system, while others are wireless and can be placed anywhere within the vehicle.
The latter needs to be charged or may need a battery change every couple of months. Some may need to be hooked up with external speakers.
You have to check that before finalizing your purchase.
Q6. Do Car Alarms Deter Thieves?
The answer is… it depends. If a car alarm is loud enough and has enough of a deterrent effect on the thief, it will work.
But if the car alarm just sounds like an annoying beep-beep-beep, then it probably won't do much of anything to deter thieves.
The main factor here is the decibel count. A 100 dB decibel level is perfect for scaring off thieves and vandals. Anything higher than that has a high risk of damaging the ear drums.
Regardless, car alarms that can produce sound levels in this decibel range will be an excellent deterrent against thieves.
Conclusion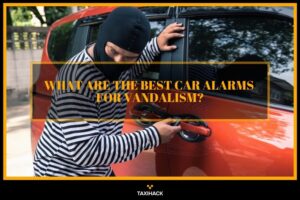 A car alarm is an integral part of any vehicle. It scares away thieves and stops vandals dead in their tracks.
A good security system is capable of easily being set up and utilized by the remote it comes with and does so with a large amount of range.
The alarm itself should also have a lot of range so that it can call for help as far as it can.
Putting all of this into perspective, I fully recommend the Viper 5305V 2 Way LCD Vehicle Car Alarm System as the best car alarm for vandalism on the market because it offers all of these features and more and only has a very small problem of a finicky remote, which is easily ignorable when you look at the many positives of this product.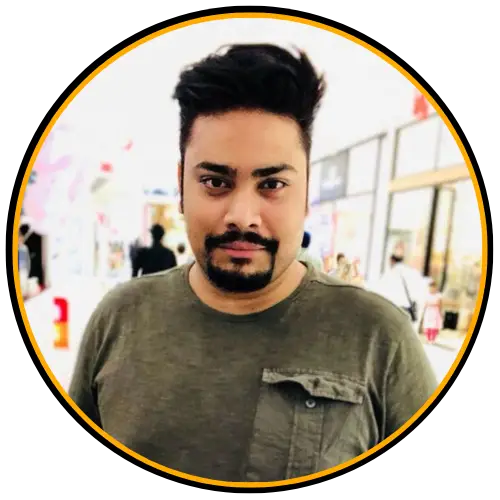 I am Tahir Azam, and I have been writing amazing articles for TaxiHack for as long as I can remember. I know everything that is to know when it comes to automobiles and is always on top of industry news and developments. While I am not an expert by any means, I pride myself on knowing the ins and outs of many different problems and, of course, their solutions. The articles on our website are some of the best and well-researched content that you will find, and I spend countless hours making sure this remains to be true. This is why I ask you to take your time out and read some of my articles, especially if you find a topic that resonates with you or is something you are looking into. This way, you will find the perfect mix of information and tips on your desired topic. Learn more about Tahir.