The first generation Toyota Tacoma entered the market back in 1995 and was marketed towards the demographic looking for a luxury vehicle, a truck, and a heavy lifting off-roader.
This model since 2008 has been top of the charts when it comes to compact and mid-sized vehicles.
Before creating this model, Toyota created several models under various names to offer their pickup trucks.
Since they have created a dedicated model, the Toyota Tacoma has been coming in access cab and double cab body styles.
The access cab has rear-hinged doors and foldable jump seats, while the double cab has four regular doors and a three-seat rear bench. All of this amounts to 6800 pounds of towing power.
Now, let me show you the best and worst years for Toyota Tacoma!
Best Years for Toyota Tacoma:
2018
2019
2020
1996
1997
1998
2000
2003
Worst Years For Toyota Tacoma:
2016
2017
2006
2007
2008
2009
2011
2012
I will now discuss these two lists in detail with these two lists out of the way.
List Of The Best Years For The Toyota Tacoma: What Years To Buy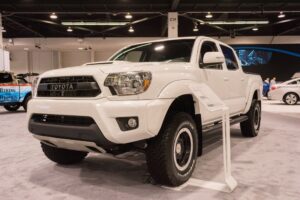 Extremely reliable and very durable, a Toyota Tacoma on its best year is a car undoubtedly worth buying.
#1 Best Year: 2018 Toyota Tacoma
Being part of the latest generation of the Toyota Tacoma, the 2018 model has faced the least amount of criticism in its four years of release.
The interior is perfectly designed to create a noise-free cabin, preventing you from hearing the cars on the road.
It offers a premium audio performance system, leading to an overall ride of great quality. The 2018 model has peak performance and reliability for a modern-day Toyota Tacoma.
The model comes with new standard safety features, which are always active, and the body is available in two distinct cab styles.
You get the option between a 4-wheel drive and a rear drive with the choice between the power of a 4-cylinder and a V6 engine.
#2 Best Year: 2019 Toyota Tacoma
While not a major jump forward from the previous model, the 2019 Toyota Tacoma still made some degree of innovation and made a few styling features such as the logo on the new skid plate, upgraded suspension, ns, and a standard Star Safety system, all available in 3 distinct colors.
The previously mentioned Star system provides stability, an anti-lock brake system, traction control, and brake force distribution which goes hand in hand with the smart-stop technology making the model an overall win for the company and a very dependable model for consumers.
#3 Best Year: 2020 Toyota Tacoma
The premium stereo performance combined with the power of the V6 engine and the amazing ride quality of the model 2020 all works together to place this vehicle inside this list.
This model of the Toyota Tacoma is available in two different cab styles and has the same choices as 2018, i.e., rear or 4-wheel drive, 4-cylinder, or V6 engine.
It also gives you a choice between manual and automatic transmission.
The model also features automatic emergency braking standards and features like Android Auto and Apple CarPlay, which are very convenient.
#4 Best Year: 1996 Toyota Tacoma
The second Toyota Tacoma to grace the market after the vehicle's introduction, the 1996 Toyota Tacoma is the second model of the first generation of the vehicle class.
This model has been widely regarded for its great truck frame and reliability, being able to easily cross 300,000 miles with little to no maintenance.
It has a lot of cargo space and cabin room which is great as it can fit all of your equipment and still haul all the material you need it to. Being a pickup truck, what more could you ask for?
#5 Best Year: 1997 Toyota Tacoma
Coming straight after the well-regarded 1996 model, the 1997 Toyota Tacoma can easily be the best truck you will ever own.
Much like its predecessor, this two-seater truck is very reliable and very comfortable, boasting a lot of cargo space and cabin room for all your trucking needs.
The mileage of this car is insane and will keep you riding on the road easily as customers have reported driving this model for 16+ years, showcasing reliability and dependability.
It is a great commute, even in the winters, and has no snow.
#6 Best Year: 1998 Toyota Tacoma
For three years, Toyota proved that it could manufacture high-quality, dependable, and long-lasting trucks without cutting any corners.
It's hard to go wrong when choosing a Tacoma, and the 1998 model is no different.
This four-passenger, the 2-door pickup, comes in both rear and 4-wheel drives with a 3.4-liter V6 engine that can push 190 horsepower at 4800 RPM.
Coming with a wide array of safety features like dual airbags and antilock brakes, the 1998 Tacoma offers off-road prowess, a powerful engine, sharp looks, and reliability.
#7 Best Year: 2000 Toyota Tacoma
A couple of years after the success of the early models, Toyota released another model in the middle of the first generation, which would also be just as good as the ones which started it.
This would be the model 2000 Toyota Tacoma which offers a lot of refinement and quality. This model is exceptionally well made and is reliable and durable.
This model excels at its mileage and long life, easily surpassing 300,000 miles with little to no maintenance. This Tacoma will no doubt provide you with a worthwhile purchase over time.
#8 Best Year: 2003 Toyota Tacoma
As the first generation of the Toyota Tacoma was nearing its end, Toyota continued with the strong releases, this time manufacturing the 2003 Tacoma, which came with an outstanding eight different trims.
One of the oldest models is to feature anti-lock brakes and feature lower anchors for child safety seats.
It came in 3 cab types and over 17 configurations, so it undoubtedly had a little bit of appeal for everyone.
Functional, reliable, and very low maintenance, it is a great vehicle for daily commutes and city travel.
List Of The Worst Years For The Toyota Tacoma: What Years To Avoid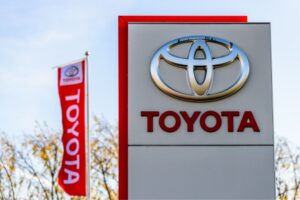 Each coin has two sides, and for every great Toyota Tacoma, there exists a model that is just not up to the company's standards.
#1 Worst Year: 2016 Toyota Tacoma
2016 was the start of a new generation for the Toyota Tacoma, its latest generation to be more accurate.
Unfortunately, it did not make a good debut, being regarded by many as the worst Toyota Tacoma model ever released.
This model came with a flurry of problems ranging from transmission error, engine problems, body issues, and more.
The car would shift very rough and often hesitate, making a howling noise, lacking power overall.
When it would be cold, the transmission engagement would be delayed. The engine was also rough and would stall, vibrat8ing the steering and floor.
The drivetrain would also vibrate and leak from the gasket, making a high pitch noise at high speeds. These are just a few of the many problems which plagued this model.
#2 Worst Year: 2017 Toyota Tacoma
The model released after the disaster that was the model 2016, was no different.
The 2017 Toyota Tacoma was also suffering from many problems, many of which stemmed from the 2016 version and carried over.
The AC compressor and condenser would fail, transmission problems still exist, engine surging was common, and the engine would emanate a whining noise and often fail to accelerate.
The NHSTA also had many complaints about the drive train, the jerking, slamming, and surging under-load. A lot of these problems were fixed, but many remained.
#3 Worst Year: 2006 Toyota Tacoma
Being the second-generation model, the 2006 Toyota Tacoma had to repair the horrible generation launch caused by the previous model, the model 2005.
Unfortunately, this model of Tacoma managed to worsen the situation. The paint of this model was always flaking off, and the frame was prone to rust.
The engine had a habit of accelerating suddenly and unintentionally, which is a very dangerous problem.
Sometimes the engine wouldn't even start and made a pecking noise. The model was also prone to hydraulic brake failure and noisy bearings.
#4 Worst Year: 2007 Toyota Tacoma
Toyota started to go on a streak of bad products, releasing sub-standard products one after the other.
Many of these problems were just unsolved issues that transferred from the previous model to the next, which is disappointing.
The 2007 model would have the same terrible frame and rusting problems as 2016 with fading paint, cracking, and peeling.
The engine was also similar as it would surge in high gears and be prone to throttle control failure.
The drivetrain was also plagued with problems, and the suspensions were inadequate.
#5 Worst Year: 2008 Toyota Tacoma 2008
The 2008 Toyota Tacoma was a slight step up from its predecessor. However, it still failed in various ways as it still suffered from a variety of different problems.
The frame and paint problems persisted even after two years, with corrosion and rust being prominent.
The unintended acceleration was also present, and the engine itself would hesitate when accelerating and sometimes wouldn't start.
The door was also a bit problematic as their actuators would stop working. Other interior problems included issues with cruise control and the radio.
#6 Worst Year: 2009 Toyota Tacoma
The 2009 Toyota Tacoma was probably the worst model released during the second generation of the class, featuring the most problems in the generation.
The interior was poorly designed, with the radio being the biggest offender, malfunctioning its display, going off without warning, and not adjusting in volume.
The cabin was also a hub of wind noise. The lights were also very pathetic, overheating and cracking and simply not working at all.
The engine was also criticized for being difficult to start in cold weather and ticking when left idle.
#7 Worst Year: 2011 Toyota Tacoma
After the 2010 model, it seemed as if Toyota had finally taken control of the situation and figured out what it was doing wrong.
Still, then it released the 2011 Toyota Tacoma, which made the 2010 look like a one-off miracle.
This particular model suffered from poor quality headlights, which would often crack and melt if the lights were on during the day.
The AC would not work properly or at all, making a clicking sound when it would. The suspensions were also very bad and prone to squeaking and breaking.
#8 Worst Year: 2012 Toyota Tacoma
The second generation of the Toyota Tacoma, after manufacturing bad models one after the other, was only natural for the 2012 Toyota Tacoma to fair the same.
The engine of this model was particularly complained about as it was very weak and prone to pump assembly failure. It ran rough and made an annoying ping noise.
The drivetrain would also vibrate while driving and shudder when accelerating from a stopped position.
The frame was prone to rust and mold and whistled while driving. The suspensions would also vibrate due to their poor quality.
What Are The Most Common Problems With The Toyota Tacoma?
The Toyota Tacoma is far from perfect as many models included various yet persistent problems which spanned entire generations.
These problems would carry over from one model to the next, so they are very common.
It is disappointing to see how a big company such as Toyota could not fix many reoccurring problems despite being called out by various customers and critics.
1. Paint And Frame Issues
The frames of many Toyota Tacoma models were riddled with issues and the paint used was of generally low quality, which is why it was prone to flaking, peeling, cracks and fading.
This meant that users had to get a paint job for their entire car to fix the issue.
The frame was also not resistant to rust and had various problems, which resulted in an overall loss of quality.
2. Transmission Issues
The transmission issues of the Tacoma models were also very widespread.
Almost every model of the Toyota Tacoma in the second generation had some issue related to the transmission, whether it be the transmission itself hesitating or the engagement of the transmission being delayed when in really cold weather.
Shifting between gears was rough overall, with hesitation being common and the shifts being hard. The transmission also sometimes made the car shake which is not ideal.
Related: Toyota Tacoma Transmission Problems
3. Noise Issues
Many models of the Toyota Tacoma were riddled with noise issues, whether they be caused by the design or faulty equipment.
The cabin was designed to be noise-proof and keep the noise of the streets outside, which it could do, but it was not able to isolate wind noise.
Other noise-related issues also stemmed from faulty parts inside the vehicle, which caused pinging, howling, and pecking sound, which was annoying to deal with and hard to fix as they required the repair or replacement of parts such as the bearings, the transmission, and the engine.
Sometimes these sounds were accompanied by vibrations.
Related: Why Won't My Toyota Tacoma Start?
Frequently Asked Questions
Q1. What Years Did Toyota Tacoma Have Bad Frames?
The second generation of the Toyota Tacoma faced many different models with frame-related issues.
The most notable of these models were the 2006 and 2007 models, which had a very poor frame and were prone to rust and corrosion.
From 1995 to 2004 also suffered from really bad frames to the point where Toyota had to repurchase them to conduct repairs and offered a 15-year warranty against corrosion.
These models should be properly inspected before purchase.
Q2. How Long Do Tacoma Engines Last?
The typical engine of the Toyota Tacoma should last you a long time, but it can easily last you longer if you put in the special care it requires and maintains it regularly so that any problems it has can be reduced.
The average engine should easily last around 300,000 miles normally, but you can easily bump another hundred thousand miles if you do proper maintenance.
It always depends on how you treat it so, in the end, it is all up to you.
Related: How Long Do Toyota Tacomas Last?
Q3. What Year Did Tacoma Change Engines?
With the start of the second generation of the Toyota Tacoma in 2005, the company introduced a new and revised 4-cylinder engine with 2.7 liters DOHC and produced around 168 horsepower.
Side by side, the company also released a new 4 liter DOHC V6 engine, which can easily produce 240 horsepower.
Both engines use new electronic throttle control systems with intelligence which helps with optimizing performance and fuel economy, leading to an overall increase in power and better mileage.
Q4. Is Toyota Still Buying Back Tacomas?
As mentioned above, Tacoma models released by Toyota from 1995 to 2004 had extremely bad frames, all to the point where you could spend twice the amount of the frame itself on repairing it and still not be successful.
These frames were prone to rust and corrosion, which is why Toyota offered to buy back all these models to replace the bad frame.
Likely, Toyota is still accepting afflicted models. However, it is more likely they will give a warranty extension.
Q5. What Is Considered High Mileage For A Toyota Tacoma?
Many people consider high mileage to be around 250,000 miles.
However, this is not the case for the Toyota Tacoma, which can easily push 300,000 miles with little to no effort or maintenance.
With a little extra care and regular maintenance, you can easily push this number to 400,000 miles which is quite a lot of mileage.
You may suffer issues related to paint and rust. However, it should not impact your ability to travel long distances, providing you with exceptionally high mileage.
Conclusion
Overall, the Toyota Tacoma is a solid, reliable pickup vehicle, offering a wide array of user-friendly features that show how Toyota as a company cares for its customers and consumers.
Models like the 2018 Tacoma are great choices for modern pickup trucks, featuring top-of-the-line safety features and durability, while the less respectable models like the 2016 Tacoma are riddled with problems.
Either way, Toyota has delivered generally good products at great prices.
Now that you know the best and worst years for Toyota Tacoma, you should be able to figure out which model is best for you and which model you should avoid at all costs.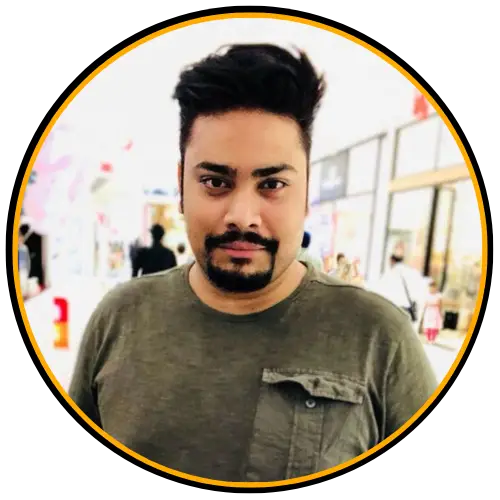 I am Tahir Azam, and I have been writing amazing articles for TaxiHack for as long as I can remember. I know everything that is to know when it comes to automobiles and is always on top of industry news and developments. While I am not an expert by any means, I pride myself on knowing the ins and outs of many different problems and, of course, their solutions. The articles on our website are some of the best and well-researched content that you will find, and I spend countless hours making sure this remains to be true. This is why I ask you to take your time out and read some of my articles, especially if you find a topic that resonates with you or is something you are looking into. This way, you will find the perfect mix of information and tips on your desired topic. Learn more about Tahir.