If you are looking to get a sports car, then a very small number of vehicles can beat the Nissan Maxima. The Maxima has been in production since 1981.
Although it has four doors, it surely is a sports vehicle. With it being in the making for more than 40 years, the manufacturer has nailed down the specifics.
That said, a few models of the Maxima out there are a nightmare to buy. On the other hand, there are some that most people will love.
That is what this article is all about, detailing the best and worst years for Nissan Maxima. All of the important years will be discussed properly, with the common problems highlighted.
Let's start with listing the models first.
Best Years for Nissan Maxima:
2020
2019
2015
2018
2017
2012
Worst Years for Nissan Maxima:
2004
2005
2006
2010
2009
2011
Now that all of these models have been listed, this article will focus on each of them individually.
It is recommended to read the next few sections of this article completely, as the information can greatly influence your decision of which model of the Maxima to buy.
List Of The Best Years For The Nissan Maxima: What Years To Buy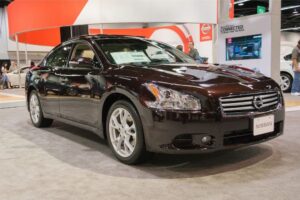 I'll be starting with the top models of the Nissan Maxima.
There is one thing many of you will notice, and that is the best years of the Maxima are also the more recent ones.
These models are recommended to buy as they are the most reliable too.
#1 Best Year: 2020 Nissan Maxima
Taking the lead over all other models is a more recent release of the 4-door sports car.
It is one of the best models you can get because there have been few complaints about it. Thanks to the V6 engine under the hood, it is a decent performer on the road.
The comfort level of the 2020 Nissan Maxima is pretty good. The cabin has been isolated enough that sounds and vibrations will not disturb your driving experience.
The seats are also good enough for long travels. The fuel economy is also decent, with it being able to achieve an average of 24 mpg.
#2 Best Year: 2019 Nissan Maxima
The runner-up to the 2020 Nissan Maxima is none other than its predecessor.
The 2019 model of this sedan is another great option for people who don't want to spend too much on a new vehicle.
The driving experience is spectacular, thanks to the same V6 engine under the hood. The comfort level of this model is often compared with luxury vehicles.
This means that it will provide you with comfortable seats while also taking care of ambient noises. The infotainment system is great too, but it may seem out of date for some of you.
Other than that, it is a fantastic model, and it should be considered.
#3 Best Year: 2015 Nissan Maxima
The 2015 model of the Nissan Maxima was surprisingly great. Although it was 2014 one, it is still an excellent option to consider if you want to buy something that will not cost a fortune.
The Maxima uses a 3.5L V6 engine to produce up to 290 HP. Simply put, it is a beast on the road.
If you are worried about this seven-year-old model not having enough safety features, I can assure you that it is not a cause for concern—the sedan packs in more than enough safety features, from airbags to rear-view cameras.
The only drawback is that the interior looks a bit outdated.
#4 Best Year: 2018 Nissan Maxima
Jumping back into modern times, taking the fourth place is the 2018 Nissan Maxima, a model released only four years ago, as of writing this article.
This model is an option for budget-conscious people but doesn't want to compromise on major features.
The comfort level of this vehicle is great, and you won't feel like getting out of it, even after long rides.
The 2018 Nissan Maxima has an amazing interior. From the interface of the infotainment system to the look and feel of the overall design, Nissan nailed it down.
The only drawback of the 2018 model is that it compromises roominess, especially on the backside.
#5 Best Year: 2017 Nissan Maxima
The 2017 Nissan Maxima comes right behind and takes the fifth spot on this list. It is a great option but with only one drawback.
No all-wheel-drive option is present. This is a letdown because many owners live in uneven terrains or snowy areas.
The name Maxima is not synonymous with luxury, but Nissan tries to make it as close as possible.
The 2017 Maxima has excellent handling, despite being one of the bigger sports cars out there.
The 3.5L V6 engine, under the hood, does most of the heavy lifting and is a powerhouse. Its interior is of high quality, and even the infotainment system is easy and convenient to use.
#6 Best Year: 2012 Nissan Maxima
Finally, coming in the sixth and final place is the 2012 Nissan Maxima.
This model is aimed towards people looking to get an affordable sports sedan that also has decent performance. It has excellent handling and strong acceleration too.
The fuel economy of this model is a bit worse than other ones on this list, with it averaging around 22 mpg.
Other than that, it is has a high-quality interior. Even the trunk is spacious enough for most people.
Overall, it is a decent sedan that will surely provide you with a reliable experience, despite being a decade old, as of writing this article.
List Of The Worst Years For The Nissan Maxima: What Years To Avoid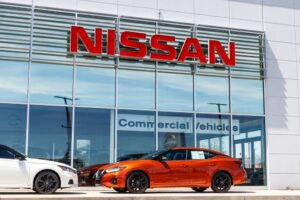 Moving on, this article will now be discussing the models that one should avoid at all times.
Although the Maxima have been a pretty decent vehicle in recent years, some early models were not great.
I will be detailing all of their issues so you can understand why they should be avoided.
#1 Worst Year: 2004 Nissan Maxima
The worst model of the Nissan Maxima is 2004 one. Although this model is almost two decades old at this point, it is still the worst year of the Maxima ever produced.
It was plagued with transmission and engine issues, which frustrated thousands of users.
Transmission issues included the vehicle jerking whenever gears shifted. There were many reports of transmission failure too.
Engine issues were pretty serious. The engine produced rattling sounds, and there were instances where it would lose power without any indication.
There were many other engine problems too, so this model should be avoided.
#2 Worst Year: 2005 Nissan Maxima
Although one could expect the 2005 Nissan Maxima to be better than its predecessor, the reality was the opposite. Little to no problems were fixed with this model of the sedan.
There were many transmission issues, and there were engine problems too, but their reports were far less than the 2004 model.
The transmission problems were similar to the 2004 model. The system would fail and make the vehicle jerk when shifting gears.
It would also not have a stable RPM, indicating a serious problem. When talking about the engine, there were reports of rattling noises.
#3 Worst Year: 2006 Nissan Maxima
Coming up is the 2006 variant of the Nissan Maxima. Surprisingly, the manufacturer did not fix major issues for so many years.
Yes, that's right, this model also has a ton of transmission problems. It would slip and occasionally jerk too while shifting.
The timing chain on the 2006 model of the sedan was responsible for most of the issues. It would slip or fail.
It does not end there. The paint job on this specific model was not good either.
Users complained about the roof turning white. There were a few reports of rusting too, but they were scarcely reported.
#4 Worst Year: 2010 Nissan Maxima
Arriving in fourth place is the 2010 Nissan Maxima. Unlucky owners of this twelve-year-old vehicle reported steering and electrical issues.
This model had a whole other set of issues which made driving it close to impossible.
The electronic steering lock and shaft would fail. The power steering function would also stop working.
Electrical problems are the most difficult to fix because they are difficult to find. There were many issues related to the system in the 2010 Nissan Maxima.
Owners complained about the engine not turning on. Some also informed about the battery draining rapidly, which is pretty strange.
#5 Worst Year: 2009 Nissan Maxima
The 2009 Nissan Maxima was better than its successor. This is why it has scored a lower place on this list.
There were electrical and steering problems, but they were not as frequent compared to the model that came one year later.
Electrical problems included the vehicle not turning on and a fast battery drain. The interior of the Maxima was not made of good quality materials.
There were reports of the power tilt not working. The dashboard would also melt if under the sun for too long.
The steering column would also lock, making driving the vehicle impossible.
#6 Worst Year: 2011 Nissan Maxima
Finally, coming in the sixth and final place is the 2011 Nissan Maxima.
This sedan model is more than a decade old and still holds strong. There were transmission and electrical issues present again, but they were not as common.
The transmission system would fail prematurely. There were reports of the system also producing a lot of noise, making the driving experience unpleasant.
The dashboard on this model would also melt under direct sunlight. This model can be considered, but you can expect to pay a lot of cash if the transmission system fails.
What Are The Most Common Problems With The Nissan Maxima?
It is recommended to read this section in its entirety because choosing the wrong model can cost you thousands of dollars more than you planned to spend.
I felt it was important to include all of the common problems that users of the Nissan Maxima have faced.
Let's jump straight into it!
1. Transmission Failure
The most common issue that the users of the Nissan Maxima faced was related to transmission.
If you did not skip the article above, you might have noticed that transmission issues were present in many early sports sedan models.
Owners of these vehicles reported that the vehicle had improper shifting. The transmission system would sometimes miss too.
The most common problem related to the transmission system was jerking when changing gears. The problem is found in the 2004 to 2006 models and the 2009 to 2011 models.
Unless you are willing to pay extra to get the system fixed, you should avoid these models at all costs.
2. AC Hose Leaking
Coming up next is a problem that is not that serious but common enough to earn the second spot on this list.
If you notice your Maxima blowing hot air, there is a good chance that the AC hose is leaking.
As the hose is responsible for carrying the coolant, if none is present, then the system will not work as intended.
This problem was mostly reported by owners of the 2001 to 2012 models of the Nissan Maxima.
So, if you own this model and are having similar issues, then there is a good chance that the hose is leaking.
The problem can be fixed, but it will cost you around $300. That is not too bad, but it does cause some inconvenience.
3. Failure Of The ESCL
The electronic steering column lock, more commonly known as the ESCL, has been known to fail on the earlier models of the Nissan Maxima a lot.
The lock's function is to protect the vehicle from theft. The steering wheel will not move unless the key fob is nearby when activated. Well, the system has failed many times.
Owners complained about the lock activating without any reason and even with the presence of the key fob. The lock prevents the vehicle from being used at all.
Nissan did issue a service bulletin to replace the faulty systems for free. They removed this feature to ensure that other vehicle safety systems are reliable enough.
Related: Why Won't My Nissan Maxima Start?
Frequently Asked Questions
Q1. How Long Can Nissan Maxima Last?
The Nissan Maxima is an extremely reliable vehicle, and it can last a long time if taken care of properly.
If you're thinking about getting a new car, make sure to consider getting a model that is known to not have major issues.
With proper maintenance and care, you can expect the vehicle to last easily for more than 200000 miles. It will provide you with a memorable experience.
Related: How Long Do Nissan Maximas Last?
Q2. Which Is More Reliable, Maxima Or Altima?
If you are looking for a new car and want something reliable, the Maxima is a great option. But if you need something that can fit more people and cargo, the Altima is your best bet.
Both vehicles are well-made and will get you where you need to go. It all depends on what features matter most to you in a car.
The Maxima is more sports-oriented, while the Altima has been designed for family usage.
Q3. Which Is Better, Camry Or Maxima?
The Toyota Camry and the Nissan Maxima are both great cars. They have different features, so it's important to choose one based on your specific needs.
For example, if you need an affordable car but have decent gas mileage, the Camry will be a better choice than the Maxima.
If you need a spacious vehicle that can seat five or more people comfortably, the Maxima will be more suitable.
Q4. Are Nissan Maximas Good In The Snow?
While the Nissan Maxima is a great car, it may not be the best choice for driving in heavy snow.
There is no all-wheel-drive option that can make maintaining traction on snowy roads difficult. This issue can be similar to slippery road conditions, further decreasing traction.
If you do have to drive in the snow with your Nissan Maxima, it is recommended to get good snow tires.
Q5. Are Nissan Maximas Fast?
Yes, they are. Of course, you cannot compare it to the likes of Audi and Mercedes, but the sedan holds itself pretty well against the competition.
This is possible, mainly because of the 3.5L V6 engine, which allows it to sprint from 0 to 60 mph in under six seconds. That is pretty decent for a sports sedan.
The Maxima has better acceleration when compared to the Dodge Charger, a famous name in the automotive world.
Conclusion
The Nissan Maxima has been around since the 1980s and has gone through several redesigns and generational changes.
While there have been many upgrades over the years, Nissan has ensured that it will stay a reliable vehicle for families.
More than a few ups and downs in the vehicle's history has been covered in this article of the best and worst years for Nissan Maxima.
Out of all of them, the 2020 model takes the lead. It is reliable and is filled to the brim with features.
I hope this article helped you decide which sedan model will be suitable for you.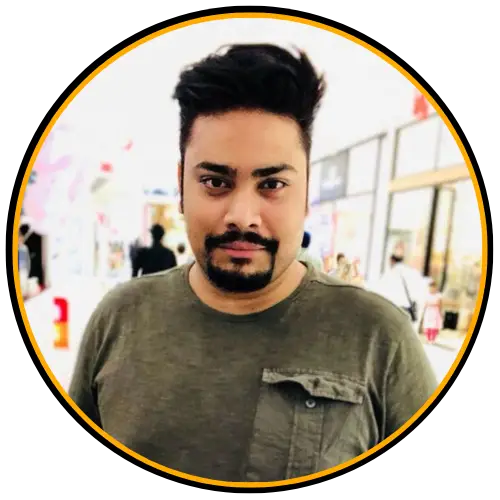 I am Tahir Azam, and I have been writing amazing articles for TaxiHack for as long as I can remember. I know everything that is to know when it comes to automobiles and is always on top of industry news and developments. While I am not an expert by any means, I pride myself on knowing the ins and outs of many different problems and, of course, their solutions. The articles on our website are some of the best and well-researched content that you will find, and I spend countless hours making sure this remains to be true. This is why I ask you to take your time out and read some of my articles, especially if you find a topic that resonates with you or is something you are looking into. This way, you will find the perfect mix of information and tips on your desired topic. Learn more about Tahir.