The Mazda MX-5 Miata, better known simply as the Mazda Miata, is a Roadster and sports class vehicle that made its debut in 1989 and has been going strong in its releases, with yearly models coming out.
The name Miata is derived from German, which means "reward" and the Mazda Miata is a reward for customers and the company itself, being one of the best-selling 2-seater sports cars in history.
With four generations of models under its lineup, the Mazda Miata has always been a good and reliable car, which is also why it immediately resonated with its customers when it debuted despite the love for Roadsters had during that time dwindled significantly.
Let's now talk about the best and worst years for Mazda Miata!
Best Years for Mazda Miata:
1992
1993
1997
2001
2013
2014
2010
2020
Worst Years for Mazda Miata:
2016
2008
2007
2006
2005
2017
2018
2019
Now that I have ranked the models, I will tell you why each model gets its rank and later on talk about the common problems and questions regarding the Mazda Miata.
List Of The Best Years For The Mazda Miata: What Years To Buy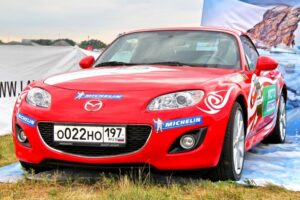 The best years for the Mazda Miata are known to get a lot of praise and be problem-free.
Let's have a look!
#1 Best Year: 1992 Mazda Miata
While most of the Mazda Miata's lineup has been praised by critics and customers, many people agree that the earlier lineup models were one of the best in the series.
Many agree that the 1992 Mazda Miata is the best overall, so I decided to rank it in the top spot on my list.
This old yet reliable vehicle has received a lot of appreciation from its owners, who love the convertible aspect of the vehicle.
It has proven its reliability as it requires a lot less maintenance than other cars, and any work it does ask for is relatively easy to fix and cheap.
The car is low maintenance and drives great as it was made to be a fun, easy, and engaging vehicle.
What more could anyone ask for when looking for a car?
#2 Best Year: 1993 Mazda Miata
Following in the footsteps of the 1992 model, the 1993 Mazda Miata captured the same lightning in a bottle, releasing in 2 different trims and offering a moderate amount of power and a lot of styles, comfort, and engagement.
While the 116 HP is about fairly average for sports cars, the Mazda Miata makes up for this by being extremely lightweight and agile, making it feel fast and quick to drive.
This made the car quick to drive and fun as well, which a lot of customers gravitated towards.
Customers have also reported driving this car for well over 300,000 miles making it quite reliable and high value.
#3 Best Year: 1997 Mazda Miata
The older models of the Mazda Miata continue to surprise and show that even old and vintage cars still have a lot to offer.
The 1997 Mazda Miata is yet another fun and amazing car, so I decided to place it third on this list.
While it easily could have been higher on this list, the 1997 model was not particularly known for its comfortability.
It was known for its fast and fun driving, which made it quite enjoyable to drive and ride in. This model is yet another showcase for how reliable the Miata lineup is.
It can also last for decades and requires little to no maintenance to operate at full functionality.
#4 Best Year: 2001 Mazda Miata
The 2001 Mazda Miata is small in size and offers a low amount of cargo space but makes up for this by being available in 4 different trims and speeds backed up by a 142 HP engine making it more than worthy of being number 4 on my list.
While the fast and reliability of the previous Miata models were still present, the 2001 Mazda Miata was still not following the latest trends and hence was falling behind compared to its competitors.
However, this did not stop the customers from purchasing the car as it received a lot of praise from its owners regarding its fun driving and reliability.
#5 Best Year: 2013 Mazda Miata
Getting into the more recent years for the lineup, I'll talk about the 2013 Mazda Miata standing proud at 5th place due to its amazing handling and quick top operation.
This model is available in 4 different trims, all of which are affordable, compact, simple, and most importantly, fun to drive.
This is taken to the next level as this particular can push 167 HP and does so smoothly and comfortably, which, when paired with its convertible nature, makes it a great car to drive and ride in.
The customers of the 2013 model also seem to love it as they have nothing but good things to say about the model, and aside from rough suspensions, I cannot find a flaw either.
#6 Best Year: 2014 Mazda Miata
This time only launching in 3 different trims and no other significant changes, the 2014 Mazda Miata still offers the same level of quality and reliability as the model before it, giving it 6th place on this list.
Competitively priced and fun to drive, the 2014 model sticks to the ideas of the 2013 model and is powered by a 158 HP 2L 4-cylinder engine as standard and offers the same high-powered engine as its predecessor.
It got a few new features as standard; however, none of them are quite notable aside from fog lights and leather-wrapped seats but considering the high handling and maneuverability of the model and its quick and fast responsiveness, the 2014 Mazda Miata is still worth the buy.
#7 Best Year: 2010 Mazda Miata
Taking a few years back and looking at the 2010 Mazda Miata, yet another solid vehicle is seen that offers top-quality handling and responsiveness.
If this particular model had more recent and advanced features, it would have easily gotten a higher position, but 7th place seems to be optimal for now.
This model was released with three different trims and offers everything it has just right where all you can focus on is good.
Safety features such as anti-lock brakes and side-impact airbags are a great addition, while premium trims have more such as traction control and electronic stability.
Overall just like every other model in this list, 2010 is just as good.
#8 Best Year: 2020 Mazda Miata
The latest model on this list; is the 2020 Mazda Miata.
While it's still too early to say as major problems can always spring up, so far, the 2020 Mazda Miata is yet another extraordinary model that the company has produced, which is why I am inclined to rank it as the last best model.
The 2018 Mazda Miata offers three different trims and a lot of different choices, such as the choice of three transmissions and soft top and power-retractable hardtop, which are all packed inside a model that has timeless styling drives extremely fun.
It is one of those cars which can't love and offers a great time to all who ride inside it.
List Of The Worst Years For The Mazda Miata: What Years To Avoid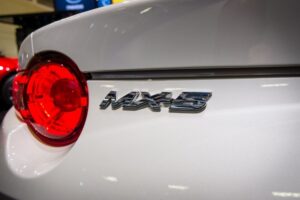 While not considered bad by automobile standards, some Mazda Miata models have a few problems which make them worse than others in the lineup.
#1 Worst Year: 2016 Mazda Miata
I placed the 2016 Mazda Miata in the first place as the worst model of the lineup because this model had a lot of problems compared to other models.
It had the most problems among any models the lineup has seen, which is why it made sense to give it number 1.
While more of these problems were isolated in the interior, there were some exterior issues, suspension problems, and some issues with the windshield.
The leather handbrake would have its leather start to peel off, and the infotainment system would start to delaminate by changes in the weather.
This was further brought down with poor quality lettering, which would wear off the volume buttons.
There would be a metal clanking when going over bumps, and the blind spot monitoring system would often malfunction.
#2 Worst Year: 2008 Mazda Miata
Being the model with the second-highest amount of problems in the lineup, it was safe to say that the 2008 Mazda Miata deserves the number 2 spot on this list.
Among the many problems in this model, the most egregious problem this model offered was that its convertible top would just come apart, which is a very dangerous and huge problem.
The battery didn't fare any better as it would constantly be draining.
The clutch also had its fair share of problems being very hard and clunky overall, and sometimes it would grind while shifting.
Another issue was related to the seat belts, which would no longer recoil once removed.
#3 Worst Year: 2007 Mazda Miata
The 2007 Mazda Miata has slightly fewer problems than its successor, which is the main reason why I opted to place this model in third place despite having fewer problems than the 2008 model.
It still had quite a few annoying problems, making it deserve to be on this list.
Many of these issues were related to electrical problems, which caused multiple accessories to stop working entirely.
The battery also had a problem with not retaining its electrical charge. A bad design flaw with the vehicle would cause the water to slowly leak into the car's interior.
Another common issue with this model was that the sun visor would not work properly.
#4 Worst Year: 2006 Mazda Miata
While having no significant issues that would critically affect the driving experience, the 2006 Mazda Miata certainly had many annoying problems, which landed it at 4th place on my list.
The first of these problems is the same design flaw that affected the 2007 model in which the water drainage would get clogged, causing water to leak into the interior.
Other issues were related to rust and cracks, which would form in hidden areas along with the clear code, which would start to bubble up and eventually peel off.
The model's cooling system was also not the best as the radiator would sometimes crack and leak coolant.
#5 Worst Year: 2005 Mazda Miata
While the 2005 Mazda Miata is considered a good car by most of the community, it also has its flaws and problems, which are why I decided to place the otherwise great vehicle in 5th place.
The first problem I would like to discuss is the air conditioning. The belt of the air conditioning system would be loose, causing a loud screeching sound on startup.
There were also quite a few electrical issues found in the interior, such as the radio and the CD player would turn off and die for no reason at all.
Other issues were related to the rood of the car, mainly the folding mechanism, which could malfunction and sometimes stick half open due to faulty sensors in the roof.
#6 Worst Year: 2017 Mazda Miata
With clutch and windshield problems and suffering from a recall, the 2017 Mazda Miata was yet another decent model, but it gets 6th place on this list due to suffering from these negatives.
This model suffered from a recall issued by the NHTSA regarding the power train where the vehicle would suddenly and without warning, downshift, increasing the risk of the vehicle going out of control and leading to a crash.
This was accompanied by a major flywheel issue where the clutch would engage jerkily and pop out, even at lower mileages.
The windshield was also low quality and would chip quite easily. Customers have complained that this would happen without any reason at all.
#7 Worst Year: 2018 Mazda Miata
While most of the Mazda Miata lineup is full of good quality and reliable vehicles, only a few handfuls of models caused some issues.
While the 2018 Mazda Miata isn't by any means a bad model, it still had a few issues which forced me to give it 7th place.
The first of these issues is relayed to the vehicle's body; mainly, the paint was made of poor quality, and customers complained of it chipping.
Other issues surrounding the paint were rusting over and oxidizing, which was also very annoying.
The windshield issue was still persistent, and owners still complained of getting cracks without any reason at all.
#8 Worst Year: 2019 Mazda Miata
The Mazda Miata is known for its interior and exterior problems but has them much less in frequency and makes up for it in other aspects, which is why I decided to give it last place as the worst year of the Mazda Miata lineup.
This car also faced two recalls based on the powertrain still causing downshifting, similar to the 2017 model.
The other recall was fuel pump failure, which led to engine stalling and potential crashes.
The vehicle's exterior had a bad case of peeling and cracking paint, while the interior was reported to have its display screen crack.
All of these annoyances got the 2019 Mazda Miata in last place.
What Are The Most Common Problems With The Mazda Miata?
Overall, the Mazda Miata has had a solid track record and has amassed a lot of reputation among fans; however, there are still a lot of various faults and problems around certain models that can hurt its reputation and some common issues throughout the years.
I will talk about these problems and explain them accordingly!
1. AC Compressor Failure
Air conditioning problems in cars is no rare issue. Such is quite common for the 2012 version of the Miata. This was a very common issue in the 2012 Mazda Miata.
Due to a design flaw in the model, the compressor was located where it was completely exposed, causing it to be worn out prematurely, which led to it eventually stopping working, even at lower mileages.
This issue forced many customers to completely replace their air conditioners compressor.
2. Convertible Top Issues
Not many cars have a convertible top, but it is a treat when they do. If these tops have any issues, then it is equally as heartbreaking.
Many owners of the Mazda Miata complained that their vinyl top would fall apart despite their rare usage.
Others complained that the frame was the cause of over-stressing the vinyl, causing cracks and tears.
This issue would usually happen outside the car set warranty period meaning most customers would have to get a replacement out of their own money.
3. Fuel Filler Pipe Issues
Mostly common in the 2007 Mazda Miata, the owners complained that their fuel filler cap would loosen on their own, causing the check engine light to turn on.
Other owners also noticed that their check engine light would stay lit despite tightening the cap.
This was caused by poorly and improperly manufactured threads, which the owners could solve by replacing their fuel filler pipes.
Mazda would issue a recall for this later, but unfortunately, not all affected models were included.
Frequently Asked Questions
Q1. How Long Do Miata Engines Last?
The Mazda Miata has been out for 30+ years, so it would be shocking to say if they didn't figure out how to make a long-lasting car.
Luckily the Mazda Miata is just that, a reliable and long-lasting car capable of lasting for 200,000 miles at the minimum; however, customers have reported having driven for a lot longer, exceeding 300,000 miles.
Q2. Is A Mazda Miata A Good Daily Driver?
Throughout this article, I have talked about how reliable and fun it is to drive the Mazda Miata, so it makes sense that it is also a great daily driver.
Almost all the customers who have owned a Mazda Miata have shown nothing but love and appreciation for the car in their everyday use.
Being extremely reliable, the car has won multiple awards and recommendations, making it a great car for your daily needs.
Q3. Are Mazda Miatas Expensive To Fix?
Due to the tremendous number of problems and exceptional reliability of the car, the Mazda Miata should not be that expensive to repair as spare parts are common.
Depending on your model, the repair should be relatively cheap.
During the first ten years of service, the Mazda Miata will take around $5,761 for repairs and maintenance, which beats the industry average by $1,278.
During these ten long years, your Mazda Miata has a 16.77% chance of requiring a major repair which is quite low.
Q4. Do Mazda Miatas Hold Their Value?
The Mazda Miata has a solid depreciation value of 38% after five years which is quite the saving compared to other sports cars.
Even well after five years, the Mazda Miata can hold more than half its value and, after ten years, drops to a residual value of 44.85%, which is great overall.
This value is only set to increase as in the past five years, the value of the Mazda Miatas from the years 1990-2007 has increased by 130%
Q5. Is A Miata A Woman's Car?
The Mazda Miata is a monster of a car that offers a lot of power in certain models and is fun to drive in almost any model, which is why it is not a woman's car.
The car's convertible top and fast, agile build say otherwise. Apart from its feminine appearance, the car is, by all means.
This great and solid sports car is extremely reliable and low maintenance, perfect for men and women alike.
Conclusion
One of the best-selling and greatest sports cars of all time, the Mazda Miata does everything right, even at its lowest points.
The best and worst years for Mazda Miata include the 1992 Mazda Miata, which many consider the most reliable lineup.
Then you have the 2016 Mazda Miata, which had many problems surrounding it.
Hopefully, now that you know all the problems associated with the lineup, the common questions and finally the best and worst models you can make the most out of your purchase and get the car of your dreams.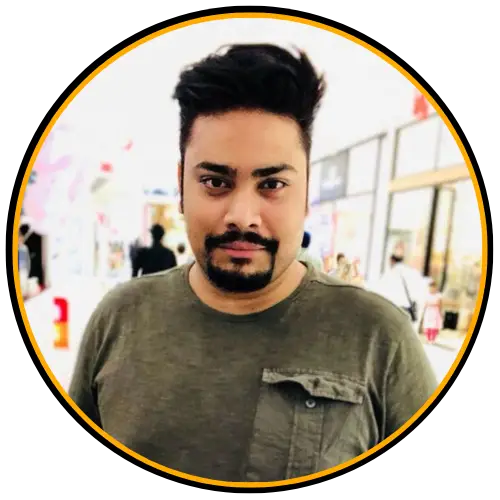 I am Tahir Azam, and I have been writing amazing articles for TaxiHack for as long as I can remember. I know everything that is to know when it comes to automobiles and is always on top of industry news and developments. While I am not an expert by any means, I pride myself on knowing the ins and outs of many different problems and, of course, their solutions. The articles on our website are some of the best and well-researched content that you will find, and I spend countless hours making sure this remains to be true. This is why I ask you to take your time out and read some of my articles, especially if you find a topic that resonates with you or is something you are looking into. This way, you will find the perfect mix of information and tips on your desired topic. Learn more about Tahir.