The Duramax V8 Diesel engine is, in actuality, a group of engines that were produced by DMAX and are a part of a joint venture between General Motors, the parent company of many brands such as Chevrolet and Cadillac, and Isuzu.
First installed in 2001, the engine has become quite the option when considering pickup trucks, vans, and medium-duty trucks.
With reports of 200,000 engines being manufactured in 2006 and 2 million of these engines being sold as of 2017, there is a good demand and popularity for the engine.
This, however, does not mean that the engine is devoid of any problems and issues.
When talking about the best and worst years for Duramax, I will go over these problems and rank them accordingly.
Best Years for Duramax:
2007
2006
2020
2021
2018
2019
2010
Worst Years for Duramax:
2003
2002
2004
2011
2005
2008
2016
Along with all this, I will also discuss the various concerns and common issues with the engine.
List Of The Best Years For The Duramax: What Years To Buy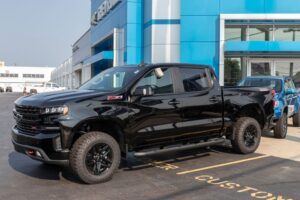 The Duramax, for the most part, has been a reliable engine that, in its best years, is smooth and powerful.
#1 Best Year: 2007 Duramax
The 2007 Duramax is widely regarded as the best diesel engine General Motors has put out.
For good reasons, as the LBZ engine was praised by experts and revered by owners, many people gave it a 9/10 rating, which is why I am placing it at the top of this list.
The engine was fully synced and compatible with a 6-speed transmission, which allowed it to go unrestrained and unleash all of its power.
The engine was built to handle heavy-duty driving and could endure a lot.
It was extremely reliable and efficient too, as it gave MPGs of 16 in the city and 22 on highways, which is great when considering the discussion about a pickup truck.
The engine was powerful enough to push out up to 367 HP and had a towing capacity of 7,700 lbs.
#2 Best Year: 2006 Duramax
Before the success of the 2007 Duramax engine, the 2006 Duramax was yet another great engine that laid the foundation on which the 2007 model would be built upon.
While it was slightly less underpowered, it was still built with the same level of durability and reliability in mind.
It came with the 6-speed automatic transmission, which helped it reach 360 HP and 650 lbs of torque at 1600 RPM alone.
The engine was good and great for the trucks it was installed in. This is why I am placing it here in 2nd place.
#3 Best Year: 2020 Duramax
2020 introduced a new engine into the mix with the 3L inline Duramax, a turbo-diesel engine with a lot of mileage, efficiency, and high torque numbers, which made it very appealing for truck owners.
The engine offered 277 hp with 460 lbs of torque as low as 1500 rpm. This allowed the vehicle to tow cargo with weights as big as 9300 pounds.
When concerned with MPG, the engine can easily push out the high 20s, which is great for truckers who go long distances. All of this has earned this engine 3rd place.
#4 Best Year: 2021 Duramax
2021's diesel engine would also not be a pushover as the 2021 Duramax was very similar to the 2020 model, which is why I am placing it at 4th place.
It offered the same amount of power and torque as the 2020 Duramax, dishing out 277 hp and featuring 460 lbs of torque.
Despite not boasting any higher numbers, it is still a high-tech engine that uses variable geometry and a turbocharger that helps boost its pressure and load, giving it enhanced power and helping move the peak torque curve on the lower side.
#5 Best Year: 2018 Duramax
I am placing the 2018 Duramax at 5th place due to the improvements it made and the problems it solved.
Though the engine had its fair share of issues, they all were fairly easy to fix and did not pose any serious threat.
However, the engine was able to root out all of the problems that had affected the engines before it and offered a great deal of reliability and durability, so much so that it had to be mentioned in this list.
#6 Best Year: 2019 Duramax
For a Turbo-diesel engine, the 2019 Duramax offered a lot of power and durability, which is why I am placing it at 6th place.
This 6.6L turbo diesel V8 does a lot of heavy lifting and can reach towing capacities of 20,000 pounds which is quite a lot.
Also accompanied with 910 lb-ft of torque, this engine can easily pull entire houses down and run smoothly and quietly while doing it, making it a good contender on this list.
#7 Best Year: 2010 Duramax
Efficiency, capability, and durability come to mind when talking about the 2010 Duramax, which is why it is 7th on this list.
The efficiency and great mileage of the engine allow drivers to travel long distances without refueling.
In contrast, the durability allows it to stay intact and prevents major problems, making it last for a very long time.
All of this, along with the power and torque that it possessed, made it another quality engine.
List Of The Worst Years For The Duramax: What Years To Avoid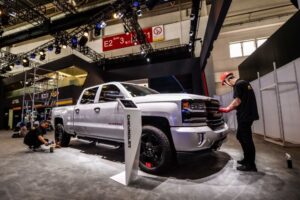 The years listed below have a lot of issues in them and are engines you should try your best to stay away from.
#1 Worst Year: 2003 Duramax
The most problematic and clunky diesel engine on this list, the 2003 Duramax, has a lot of major problems and received a good amount of complaints from the NHTSA, which is why I am placing it in the first place.
Reduced engine power mode was very common in this engine and would cut down the car's speed while driving by a lot, posing an annoyance and a safety hazard as well.
Injector failure and gasket leaks were also quite common in this model. The engine block tended to crack, and the engine revved while driving.
The NHTSA also had a lot to say about the engine, especially cruise control and cooling. These problems culminated in an engine so bad you should avoid it like the plague.
#2 Worst Year: 2002 Duramax
Yet another problem-infested engine, the 2002 Duramax, had a lot of different issues surrounding it, which forced me to place it at 2nd place on my list.
Among these issues was the case of the battery dying frequently. On startup, the engine would cause a lot of annoyance, knocking all over the place.
It wasn't any better while driving either, as stalling was common and rotor button corrosion was also widely reported. Overall, the engine should be avoided entirely.
#3 Worst Year: 2004 Duramax
Following the footsteps of the 2003 engine, the 2004 Duramax is yet another problematic model, which is why I am placing it at 3rd on this list.
The biggest complaint about the engine was regarding the exhaust manifold bolts and how they would break and how many people believed that the company knew about this but still did nothing.
The NHTSA has also complained about the cruise control and cooling of the engine.
The engine also had an issue that made it go into "reduced engine mode," which made it lose a lot of power.
#4 Worst Year: 2011 Duramax
I am placing the 2011 Duramax at 4th place due to the various small problems surrounding the engine.
Packed with a faulty Nox sensor, the def system of the engine was prone to failing and gave frequent failures due to a code P20bp.
The engine cover was also causing a lot of problems to the vehicle's wiring, as it eats into the wires and coils and the only way to stop it is to replace it.
This posed a serious safety hazard, and the engine would reduce its speed while driving.
#5 Worst Year: 2005 Duramax
The 2005 Duramax also received many complaints from customers and the NHSTA alike, which is why I am placing it at 5th place.
This engine has widely criticized its speed control and cooling issues. This would not be all as the engine's injectors were low quality and would go bad, shutting off the engine entirely.
On top of all of this, the gasket heads of the engine also tended to blow off.
#6 Worst Year: 2008 Duramax
While generally devoid of problems, the 2008 Duramax had one very integral problem, which hurt its reputation and put it at 6th place on this list.
The engine was known to be problematic as it would shut down, and it would not be able to start up.
Customers have complained about this happening when driving and the issue being quite frequent, with the direct cause being unknown.
This had made this engine feel quite an untrustworthy and unreliable component in an otherwise great vehicle.
The NHTSA also raised other small issues regarding cooling and speed control.
#7 Worst Year: 2016 Duramax
The 2016 Duramax is overall a good engine.
However, it suffered from a few complaints from the NHTSA and was the victim of one problem, which is why I am placing it 7th place on this list.
The main issue affecting this model was that the oil pressure sensors would fail. This would mostly happen when the weather gets cold and causes the pressure gauge to jump down to 0.
This is the result of faulty oil sensors, which can fail at any time.
What Are The Most Common Problems With The Duramax?
While the recent years for the Duramax and many models before have had a few issues, some models are not so fortunate and feature various problems, which are quite common and can easily cost a lot to fix.
I will discuss these common problems here.
1. Cracked Pistons
This is a serious issue common for many people who love to push their cars to their limits. The engine's pistons are generally good, but beyond 600 whp they begin to crack and break.
Beyond these levels, piston failure also starts to become common.
Despite the blocks of the engine being strengthened, the issue would persist, and they would break at higher power levels.
2. Glow Plug Failure
Glow plugs sit inside each diesel engine cylinder and use a metal tip to create a current for the ignition process.
As you can tell, this is integral for the engine when it is not capable of warming itself.
Unfortunately, some models had a control module issue that prevented them from working and caused the metal tips to break off, which could cause engine damage.
3. EGR Value Failure
The exhaust gas recirculation system is designed to prevent black smoke from puffing out.
However, the valve responsible for doing so was subjected to many gunk and particles, which prevented it from functioning properly.
This also restricted airflow in the engine and would cause major performance issues to erupt.
4. Transmission Lines Failure
The lines of many Duramax engines are designed in a faulty way such that the crimp was not suitable enough to hold onto the line.
This caused the lines to leak where some people would have constant leaks and others would face it only when the engine was cold.
These leaks would, over time, cause damage to the transmission. This issue would occur fairly early on at 20,000
5. Water Pump Failure
Each water pump has an impeller inside, a fan that forces coolant through the system.
This impeller would break, and the issue was quite common in many Duramax models and is generally quite common as the impeller will get worn out and breaks, especially at high temperatures that melt the plastic of the impeller.
This issue is said to occur around 80,000 to 100,000 miles.
Frequently Asked Questions
Q1. How Long Will A Duramax Last?
Duramax engines are reliable and built to last, so they feature high durability and are made of good quality materials.
A typical Duramax engine should last you around 300,000 miles quite easily. However, you can push this number even further with proper maintenance and care.
Despite the engine lasting quite long, other car systems may break down, which could make repairs uneconomical however it will never be due to the engine.
Q2. How Much Is A Chevy Duramax Diesel?
If for some reason you want to replace your current engine and want to buy a Chevy Duramax or your current Duramax has failed and you want to buy a new one, rest assured that you can obtain a new engine for as low as $15,000.
While the price may depend on where you buy it, a good range for the engine cost should be around $15,000 to $25,000, in which case buying a new car is more worthwhile.
Q3. Who Owns Duramax?
While the engine itself is produced by DMAX, which is an American manufacturer of diesel engines for trucks of all kinds.
The Duramax engine is part of a joint venture between General Motors and Isuzu which means that you will need to buy an Isuzu or General Motors truck to be able to use your Duramax engine.
This venture was created since DMAX was 60% owned by Isuzu and 40% by general motors.
Q4. How Often Should I Change The Oil In A Duramax Diesel?
If you find yourself running out of oil frequently, the engine may have an issue.
Assuming that you drive an average of 15,000 miles a year, it is best to change the oil of your Duramax engine once a year or after every 10,000 miles, whatever comes first.
Most companies and car manufacturers recommend this, and it is something you should follow unless you want to damage the engine of your car.
Q5. Is A Duramax Better Than A Cummins?
When comparing engines built for trucks, torque and horsepower are the most important factors. Both engines are great in their field, with the Duramax being better horsepower.
It is no secret that the Duramax features high horsepower, and when compared to the average Cummins engine, Duramax has always had the edge over them.
When talking about torque, Cummins takes the lead. On the topic of fuel management, both engines are neck and neck.
Conclusion
The Duramax is a quality diesel engine that has been on the market for more than two decades and is still going strong.
While it has lost its footing on multiple occasions, it remains one of the top diesel engines on the market and is a solid buy for truck owners.
The best and worst years for Duramax include the 2007 engine, widely regarded as the best, and the 2003 Chevy Engine, which was the most problematic.
Now that you are all about the Chevy Duramax, you should get the best engine for your truck and avoid all the problems and bad models of the product.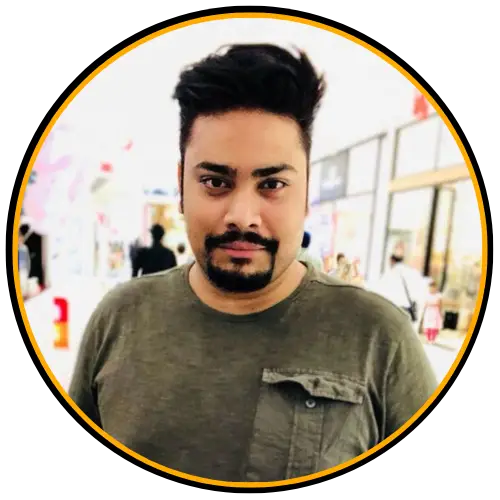 I am Tahir Azam, and I have been writing amazing articles for TaxiHack for as long as I can remember. I know everything that is to know when it comes to automobiles and is always on top of industry news and developments. While I am not an expert by any means, I pride myself on knowing the ins and outs of many different problems and, of course, their solutions. The articles on our website are some of the best and well-researched content that you will find, and I spend countless hours making sure this remains to be true. This is why I ask you to take your time out and read some of my articles, especially if you find a topic that resonates with you or is something you are looking into. This way, you will find the perfect mix of information and tips on your desired topic. Learn more about Tahir.